A Bill of Divorcement is a 1940 film directed by John Farrow.
It was also known as Never to Love and was based on a play
that was filmed in 1932 with Katharine Hepburn.
Maureen did her best, in a pretty hopeless movie,
The fans liked it, but the critics were lukewarm.
and the other comments below, confirm this.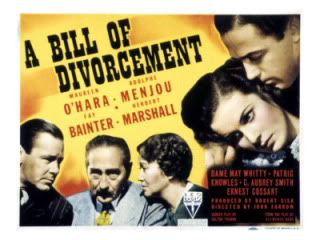 User Review
Don't waste your time,
Author: sarasdano from Costa Mesa, CA

This is an extremely dull and pointless movie. I truly had to force myself to see the end (only because I cannot turn off a movie once I've started it). I expected more from Herbert Marshall, but there's just no substance to any of these characters. And was there a big turnaround at the end? No, it just fizzled into nothing. It's one of those movies that you forget the second it ends, and that's not saying much. Sometimes there's a reason that bad movies are shown only in the middle of the night