This Land Is Mine is a 1943 American drama film
directed by Jean Renoir and starring Charles Laughton,
Maureen O'Hara and George Sanders.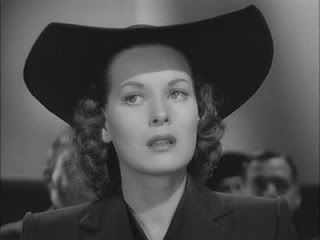 The film is set in the midst of World War II,
in an unspecified country in German-occupied Europe that is clearly France.
Laughton plays Albert Lory, a cowardly school teacher in a town
"somewhere in Europe" (according to the film's opening title card)
who is drawn into advocating resistance through his love of his country
and of his fellow teacher Louise Martin, portrayed by O'Hara.
The film is one of the more acclaimed of the propaganda-tinged war films of the era.
It won the 1944 Academy Award for Best Sound Recording (Stephen Dunn).
Having opened simultaneously in 72 theaters,
the film set a record for gross receipts on an opening day upon its May 7, 1943 release.
This box office smash and Oscar winning film,
once again saw Maureen paired with mentor
Charles 'Hunchback' Laughton.
Well acted and well scripted movie.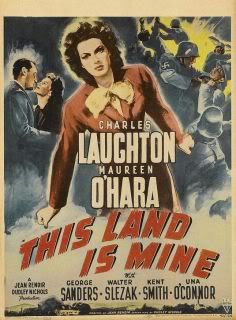 User Review
One of the very best stories of courage ever made.,
Author: tomomary from San Dieg

Here is a film that everyone should see. It is real and sublime and
each character in the picture has a growth arc that is fascinating to
watch. Charles Laughton is the master in this as we see him as
the town coward a man afraid of everything. An older man who has
learned little of life and less about expressing his love for his
school teaching colleague played by O'Hara.
Laughton learns hard lessons as the film progresses. Walter Slezak's portrayal of a Nazi officer incharge of the French town is marvelous. He captures the nature of
the will of Fascism and it's unrelenting and sinister application of
pure power using the minds of men. George Sanders, is the
businessman who makes sure things work for the Germans, who
doesn't strain over the matter of occupation by the Nazis until he is
forced to reveal his best friend is the saboteur fighting the
occupation. There is so much more in this film that deals with
oppression and the only way to fight it.
I love this film.


Display More