Do You Love Me is a 1946 Technicolor musical film
directed by Gregory Ratoff, starring Maureen O'Hara and Dick Haymes.
Harry James's tendency toward womanizing is treated as a great gag, culminating,
at the very end of the movie, in a surprise cameo by a very special guest: Betty Grable,
to whom James was married at the time.
Good fun movie to watch.
Betty Grable and her husband
make cameo apperances.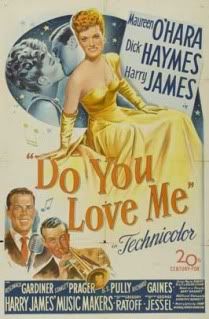 User Review
Make over pays off, big time,
Author: jotix100 from New York

When we first encounter Professor Katherine Hilliard, she is conducting her college's orchestra with great gusto. Ms. Hilliard is totally dedicated to her music, as well as committed to teaching it. When she decides to see her friend, the New York Symphony's conductor, Herbert Benham, she decides to expand her horizons with the well regarded maestro.




Little prepares our Ms. Hilliard for the train ride she takes. She meets handsome Barry Clayton, who is traveling north with his band. When he plays a popular number for her, she flees horrified. Academic life didn't prepare to hear this junk!




This is basically the premise of "Do You Love Me", directed by Gregory Ratoff. The film capitalizes on two of the big idols of the era: Harry James and Dick Haymes. The film is greatly helped by the ravishingly beautiful Maureen O'Hara who is the object of love of the two well known popular personalities.




We watch as Professor Hilliard is transformed from a dowdy frump into a glamorous woman with a great wardrobe. Ms. O'Hara, with her charming personality, wins our hearts as well as her suitors. Let's not forget she left behind an intellectual boyfriend at the college, Ralph Wainwright, who is ready to marry her. Reginald Gardiner is immensely enjoyable as Herbert Benham, the kind conductor who tells Katherine to pay attention at her wardrobe. Richard Gaines plays Ralph, the man left behind.




The music, both classical and popular, is fine. As interpreted by the incomparable Dick Haymes, some of these songs heard are wonderful. Harry James even plays at the end with the classic orchestra and integrates some of his arrangements. The combination is surprising.




This is a fun movie to watch thanks to all the principals and Mr. Ratoff's direction.


Display More