The Foxes of Harrow (1947) is an adventure film directed by John M. Stahl
and produced by William A. Bacher.
The film Rex Harrison, Maureen O'Hara, Richard Haydn with Victor McLaglen,
Vanessa Brown, Patricia Medina, Gene Lockhart, and Hugo Haas.
It features original music by David Buttolph and cinematography by Joseph LaShelle.
The film was nominated an Academy Award for Best Art Direction
(Lyle Wheeler, Maurice Ransford, Thomas Little, Paul S. Fox). [1]
The storyline is derived from the eponymous novel
The Foxes of Harrow by Frank Yerby.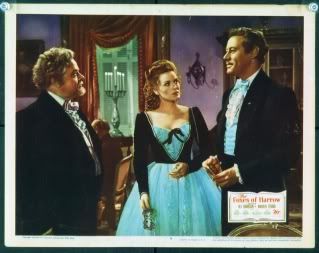 As far as I know, this film is a rare one
as films like this, about slavery, are no longer always readily available.
Apparently this is an engrossing drama,Maureen stars with Rex Harrison,
who is trying to marry, her, when the trouble begins
Another good performance from Maureen
in this rare Stahl film.
Victor McLaglen is in this one, so it's got to be worth seeing!
User Review
Author: vitaleralphlouis from United States

Forget Frank Yerby's novel and take this fine movie on its own terms and you'll find Rex Harrison -- a great actor from my father's era -- as Fox; an orphan boy from Ireland who makes his own fortune in America in the 1810's. Winning a plantation in a lucky game of cards, from a sore loser who also forfeits his life, Fox sets out to establish a new Harrow, one with a benevolent attitude to the slave workers, and to pursue and marry Maureen O'Hara --- where the trouble begins.




The story will involve the Panic of 1821 and other matters which make for a great story whose description ought to end right here.




In the South (as well as in most northern states; particularly New York and New Jersey) they had slaves working on plantations and elsewhere in the 1810-1821 era. Slavery has set current day Hollywood into a tizzy and state of confusion, thus films of historic accuracy made by a pre- Political Correctness film industry are not only misjudged but are under suppression. Thus Foxes of Harrow and virtually any other film portraying slaves (except revisionist history like Steven Spielberg's foolish and unsuccessful Amisted) are no longer available for public view. Foxes of Harrow has never been released in video.