My Name is Nobody (Italian: Il mio nome è Nessuno, also known as Lonesome Gun)
is a 1973 Spaghetti Western comedy film.
The film was directed by Tonino Valerii and, in some scenes, by Sergio Leone.
It was written by Leone, Fulvio Morsella and Ernesto Gastaldi.
Leone was also the uncredited executive producer.
The cast includes Terence Hill, Henry Fonda, and Jean Martin.
The title of the movie coincides with the reply Odysseus gave to Cyclops
when he was asked his name.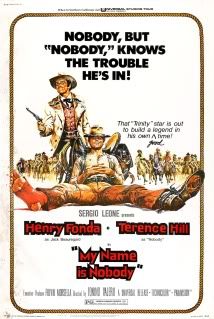 User Review

The Good, the Bad and the Good looking
1 March 2005 | by viperpaolo (United States)




Great movie. From an idea of Sergio Leone, the guy from the good, bad and ugly trilogy. Terence hill is awesome. Fonda is himself. truly a great movie, in the best of the A-class spaghetti western tradition. Recommend for lovers of bud Spencer and Terence hill, but even more for lovers of Clint Eastwood and Sergio Leone and Ennio Morricone. the soundtrack is also fantastic. I found brilliant the way the director combined the lightheartedness of Hill and the stare-down gunfight angle of traditional Eastwood westerns. Also look for they called him trinity and sequel, also great movie, and those include bud Spencer. The movie is actually filmed in New Mexico, Acoma and surroundings, so the scenery is also fantastic. The original language is English, even though most of the cast is Italian, and both the Italian and English version are great. However, in the best spaghetti tradition I believe the Italian might capture some fine details better than the original. Ultimately I believe Terence Hill could have become a famous star of the caliber of Eastwood had he pursued that path instead of continuing the career as Bud Spencer's partner in crime.