The Tin Star was first a short story then a 1957 American western film directed by Anthony Mann
and starring Henry Fonda and Anthony Perkins, in one of Perkins' first roles.
The film became one of the few low-budget westerns to be nominated
for the Academy Award for Best Writing, Story or Screenplay.
Since its release, the film has become one of the classics of the genre.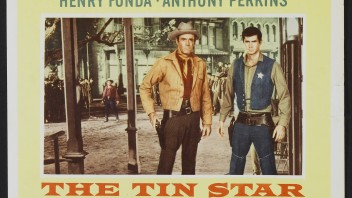 User Review
A Western for Thinking People...
25 January 2013 | by Tim Kidner (Salisbury, United Kingdom)

1957 was a good year for movies and amongst all the strong contenders,




The Tin Star still managed to get Oscar nominated for best original screenplay, by the same screenwriter that brought that real trail- blazing classic, Stagecoach, to life.
Anthony Mann's black & white Western isn't a long, sprawling John Ford epic, nor does it feature Ford's often comical characters but at a fairly concise 92 mins it feels like a real book - a story that's never hurried and which includes proper characterisation and dialogue. Those wanting John Wayne spitting into the dust and cowboys and Indians need look elsewhere...
I've always liked Henry Fonda - and whilst many have pointed out that Mann's main man had previously been James Stewart, Fonda takes that slim thoughtfulness that Stewart eschewed and added dignity as well as grit - maybe somewhere between a Wayne and Stewart mix. You can never take your eyes off Henry Fonda - tall, dark and brooding if there ever was one. Anthony Perkins is (of course) very different to Norman Bates in Psycho and for those of us who saw him in that long before this earlier work, will not be disappointed. Fonda plays the older, wiser but now turned to bounty hunter ex lawman, who helps out rookie sheriff Perkins, both strategically but morally, too, when an outlaw gang terrorise the town.
The near-silent ending is as tense as you'll find anywhere within any Western - and you will be both too - silent AND tense...
Radio Times gives Tin Star a rare five stars - and you won't see this undervalued and under-known western on TV very often. It does get onto Sky Movies Classics once in a while but I don't recall it ever being on terrestrial TV, at least recently, so the DVD does make good sense. If you like the western genre and not yet seen The Tin Star, you really should...


Display More