The Dawn Patrol is a 1938 American war film, a remake of the pre-Code 1930 film of the same name.
Both were based on the short story "The Flight Commander" by John Monk Saunders,
an American writer said to have been haunted by his inability
to get into combat as a flyer with the U.S. Air Service.
The book of short stories, War Patrol by A.S. Long published in the 1930s
also bears a striking resemblance in plot and characters
to the Flynn/Niven version of the film, although it is never credited as a source.
The film, directed by Edmund Goulding, stars Errol Flynn, Basil Rathbone and David Niven
as Royal Flying Corps fighter pilots in World War I.
Of the several films that Flynn and Rathbone appeared in together,
it is the only one in which their characters are on the same side.
Although sparring as in their other roles, their characters are fast friends
and comrades in danger.
The Dawn Patrol's story romanticizes many aspects of the World War I aviation experience
that have since become clichés: white scarves, hard-drinking fatalism by doomed pilots,
chivalry in the air between combatants, the short life expectancy of new pilots,
and the legend of the "Red Baron."
However, The Dawn Patrol also has a deeper and more timeless theme
in the severe emotional scarring on a military commander who must constantly order men
to their deaths.
This theme underlies every scene in The Dawn Patrol.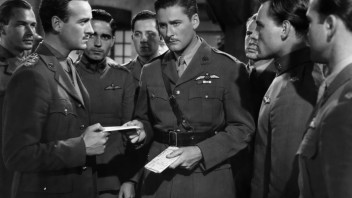 User Review
The Dawn Patrol flies high
30 June 2005 | by Ken Lipshez

One of the very few classic World War I adventures, the work of swashbuckling Errol Flynn,




the staid, villainous Basil Rathbone and David Niven who transcends
from Flynn's light-hearted sidekick to a combative inferior officer
light up the skies over enemy territory.




The carefree camaraderie bolstered by excessive drinking
in the face of certain doom provides an uplifting theme.
I particularly like the songs they sing as they belly up to the bar, most notably,
"Hurrah for the Next Man that Dies."
The dogfights in the biplanes of that era are so vivid
because you can see the pilots' every move,
and they can see each other -- the thumbs-up when one of them is shot to pieces
and about to plummet to his death.




The film captures the reality of a war that history tends to overlook
more and more as time goes on. It should go down as one of the classics of the era.


Display More