Rawhide is a 1951 Western film made by Twentieth Century-Fox.
It was directed by Henry Hathaway and produced by Samuel G. Engel
from a screenplay by Dudley Nichols.
The music score was by Sol Kaplan and the song A Rollin' Stone by Lionel Newman.
The cinematography was by Milton R. Krasner.
The film stars Tyrone Power and Susan Hayward with Hugh Marlowe, Dean Jagger,
Edgar Buchanan, Jack Elam and George Tobias.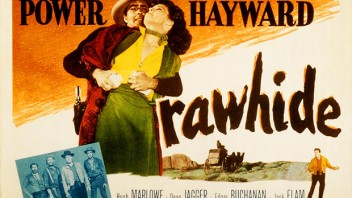 User Review

Desperate, raw emotions added to remote, isolated setting
23 July 2001 | by lora64 (Canada)

Yes, I think "Rawhide" is a highly charged western and if I were any younger I'd be working through two boxes of popcorn while lost in this movie! It keeps you on the edge of your seat as you watch several outlaws take over the depot,




all set for a robbery, and lie in wait for the coach to arrive. Also the fact is, when you combine two intense stars like Ty and Susan you're bound to get a compelling screen presence since both are always fascinating to watch. They carry the drama steadily along.




Later on in the film however, there seems a shortage of dialogue and the story tends to get bogged down in a constant gloomy atmosphere of quiet desperation.




One certainly feels the weight of isolation in this remote station along the stagecoach line in a time where lawlessness still needed to be subdued. It makes one realize how rough it must have been to live in those days of homesteading in the West.




As usual, Elam is the baddy in here and he never fails to rouse my dislike although in later life he went in for comedy in a western or two, a nice change. Hugh Marlowe is also a familiar face -- of "All About Eve" fame. On the whole it's a riveting western to the end.


Display More