The Cheyenne Social Club is a 1970 Western comedy, written by James Lee Barrett,
directed and produced by Gene Kelly, and starring James Stewart,
Henry Fonda and Shirley Jones.
It's the story about an aging cowboy who inherits a brothel
and decides to turn it into a respectable boarding house,
against the wishes of both the townspeople and the ladies working there.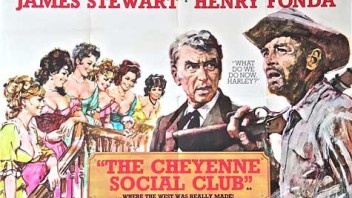 Set in a brothel with suggestive dialogue, the movie was one of the
few off-color screen ventures for Stewart,
who specifically suggested that his friend Fonda be cast; they had most recently worked together two years previously
in Firecreek. Stewart and Fonda's first film together had been the musical comedy
On Our Merry Way (1948), and they had also both appeared in How the West Was Won (1962)
but had no scenes together despite playing best friends.
The Movie was shot at the Bonanza Creek Ranch and Eaves Movie Ranch outside Santa Fe, New Mexico (exteriors),
and the Samuel Goldwyn Studios in Hollywood, California (interiors).

User Review
It's a movie highly desirable to spend 103 fun minutes.12 March 2010 | by psagray (Spain)

"John", (James Stewart) a cowboy from Texas, after the death of his brother receives an unusual legacy: The Cheyenne social club. When "John", to which accompanies his inseparable friend "Sullivan" (Henry Fonda), another cowboy from Texas who leads riding more than 10 years at his side, decides to go in search of the business of his brother discovers that it is a Club of joyful girls with a great tradition in the region.







Two masters of the interpretation, James Stewart and Henry Fonda, there are cited in this atypical but fun western where a lot of jokes and comical attitudes, in addition to a multitude of absurd situations, accompanied by some secondary players very good. It also appreciates good decorated and magnificent affairs in the first drawings of the film.




Gene Kelly, an expert dancer and choreographer, "Singin' in the Rain" dares to lead this western with excellent results, and offers us here an entertaining comedy without major claims.




The 70 was an apocalyptic decade for the western. The great directors had died or were withdrawn from cinema. Only John Wayne and Clint Eastwood continued to westerns. This is why we admire decision of Gene Kelly to make an original film, little sight and sound touches of humor.


Display More