The Hallelujah Trail is a 1965 American Western mockumentary spoof
directed by John Sturges, with top-billed stars
Burt Lancaster, Lee Remick, Jim Hutton and Pamela Tiffin.
The film was one of several large-scale widescreen, long-form "epic" comedies
produced in the 1960s, much like The Great Race and It's a Mad, Mad, Mad, Mad World,
combined with the epic grandeur of the Western genre.
Its running time is 2 hours, 45 minutes.
The movie is part of a group, which was filmed in Ultra Panavision 70
and presented in selected theaters via the oversized Super Cinerama process.
Stuntman Bill Williams was killed on November 13, 1964 while performing a stunt
involving a wagon going over a cliff.
The scene was kept in the movie.
On October 19, 1968, three years and four months after its release,
the film had its television premiere in a three-hour timeslot on NBC Saturday Night at the Movies.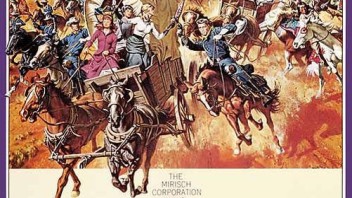 User Review
A Wonderful Movie Experience For People Who Don't Take Themselves Too Seriously
13 March 2004 | by bobbanks (Memphis, TN)

Unfortunately, the pleasure of enjoying this life-affirming romp through fantasy is greatly diminished without the large screen for which it was designed. The cast is spectacular and so is the music. The dialog is nonstop humor but the narration by John Dehner is even better. I can't think of anyone who could have delivered the lines with such self-parodying pomposity. The interaction between the characters played by Lancaster and Remick leaves one wondering why the two actors weren't teamed regularly. Male and Female have seldom been more accurately and understandingly portrayed. The treatment of the Indians will likely offend many today. Mel Brooks may be one of the few (perhaps the only) movie-makers since the 60's who would have taken such a risk. At the time, tolerance was "in" and conditioned hyper-sensitivity and the thought police weren't taken seriously. We get to see Jim Hutton in one of the few roles he could handle well. We are also given a chance to appreciate Pamela Tiffin as more than just the background for a bikini. I'm sure her decision not to pursue a film career more aggressively was a wise one for her but it was nevertheless our loss.