The Violent Men is a 1955 Technicolor CinemaScope Western film drama directed by
Rudolph Maté, based on the novel Smoky Valley by Donald Hamilton,
and starring Glenn Ford, Barbara Stanwyck and Edward G. Robinson.
The storyline involves a ranch owner who comes into conflict
with the land grabbing tactics the big local family
but whose own tense marriage threatens their strangle hold over the region.
The supporting cast features Brian Keith and Dianne Foster.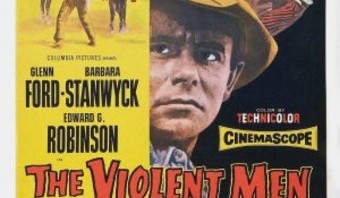 User Review
Another Range War Western With Some Infidelity Thrown In
17 April 2006 | by bkoganbing (Buffalo, New York)

This is yet another western about a greedy cattle baron looking to push out small ranchers and farmers. It's certainly all been done before and since. But The Violent Men is something special.







What makes it special is Barbara Stanwyck playing the role of vixen as she often did in her later films. She's married to the crippled Edward G. Robinson who's the cattle baron here, but Robinson is crippled and there is some hint that his injuries may have left him impotent. No matter to Barbara, whose needs are being met by her brother-in-law Brian Keith. That doesn't sit well with either Dianne Foster who is Robinson and Stanwyck's daughter, nor with Lita Milan who is Keith's Mexican girl friend.




The infidelity subplot almost takes over the film, but Glenn Ford as the stalwart small rancher who is a Civil War veteran come west for his health manages to hold his own here. He's every inch the quiet western hero who people make the mistake of pushing once too often. I almost expect those famous words from Wild Bill Elliott to come out of Ford's mouth, "I'm a peaceable man." Would have been very applicable in The Vioilent Men.




The Fifties was the age of the adult western, themes were entering into horse operas that hadn't been explored before. The following year Glenn Ford would do another western, Jubal, one of his best which also explores infidelity as a plot component.




There's enough traditional western stuff in The Violent Men and plenty for those who are addicted to soap operas as well.


Display More