THIS LAND IS MINE
DIRECTED BY JEAN RENOIR
RKO RADIO PICTURES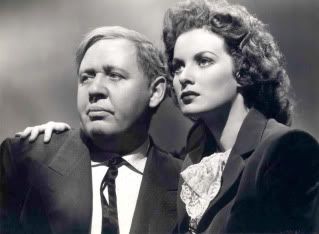 Information from IMDb
Plot Summary
Albert Lory is a teacher at a school in German-occupied France.
He is a coward, but he is drawn into the actions of the resistance.
Arrested by the Germans because of a murder,
the German officers promise him freedom,
if he is willing to collaborate with them against France.
Written by Stephan Eichenberg
Full Cast
Charles Laughton .... Albert Lory
Maureen O'Hara .... Louise Martin
George Sanders .... George Lambert
Walter Slezak .... Major Erich von Keller
Kent Smith .... Paul Martin
Una O'Connor .... Mrs. Emma Lory
Philip Merivale .... Professor Sorel
Thurston Hall .... Mayor Henry Manville
George Coulouris .... Prosecutor
Nancy Gates .... Julie Grant
Ivan F. Simpson .... Judge (as Ivan Simpson)
John Donat .... Edmund Lorraine
Philip Ahlm .... German Second Lieutenant (uncredited)
Frank Alten .... Captain Schwartz (uncredited)
Louis V. Arco .... German Sergeant (uncredited)
John Banner .... German Sergeant (uncredited)
Joan Barclay .... Young Woman (uncredited)
Trevor Bardette .... Courtroom Guard Who Brings Albert's Notes (uncredited)
Linda Bieber .... Emily - Schoolgirl (uncredited)
Tommy Bond .... Pug-nosed School Bully (uncredited)
Sven Hugo Borg .... German Soldier (uncredited)
Leo Bulgakov .... Little Fat Man (uncredited)
Bobby Burns .... Courtroom Spectator (uncredited)
George M. Carleton .... Mr. Noble - Jury Foreman and Butcher (uncredited)
Wheaton Chambers .... Mr. Lorraine (uncredited)
Gordon Clark .... First Lieutenant (uncredited)
Albert D'Arno .... German Soldier (uncredited)
John Dilson .... Mayor's Secretary (uncredited)
Ludwig Donath .... German Captain (uncredited)
Margaret Fealy .... Old Woman (uncredited)
Hans Fuerberg .... Kurt - German Soldier (uncredited)
Babe Green .... Undetermined Role (uncredited)
Ernest Grooney .... Priest (uncredited)
Mary Halsey .... Girl (uncredited)
Mildred Hardy .... Old Woman (uncredited)
Sam Harris .... Man Knocked Down on Sidewalk/Townsman Shot by Firing Squad (uncredited)
Ariel Heath .... Undetermined Role (uncredited)
Hallene Hill .... Woman in Window (uncredited)
Otto Hoffman .... Victor - Printer (uncredited)
Russell Hoyt .... German Soldier (uncredited)
Lloyd Ingraham .... Man with Paper on Street (uncredited)
Elmer Jerome .... Man in Window (uncredited)
Casey Johnson .... Boy (uncredited)
Terrellyne Johnson .... Girl (uncredited)
P.J. Kelly .... Judge (uncredited)
David Kirkland .... Judge (uncredited)
Jeanne Lafayette .... Woman on Street (uncredited)
Gabriel Lenoff .... German First Lieutenant (uncredited)
Oscar Loraine .... Clerk (uncredited)
Theodore Lorch .... Juror (uncredited)
George MacQuarrie .... Chief of Police (uncredited)
Hal Malone .... Man in Courtroom (uncredited)
Jack Martin .... German Captain (uncredited)
Claire McDowell .... Woman in Bathroom (uncredited)
Ed McNamara .... Policeman (uncredited)
Freddie Mercer .... Boy in Classroom (uncredited)
Hans Moebus .... German Chauffeur (uncredited)
Barbara Moffett .... Undetermined Role (uncredited)
Rudolf Myzet .... German Soldier (uncredited)
O'Neill Nolan .... Henry (uncredited)
William J. O'Brien .... Night Switchman (uncredited)
Frank O'Connor .... Juror (uncredited)
Lillian O'Malley .... Woman in Street (uncredited)
Paul Parry .... Undetermined Role (uncredited)
June Pickerell .... Woman in Window (uncredited)
Lon Poff .... Old Man (uncredited)
John Rice .... Burly Cop (uncredited)
Ferdinand Schumann-Heink .... Karl - German Soldier (uncredited)
Hans Schumm .... German Sergeant Who Pushes Albert (uncredited)
Lester Sharpe .... German Soldier (uncredited)
Jack Shea .... Burly Cop (uncredited)
Ida Shoemaker .... Woman in Street (uncredited)
George Sorel .... German Sergeant (uncredited)
Bob Stevenson .... German Sergeant on Street (uncredited)
Gus Taillon .... Newsman (uncredited)
Walter Thiele .... German Soldier (uncredited)
Bob Thom .... Undetermined Role (uncredited)
Nicholas Vehr .... German Soldier (uncredited)
Hans von Morhart .... Soldier Who Gets Slapped (uncredited)
Cecil Weston .... Mrs. Lorraine (uncredited)
William Yetter Sr. .... Otto - German Soldier (uncredited)
Writing Credits
Dudley Nichols (screenplay)
Jean Renoir uncredited
Produced
Dudley Nichols .... producer
Jean Renoir .... producer
Eugène Lourié .... associate producer (uncredited)
Original Music
Lothar Perl
Cinematography
Frank Redman
Trivia
The singing of "Die Lorelei" by the German soldiers was a subtle dig at the anti-semitic regime of the Nazis, since the words were written by banned Jewish poet Heinrich Heine. Many of his books, considered "un-German," were burned in the book-burning episode at Opernplatz, Berlin, Germany, on 10 May 1933. However, his works were so popular that they were still published, but "author unknown" was the listed writer. In his 1821 play "Almansor," Heine also prophetically wrote "Dort, wo man Bücher verbrennt, verbrennt man am Ende auch Menschen." ("Where they burned books, they will in the end in burn people.")
Henry Roquemore is in casting call lists playing a butcher, but was not seen in the film. The jury foreman, George M. Carleton, is said to be the town butcher by Charles Laughton when he addresses the jury.
The film opened simultaneously at 72 theaters in 50 key cities on 7 May 1943, setting a box office record for gross receipts on an opening day. Opening day ceremonies were broadcast on a radio station in Cincinnati, Ohio.
"Lux Radio Theater" broadcast a 60 minute radio adaptation of the movie on April 24, 1944 with Charles Laughton and Maureen O'Hara reprising their film roles.
Goofs
Errors in geography: After the initial credits, there is a notation "Somewhere in Europe ...". All the signs and notices are in English so there is no specific country identified this way. The film could be set in Belgium, Denmark, Holland, Norway or any of the other occupied territories. However, when Professor Sorel, Louise Martin and Albert Lory examine the school textbooks for what must be removed, all the references are to French history and literature, squarely placing the film in France.
Factual errors: In the initial scenes on the village, an advertisement for War Bonds can be seen on a wall. Although the French government sought funds from its population during the First World War (through National Defense Loans), it would not have occurred in the Second World War as France was so quickly defeated and occupied. The advertisement in this movie therefore is more likely to be a near-subliminal appeal to the American population to purchase War Bonds to support the US effort.
Anachronisms: The German troops are all wearing WWI style helmets, presumably because the actual style of helmets used by Germany in WWII were not available to the film makers. There are also various other mistakes with the German uniforms.
Errors in geography: When Paul Martin is trying to escape by jumping from car to car in the rail yard, one of the parked box cars to the side clearly has the Great Northern logo. While GN was a large operation, its rails didn't reach to Nazi occupied Europe.