THE BRAVADOS
DIRECTED BY HENRY KING
PRODUCED BY HERBERT B. SWOPE Jr,
ORIGINAL MUSIC BY LIONEL NEWMAN
TWENTIETH CENTURY FOX FILM CORPORATION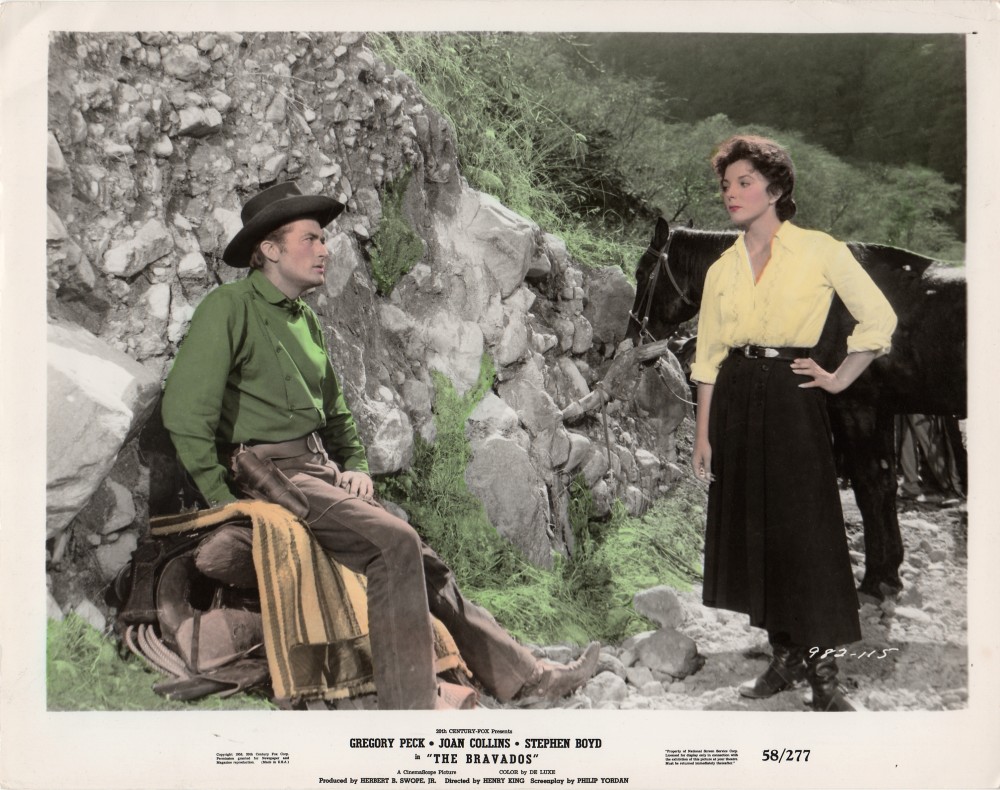 Photo with the courtesy of lasbugas
Plot Summary
Jim Douglas has been relentlessly pursuing the four outlaws
who murdered his wife,
but finds them in jail about to be hanged.
While he waits to witness their execution, they escape;
and the townspeople enlist Douglas' aid to recapture them.
Written by David Levene
Full Cast
Gregory Peck ... Jim Douglass
Joan Collins ... Josefa Velarde
Stephen Boyd ... Bill Zachary
Albert Salmi ... Ed Taylor
Henry Silva ... Lujan
Kathleen Gallant ... Emma Steimmetz
Barry Coe ... Tom
George Voskovec ... Gus Steimmetz
Herbert Rudley ... Sheriff Sanchez
Lee Van Cleef ... Alfonso Parral
Andrew Duggan ... Padre
Ken Scott ... Primo, Deputy Sheriff
Gene Evans ... John Butler
Ninos Cantores de Morelia Choral Group ... Themselves (as The Niños Cantores De Morelia Choral Group)
Robert Adler ... Tony Mirabel (uncredited)
Ada Carrasco ... Sra. Parral (uncredited)
Alicia del Lago ... Ángela Luján (uncredited)
Joe DeRita ... Mr. Simms (uncredited)
Jacqueline Evans ... Mrs. Barnes (uncredited)
Juan García ... Deputy Sheriff Guarding the Pass (uncredited)
María Gracia ... Helen - Little girl - Jim Douglass' daughter (uncredited)
Robert Griffin ... Banker Loomis (uncredited)
Jack Mather ... Quinn the Blacksmith (uncredited)
Jason Wingreen ... Hotel Clerk (uncredited)
Writing Credits
Philip Yordan (screenplay)
Frank O'Rourke (novel)
Original Music
Lionel Newman
Hugo Friedhofer (uncredited)
Alfred Newman (uncredited)
Cinematography
Leon Shamroy (director of photography)
Goofs
Character error
The interior church scenes are of a magnificent, highly ornate,
and vast - probably Metropolitan - cathedral.
This is hardly in keeping with the small-town setting of the film.
External shots do not show such a massive architectural edifice.
When the wounded sheriff staggers into the church (c.35')
the bloodstain on his shirt does not match the knife wound inflicted earlier.
It is significantly lower.
Continuity
When the first gang member lies in ambush, he is seen crawling past a large green shrub
and behind broken blades of dry grass
After he is spotted by Jim Douglass and the camera cuts back to him,
the exact same shot is repeated as though it is happening further along in the story.
Incorrectly regarded as goofs
When Gregory Peck lassoed Albert Salmi he roped one leg.
Yet when he hung him from a tree both legs were in the noose.
However when playing it in slow motion, you can see that when he ropes him
and he falls down and tries to reach the rope to get out of it,
both feet are in the noose as Peck starts to drag him,
and again when he stops to throw the rope over the limb
Salmi tries again to get it loose and both feet are still in the noose.
Trivia
Gregory Peck stated that the movie was written as an attack
on McCarthyism, which he strongly opposed.
While filming Gregory Peck decided to become a cowboy in real life,
so he purchased a vast working ranch near Santa Barbara, California -
already stocked with 600 head of prize cattle.
Memorable Quotes
Filming Locations
Guadalajara, Jalisco, Mexico
Morelia, Michoacán, Mexico
St Jose Perua mountains, Mexico
Best Wishes
Keith
London
-
England