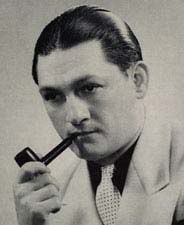 VICTOR YOUNG
INFORMATION FROM IMDb
Date of birth
8 August 1900
Chicago, Illinois, USA
Date of death
10 November 1956
Palm Springs, California, USA. (cerebral hemorrhage and stroke)
Birth name
Albert Victor Young
Spouse
Helen Davis
(? - ?)
Trivia
Between 1939 and 1940, he recorded the first album of songs from "The Wizard of Oz" for Decca Records, a 20-minute 78-RPM set of eight of the songs. It later appeared on LP, and featured Judy Garland with the Ken Darby Singers. The album included the song "The Jitterbug", which had been cut from the film, but omitted "If I Were King of the Forest". It was eventually supplanted in 1956 (the year of the first telecast of the film) by M-G-M's 45-minute LP taken directly from the soundtrack of the movie. And by a strange coincidence, Young died suddenly a week after that first telecast of "The Wizard of Oz".
He won his only Oscar posthumously.
Was nominated for 22 Oscars before winning his first. Unfortunately he was then already dead. This is a record for most nominations without wins.
He is one of two film composers to have received four Oscar nominations in the same year. The other being Alfred Newman, but Young achieved it twice. Once in 1940 (the same year as Newman) and second time the next year, 1941.
He composed the music for many of Cecil B. DeMille's sound films.
He worked frequently on films starring John Wayne, including two of his biggest hits, "Reap The Wild Wind" and "The Quiet Man".
Mini Biography
Young was born in Chicago on August 8, 1900 into a very musical family, his father being a member of one Joseph Sheehan's touring Opera company. The young Victor began playing violin at the age of six, and was sent over to Poland when he was ten to stay with his grandfather and study at Warsaw Imperial Conservatory, achieving the Diploma of Merit. He studied the piano with Isidor Philipp of the Paris Conservatory. While still a teenager he embarked on a career as a concert violinist with the Warsaw Philharmonic under Juliusz Wertheim, assistant conductor in 1915–1916.
Playing before Russian generals and nobles, while in Warsaw, he was later introduced to Czar Nicholas in St. Petersburg, and his playing so impressed the Czar that he presented him with many gifts but the revolution cut short his success in Russia. Having been connected with the court of the Czar, the Bolsheviks deemed it advisable to get rid of him, and it is only by a miracle that he escaped death, for he was already sentenced to die. After a long and tiresome escapade, he succeeded in reaching Warsaw, then Paris, and from there to the United States.
He returned to Chicago in 1920 to join the orchestra at Central Park Casino. He then went to Los Angeles to join his Polish fiancée, finding employment first as a fiddler in impresario Sid Grauman's Million Dollar Theatre Orchestra then going on to be appointed concert-master for Paramount-Publix Theatres. After turning to popular music, he worked for a while as violinist-arranger for Ted Fio Rito.
In 1930 Chicago bandleader and radio-star Isham Jones commissioned Young to write a ballad instrumental of Hoagy Carmichael's "Stardust", which had been played, up until then, as an up-tempo number. Young slowed it down and played the melody as a gorgeous romantic violin solo which inspired Mitchell Parish to write lyrics for what then became one of the great love songs of all time.
In the mid-1930s he moved to Hollywood where he concentrated on films, recordings of light music and providing backing for popular singers, including Bing Crosby. His composer credits include "When I Fall in Love," "Blue Star (The 'Medic' Theme)," "Moonlight Serenade (Summer Love)" from the motion picture The Star (1952), "Sweet Sue," "Can't We Talk It Over," "Street of Dreams," "Love Letters," "Around the World," "My Foolish Heart," "Golden Earrings," "Stella by Starlight", "Delilah", "Johnny Guitar" and "I Don't Stand a Ghost of a Chance with You."
Records
Young was signed to Brunswick in 1931 where his studio groups recorded scores of popular dance music, waltzes and semi-classics through 1934. His studio groups often contained some of the best jazz musicians in New York, including Bunny Berigan, Tommy Dorsey, Jimmy Dorsey, Joe Venuti, Arthur Schutt, Eddie Lang, and others. He used first-rate vocalists, including Paul Small, Dick Robertson, Harlan Lattimore, Smith Ballew, Helen Rowland, Frank Munn, The Boswell Sisters, Lee Wiley and others. One of his most interesting recordings was the January 22, 1932 session containing songs written by Herman Hupfeld: "Goopy Geer (He Plays Piano And He Plays By Ear))" and "Down The Old Back Road", which Hupfeld sang and played piano on (his only two known vocals).
In late 1934, Young signed with Decca and continued recording in New York until mid-1936, when he relocated to Los Angeles.
Radio and films
On radio, he was the musical director of Harvest of Stars. He was musical director for many of Bing Crosby's recordings for the American branch of Decca Records. For Decca, he also conducted the first album of songs from the 1939 film The Wizard of Oz, a sort of "pre-soundtrack" cover version rather than a true soundtrack album. The album featured Judy Garland and the Ken Darby Singers singing songs from the film in Young's own arrangements. He also composed the music for several Decca spoken word albums.
He received 22 Academy Award nominations for his work in film, twice being nominated four times in a single year, but he did not win during his lifetime. He received his only Oscar posthumously for his score of Around the World in Eighty Days (1956). His other scores include Anything Goes (1936), Big Broadcast of 1937 (1936), Artists and Models (1937),[5] The Gladiator, Golden Boy (1939), For Whom the Bell Tolls (1943), The Uninvited (1944), Love Letters (1945), So Evil My Love (1948), The Emperor Waltz (1948),[5] The Paleface (1948), Samson and Delilah (1949), Our Very Own (1950), My Favorite Spy (1951), Payment on Demand (1951), The Quiet Man (1952), Scaramouche (1952), Something to Live For (1952), Shane (1953), The Country Girl (1954), A Man Alone (1955), and Written on the Wind (1956).
Young also composed "The Call of the Faraway Hills," used as the theme for the U.S. television series Shane.
As an occasional bit player, Young can be glimpsed briefly in The Country Girl (1954) playing a recording studio leader conducting Crosby while he tapes "You've Got What It Takes". His last film score was for Omar Khayyam, starring Cornel Wilde, filmed in 1956 and released by Paramount in 1957 after Young's death.
Young died in Palm Springs, California after a cerebral hemorrhage at age 56. He is interred in the Beth Olam Mausoleum in Hollywood Forever Cemetery, Hollywood, CA. Dr. Max Nussbaum, rabbi of Temple Israel, Hollywood, officiated. His family donated his artefacts and memorabilia (including his Oscar) to Brandeis University, where they are housed today.
Filmography
Composer
1957 Run of the Arrow
1957 The Buster Keaton Story
1957 China Gate
1956 The Brave One
1956 Around the World in Eighty Days
1956 The Vagabond King
1956 The Proud and Profane
1956 The Maverick Queen
1956 The Conqueror
1956 Bing Presents Oreste (short)
1955 A Man Alone
1955 The Tall Men
1955 The Left Hand of God
1955 Son of Sinbad
1954-1955 Medic (TV series)
– Never Comes Sunday (1955)
– Break Through the Bars (1955)
– A Time to Be Alive (1955)
– Boy in the Storm (1955)
– The Wild Intruder (1954)
all 7 episodes »
1955 Strategic Air Command
1955 Timberjack
1954 The Country Girl
1954 Drum Beat
1954 Light's Diamond Jubilee (TV documentary)
1954 About Mrs. Leslie
1954 Trouble in the Glen
1954 Johnny Guitar
1954 Three Coins in the Fountain
1954 Once Upon an Eastertime (TV movie)
1954 Knock on Wood (uncredited)
1954 Jubilee Trail
1953 Forever Female
1953 Flight Nurse
1953 Little Boy Lost
1953 The Sun Shines Bright
1953 Fair Wind to Java
1953 Shane
1953 A Perilous Journey
1953 The Stars Are Singing (uncredited)
1952 Blackbeard, the Pirate
1952 The Star
1952 Thunderbirds
1952 One Minute to Zero
1952 The Story of Will Rogers
1952 The Quiet Man
1952 Scaramouche
1952 Anything Can Happen
1952 Something to Live For
1952 The Greatest Show on Earth
1951 My Favorite Spy
1951 Thunder Across the Pacific
1951 Honeychile
1951 A Millionaire for Christy
1951 This Is Korea! (documentary) (uncredited)
1951 Appointment with Danger
1951 Bullfighter and the Lady
1951 The Lemon Drop Kid
1951 Payment on Demand
1951 Belle Le Grand
1950 Rio Grande
1950 The Fireball
1950 September Affair
1950 Our Very Own
1950 Bright Leaf
1950 Riding High (uncredited)
1950 Paid in Full
1950 Gun Crazy
1950 The File on Thelma Jordon
1949 My Foolish Heart
1949 Samson and Delilah
1949 Sands of Iwo Jima
1949 Song of Surrender
1949 Chicago Deadline
1949 Streets of Laredo
1949 A Yankee in King Arthur's Court
1949 The Accused
1948 The Paleface
1948 Miss Tatlock's Millions
1948 Night Has a Thousand Eyes
1948 Beyond Glory
1948 Dream Girl
1948 The World and His Wife
1948 The Emperor Waltz
1948 The Big Clock
1948 So Evil My Love
1948 I Walk Alone
1947 Where There's Life (uncredited)
1947 Unconquered
1947 Golden Earrings
1947 The Trouble with Women
1947 Mrs. Loring's Secret
1947 Calcutta
1947 Suddenly It's Spring
1947 California
1946 The Searching Wind
1946 Our Hearts Were Growing Up
1946 The Blue Dahlia (uncredited)
1946 To Each His Own
1946 Two Years Before the Mast
1945 Masquerade in Mexico (uncredited)
1945 Kitty
1945 Love Letters
1945 You Came Along
1945 A Man Called Sullivan
1945 Target Tokyo (documentary short)
1945 A Medal for Benny
1944 Practically Yours
1944 And Now Tomorrow
1944 Ministry of Fear
1944 Frenchman's Creek
1944 The Great Moment
1944 The Story of Dr. Wassell
1944 And the Angels Sing
1944 The Uninvited
1943 True to Life (uncredited)
1943 Melody Inn (uncredited)
1943 Hostages
1943 For Whom the Bell Tolls
1943 The Iron Road
1943 China
1943 Salute for Three (uncredited)
1943 Young and Willing
1943 The Outlaw (uncredited)
1943 The Crystal Ball
1943 No Time for Love
1942 Silver Queen
1942 Road to Morocco (uncredited)
1942 My Heart Belongs to Daddy (uncredited)
1942 The Palm Beach Story
1942 Mrs. Wiggs of the Cabbage Patch
1942 The Forest Rangers
1942 The Glass Key
1942 Flying Tigers
1942 Priorities on Parade (uncredited)
1942 Sweater Girl (uncredited)
1942 Beyond the Blue Horizon
1942 Green-Eyed Woman
1942 The Great Man's Lady
1942 Reap the Wild Wind
1942 The Remarkable Andrew
1942 The Fleet's In (uncredited)
1941 Hearts in Springtime (uncredited)
1941 Skylark
1941 Nothing But the Truth (uncredited)
1941 Buy Me That Town
1941 Hold Back the Dawn
1941 Aloma of the South Seas
1941 World Premiere (uncredited)
1941 Kiss the Boys Goodbye (uncredited)
1941 Caught in the Draft
1941 One Night in Lisbon (uncredited)
1941 Reaching for the Sun
1941 Road to Zanzibar (uncredited)
1941 I Wanted Wings
1941 The Roundup
1941 A Date with Destiny
1941 Virginia (uncredited)
1940 Love Thy Neighbor (uncredited)
1940 Moon Over Burma
1940 A Night at Earl Carroll's (uncredited)
1940 Arizona
1940 Ranger Guns West
1940 Dancing on a Dime (uncredited)
1940 North West Mounted Police
1940 Arise, My Love
1940 The Tragedy of Divorce
1940 Rhythm on the River (uncredited)
1940 Mystery Sea Raider (uncredited)
1940 Knights of the Range
1940 Untamed
1940 Good Old Schooldays (uncredited)
1940 The Refugee
1940 The Ghost Breakers (uncredited)
1940 The Way of All Flesh
1940 Three Faces West
1940 Buck Benny Rides Again (uncredited)
1940 The Light of Western Stars
1940 Dark Command
1940 Road to Singapore (uncredited)
1940 The Farmer's Daughter (uncredited)
1940 Santa Fe Marshal (uncredited)
1939 The Light That Failed
1939 Escape to Paradise (uncredited)
1939 Gulliver's Travels (atmospheric music created by)
1939 All Women Have Secrets
1939 The Llano Kid
1939 The Night of Nights
1939 Our Neighbors - The Carters
1939 Raffles
1939 Law of the Pampas
1939 Husbands or Lovers (uncredited)
1939 Golden Boy
1939 Range War
1939 Death of a Champion (uncredited)
1939 Island of Lost Men (uncredited)
1939 Way Down South (uncredited)
1939 Heritage of the Desert
1939 Grand Jury Secrets (uncredited)
1939 Undercover Doctor (uncredited)
1939 Man of Conquest
1939 Union Pacific (uncredited)
1939 Fisherman's Wharf (uncredited)
1938 Peck's Bad Boy with the Circus (uncredited)
1938 Flirting with Fate (uncredited)
1938 Breaking the Ice (uncredited)
1938 The Last of the Cavalry
1938 The Gladiator (uncredited)
1938 Romance in the Dark (uncredited)
1938 The Big Broadcast of 1938 (uncredited)
1937 Wells Fargo
1937 Ebb Tide
1937 Double or Nothing (uncredited)
1937 Vogues of 1938 (uncredited)
1937 Easy Living (uncredited)
1937 Mountain Music (uncredited)
1937 Make Way for Tomorrow
1937 Swing High, Swing Low
1937 Maid of Salem
1936 The Big Broadcast of 1937 (uncredited)
1936 My American Wife (uncredited)
1936 Fatal Lady (uncredited)
1936 Frankie and Johnnie
1936 Klondike Annie (uncredited)
1936 Anything Goes (uncredited)
1935 Melody Magic (short)
Actor
1. Vogues of 1938 (1937) .... Orchestra Leader
2. Musical Justice (1931) (uncredited) .... Court clerk/bandleader