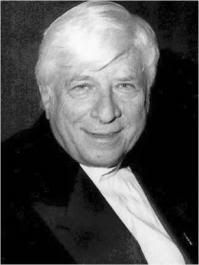 ELMER BERNSTEIN
INFORMATION FROM IMDb
Date of birth
4 April 1922
New York, New York, USA
Date of death
18 August 2004
Ojai, California, USA.
Sometimes Credited As:
Elmer Bernstien
Spouse
Eve Adamson (? - 18 August 2004) (his death)
Pearl Glusman (? - ?) (divorced)
Trivia
Father of Peter Bernstein, Emilie A. Bernstein, writer Gregory Bernstein and Elizabeth.
He was conductor for one season of the San Fernando Valley Symphony Orchestra. It is generally considered to be that orchestra's most successful season, and it is generally considered to show that Bernstein was a very capable conductor. The orchestra was made up of some of the finest musicians in the country, including moonlighting members of the Los Angeles Philharmonic and studio musicians. Highlights of the programs included, of course, some of Elmer Bernstein's own film scores. Since then, he helped to found Varese Sarabande, whose best recordings (in this writer's opinion) are of his film scores, but the label also presents music by other composers such as Miklós Rózsa.
In 1953, he was doing scores for such notorious ultra-low budget films as Robot Monster (1953) and Cat-Women of the Moon (1953). Only three years later, he was doing the score for 'Cecil B. deMille' 's The Ten Commandments (1956).
He had four children and five grandchildren.
He was nominated for Academy Awards 14 times but won only once, ironically for one of his less acclaimed scores - Thoroughly Modern Millie (1967).
Father-in-law of Sara Bernstein.
Following his death, his family has requested that, in lieu of flowers or other remembrances, a charitable donation be sent to: Young Musicians Foundation 195 South Beverly Drive, #415 Beverly Hills, CA 90212. A special scholarship fund will be established in his name. Since 1955, Young Musicians Foundation (YMF) has provided encouragement and recognition to gifted young musicians from around the country through financial assistance, performance opportunities, and music education programs.
Was nominated for three Tony Awards: two in 1968 for "How Now, Dow Jones." as Best Composer and Lyricist, with his collaborator Carolyn Leigh, and for his music as part of a Best Musical nomination; and in 1983 for "Merlin," as Best Score, his music with lyrics by Don Black.
He is the only individual to be nominated for an Academy Award in each of the last six decades: the 50s, 60s, 70s, 80s, 90s and 00s
Mini biography
Elmer Bernstein was educated at the Walden School and New York University. He served in the US Army Air Corps in World War II. A prolific and respected film music composer, he was a protege of Aaron Copland who studied music with Roger Sessions and Stefan Wolpe. He worked in various artistic endeavors including painting and the theatre. He performed not only as a pianist but as an acting-dancing performer as well. Among his early composition work were scores for United Nations radio programs and television and industrial documentaries. His original scores for films range over an enormous variety of film styles, with his ground-breaking jazz score for The Man with the Golden Arm (1955), light musical comedies such as his Oscar-winning Thoroughly Modern Millie (1967) score and perhaps his most familiar, the Western film, The Magnificent Seven (1960).
A few years before before his death, he acquired something of a cult status amongst fans of the England football team when his familiar main theme for The Great Escape (1963) was adopted by them and hummed and played, lustily, during matches.
IMDb mini-biography by Jim Beaver


Filmography
Composer
Cecil B. DeMille: American Epic (TV documentary)
2002 The Rising of the Moon (short)
2002 Far from Heaven
2002 Taking the Wheel (short)
2000 Chinese Coffee
2000 Keeping the Faith
1999 Wild, Wild West: The Steel Assassin (Video Game)
1999 Bringing Out the Dead
1999 Introducing Dorothy Dandridge (TV movie)
1999 Wild Wild West
1999 The Deep End of the Ocean
1998 Granada: Agua Sin Pausa (short)
1998 Puppies for Sale (short)
1998 Twilight
1997 The Rainmaker
1997 Hoodlum
1997 Buddy
1996 Bulletproof
1995 Frankie Starlight
1995 Devil in a Blue Dress
1995 Canadian Bacon
1995 A Personal Journey with Martin Scorsese Through American Movies (TV documentary)
1995 Search and Destroy
1995 Roommates
1993 The Good Son
1993 The Age of Innocence
1993 Lost in Yonkers
1993 Mad Dog and Glory
1993 The Cemetery Club
1992 The Bogie Man (TV movie)
1992 The Babe
1991 Rambling Rose
1991 A Rage in Harlem
1991 Oscar
1990 The Grifters
1990 The Field
1990 One Day in Dallas
1989 My Left Foot
1989 Slipstream
1988 The Good Mother
1988 Funny Farm
1988 Da
1987 Leonard Part 6
1987 Amazing Grace and Chuck
1986 ¡Three Amigos!
1986 Legal Eagles
1985 Prince Jack
1985 Spies Like Us
1985 The Black Cauldron
1985 Marie Ward - Zwischen Galgen und Glorie
1985 Gulag (TV movie)
1984 Ghostbusters
1983 Thriller (TV short)
1983 Class
1983 Trading Places
1983 Spacehunter: Adventures in the Forbidden Zone
1982 Airplane II: The Sequel
1982 Five Days One Summer
1982 Genocide (documentary)
1981 Today's F.B.I. (TV series)
1981 The Chosen
1981 Honky Tonk Freeway
1981 An American Werewolf in London
1981 Heavy Metal
1981 Stripes
1981 Going Ape!
1980 Airplane!
1980 This Year's Blonde (TV movie)
1980 Guyana Tragedy: The Story of Jim Jones (TV movie)
1980 Saturn 3
1979 The Great Santini
1979 Meatballs
1979 Zulu Dawn
1979 The Chisholms (TV mini-series)
1979 Delta House (TV series)
1979 Charleston (TV movie)
1979 A Report on the IBM Exhibition Center (short)
1978 Little Women (TV series)– Pilot (1978)
1978 Bloodbrothers
1978 Animal House
1978 Masks (Polavision Vignette) (short)
1978 Macbeth (Polavision Vignette) (short)
1978 Degas in the Metropolitan (short)
1978 Cézanne (documentary short)
1978 Art Game (video)
1977 The Look of America
1977 The 3,000 Mile Chase (TV movie)
1977 Billy Jack Goes to Washington
1977 Seventh Avenue (TV mini-series)
1977 Powers of Ten (documentary short)
1977 Polavision (short)
1977 Daumier: Paris and the Spectator
1976 Captains and the Kings (TV mini-series)
– Chapter VIII (1976)
– Chapter VII (1976)
– Chapter VI (1976)
– Chapter V (1976)
– Chapter IV (1976)
all 7 episodes »
1976 The Incredible Sarah
1976 From Noon Till Three
1976 The Shootist
1976 Serpico (TV series)– The Deadly Game (1976)
1975-1976 Ellery Queen (TV series)
– The Adventure of the Judas Tree (1976)
– The Adventure of the Wary Witness (1976)
– The Adventure of the Eccentric Engineer (1976)
– The Adventure of the Sunday Punch (1976)
– The Adventure of the Black Falcon (1976)
all 17 episodes »
1975 The Old Curiosity Shop
1975 Operation Undercover
1975 Metropolitan Overview (short)
1974 The Trial of Billy Jack
1972-1974 The Rookies (TV series)
– Judgement (1974)
– Rabbits on the Runway (1972)
– A Very Special Piece of Ground (1972)
– To Taste of Terror (1972)
– The Bear That Didn't Get Up (1972)
all 12 episodes »
1974 Nightmare Honeymoon
1974 Gold
1974 Men of the Dragon (TV movie)
1974 McQ
1973 Cahill
1971-1973 Appointment with Destiny (TV series)
– Peary's Race for the North Pole (1973)
– Cortez and Montezuma: The Conquest of an Empire (1972)
– Surrender at Appomattox (1972)
– The Crucifixion of Jesus (1972)
– Showdown at O.K. Corral (1972)
all 7 episodes »
1973 Incident on a Dark Street (TV movie)
1973 Franklin & Jefferson Proposal Film (documentary short)
1973 Copernicus (documentary short)
1972 The Amazing Mr. Blunden
1972 Gun Law (TV series)– Hostage! (1972)
1971-1972 Owen Marshall: Counselor at Law (TV series)
– Love Child (1972)
– Eulogy for a Wide Receiver (1971)
– Pilot (1971)
1972 The Magnificent Seven Ride!
1972 The Crucifixion of Jesus (TV documentary)
1972 SX-70 (documentary)
1972 Computer Perspective (documentary short)
1971 Blind Terror
1971 Big Jake
1971 Doctors' Wives
1971 The Tell-Tale Heart (short)
1971 Appointment with Destiny: The Last Days of John Dillinger (TV documentary)
1971 Computer Landscape (documentary short)
1970 Cannon for Cordoba
1970 A Walk in the Spring Rain
1970 The Liberation of L.B. Jones
1970 The Unfinished Journey of Robert Kennedy (TV documentary)
1970 Kifaru... The Black Rhino (documentary)
1969 The Gypsy Moths
1969 Guns of the Magnificent Seven
1969 The Bridge at Remagen
1969 True Grit
1969 A Run on Gold
1969 Where's Jack?
1969 Tops (documentary short)
1968 I Love You, Alice B. Toklas!
1968 The Scalphunters
1967-1968 The Big Valley (TV series)
– The Challenge (1968)
– Run of the Savage (1968)
– Devil's Masquerade (1968)
– A Bounty on a Barkley (1968)
– Rimfire (1968)
all 24 episodes »
1968 IBM Museum (short)
1968 A Rough Sketch for a Proposed Film Dealing with the Powers of Ten and the Relative Size of Things in the Universe (documentary short)
1968 A Computer Glossary (documentary short)
1967 Thoroughly Modern Millie
1966 Return of the Seven
1966 Hawaii
1966 Cast a Giant Shadow
1966 The Silencers
1966 National Geographic Specials (TV series documentary)– Voyage of the Brigantine Yankee (1966)
1966 7 Women
1965 In Search of Man (TV documentary)
1965 The Reward
1965 France: Conquest to Liberation (TV documentary)
1965 The Sons of Katie Elder
1965 The Hallelujah Trail
1965 Time-Life Specials: The March of Time (TV series documentary)
1965 Baby the Rain Must Fall
1965 Sherlock Holmes in the Singular Case of the Plural Green Mustache (short)
1965 Westinghouse in Alphabetical Order (documentary short)
1965 View from the People Wall (short)
1965 The Smithsonian Institute (documentary short)
1965 IBM at the Fair (documentary short)
1965 IBM Puppet Shows (short)
1964 A Thousand Days: A Tribute to John Fitzgerald Kennedy (TV documentary)
1964 Four Days in November (documentary)
1964 The Carpetbaggers
1964 The World of Henry Orient
1963-1964 Hollywood and the Stars (TV series)
– Paul Newman: Actor in a Hurry (1964)
– In Search of Kim Novak (1964)
– On Location: Night of the Iguana (1964)
– The Swashbucklers (1964)
– The One and Only Bing (1963)
all 7 episodes »
1964 House of Science (short)
1963 The Making of the President 1960 (documentary)
1963 Love with the Proper Stranger
1963 Kings of the Sun
1963 Project: Man in Space (TV documentary)
1963 Rampage
1963 Borderlines
1963 The Great Escape
1963 Hud (music scored by)
1963 Hollywood: The Great Stars (TV documentary)
1962 A Girl Named Tamiko
1962 To Kill a Mockingbird
1962 Hollywood: The Fabulous Era (TV documentary)
1962 Birdman of Alcatraz
1962 D-Day June 6, 1944 (TV documentary)
1962 The Dick Powell Show (TV series)– Savage Sunday (1962)
1962 Walk on the Wild Side
1962 The Beachcomber (TV series)
1962 San Francisco Fire (short)
1961 Summer and Smoke
1961 The Comancheros
1961 The Young Doctors
1961 By Love Possessed
1961 2n: A Story of the Power of Numbers (short) (uncredited)
1961 Topology (documentary short)
1961 IBM Mathematics Peep Show (documentary short)
1961 Hollywood: The Golden Years (TV documentary)
1960 The Magnificent Seven
1960 From the Terrace
1960 The Rat Race
1959-1960 Riverboat (TV series)
– The Sellout (1960)
– The Quick Noose (1960)
– The Long Trail (1960)
– The Night of the Faceless Men (1960) (music score)
– Hang the Men High (1960)
all 18 episodes »
1959-1960 Johnny Staccato (TV series)
– Swinging Long Hair (1960)
– A Nice Little Town (1960)
– The Mask of Jason (1960)
– An Angry Young Man (1960)
– An Act of Terror (1960)
all 26 episodes »
1960 The Fabulous Fifties (documentary)
1960 Introduction to Feedback (documentary short)
1959 The Story on Page One
1959 The Miracle
1959 The Race for Space (TV documentary)
1959 Glimpses of the USA (short)
1958 Some Came Running
1958 The Buccaneer
1958 Anna Lucasta
1958 General Electric Theater (TV series)– Battle for a Soul (1958)
1958 God's Little Acre
1958 Kings Go Forth
1958 Studio 57 (TV series)– Take Five (1958)
1958 Saddle the Wind (music scored by)
1958 Desire Under the Elms
1957 The Tin Star
1957 Sweet Smell of Success
1957 Fear Strikes Out
1957 Men in War
1957 The Information Machine (documentary short)
1957 Toccata for Toy Trains (short)
1957 Drango
1956 The Ten Commandments
1956 Lounge Chair (short)
1956 The Naked Eye (documentary)
1956 Eames Lounge Chair (documentary short)
1955 It's a Dog's Life
1955 Storm Fear
1955 The Man with the Golden Arm
1955 Secret Interlude
1955 The Eternal Sea
1955 House: After Five Years of Living (documentary short)
1954 Silent Raiders
1954 Make Haste to Live
1954 S-73 (short)
1954 Miss Robin Crusoe
1953 Cat-Women of the Moon (musical score / as Elmer Bernstien)
1953 Robot Monster
1953 The Private Wore Skirts
1953 A Communications Primer (documentary short)
1952 Battles of Chief Pontiac
1952 Sudden Fear
1952 Boots Malone
1951 Idols in the Dust
Actor
1. From Noon Till Three (1976) (uncredited) .... Songwriter
2. The Rat Race (1960) (uncredited) .... Member of jazz quartet