HANG 'EM HIGH
DIRECTED BY TED POST
PRODUCED BY LEONARD FREEMAN
LEONARD FREEMAN/MALPASO/UNITED ARTISTS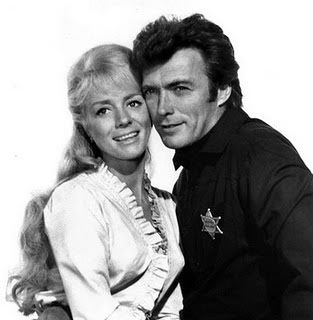 Information from IMDb
Plot Summary
When an innocent man barely survives a lynching,
he returns as a lawman determined to bring the vigilantes to justice.
Full Cast
Clint Eastwood ... Marshal Jed Cooper
Inger Stevens ... Rachel Warren
Ed Begley ... Captain Wilson, Cooper Hanging Party
Pat Hingle ... Judge Fenton
Ben Johnson ... Marshal Dave Bliss
Charles McGraw ... Sheriff Ray Calhoun, Red Creek
Ruth White ... Madame 'Peaches' Sophie
Bruce Dern ... Miller, One of the 3 rustlers, and murderer
Alan Hale Jr. ... Matt Stone, Cooper Hanging Party
Arlene Golonka ... Jennifer, the Prostitute
James Westerfield ... Prisoner
Dennis Hopper ... The Prophet
L.Q. Jones ... Loomis, Cooper Hanging Party
Michael O'Sullivan ... Francis Elroy Duffy, Prisoner
Joseph Sirola ... Reno, Cooper Hanging Party
James MacArthur ... The Preacher
Bob Steele ... Jenkins, Cooper Hanging Party
Bert Freed ... Schmidt, the Hangman
Russell Thorson ... Maddow, Cooper Hanging Party (as Russell Thorsen)
Ned Romero ... Charlie Blackfoot, Cooper Hanging Party
Jonathan Goldsmith ... Tommy, Cooper Hanging Party (as Jonathan Lippe)
Richard Gates ... Ben, Billy Joe's Brother (as Rick Gates)
Bruce Scott ... Billy Joe, Ben's Brother
Richard Guizon
Tod Andrews ... Defense Attorney
Mark Lenard ... Prosecutor
Roy Glenn ... Guard
Paul Sorensen ... Prisoner on Scaffold (as Paul Sorenson)
Richard Angarola
Larry J. Blake ... Prisoner in Compound (as Larry Blake)
Ted Thorpe
Robert Jones
Barry Cahill
John Wesley ... Guard
Dennis Dengate
Bill Zuckert ... Sheriff
Hal England ... Brother
Robert Williams ... Elwood the Gravedigger (as Robert B. Williams)
Tony Di Milo (as Tony di Milo)
John Cochran ... Jailer (uncredited)
Herbert Ellis ... Swede (uncredited)
Jack Ging ... Marshal Ace Hayes (uncredited)
Tammy Locke ... Walking in town with family and Little girl in wagon with family (uncredited)
Harvey Parry ... Prisoner in Wagon (uncredited)
Hank Robinson ... Deputy Outside Sheriff's Office (uncredited)
Jeffrey Sayre ... Townsman (uncredited)
Writing Credits
Leonard Freeman
Mel Goldberg
Produced
Leonard Freeman .... producer
Irving L. Leonard .... associate producer (as Irving Leonard)
Robert Stambler .... supervising producer
Original Music
Dominic Frontiere
Cinematography
Richard H. Kline
Leonard J. South
Trivia
Sergio Leone was approached to direct this film, but he turned it down since he was working on Once Upon a Time in the West (1968) at the time.
The first film produced by Clint Eastwood's Malpaso Company.
Reportedly, producer Leonard Freeman clashed with director Ted Post during production. One day Freeman showed up on the set, issuing orders and taking charge. Post wanted to confront him, but Clint Eastwood intervened. Eastwood spoke to Freeman, and Freeman left the set and didn't return. What he said was, "If you show up on this set again, there won't be a set ... won't be a cast, won't be a crew."
CASTLE THUNDER: Heard several times during the rain after Jed and Rachel's picnic.
The character of Judge Adam Fenton was based in part on Judge Isaac Parker whose federal court in Fort Smith, Arkansas had jurisdiction over the Oklahoma and Indian Territories.
Clint Eastwood turned down a part in the big budget film Mackenna's Gold (1969) to make this film instead.
United Artists executives suggested experienced action film directors like 'John Sturgis' and 'Robert Aldrich', but Clint Eastwood gave the director's reins to Ted Post, who had directed twenty-four episodes of "Rawhide" (1959) and was very good at dialogue. Co-stars Charles McGraw, 'Ed Begly', Bruce Dern, and Pat Hingle had all appeared in "Rawhide" episodes directed by Post.
Goofs
* Crew or equipment visible: The shadow of the cameraman as Jed Cooper walks into the saloon.
* Crew or equipment visible: When Jed walks into the Sheriff's Office to find the Swede after being hired as a Marshall, a shadow from the camera man is clearly seen following Eastwood on the lower left part of the screen.
* Continuity: The length of Miller's beard seems to vary considerably from shot-to-shot, especially during his fist-fight seen with Cooper on their way back to Fort Grant. He appears nearly clean-shaven, but once on the ground, his beard is quite heavy. In contrast, Cooper's facial hair never changes.
* Miscellaneous: When Jedd is hanging on the noose, you can see the film being reversed back and forth to see his feet go back and forth in the same pattern for 10 seconds
* Crew or equipment visible: At the beginning of the movie a piece of camera equipment can be plainly seen lying on the bottom of the gallows.
* Continuity: At the beginning of the movie, Jed has to pick up a calf from the water and carry him on shore. However, after the calf walks off, we can see that his leggings (which should be wet) are dry.
* Revealing mistakes: When Jed is walking outside, just before entering the saloon where he will kill Reno, he has two shadows. Inside the saloon, he casts two shadows too (but this could be due to two oil lamps).
* Continuity: At the start of the film, when Jed carries the calf out of the river, he places it on the ground and his chaps and pants are soaked from walking out of the water. He then turns to get on his horse and his chaps and pants are dry.
* Continuity: During the picnic scene in which Rachel tells Jed of her husband's murder and her rape, her hair is alternately wind-blown/neat between shots.
* Continuity: When Jed Cooper is unsuccessfully hanged in the opening scenes, he is seen rocking back and forth after the horse bolts. In the close-up, Cooper becomes still and the rope stops swinging.
* Anachronisms: When Jed is rescued from the noose, a white vehicle can be seen flashing quickly between the trees in the distance.
* Revealing mistakes: When Marshal Cooper wakes up in the hotel after returning with the three outlaws, you can hear a man and woman cooing and laughing in the background, if you listen carefully, you'll notice it is on a loop and keeps playing over and over again
* Crew or equipment visible: There's a ventilated electrical transformer underneath the gallows at the first hanging.
* Anachronisms: Near the end of the film when Cooper assaults Captain Wilson's house, it is guarded by a German Shepherd which didn't come into existence until 1894-1899 which is well after the time period of this film.
* Anachronisms: On the evening before the hanging of the six prisoners, a man suggests that people have been setting up tents in the "boondocks". "Boondock", derived from the Tagalog bundok is an expression introduced to English by American soldiers in the Philippines during World War II, well after the period of this film.
* Continuity: When Cooper is first lassoed, the rope changes position between shots.
* Continuity: When Cooper is cut down, the short, hanging end of the rope is initially not seen but is visible later.
* Continuity: When Cooper is marched to the 'paddywagon,' one mule is seen hitched behind the wagon. It then disappears, and when the wagon moves, two mules are seen.
* Continuity: Cooper's position changes when fighting with Miller in the desert. This is when Miller knocks Cooper to the ground.
* Continuity: Number of prisoners in the wagon varies between close and long shots.
* Revealing mistakes: Obvious stunt double when Jedd is being roped at the beginning of the film before and while he is dragged through the river.
* Continuity: After his hanging, and cutting him down, he was placed in the prison wagon. As he is entering the wagon, he is not wearing any pants, just chaps. But he is wearing pants when he gets out of the prison wagon.
* Anachronisms: As Cooper rides out of town at the very end of the film, two telephone poles can be seen between the palm trees in the top right corner of the shot over the credits.
* Revealing mistakes: When the Judge goes to visit Jed Cooper in the hotel after he's been shot you can see a painted background in the front doorway that has a shadow cast upon it that reveals the background is a one piece painting.
* Continuity: In the opening scene, Jed wades into a river to rescue a calf. Moments later when he sees the hanging party on the river bank, he's dry. The hanging party later drags him through the river and then face first through the dirt. Despite all that, his clothes are later dry and relatively clean.
* Continuity: Dust in air disappears between shots after posse surrounds Jed Cooper on river bank.
* Continuity: When Jed Cooper is having shackles attached he has a cut and swollen right eye. After the preacher is shot a close up reveals him to have no injury at all, no bruise cut anything.
Filming Locations
Las Cruces, New Mexico, USA
Metro-Goldwyn-Mayer Studios - 10202 W. Washington Blvd., Culver City, California, USA
(studio)
White Sands National Monument, Alamogordo, New Mexico, USA