ALL QUIET ON THE WESTERN FRONT
DIRECTED BY LEWIS MILESTONE
PRODUCED BY CARL LAEMMLE Jr.
UNIVERSAL PICTURES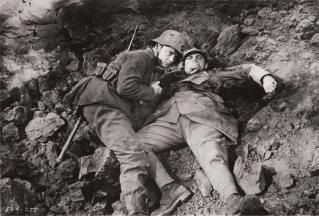 Information from IMDb
Plot Summary
This is an English language film (made in America) adapted from a novel by German author Erich Maria Remarque. The film follows a group of German schoolboys, talked into enlisting at the beginning of World War 1 by their jingoistic teacher. The story is told entirely through the experiences of the young German recruits and highlights the tragedy of war through the eyes of individuals. As the boys witness death and mutilation all around them, any preconceptions about "the enemy" and the "rights and wrongs" of the conflict disappear, leaving them angry and bewildered. This is highlighted in the scene where Paul mortally wounds a French soldier and then weeps bitterly as he fights to save his life while trapped in a shell crater with the body. The film is not about heroism but about drudgery and futility and the gulf between the concept of war and the actuality.
Written by Michele Wilkinson, University of Cambridge Language Centre,
Full Cast
Louis Wolheim ... Kat Katczinsky
Lew Ayres ... Paul Bäumer (as Lewis Ayres)
John Wray ... Himmelstoß
Arnold Lucy ... Prof. Kantorek
Ben Alexander ... Franz Kemmerich
Scott Kolk ... Leer
Owen Davis Jr. ... Peter
Walter Rogers ... Behn (as Walter Browne Rogers)
William Bakewell ... Albert Kropp
Russell Gleason ... Müller
Richard Alexander ... Westhus
Harold Goodwin ... Detering
Slim Summerville ... Tjaden (as 'Slim' Summerville)
G. Pat Collins ... Lt. Bertinck (as Pat Collins)
Beryl Mercer ... Mrs. Bäumer - Paul's Mother
Edmund Breese ... Herr Meyer
Marion Clayton Anderson ... Miss Anna Bäumer (uncredited)
Poupée Andriot ... French Girl (uncredited)
Vince Barnett ... Assistant Cook (uncredited)
Daisy Belmore ... Mrs. Kemmerick (uncredited)
Glen Boles ... Young Soldier (uncredited)
Heinie Conklin ... Joseph Hammacher (uncredited)
Yola d'Avril ... Suzanne (uncredited)
Renée Damonde ... French Girl (uncredited)
Arthur Gardner ... Student (uncredited)
Raymond Griffith ... Gérard Duval (uncredited)
Ellen Hall ... Young Girl (uncredited)
William Irving ... Ginger - the Cook (uncredited)
Frederick Kohner ... (uncredited)
Tom London ... Medic Orderly (uncredited)
Bertha Mann ... Sister Libertine (uncredited)
Joan Marsh ... Poster Girl (uncredited)
Edwin Maxwell ... Mr. Bäumer (uncredited)
Jack McHugh ... Schoolboy (uncredited)
Maurice Murphy ... Soldier (uncredited)
Robert Parrish ... Schoolboy (uncredited)
Zasu Pitts ... Mrs. Baumer - Silent Version Trailer only (uncredited)
Bodil Rosing ... Mother of Hospital Patient (uncredited)
Wolfgang Staudte ... (uncredited)
Jack Sutherland ... (uncredited)
David Tyrell ... Soldier (uncredited)
Fred Zinnemann ... Man (uncredited)
Writing Credits
Erich Maria Remarque (novel "Im Westen nichts Neues")
Maxwell Anderson (adaptation & dialogue)
George Abbott (screenplay)
Del Andrews (adaptation)
C. Gardner Sullivan (supervising story chief)
Walter Anthony (titles) uncredited
Lewis Milestone uncredited
Original Music
Sam Perry (silent version) (uncredited)
Heinz Roemheld (silent version) (uncredited)
Cinematography
Arthur Edeson
Karl Freund (uncredited)
Trivia
Zasu Pitts was originally cast as Mrs. Bäumer (mother of Lew Ayres' character Paul Bäumer), but she was replaced by Beryl Mercer. Contrary to long-standing rumor, Zasu Pitts did not appear in the silent version of this film simultaneously produced for theaters not yet wired for sound. However, Zasu Pitts DOES appear briefly in the original 1930 trailer for the silent version, a scene of her in bed.
In the closing scene, director Lewis Milestone's hand is used for that of Lew Ayres, when he reaches for a butterfly.
During the film's German release, the Nazis (not yet in power) interrupted screenings by shouting martial slogans and releasing rats into the theaters.
To ensure authenticity, director Lewis Milestone instructed the studio to try to find out if there were any World War I German army veterans living in the Los Angeles area, so he could have them authenticate German uniforms, equipment, etc. So many were found that Milestone cast a lot of them as German officers in the film, and had them drill the extras playing German troops (yhe scene where they are laying communication wire in the forward trenches was led by a former German soldier whose job during the war was to do exactly that).
The Greek writing on the blackboard in the schoolroom is the beginning of Homer's "Odyssey": "Tell me Oh Muse of that ingenious hero who traveled far and wide".
In part because of his experience in playing the part of Paul Baumer, Lew Ayres became a conscientious objector during the Second World War. His films were banned in over 100 Chicago theaters.
According to the reminiscences of director Lewis Milestone, audiences laughed when Zasu Pitts appeared as the mother in the original cut (sound version), and that is why he recast the role with Beryl Mercer.
The silent (synchronised sound, non-dialogue) version premiered 73 years after the film's release (in the UK, that is) at the Watershed in Bristol on Sunday 23 November 2003.
Visa d'exploitation en France: #10077 (reprise)
In the first classroom scene, two phrases are written on the blackboard: 1. in Greek, correctly written, the beginning of the Odyssey - Andra moi ennepe, Mousa, polytropon hos mala polla (the sentence breaks off, against grammar and sense); 2. Ovid, Remedia amoris, line 91 - Principiis obsta, sero medicina paratur (Resist the first elements of passion; it's too late when you resort to medicine). A third phrase appears at the end of the scene: Quidquid agis, prudenter agas et respice finem (Whatever you do, do it wisely and keep in mind your purpose), an anonymous traditional maxim with biblical echoes.
Future leading director Fred Zinnemann was briefly an extra on the film, before getting fired for impudence.
Future great director George Cukor, having recently been brought over from Broadway (where he was already a director) to Hollywood, was employed as a dialogue coach on this film. His job was to lessen the regional dialects of the actors so that American audiences could more greatly identify with the characters.
With the loss of limbs and gory deaths shown rather explicitly, this is undoubtedly the most violent American film of its time. This is because the Production Code was not strictly enforced until 1934, and also because Universal Pictures deemed the subject matter important enough to allow the violence to be seen.
As of June 2010, Arthur Gardner is the only surviving member of either the cast or crew.
The first sound film of director Lewis Milestone.
Nazi rabble rousers stormed screenings of the film in Germany, often releasing rats or stink bombs into the theaters, as the wounds of defeat in the First World War still ran deep. This led to the film ultimately being banned by the Nazi party. It wouldn't receive proper screenings in Germany until 1956, though it did play to packed houses in 1930 in neighboring Switzerland, France and the Netherlands with special trains and buses being laid on to transport Germans to screenings.
Made for the then considerable sum of $1.25 million, the production utilized over 2,000 extras. The knowledge that production began only a few months after the 1929 stock market crash puts into perspective the enormous gamble taken by Universal Pictures in making this film.
Lewis Milestone deliberately made the film without music so as not to take away from the seriousness of the subject. Much to his chagrin, however, some movie theaters added music in of their own choosing, as they weren't used to having films delivered to them without any form of background scoring.
Lewis Milestone's attention to detail - and desire to be as authentic as possible - was such that the chief sanitary inspector of Orange County, California, insisted that production be halted while he check on the sanitary conditions of the trenches built for the film.
Douglas Fairbanks Jr. and even the book's author, Erich Maria Remarque, were both considered for the lead role.
Banned in Italy until 1956.
June 2008 Ranked #7 on the American Film Institute's list of the 10 greatest films in the genre "Epic".
The film was banned in Germany by Nazi Minister of the Interior Wilhelm Frick on the grounds that it ignominiously represented Germans as cowards. Ironically, in neighboring Poland, that country's censorship board proscribed the film on account of it's being "pro-German."
The first talkie war film to win Academy Awards.
This film's opening prologue states: "This story is neither an accusation nor a confession, and least of all an adventure, for death is not an adventure to those stand face to face with it. It will try simply to tell of a generation of men who, even though they may have escaped its shells, were destroyed by the war . . . "
The first film to win an Academy Award for Best Picture. Before this there were two Best Picture-like awards given in 1929 at the 1st Annual Academy Awards. One for Best Picture, Production (Wings (1927)) and one for Best Picture, Unique and Artistic Production (Sunrise: A Song of Two Humans (1927)
Goofs
Continuity: When Paul visits Franz in the ward, Franz raises his finger to his mouth. In the next shot, his hand has returned to his side.
Continuity: When Paul is with the dead soldier in the pit, the arms move on the dead body between night and day.
Continuity: At the end of the film, when Bäumer is reaching for the fatal butterfly, he is reaching with his left hand. When he is shot an instant later, it is on a close-up of his outstretched right hand.
Continuity: During the attack on the town and the cemetery, for a brief shot Germans are all retreating. In the next shot, they are attacking again and running forward.
Revealing mistakes: When Paul talks to the dead soldier in the pit, the soldier is breathing visibly and at one point his eyes blink.
Continuity: When going to their first battle, while the young soldier is talking to Kat, the young soldier's bag switches from being across his chest with his hands by his side to his bag not being there and his right arm holding his scarf between shots.
Continuity: When Paul and Alfred are in the Catholic hospital talking to Hammacher, Paul's hands jump from pulling up the sheets to by his side between shots.
Filming Locations
RKO-Pathé Studios - 9336 Washington Blvd., Culver City, California, USA (studio)
Balboa, Newport Beach, California, USA
Irvine Ranch - 8471 N. Coast Highway, Laguna Beach, California, USA
(Trench Scenes)
Little Europe, Backlot, Universal Studios - 100 Universal City Plaza, Universal City, California, USA
Malibu Lake, California, USA
Sherwood Forest, California, USA
Universal Studios - 100 Universal City Plaza, Universal City, California, USA
(studio)