SERGEANT RUTLEDGE
DIRECTED BY JOHN FORD
PRODUCED BY PATRICK FORD/ WILLIS GOLDBECK
ORIGINAL MUSIC BY HOWARD JACKSON
FORD PRODUCTIONS
WARNER BROS. PICTURES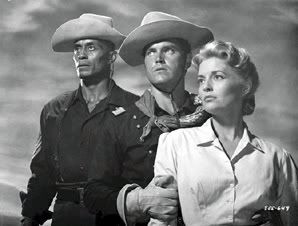 Information from IMDb
Plot Summary
Lieutenant Tom Cantrell is sent to defend Sergeant Braxton Rutledge,
a black cavalry soldier, on a charge of rape and murder.
The story begins in a courtroom and it is told through flashbacks.
This is a story of how a black soldier in the face of danger from the Indians
can be so easily mistaken as a criminal.
Written by Christopher D. Ryan
Full Cast
Jeffrey Hunter ... Lt. Tom Cantrell (counsel for the defense)
Constance Towers ... Mary Beecher
Billie Burke ... Mrs. Cordelia Fosgate
Woody Strode ... 1st Sgt. Braxton Rutledge
Juano Hernandez ... Sgt. Matthew Luke Skidmore
Willis Bouchey ... Col. Otis Fosgate - president of the court-martial
Carleton Young ... Capt. Shattuck - prosecutor
Judson Pratt ... Lt. Mulqueen (court-martial board member)
Shug Fisher ... Mr. Owens (uncredited)
Sam Harris ... Courtroom Spectator (uncredited)
Chuck Hayward ... Capt. Dickinson (uncredited)
William Henry ... Capt. Dwyer (uncredited)
Rafer Johnson ... Cpl. Krump (uncredited)
Mike Lally ... Courtroom Spectator (uncredited)
Jack Lewis ... Indian (uncredited)
Fred Libby ... Chandler Hubble (uncredited)
Cliff Lyons ... Sam Beecher (uncredited)
Mae Marsh ... Mrs. Nellie Hackett (uncredited)
Toby Michaels ... Lucy Dabney (uncredited)
Jack Mower ... Courtroom Spectator (uncredited)
Eva Novak ... Courtroom Spectator (uncredited)
Jack Pennick ... Courtroom Sergeant (uncredited)
Walter Reed ... Capt. McAfee (uncredited)
Chuck Roberson ... Court-Martial Board Member (uncredited)
Charles Seel ... Dr. Walter Eckner (uncredited)
Ed Shaw ... Chris Hubble (uncredited)
Hank Worden ... Laredo (uncredited)
Writing Credits
James Warner Bellah (written by and Novel)
Willis Goldbeck (written by)
Cinematography
Bert Glennon
Trivia
Unsatisfied with Woody Strode's rehearsal of bullet-wounded drowsiness, director John Ford took his own steps to make Strode appear authentically weary for Rutledge's gunshot early on in the film. The day before the scene was to be shot, Ford got Strode drunk early in the day and had an assistant follow him around for the rest of the day to make sure he stayed that way. When the time came for Strode to shoot the scene with Constance Towers, his hangover gave him the perfect (for Ford) appearance of a man who had been shot.
Originated in 1957 as a project for director André De Toth, about a black soldier accused of raping and murdering a German girl and the lieutenant who defends him and proves his innocence. De Toth wanted Jeffrey Hunter as the defense attorney. Based on the 1955 story "Shadow of the Noose" by John Hawkins and Ward Hawkins in The Saturday Evening Post.
Final film of Billie Burke.
Billie Burke, age 76, played Cordelia Fosgate, the wife of Col. Fosgate, played by Willis Bouchey, who was only 53.
Jeffrey Hunter's character refers early on in the film to the Jorgensen Ranch. Director John Ford's classic western The Searchers, also starring Hunter, ended with Hunter's character arriving at the Jorgensen Ranch.
WILHELM SCREAM: An Indian rides alongside a soldier and stabs him with a spear.
Goofs
Plot holes: Cantrell explains that the "buffalo soldiers" were so named because when first seen by the Native Americans, the Natives mistook their woolly coats for those of a buffalo. In truth, it was the "nappy" hair of the Black soldiers that lead the Natives to dub the unit as "Buffalo Soldiers," but Cantrell could have been misinformed. When Dr. Eckner testifies as to the rape/murder, his testimony is shown in flashback and concludes with a conversation between Juano Hernandez as Skidmore and Jeffrey Hunter as Cantrell that took place outside the building. As the doctor remained inside, he could not possibly have heard it.
Revealing mistakes: When Lt. Cantrell is holding a picture of the young Miss Lucy Dabney over her dead body, he moves the picture out of camera frame, and you can see her moving her right eyelid.
Continuity: During Jeffrey Hunter's speech in which he brings up the evidence of the necklace, he bobbles a line by saying "being capable of tipped" instead of "capable of being tipped".
Filming Locations
Mexican Hat, Utah, USA
Monument Valley, Utah, USA