THE RETURN OF FRANK JAMES
PRODUCED BY KENNETH MACGOWAN/ DARRYL F. ZANUCK
DIRECTED BY FRITZ LANG
TWENTIETH CENTURY FOX FILM CORPORATION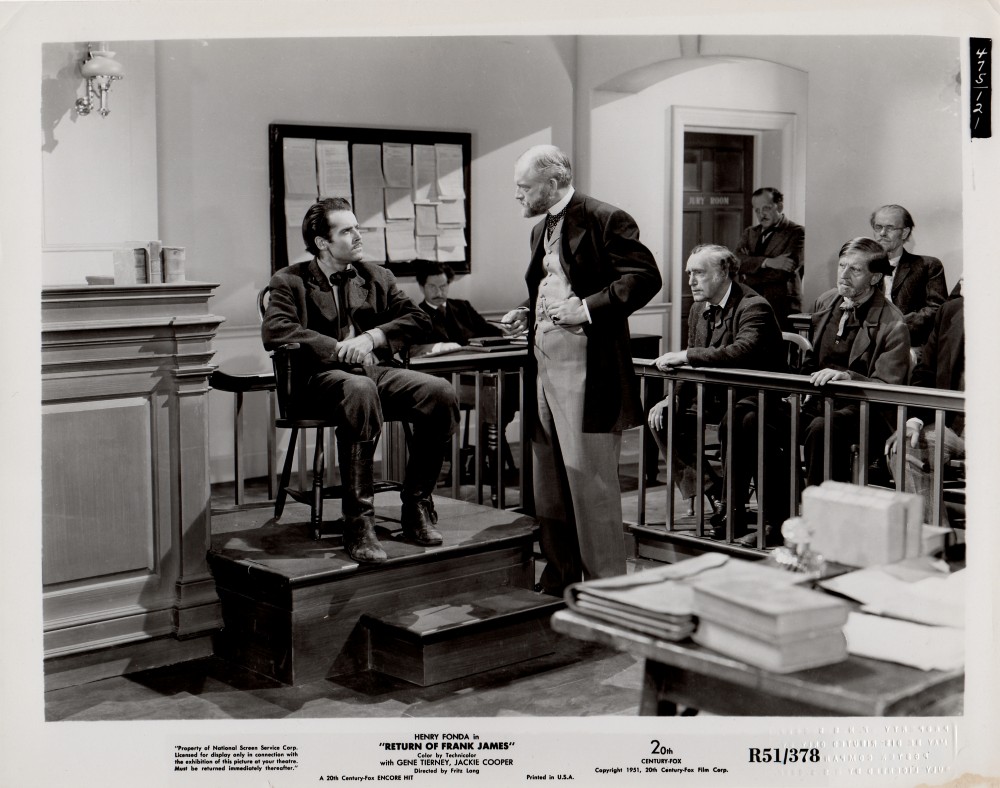 Photo with the courtesy of lasbugas

Information from IMDb
Plot Summary
Frank James sets out to find the men who killed his brother.
When the killers are pardoned, he takes matters into his own hands.
The reporter who hopes to tell his story winds up in love with him.
Written by Ed Stephan
Full Cast
Henry Fonda ... Frank James
Gene Tierney ... Eleanor Stone
Jackie Cooper ... Clem
Henry Hull ... Major Rufus Cobb
John Carradine ... Bob Ford
J. Edward Bromberg ... George Runyan
Donald Meek ... McCoy
Eddie Collins ... Station Agent
George Barbier ... Judge
Russell Hicks ... Prosecutor
Ernest Whitman ... Pinky
Charles Tannen ... Charlie Ford
Lloyd Corrigan ... Randolph Stone
Victor Kilian ... Preacher
Edward McWade ... Colonel Jackson
George Chandler ... Roy
Irving Bacon ... Bystander
Frank Shannon ... Sheriff
Barbara Pepper ... Nellie Blane
Louis Mason ... Watchman
Matthew 'Stymie' Beard ... Mose (as Stymie Beard)
William Pawley ... Actor
Frank Sully ... Actor
Davison Clark ... Officer (as Davidson Clark)
Bob Battier ... Actor playing Frank James (uncredited)
A.S. 'Pop' Byron ... Train Engineer (uncredited)
Kernan Cripps ... Deputy (uncredited)
Lester Dorr ... Reporter (uncredited)
Edmund Elton ... Jury Foreman (uncredited)
Budd Fine ... Deputy (uncredited)
Almeda Fowler ... Mrs. Edna Stone (uncredited)
Sherry Hall ... Court Clerk (uncredited)
Milton Kibbee ... Reporter (uncredited)
Kermit Maynard ... Man in Courtroom (uncredited)
Nelson McDowell ... Juror - Confederate Veteran (uncredited)
Robert McKenzie ... Old Man on Rocker (uncredited)
Lew Meehan ... Bailiff (uncredited)
Frank Melton ... Reporter (uncredited)
Adrian Morris ... Denver Detective (uncredited)
James C. Morton ... Liberty Bartender (uncredited)
Hattie Noel ... Denver House Chambermaid (uncredited)
Lee Phelps ... Denver House Bartender (uncredited)
Tex Phelps ... Front-Row Play Spectator (uncredited)
Russ Powell ... Juror (uncredited)
Dale Van Sickel ... Reporter (uncredited)
Lillian Yarbo ... Eleanor's Maid (uncredited)
Writing Credits
Sam Hellman (original screenplay)
Original Music
David Buttolph (uncredited)
Cinematography
George Barnes
Trivia
The studio bought the rights to the James Brothers
but changed the facts for entertainment. Although Frank surrendered 6
months after Jesse James' murder, both Ford brothers were already dead
and Frank had nothing to do with their deaths.
The original treatment had Frank romantically interested in the reporter
played by Gene Tierney, but the studio became fearful of a possible lawsuit
by Frank's widow and/or son, so it was eliminated from the script.
Filming Locations
Bishop, California, USA
Lone Pine, California, USA
Sonora, California, USA