Books on Maureen O'Hara
'TIS HERSELF: A MEMOIR: An Autobiography
Maureen O'Hara.(2005)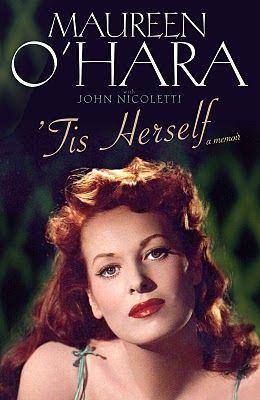 In an acting career of more than seventy years, Hollywood legend Maureen O'Hara came to be known as "the queen of Technicolor" for her fiery red hair and piercing green eyes. She had a reputation as a fiercely independent thinker and champion of causes, particularly those of her beloved homeland, Ireland. In 'Tis Herself, O'Hara recounts her extraordinary life and proves to be just as strong, sharp, and captivating as any character she played on-screen.
O'Hara was brought to Hollywood as a teenager in 1939 by the great Charles Laughton, to whom she was under contract, to costar with him in the classic film The Hunchback of Notre Dame. She has appeared in many other classics, including How Green Was My Valley, Rio Grande, The Quiet Man, and Miracle on 34th Street. She recalls intimate memories of working with the actors and directors of Hollywood's Golden Age, including Laughton, Alfred Hitchcock, Tyrone Power, James Stewart, Henry Fonda, and John Candy. With characteristic frankness, she describes her tense relationship with the mercurial director John Ford, with whom she made five films, and her close lifelong friendship with her frequent costar John Wayne. Successful in her career, O'Hara was less lucky in love until she met aviation pioneer Brigadier General Charles F. Blair, the great love of her life, who died in a mysterious plane crash ten years after their marriage.
Candid and revealing, 'Tis Herself is an autobiography as witty and spirited as its author.
The long-awaited biography of the Queen of Technicolor who had a special place in her heart for John Wayne. In the final chapter Acknoledgments she thanks a grand lady for her help, and we can take pride in that she's herself a registered member of this board, bringing to our attention Maureen O'Hara news: June Parker Beck.
For past discussion of this book, please see:-
Maureen O'Hara- 'Tis Herself
MAUREEN O'HARA:Maureen O'Hara: The Biography
Aubrey Malone(2013)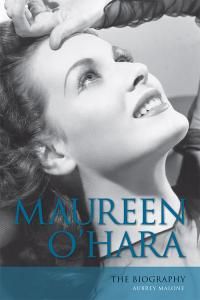 304 pages Pubdate: 09/12/2013 6 x 9 39 b&w photos
From her first appearances on the stage and screen, Maureen O'Hara (b. 1920) commanded attention with her striking beauty, radiant red hair, and impassioned portrayals of spirited heroines. Whether she was being rescued from the gallows by Charles Laughton (The Hunchback of Notre Dame, 1939), falling in love with Walter Pidgeon against a coal-blackened sky (How Green Was My Valley, 1941), learning to believe in miracles with Natalie Wood (Miracle on 34th Street, 1947), or matching wits with John Wayne (The Quiet Man, 1952), she charmed audiences with her powerful presence and easy confidence.
Maureen O'Hara is the first book-length biography of the screen legend hailed as the "Queen of Technicolor." Following the star from her childhood in Dublin to the height of fame in Hollywood, film critic Aubrey Malone draws on new information from the Irish Film Institute, production notes from films, and details from historical film journals, newspapers, and fan magazines. Malone also examines the actress's friendship with frequent costar John Wayne and her relationship with director John Ford, and he addresses the hotly debated question of whether the screen siren was a feminist or antifeminist figure.
Though she was an icon of cinema's golden age, O'Hara's penchant for privacy and habit of making public statements that contradicted her personal choices have made her an enigma. This breakthrough biography offers the first look at the woman behind the larger-than-life persona, sorting through the myths to present a balanced assessment of one of the greatest stars of the silver screen.
Aubrey Malone, a professional film critic, has written more than seventy books, including Hemingway: The Grace and the Pressure and The Hunchback of East Hollywood: A Biography of Charles Bukowski.
Maureen O'Hara is a significant contribution to scholars in the field and to readers for its broad scope, rich movie lore and enlightening information about O'Hara, the woman and the actress, whose career spanned a vital period in American film history. -- Mollie Gregory, author of Women Who Run the Show: How a Brilliant and Creative New Generation of Women Stormed Hollywood
Much like author Christina Rice, author Aubrey Malone creates a tender and intriguing glimpse into the world of Maureen O'Hara's Golden Era...[Malone] gives an amazing and thought-provoking analysis on O'Hara's films. Standing alongside O'Hara's own autobiography, Maureen O'Hara: The Biography is wonderful. -- Journeys in Classic Film
Capably researched yet breezily written -- Express Milwaukee
Aubrey Malone turns back the veil on O'Hara's closely guarded private life to reveal a truly fascinating, spirited and down-to-earth woman behind the glamorous movie star. -- News OK