DIRECTED BY DAVID BUTLER/RAOUL WALSH (uncredited)
PRODUCED BY JACK L. WARNER
MUSIC BY MAX STEINER
WARNER BROS.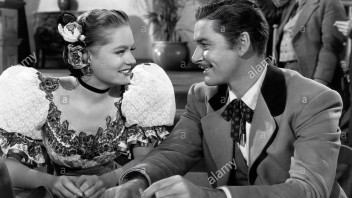 INFORMATION FROM IMDb
Plot Summary
Clay Hardin is a San Antonio rancher who has been run off his land by cattle rustlers.
There's a range war going on and Hardin is determined to get the man behind it all, Roy Stuart.
Hardin has been hiding out in Mexico, biding his time and decides the time has come for him to return.
He's managed to get hold of one of Stuart's tally books that clearly shows he was selling cattle
that didn't belong to him. Stuart and his partner Legare will go to any lengths to stop Hardin
before he can put the evidence before a court. Beautiful dance hall performer Jeanne Starr
arrives in San Antonio under contract to Stuart and Legare but she is clearly smitten
with the handsome Hardin. When the army is called away,
Hardin and his supporters are left on their own to defend themselves.
Written by garykmcd
Cast
Errol Flynn ... Clay Hardin
Alexis Smith ... Jeanne Starr
S.Z. Sakall ... Sacha Bozic (as S.Z. 'Cuddles' Sakall)
Victor Francen ... Legare
Florence Bates ... Henrietta
John Litel ... Charlie Bell
Paul Kelly ... Roy Stuart
Robert Shayne ... Captain Morgan
John Alvin ... Pony Smith
Monte Blue ... Cleve Andrews
Robert Barrat ... Colonel Johnson
Pedro de Cordoba ... Ricardo Torreon (as Pedro De Cordoba)
Tom Tyler ... Lafe McWilliams
and many more...
Directed
David Butler
Robert Florey ... (uncredited)
Raoul Walsh ... (uncredited)
Writing Credits
Alan Le May ... (screenplay) (as Alan LeMay) and
W.R. Burnett ... (screenplay)
Produced
Robert Buckner ... producer
Jack L. Warner ... executive producer
Music
Max Steiner
Erich Wolfgang Korngold ... (uncredited)
Cinematography
Bert Glennon ... director of photography
William V. Skall ... director of photography (uncredited)
Trivia
Bozic in the film twice refers to riderless horses as "empty horses".#
This is likely to be a reference to director Michael Curtiz,
with whom Errol Flynn had worked on The Charge of the Light Brigade (1936)
(and whom Flynn detested). When wanting to see stray horses wandering through the battle,
Curtiz directed the wranglers to "bring on the empty horses."
When David Niven and Flynn cracked up laughing, Curtiz responded with,
'You people, you think I know fuck nothing; I tell you: I know fuck all".
Niven later made this "Curtizism" immortal by titling his autobiography:"Bring On the Empty Horses".
The song "Some Sunday Morning", written for this movie, went on to be hit records
for numerous singers of the 1940s, including Frank Sinatra, Helen Forrest and Dick Haymes.
First film in which S.Z. Sakall was billed by his nickname, "Cuddles."
Goofs
Character error
As he lies dead in Flynn's arms, John Litel blinks at least twice.


Continuity
When Clay Hardin tells the driver to turn the coach around at the end,
the long shot shows his horse tied to it. However, just before this shot,
Bozic sees Hardin's 'empty' horse running free.
Plot holes
Clay Hardin catches the stage riding his running horse.
It's never explained how he was able to jump to stage and then lift his saddle off the horse.
He wouldn't have been able to run his horse as he did in the clip
(over a great distance) with an uncinched saddle.
Revealing mistakes
In the final fight between the Characters Hardin and Stuart,
Hardin punches Stuart and he falls hitting his head on a large rock.
The rock, being fake, moves.
Spoilers
Revealing mistakes
Near the end of the movie, as Roy Stewart dies when he hits his head on a rock, he's still breathing.
Filming Locations
Calabasas, California, USA
Warner Brothers Burbank Studios - 4000 Warner Boulevard, Burbank, California, USA (studio)