DIRECTED BY RAY ENRIGHT/RAOUL WALSH (uncredited)
MUSIC BY DAVID BUTTOLPH
WARNER BROS.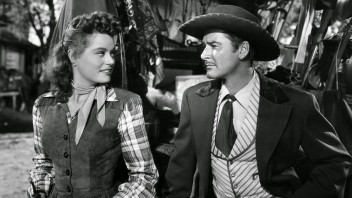 INFORMATION FROM IMDb
Plot Summary
Australian sheep-man Morgan Lane comes to Montana looking for government-owned grazing land,
and encamps his sheep at the boundary line (where the bad grazing ends and the good grazing begins)
set up by the cattle barons to keep the sheep from nubbing away at the good grass.
He goes to town, posing as a merchant, explains his Australian accent,
and learns that Maria Singleton, owner of a large ranch, and Rodney Ackroyd
(who never explains where he got his name), another ranch owner and Miss Singleton's fiancée,
are the leaders of the cattlemen against the sheep-men.
Romance tugs at Morgan and Miss Singleton, who quickly decides that Morgan
has a much better name than Rodney (and other attributes)
but the cattle-vs.-sheep feud keeps them apart.
Until they meet in the street for a showdown gunfight following
a disastrous clash between the cattle and sheep factions.
Written by Les Adams
Cast
Errol Flynn ... Morgan Lane
Alexis Smith ... Maria Singleton
S.Z. Sakall ... Papa Otto Schultz (as S.Z. 'Cuddles' Sakall)
Douglas Kennedy ... Rodney Ackroyd
James Brown ... Tex Coyne
Ian MacDonald ... Slim Reeves
Charles Irwin ... MacKenzie - Sheep Herder
Paul E. Burns ... Tecumseh Burke
Tudor Owen Tudor Owen ... Jock
Lester Matthews ...
George Forsythe
and many more...
Directed
Ray Enright
Raoul Walsh ... (uncredited)
Writing Credits
James R. Webb ... (screenplay) and
Borden Chase ... (screenplay)
Charles O'Neal ... (screenplay)
Ernest Haycox ... (story)
Produced
William Jacobs ... producer

Music
David Buttolph
Cinematography
Karl Freund
Trivia
Gary Cooper and Ronald Reagan were originally announced for the lead role before Errol Flynn was cast.
Filmed in 1948.
The scene where the cattle stampede comes to an end and the cattle are halted
was used at the beginning of an Alan Ladd film Stampeded (1957).
The film was originally to have been made in 1941.
In this film Errol Flynn played an Australian.
In real life he was from Tasmania, an island that forms part of Australia.
Quote
[Repeated line]
Morgan Lane: Among other things.
Filming Locations
Warner Ranch, Calabasas, California, USA
Watch the Movie
[extendedmedia]
[/extendedmedia]