THE COMPLETE FILMS OF JOHN WAYNE
Zmiewsky and Ricci. (1970)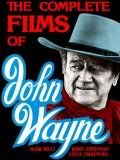 First edition done in 1970, when the True Grit Oscar brought a new interest to JW's career, next edition (as "The COMPLETE Films of…") came after his death. Probably the first time somebody took the time to count the films and assemble stills to each and every one of them. Still considered to be the definite list – although in the meantime many silent films in which JW participated, sometimes as a crowd extra – aren't mentioned here.
If you are looking for John Wayne films this is the book to have. It tells what the film is about, who also starred in and what year it was made. It also has plenty of photos to help you recognize what movie it is and if it is the one you are looking for. The book has some interesting facts about some of the movies.
THE LOST FILMS OF JOHN WAYNE
Carolyn McGivern. (2006)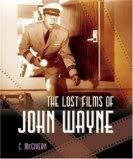 In a career of more than fifty years—spanning the Golden Era from 1926 to 1976—Hollywood icon John Wayne created a treasure trove of movies. Today, scarcely an hour goes by without one of them appearing on television somewhere in the world. With most of the Wayne films available for his fans today, just a few of them remain unavailable in this era of remastered miracles. Of all the movies he made beyond the 1939 Stagecoach age, only two have been kept from the public: Island in the Sky and The High and the Might.
These two aerial films were made and released in the mid-1950s when the John Wayne cowboy and war-hero box-office phenomenon was reaching its zenith. His starring performances in both are legendary, even if the films are seldom seen. Both were produced by Wayne-Fellows, Wayne's independent film production company, and directed by William A. Wellman, and both were based on novels by Ernest K. Gann, a veteran pilot of distinction who oversaw the screenplays and was technical adviser on the films. William H. Clothier, the aerial cameraman on both films, as he was on many John Wayne films, was sometimes referred to as "Wayne's Cameraman."
Many reasons have been suggested for why the two films have been unavailable until the summer of 2005, from the thought that the original films were damaged and the copies were not good enough for additional distribution to the theory that they have been withheld for a future grand release. Some have said that when Wayne commented late in his life that he hoped people remembered perhaps six of his best pictures and forgot the rest, he may have had Island in the Sky and The High and the Might in mind. Whatever the reasons may be, The Lost Films of John Wayne honors his work in both films and serves as a loving portrayal of some of the lesser-known images he left behind.
TALL IN THE SADDLE
Peggy Thompson/ Saeko Usukawa. (1998)
Great Lines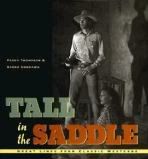 (1998/Subgenre) English, Paperback, 22,5x22 cm, 118 pages; 'Tall In The Saddle' salutes the best-loved of American film genres, the Western, with over 350 great lines culled from nearly 150 classic movies. The spirit of the West in all its grit and glory - a rugged world of lawmen, outlaws, homestead wives, floozies, and hired guns - is expertly captured in this chronicle of cinematic life on the frontier. Great illustrated b&w and color pictures. A ammunition for any swaggering gunslinger. Last copies !!! / "Tall In The Saddle" ist eine Hommage and das meistgeliebte amerikanische Filmgenre, den Western. Mit über 350 Zitaten aus 150 klassischen Western. Der Geist des Westens in seiner ganzen Fülle! Großartige s/w und Farbabbildungen. Einige Restexemplare ! "If you can see them, they're not Apaches" Capt.Kirby (John Wayne)
And it contains 118 pages of lines from Famous Westerns.
John Wayne Lines include
Angel & The Badman, The Alamo, The Big Trail, The Dark Command, El Dorado
Fort Apache,, Hondo, The Man Who Shot Liberty Valance, Red River, Rio Bravo
The Searchers, She Wore A Yellow Ribbon, Stagecoach, Tall in the Saddle, True Grit, The War Wagon
So if you want to know in what film the conversation went
"I say we do it my way - and that's an order."
"Yes, sir. But if you're wrong don't ever give me another."*
This is the book for you
Its Published by Chronicle Books San Francisco
And it contains 118 pages of lines from Duke's and other Famous Westerns.
JOHN FORD'S STAGECOACH
Barry Keith Grant (2002)
(Cambridge Film Handbooks)
Stagecoach is one of the classics of Hollywood cinema. Made in 1939,
it revitalized the Western genre, served as a milestone for John Ford's career, and made John Wayne a star.
This volume offers a rich overview of the film in essays by six leading film critics.
Approaching Stagecoach from a variety of critical perspectives, it considers it within
the contexts of authorship, genre, American history and culture.
It also examines the film's commentary on race, class, gender and democracy,
while remaining attentive to the film's artistry.
So far it's pretty interesting - the kind of stuff I think you'd enjoy reading. It consists mostly of critical essays written by various film scholars/historians. For example, "Stagecoach and Hollywood's A-Western Renaissance," "Powered by a Ford?: Dudley Nichols, Authorship, and Cultural Ethos in Stagecoach," "That Past, This Present: Historicizing John Ford, 1939," "A Little Bit Savage: Stagecoach and Racial Representation," "Be a Proud, Glorified Dreg: Class, Gender, and Frontier Democracy in Stagecoach," & "Stagecoach and the Quest for Selfhood." There are also three contemporary (i.e., 1939) reviews of the film.
YORK FILM NOTES: STAGECOACH
Elizabeth Bowen. (2000)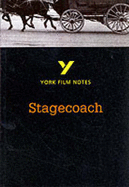 York Film Notes published by Longman York Press.
This is a serious book for anyone studying the film
with 88 pages first published 2000.
Discusses Stagecoach from a broad academic and critical perspective, setting plot, themes and techniques in context and exploring the film's significance. This York Film Note encourages students to appreciate differing interpretations of each film and to develop their own critical thinking.
[B]STAGECOACH
Richard J. Anobile. (1975)
(Film Classic Libraries) Illustrated Screenplay
This volume contains frame blow-ups and dialogue from the classic 1939 United Artists film STAGECOACH. The film was produced by Walter Wanger and directed by John Ford. John Wayne starred with Claire Trevor.
John Ford's Stagecoach (Starring John Wayne), 1975 1st Edition, edited by Richard J. Anobile. Book is all about the making of the famous movie and is generously illustrated with pictures from the movie. Hardcover with 256 pages, published by Universe Books.
The Film Classic Library presents the most accurate and complete reconstruction of a film in book form: over 1,200 frame blow-up photos shown sequentially and coupled with the complete dialogue from the original soundtrack, allow you to recapture this film classic in it's entirety -- at your leisure.
Before everybody had a VCR this was the book to have – and it's still wonderful: the whole film in photographs, every scene of it, along with the dialogue, and a text about the making of the classic.
STAGECOACH
Edward Buscombe.(1992)
( BFI Film classics series)
Shedding new light on an old favorite, this is an enjoyable account of how "Stagecoach "was made. This book combines a with a careful scene-by-scene analysis, a wealth of illustrations and the most complete credits yet assembled.
Analyze this! A scene by scene analysis.
STAGECOACH:
a Film by John Ford and Dudley Nicholls
(Classic Film Scripts)
David Newman/ Robert Benton.(1939)
The complete film script with added information for film scholars.
THE COMPLETE GUIDE TO THE QUIET MAN
Des McHale. (2002)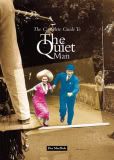 Amazingly and astoundingly in-depth. Includes the short story by Maurice Walsh that inspired the film, a complete cast list (including the names of stunt doubles, the names of all the horses, the names of extras, the names of everyone in any way [no matter how insignificant] connected with the film and their entire life story, it would seem), complete & detailed maps of locations in case anyone wants to do a pilgrimage, new photos of all the locations... it's mind-boggling. There are also some great photos taken behind the scenes and lots of behind the scenes anecdotes. Every scene and practically every shot and every word of dialogue is analyzed in depth - from perspectives varying from historical, to symbolic, to Irish folkloric, to technical... the guy makes a big deal about a stupid little fly landing on Maureen O'Hara's cheek, for cryin' out loud.
But it's a lot of fun if you love this movie, and who doesn't love this movie?
John Ford's Oscar-winning `The Quiet Man' (1952), based on the story by Maurice Walsh, is one of the best-loved and most popular films of all time, and nowadays one of the best-selling videos also. `The Complete Guide To The Quiet Man' is a celebration of every aspect of the film - the background, the stars, the shooting, the screenplay, the influences, and the many legends and stories that have grown up around it. This book could just as easily have been called "Everything You Ever Wanted To Know About The Quiet Man" - the shooting locations with dozens of detailed maps; a very comprehensive cast and crew list; hundreds of previously unseen photographs taken by both amateurs and professionals; a detailed analysis of every word of the dialogue; video timings of all the scenes; and above all the inside story and a thorough discussion of the whole `Quiet Man' phenomenon, which have all led to one of the greatest cult movies of all time.
If you are already one of the many millions of "Quiet Maniacs" who already know and love the film then this book is a must for you. If you are not yet a fan, then maybe it is time you learned why John Ford is regarded as one of the greatest film directors the world has ever known; why the electric partnership of Maureen O'Hara and John Wayne was one of the silver screen's most erotic combinations; how the beautiful scenery of the West of Ireland first came to international attention as a result of the Oscar-winning colour cinematography of Hoch and Stout; and why Barry Fitzgerald and Victor McLaglen became two of the cinema's best-loved character actors.
We can confidently predict that `The Quiet Man' will be around as long as there are moviegoers to watch it, a monument to the genius of John Ford, Maurice Walsh and its many stars. In the case of this western shot in Ireland, we can justly say "This is the West of Ireland - when the fact becomes legend, print the legend!"
PICTURE THE QUIET MAN: An Illustrated Celebration
Des McHale. (2005)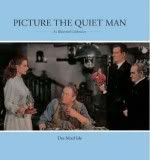 Written by a true fan, this reflection on one of the most loved Irish films of all time collects mementos from John Ford's Oscar winning The Quiet Man. Although made more than 50 years ago, this romance, starring John Wayne and Maureen O'Hara, continues to fire the imaginations of Ireland's visitors, would-be visitors, and lovers of cinema. This collection serves as a photo album, with candid shots from behind the scenes and stills from the film itself, a miscellany of little-known facts about the locations, bit parts, costumes, and directorial commentary, and never-before-published material that will charm film buffs and engage film historians.
About the Author
Des MacHale was born in Castlebar County Mayo, not far from where The Quiet Man was filmed. He is a professor of mathematics at University College—Cork and the author of more than 50 books, including The Complete Guide to The Quiet Man.
IN THE FOOTSTEPS OF THE QUIET MAN
Gerry McNee. (1991)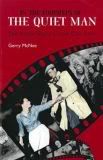 Turned down by all the major film companies, The Quiet Man brought together John Wayne and Maureen O'Hara for only the second time on screen, won two Oscars and was showered with both critical and popular praise on both sides of the Atlantic. Even today, its worldwide video and DVD sales are quite outstanding. The Quiet Man is rightly hailed as a Hollywood classic. Set in the 1920s and shot in the 1950s, the timeless, fairy-tale character of director John Ford's Ireland is as captivating now as it ever was.Gerry McNee first saw the movie when he was very young and it has intrigued him ever since. In the Footsteps of the Quiet Man is a tribute to the film and all those involved in its making, for the story behind the story, the off-screen drama, is a fascinating tale in itself. McNee has researched his subject thoroughly and conducted countless interviews to produce a stimulating and compulsive homage to what critic and author Andrew Sarris called 'a retreat into the pastoral and horse-driven past [but] very much ahead of its time'. In the Footsteps of the Quiet Man is a revealing and touching account of when Hollywood came to beautiful Connemara in the West of Ireland.
That's what you want to call a labour of love. A filmfan who goes and writes a book about everything to know about the making of this classic. You should read it before you visit Ireland – it'll help you along a great deal. Great photos, sometimes provided by the towns-folk themselves.
"THE QUIET MAN" Quiz 1000
Des Byrne. (1992)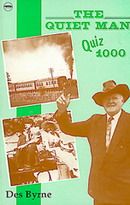 A unique quizbook centred entirely on questions about the John Wayne film, The Quiet Man.
Kinda different trivia book which you'll probably get only in Ireland:
Questions you might be able to answer when you've seen the film about a 1000 times
(and some of us are almost there, no?)
THE QUIET MAN: Movies Made in Ireland
Small book you might want to buy just as a souvenir when in Cong, Ireland.
THE SEARCHERS: The Making of an American Legend
Glenn Frankel (2013)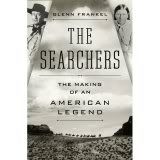 In 1836 in East Texas, nine-year-old Cynthia Ann Parker was kidnapped by Comanches. She was raised by the tribe and eventually became the wife of a warrior. Twenty-four years after her capture, she was reclaimed by the U.S. cavalry and Texas Rangers and restored to her white family, to die in misery and obscurity. Cynthia Ann's story has been told and re-told over generations to become a foundational American tale. The myth gave rise to operas and one-act plays, and in the 1950s to a novel by Alan LeMay, which would be adapted into one of Hollywood's most legendary films, The Searchers, "The Biggest, Roughest, Toughest... and Most Beautiful Picture Ever Made!" directed by John Ford and starring John Wayne. Glenn Frankel, beginning in Hollywood and then returning to the origins of the story, creates a rich and nuanced anatomy of a timeless film and a quintessentially American myth. The dominant story that has emerged departs dramatically from documented history: it is of the inevitable triumph of white civilization, underpinned by anxiety about the sullying of white women by "savages." What makes John Ford's film so powerful, and so important, Frankel argues, is that it both upholds that myth and undermines it, baring the ambiguities surrounding race, sexuality, and violence in the settling of the West and the making of America.
Editorial Reviews
"In brilliant pursuit of truth in the territory of American myth, Glenn Frankel has created his own masterpiece of nonfiction storytelling."--David Maraniss, author of When Pride Still Mattered and They Marched Into Sunlight
"A remarkable journey from Hollywood to Monument Valley and into the past as Frankel digs into American cultural history, unearthing some gold... A thoroughly researched, clearly written account of an obsessive search through the tangled borderland of fact and fiction, legend and myth." - Kirkus Reviews (starred review)
"[Frankel] dexterously interweaves the testosterone-fueled Hollywood backstory of the film with the bloody turmoil that too often characterized relations between Native Americans and settlers pushing west...Frankel's retelling is a gripping portrayal of a mesmerizing period of American history." - Publishers Weekly (starred review)
"Glenn Frankel's magisterial work of American history and cultural analysis is so adventurously researched and approached with such passionate engagement that it penetrates deeply into our national psyche. With empathy for both sides in a terrible conflict that tore our land apart and still haunts our conscience. Frankel's splendid book, written in prose so vivid that it thrusts us body and soul into the past of frontier Texas and 1950s Monument Valley, finds in this heartbreaking saga nothing less than the story of America."--Joseph McBride, author of Searching for John Ford
"Readers who were thrilled by S.C. Gwynne's Empire of the Summer Moon will be equally fascinated by Glenn Frankel's masterful book, which widens the story of Cynthia Ann Parker into the twentieth century and into the colliding currents of history and myth. Frankel is so good - as a historian, film critic, biographer, and riveting storyteller - that he creates in The Searchers a blazing synthesis of dramatic narrative and scholarly insight."--Stephen Harrigan, author of The Gates of the Alamo and Remember Ben Clayton
The Washington Post Review
http://articles.washingtonpost…-river-cynthia-ann-parker
Courtesy of Paula
THE SEARCHERS:
Essays and Reflections on John Ford's Classic Western.
(Contemporary Approaches to Film and Television)
Arthur M. Eckstien and Peter Lehman. (2004)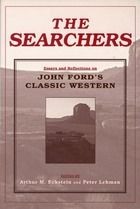 A series of in-depth examinations of the motion picture many consider to be Hollywood's finest western film.
THE SEARCHERS
Edward Buscombe. (2000)
( BFI Film classics series)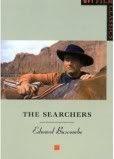 This is a detailed commentary on all aspects of the film, "The Searchers", and makes full use of material in the John Ford archive in Indiana, including Ford's own memos and the original scripts, which differs in vital respects from the film he made.
RED RIVER
Suzanne Liandrat-Guigues. (2001)
( BFI Film classics series)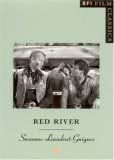 (each entry of a copy into the British Film Institute is accompanied by such a book), this is in interesting read. Written from the French standpoint of film critics, and from the Cahiers de Cinema as their center stone, the author looks at Red River with Hawks as an "auteur" in mind.
The BFI series is especially noteworthy because of their use of filmcells instead of still photographs. By using the actual film to illustrate you'll see pictures in these books you haven't seen before.
This study explores the thematic complexity of "Red River," as well as its historical resonances and its place in film history. The author focuses on the actors' contribution to the movie and on "Red River"'s relationship to other Howard Hawks movie classics.
RIO BRAVO
Robin Wood. (2003)
( BFI Film classics series)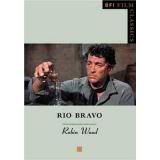 "Rio Bravo" forms a loose trilogy with "Only Angels Have Wings" (1939) and "To Have and Have Not" (1944), which treats key Hawks themes of self-respect and friendship with exquisite subtlety, comedy and tenderness. "Rio Bravo", however, is the definitive rendition of these themes. For Robin Wood, it may be the greatest American film, the epitome of the collaborative art of the studio system, characterized by marvellous performances from Hollywood legends and relative newcomers alike; and by Hawks's complete understanding of classical filmmaking techniques.
Wood is one of the critics who fought his whole life to give Rio Bravo
the status as one of the best films of all times.
And if this critic is going to write a booklet on the film,
you're in for some analyzes you didn't think of before.
He expects his reader to know about the Hawks
ouvre and makes interesting cross-references to
Only Angels Have Wings and To Have and Have Not
with which Rio Bravo really forms a trilogy in the director's body of work
(Wood doesn't even mention the follow-ups El Dorado and Rio Lobo
which most consider to be the trilogy).
Good color pictures as well.
THE ALAMO: A Visual Celebration of John Wayne's Classic Movie
Lee Pfeiffer and David Worral. (2009)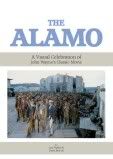 Expensive limited release, individually numbered.
The making of and behind the scenes
This is a rare edition of the book THE ALAMO: A VISUAL CELEBRATION OF JOHN WAYNE'S CLASSIC MOVIE. Written and designed by Cinema Retro magazine publishers Lee Pfeiffer and Dave Worrall, the book recounts the dramatic and inspiring story of John Wayne's obsession with making his 1960 film that recounted one of the most famous battles in history. The production was a challenge from day one, as Wayne was not only starring and producing, but also making his directorial debut with one of the largest budgeted American movies ever made. The problems Wayne encountered were seemingly insurmountable and involved political battles, forces of nature and even a murder of a cast member. The book covers all aspects of production including the controversial Oscar campaign that became part of Hollywood lore. Despite these obstacles, Wayne managed to emerge with one of the great epics of American cinema.
The book was designed as a limited hardback print run of only 1500 copies. The book sold out very quickly, but we have been able to get a very small number of unused copies which are available on a first-come, first-serve basis. The book was never sold in retail chains or through Amazon.
Each copy is individually numbered and has labels signed on the interior by both authors.
The book contains over 650 rare color & b&w photos, many of which have never been published before. There are entire sections dedicated to international marketing campaigns and collectibles tied in with the film. This is sure to be a valued collector's item in the years to come.
JOHN WAYNE'S THE ALAMO:
The Making of the Epic Film
Donald Clark/ Christopher P. Andersen. (1995)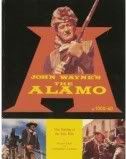 The monumental task of researching every step of the making of the epic, as well as the restoration, along with many beautiful pictures.
This is a comprehensive and amazing inside look at John Wayne's greatest dream...to recreate on film the TRUE story of one of the most inspiring events in US History. The book explains how the Duke spent 14 years preparing for this film and an equal number of years working to pay the expenses this movie cost him PERSONALLY. He believed in this project so much that he risked EVERYTHING putting it on film....sparing NO EXPENSE...in time, effort and money. The book is packed with glossy color and b&w pictures....interviews, and background information about EVERY aspect of this great motion picture....The Alamo.
This is one of the greatest books concerning the making of Alamo movies. Full of rare pictures and interesting stories behind the making of the epic film. This is one you won't want to pass up
ALAMO MOVIES
Frank Thompson.(1994)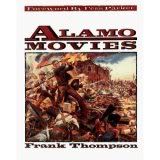 Everything you ever wanted to know about the Alamo films from the silents to the IMAX-presentation (for example: they used the same coat on Laurence Harvey's Travis as in the later IMAX film).
Very good research and real rare photos.
A NEWS RELEASE: JOHN WAYNE'S THE ALAMO
Russell Birdwell.(1960)
The infamous News Release Russell Birdwell had sent to the press when the film was promoted. News Releases are generally just a couple of pages long, with poster art and articles to use by the press – but this one was so overblown it became a 186-page-BOOK (one page for every Alamo defender). It will sell at Ebay for more than 100 bucks – hard to find. If you're thinking of buying one, do it now – prices are going through the roof.
STAGECOACH TO TOMBSTONE:
The Filmgoers' Guide to Great Westerns
Howard Hughes.(2008)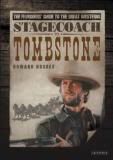 The true story of the American West on film, through its shooting stars and the directors who shot them…
Howard Hughes explores the Western, running from John Ford's 'Stagecoach' to the revisionary 'Tombstone'. Writing with panache and fresh insight, he explores 27 key films, and draws on production notes, cast and crew biographies, and the films' box-office success, to reveal their place in western history. He shows how through reinvention and resurrection, this genre continually postpones the big adios and avoids ending up in Boot Hill…permanently.
Major films covered include the best from genre giants John Ford, Howard Hawks and John Wayne, plus classics 'High Noon', 'Shane', 'The Magnificent Seven' and 'Butch Cassidy and the Sundance Kid'. 'Stagecoach to Tombstone' makes many more stops along the way, examining well-known blockbusters and lowly B-movie oaters alike. It examines comedy westerns, adventures 'south of the border', singing cowboys and the varied depiction of Native Americans on screen. Hughes also engagingly charts the genre's timely renovation by Sam Peckinpah ('Ride the High Country' and 'The Wild Bunch' ), Sergio Leone ('Once Upon a Time in the West') and Clint Eastwood ('The Outlaw Josey Wales' and 'Unforgiven'). Presented too are the best of western trivia, a filmography of essential films - and ten aficionados and critics, including Alex Cox, Christopher Frayling, Philip French and Ed Buscombe, give their verdict on the best in the west.
CODE OF HONOR: The Making of Three Great American Westerns
Michael F. Blake. (2003)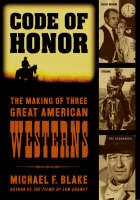 Code of Honor: The Making of High Noon, Shane and The Searchers is the first book to provide a detailed history of the struggles and triumphs in the production of these three classic American Western films. With access to the collections of directors Fred Zinnemann George Stevens and John Ford, author Michael F. Blake incorporates script drafts, memos, personal notes and daily production reports to explain how each film was made. Rare photos include behind the scenes shots, memorabilia.
TRUE WEST: An Illustrated Guide to the Heyday of the Western
Michael Barson/ Robert B. Parker(Foreword).(2008)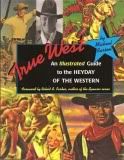 Return with us to yesteryear, when cowboys were cowboys and gunslingers lurked around every corner. Today that colorful period continues to resonate in the collective imagination of red-blooded Americans everywhere--and now we have True West, which illustrates, in hundreds of full-color illustrations, how America's mass media stamped that vision so indelibly on our collective unconscious over the past century, into today.
Boasting hundreds of rare and colorful movie posters, pulp magazines, comic books, comic strips, television memorabilia, advertisements, paperback books, record album jackets, toys, and clothing, True West covers such hugely popular television series as Gunsmoke, The Lone Ranger, and Bonanza, along with classic western novels, including Shane, The Searchers, Welcome to Hard Times, and that epic of all epics, Lonesome Dove. It also bows to the icons who ruled the silver screen--Tom Mix, Gene Autry, Roy Rogers, John Wayne, and Clint Eastwood, to name a few.
And what would the Wild West be without an accompanying soundtrack? True West reproduces the sublime album covers and sheet music that served up classic odes like "Streets of Laredo" and "Cool Water," narrative ballads like "El Paso" (with Marty Robbins bedecked in his black gunfighter togs on the cover!), and "High Noon."
LIFE GOES TO THE MOVIES
Life Magazine. (1975)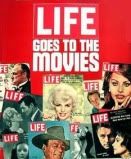 This 1975 "coffee table" book is just what you'd expect--and that's why I recommend it. The focus is on the famous: Great big photos of silver screen idols from the silent days through the studio era and beyond. There's a bit of history (mostly tangential to the people making the movies), a little scandal, good "behind the scenes" images and facts, and some attention to non-American film, but this is mostly the public face of Hollywood. "Life Goes to the Movies" features an outstanding collection of large format photos, many of them familiar (although many of them will be new to readers). The overriding spirit is a celebration, not of "film," but of what fans know and love as the "movies."
The best pictures the LIFE-photographers took of JW.
After this we know why the LIFE photographers were considered the best.
This 1975 "coffee table" book is just what you'd expect--and that's why I recommend it. The focus is on the famous: Great big photos of silver screen idols from the silent days through the studio era and beyond. There's a bit of history (mostly tangential to the people making the movies), a little scandal, good "behind the scenes" images and facts, and some attention to non-American film, but this is mostly the public face of Hollywood. "Life Goes to the Movies" features an outstanding collection of large format photos, many of them familiar (although many of them will be new to readers). The overriding spirit is a celebration, not of "film," but of what fans know and love as the "movies."
25
Continued in the next post....