BOOKS ON PALS OF THE SADDLE
(That include references to Duke)

'TIS HERSELF: A MEMOIR: An Autobiography
Maureen O'Hara.(2005)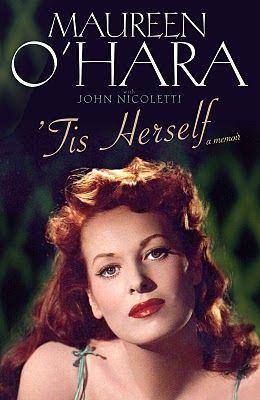 In an acting career of more than seventy years, Hollywood legend Maureen O'Hara came to be known as "the queen of Technicolor" for her fiery red hair and piercing green eyes. She had a reputation as a fiercely independent thinker and champion of causes, particularly those of her beloved homeland, Ireland. In 'Tis Herself, O'Hara recounts her extraordinary life and proves to be just as strong, sharp, and captivating as any character she played on-screen.
O'Hara was brought to Hollywood as a teenager in 1939 by the great Charles Laughton, to whom she was under contract, to costar with him in the classic film The Hunchback of Notre Dame. She has appeared in many other classics, including How Green Was My Valley, Rio Grande, The Quiet Man, and Miracle on 34th Street. She recalls intimate memories of working with the actors and directors of Hollywood's Golden Age, including Laughton, Alfred Hitchcock, Tyrone Power, James Stewart, Henry Fonda, and John Candy. With characteristic frankness, she describes her tense relationship with the mercurial director John Ford, with whom she made five films, and her close lifelong friendship with her frequent costar John Wayne. Successful in her career, O'Hara was less lucky in love until she met aviation pioneer Brigadier General Charles F. Blair, the great love of her life, who died in a mysterious plane crash ten years after their marriage.
Candid and revealing, 'Tis Herself is an autobiography as witty and spirited as its author.
The long-awaited biography of the Queen of Technicolor who had a special place in her heart for John Wayne. In the final chapter Acknoledgments she thanks a grand lady for her help, and we can take pride in that she's herself a registered member of this board, bringing to our attention Maureen O'Hara news: June Parker Beck.
MAUREEN O'HARA:Maureen O'Hara: The Biography
Aubrey Malone(2013)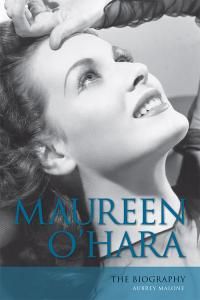 304 pages Pubdate: 09/12/2013 6 x 9 39 b&w photos
From her first appearances on the stage and screen, Maureen O'Hara (b. 1920) commanded attention with her striking beauty, radiant red hair, and impassioned portrayals of spirited heroines. Whether she was being rescued from the gallows by Charles Laughton (The Hunchback of Notre Dame, 1939), falling in love with Walter Pidgeon against a coal-blackened sky (How Green Was My Valley, 1941), learning to believe in miracles with Natalie Wood (Miracle on 34th Street, 1947), or matching wits with John Wayne (The Quiet Man, 1952), she charmed audiences with her powerful presence and easy confidence.
Maureen O'Hara is the first book-length biography of the screen legend hailed as the "Queen of Technicolor." Following the star from her childhood in Dublin to the height of fame in Hollywood, film critic Aubrey Malone draws on new information from the Irish Film Institute, production notes from films, and details from historical film journals, newspapers, and fan magazines. Malone also examines the actress's friendship with frequent costar John Wayne and her relationship with director John Ford, and he addresses the hotly debated question of whether the screen siren was a feminist or antifeminist figure.
Though she was an icon of cinema's golden age, O'Hara's penchant for privacy and habit of making public statements that contradicted her personal choices have made her an enigma. This breakthrough biography offers the first look at the woman behind the larger-than-life persona, sorting through the myths to present a balanced assessment of one of the greatest stars of the silver screen.
Aubrey Malone, a professional film critic, has written more than seventy books, including Hemingway: The Grace and the Pressure and The Hunchback of East Hollywood: A Biography of Charles Bukowski.
Maureen O'Hara is a significant contribution to scholars in the field and to readers for its broad scope, rich movie lore and enlightening information about O'Hara, the woman and the actress, whose career spanned a vital period in American film history. -- Mollie Gregory, author of Women Who Run the Show: How a Brilliant and Creative New Generation of Women Stormed Hollywood
Much like author Christina Rice, author Aubrey Malone creates a tender and intriguing glimpse into the world of Maureen O'Hara's Golden Era...[Malone] gives an amazing and thought-provoking analysis on O'Hara's films. Standing alongside O'Hara's own autobiography, Maureen O'Hara: The Biography is wonderful. -- Journeys in Classic Film
Capably researched yet breezily written -- Express Milwaukee
Aubrey Malone turns back the veil on O'Hara's closely guarded private life to reveal a truly fascinating, spirited and down-to-earth woman behind the glamorous movie star. -- News OK
MARLENE DIETRICH
Maria Riva. (Her Daughter) (1994)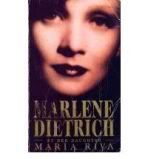 "Gossipy...Elabroately detailed...Greatly entertaining...Riva leaves no sequin unturned."
THE NEW YORK TIMES
Marlene Deitrich was considered one of the most glamorous stars of her day. A determined perfectionist with an incredible ego, her beauty, her style, her sense of the outrageous, made her a star. In this candid, illuminating, and detailed biography full of photographs, her only daughter Maria Riva, tells the incredible, fascinating, story of the star's life and career, loves and hates, hits and misses, as only a daughter can.
Many mysteries about the relationship between La Dietrich and The Duke, mostly because Marlene was quite a liar. In her own stories she even had to teach Wayne to act; he didn't read books and according to legend she told her agent when she first laid eyes on him: "Daddy, buy me that" (giving the part in Seven Sinners to him). Now her daughter has the last word: She was there when it all happened, and this is really some biography. You could knock down a full grown man with it, but it's worth the read. I interviewed Maria Riva in 1992 when the German edition was published, and what she has to say about the life of her mother is something. About Wayne: she asked him years later (in London, so I guess it was during Brannigan) what made him leave the goddess, and he answered: "Never liked being a race-horse in a barn".
DIETRICH
Donald Spoto .(1992)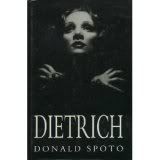 Almost as old as the century, Marlene Dietrich, the daughter of a Prussian police officer, grew up in an atmosphere of privilege and German-Victorian rectitude before plunging into the hectic, sexually liberated (and sexually ambiguous) world of 1920s Berlin. When she was cast by Josef von Sternberg in "The Blue Angel" the major influences on her life and career were in place. Dietrich's name evokes the quintessence of feminine enchantment, her picture remains this century's great icon of cosmopolitan glamour and elegant sexual allure, yet she persistently denied any similarity between her public image and her private self. In forty years as a film actress she seduced, and was seduced by the camera. When her film career faltered she created a new role for herself which led to a remarkable contribution to the Allied effort in World War II. In later years she revived almost single-handed the European nightclub-cabaret tradition. Her marriage to Rudolf Sieber, never dissolved, was completely open. Her male lovers included John Wayne, Jean Gabin, Maurice Chevalier and Generals Patton and Gavin. Her lesbian love affairs were if anything more intense on her part. Her life at every stage was more dramatic, more unpredictable and more colourful than any Hollywood scenarist could invent. Short in stature, less than outstanding as an actress and singer, she nonetheless established an image and a legend which made her one of the most sought-after women of our age, and which in the end, made her their prisoner.
BLUE ANGEL: The Life of Marlene Dietrich
Donald Sproto.(2000)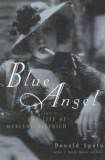 Duke mentioned on pp 189-90, 194-5, 204, 207-8, 290
Acclaimed biographer Donald Spoto brings to life one of the most incandescent and elusive star to grace Hollywood, Marlene Dietrich (1901-1992). He has tapped archival materials and conducted dozens of interviews to present a life story filled with crucial new details: her hardships and struggles for recognition in 1920s Berlin; her transformation into a screen goddess; her entertainment of Allied troops during the World War II; and her stint as a nightclub singer in the 1950s. Spoto also includes accounts of her love affairs with Yul Brynner, Maurice Chevalier, Gary Cooper, Douglas Fairbanks, Jr, Eddie Fisher, general George S. Patton, Erich Maria Remarque, Frank Sinatra, and John Wayne.
MARLENE
Riccardo Nils/ (Trans.) Sue Budden.(1992) (France)
French book, translated.
A biography of a legend.
ME: Stories of My Life
Katharine Hepburn.(1996)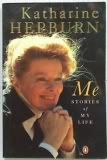 Katie had a soft spot for the Duke. In her biography she writes about the making of Rooster Cogburn. A woman of many talents, she also could write wonderful books. One of the best books about the making of a film is her book about the African Queen: "How I went to Africa with Houston, Bogie & Bacall and..."
Admired and beloved by movie audiences for over sixty years, four-time Academy Award-winner Katharine Hepburn is an American classic. Now Miss Hepburn breaks her long-kept silence about her private life in this absorbing and provocative memoir.
A NEW YORK TIMES Notable Book of the Year
JOAN CRAWFORD: The Last Word
Fred Lawrence Guiles.(1995)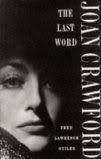 Making use of newly discovered sources, recent interviews with friends and lovers, and exhaustive research, a well-illustrated biography explores Crawford's long film career, from silent movies to television, and her turbulent private life, including relationships with her children.
Duke mentioned on pg 139,201
But don't buy the book if you want to learn anything about Duke other than Crawford apparently despised him because he did not join up.
NATASHA:The Biography of Natalie Wood
Suzanne Finstad (2002)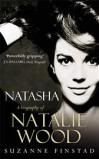 Interesting insights on the filming of The Searchers. It seems Patrick Wayne took quite a liking in this young girl. His father just advised him: "Look out what'ya doin". Note the bracelet Natalie wears around her wrist. There's one in every picture she appears. An accident on a film set when she was a child left a scar, and she was frantic about it.
You probably knew that her own sister Lana played the part of little Debbie.
Born Natasha Zakharenko, Natalie Wood continues to haunt us 20 years after her tragic and mysterious death. Her dark hypnotic beauty and passionate performances made her a movie star legend, appearing in over fifty films including West Side Story and Rebel Without a Cause for which she was Oscar nominated. The story of her life is tinged with tragedy and drama. Pushed by her domineering, frustrated mother - an alcoholic determined to make her child a star at whatever cost, Natalie grew up fast - lonely and a misfit, uncertain of her identity. At fifteen she had embarked on an affair with a director 30 years her senior, she was brutally raped by a leading Hollywood star when she was sixteen -an attack which her mother forbade her to report. Her leading men frequently became her lovers including Elvis Presley, James Dean , Warren Beatty and the real love of her life, Robert Wagner whom she eventually married twice. Her fear of being alone and the years of exploitation and abuse led to an addiction to sleeping pills and several suicide attempts and for the first time, this book looks at evidence, yet to be published, surrounding her premature and controversial death - drowning at the age of 43. Suzanne Finstad has spent 3 years researching this, the first substantive biography of Natalie Wood, conducting over 400 interviews with friends, family, lovers, co-stars and the police officials who investigated her death.
LOUISE BROOKS: A Biography
Barry Paris.(2000)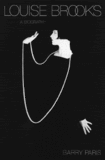 Published by Hamish Hamilton London
Duke mentioned on pp 223, 282-4 412n
Louis Brooks making her Hollywood comeback made her final film opposite J.W.
The long-awaited republication of this captivating account of the star's life.
Louise Brooks left Wichita, Kansas, for New York City at age fifteen and lived the kind of life of which legends are made. From her beginnings as a dancer to her years in Hollywood, Berlin, and beyond, she was hailed and reviled as a new type of woman: independent, intellectually daring, and sexually free. In this widely acclaimed, first and only comprehensive biography, Barry Paris traces Brooks's trajectory from her childhood through her fall into obscurity and subsequent "resurrection" as a brilliant writer and enduring film icon.
"Star biographies don't get any better than Barry Paris's Louise Brooks." USA Today
"This account has the aphrodisiac gloss of Brooks herself: you meet the stare of a modern icon, a picture that taunts your inability to touch the real thing. A necessary and stimulating book, it is itself an important part of Brooks's life after death." The New Republic
"Absorbing, wonderfully well researched and, all in all, an exemplar of its kind." London Spectator
"Louise Brooks is not simply a summary of her movie plots and love affairs but a serious work of film and social history." New York Magazine
Barry Paris is an award-winning biographer, film and music critic, and contributor to the New Yorker, Vanity Fair, and other publications. He lives in Pittsburgh.
JIMMY STEWART: The Truth Behind The Legend
Michael Munn.(2006)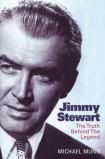 This is the definitive biography of a man who became one of the silver screen's enduring legends.
'This affectionate biography is intriguing and ground-breaking...the content is immensely valuable in exploring Stewart's dark side. The year's most enthralling book about the entertainment business'. The Sunday Times
In this definitive biography, Munn reveals the truth behind the diffident,
earnest and kind persona of Stewart.
Drawn from the author's informal interviews and meeting with Stewart
and his wife Gloria.
JAMES STEWART: A Biography
Donald Dewy.(1997)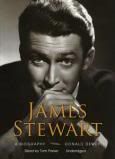 A revealing portrait of screen legend James Stewart provides a close-up look at the actor's long-time career in film, his military service during World War II, and his personal life, based on nearly two hundred interviews with friends, colleagues, fellow airmen, and others.
Amazon.com Review
After a brief stint on Broadway, Jimmy Stewart went to Hollywood and soon made such classics as "Mr. Smith Goes to Washington," and "The Philadelphia Story." He symbolized the patriotism of the time, and even joined the army in World War II, winning a Distinguished Flying Cross. Up to that point, his characters had espoused the same values that Stewart himself, a devout Presbyterian, lived by. But after the war, his youthful exuberance faded, and he settled into darker roles, including his classic performances in Hitchcock's "Rear Window" and "Vertigo." Biographer Donald Dewey suggests that while the boyish charm of his early characters reflected pre-war hopefulness, his disturbed, nearly psychotic later characters mirrored the introspection and suspicion of the 1950s.
From Library Journal
Some fans may be reluctant to read this book for fear of revelations besmirching Stewart's all-American persona. There are a few surprises about him, but basically, you will find that he is the pleasant, reclusive, conservative guy we have heard about and that is at the heart of his small-town-boy-becomes-movie-star legend. A history of Indiana, Pennsylvania, where Stewart grew up, sets the foundation for his family life. Following chapters on his childhood and military school, the Princeton years portray him as the embodiment of the all-American boy we know from movies. The Hollywood years are, of course, the core of the book. Dewey (Marcello Mastroianni, Carol Pub. Group, 1993) quite successfully mingles yearly synopses of Stewart's movies with information about what was going on in his personal life while making each. The author also includes some great inside information on actors, directors, and others involved with Stewart's movies. The comments about Stewart's performances come from interviews with those who worked with him and from Stewart himself. Highly recommended for biography and film collections.?Judy Hauser, Oakland Schs. Lib. Svcs., Waterford, Mich.
Copyright 1996 Reed Business Information, Inc.
HENRY FONDA: His Life and Work
Norm Goldstein (1982)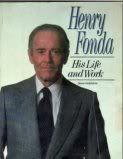 The life and work of Henry Fonda.
Henry Fonda- Hank to thousands who came to know and love him through scores of outsatnding stage and screen perfornabces - was a perfectionist of great stryle and grace. Tall, clean-cut, and shy, with a distinctive, resonant drawl and purposeful, square shouldered stride, he was the archetyical American actor. Born in 1905, the son of a Nebraska printer Fonda began his career in his late teens. Critics praised him for his 'captivating simplicity' and he often played the role of the 'average guy' the'unspectacuar hero' - a man others could identify and empathize with, respect and admire. Fonda appeared inmore than seventy movies, among the most famous : Mr Roberts, The grapes of wrath, Young Mr Lincoln, Twelve Angry Men, and most recently On Golden Pond, for which he won a well deserved Academy award, thus finally achieving the kind of recognition from his peers that he had long enjoyed from his devoted fans. Even after his death, his artistic legacy survives in the creative accomplishments of his children Jane and Peter.
This handsome, lavlishly illustrated biography - complete with an extensive filmography - gives the full details of Henry Fonda's rich professional and personal life, while capturing the unique spirit of the man. As such, it is the perfect memento for his countless admirers.
Information courtesy of arthurarnell
KIRK DOUGLAS: The Ragman's Son, An Autobiography
Kirk Douglas.(1988)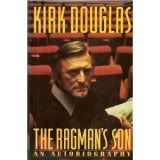 In 1988 Kirk Douglas wrote his biography and wrote about his relationship to his co-star of several films. It seems they never got very close but respected each other. They knew each other before those films. Douglas remembers the premiere of his "Lust for Life"; he played Van Gogh, and Wayne was riding him for playing such a troubled man, he felt that tough guys like Douglas shouldn't portray that for the American audience. Douglas responded that he was just an actor playing a part and "you aren't really John Wayne either, just playing him". He thinks he got Wayne there.
Born in 1916, little Issur Danielovitch grew up in upstate New York, the poorest of the poor. Son of illiterate Russian/Jewish immigrants, taunted by the other children, Issur breaking past every barrier imaginable became the great Kirk Douglas. This is his life story from birth through 70 years of age(before the stroke).
As his life story unfolds in this well written account, you will feel like the tales of his climb out of poverty are being told to you by an old friend. Kirk doesn't hold back. He's as open about his misdeeds as he is with his fine accomplishments.
And he doesn't hesitate to name names either!
He talks about everything. From his troubled boyhood and distant relationship with his father, his dream of making it big on stage, his time spent in the service, his escapades, his loves and family, relationships with the rich and famous, his good-will tours around the world, and of course his films. It is nice that the films are discussed chronologically, and you will know exactly where he was physically and emotionally during the filming. Almost all the films are touched upon and some including "Gunfight at the O.K. Corral", "Lonely Are The Brave", "Lust For Life" and Spartacus", have whole chapters devoted to them. The directors, other cast members,and Hollywood in general, do not get away scott free either.
His writing is funny, poignant, inspirational and heartfelt. There are times when you may not even like the things he has done, and other times may get you thinking deeply or angered about life's circumstances. But you know that he's being about as honest as they come.
There are also many personal photos included of his family, fellow actors, and the good-will trips he made for the United States.
Closing the book after the last page, I was sad to be at the end. Kirk Douglas's words touched me as much as his work in film, and...made me feel not only proud, but lucky to be an American. I am looking foward to reading his other works as well.
"The Ragman's Son" is highly recommended for fans of Kirk, aspiring actors and writers(this is a great example for writing memoirs), and for those who loved to be touched or inspired by a good book.
THE FILMS OF RANDOLPH SCOTT
Robert Nott/ Max Evans (Foreword)(2008)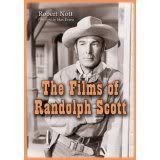 Reclusive American actor Randolph Scott, known for his subtle, dignified performances in almost 60 westerns, has been called the "most genuine Westerner." His career began in 1928 with the first of several bit parts; his first starring role was 1932's "Heritage of the Desert". He fought in World War I, studying horsemanship, shooting, and bayoneting, and acted in a variety of films in every genre from musical to swashbuckler. His final film was "Ride the High Country" (1962).Chronologically arranged from his birth in 1898 to his death in 1987, this book covers every film in which Randolph Scott acted. Each section begins with a biographical chapter and then lists Scott's films from that period: each film's entry has filmographic information, a synopsis, and detailed commentary, discussing such topics as the financial aspects, production details, acting, other participants, anecdotes, and critical responses. Quotes from interviews with figures in the industry and published reviews bolster the entries. A bibliographical essay completes the work, which is heavily illustrated with stills and promotional materials.
Book suggested by Dooley
ROBERT MITCHUM: "Baby I Don't Care"
Lee Server.(1992)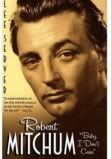 All about the infamous incident of Mitchum getting fired from Blood Alley and Wayne having to take over. Pilar Wayne had reason to get mad at him years later because that incident spoiled her honeymoon and when Wayne invited Mitchum to a party at his house Mitchum told Pilar at his arrival "Boy, do YOU need a bra". The boy of bad behaviour live quite a life. Worth reading. Funny incidents on the El Dorado set, too. Mitchum always hat his beloved weed with him.
One of the movies' greatest actors and most colorful characters, a real-life tough guy with the prison record to prove it, Robert Mitchum was a movie icon for an almost unprecedented half-century, the cool, sleepy-eyed star of such classics as The Night of the Hunter; Heaven Knows, Mr. Allison; Cape Fear; The Longest Day; Farewell, My Lovely; and The Winds of War. Mitchum's powerful presence and simmering violence combined with hard-boiled humor and existential detachment to create a new style in movie acting: the screen's first hipster antihero-before Brando, James Dean, Elvis, or Eastwood-the inventor of big-screen cool.
Robert Mitchum: "Baby, I Don't Care" is the first complete biography of Mitchum, and a book as big, colorful, and controversial as the star himself. Exhaustively researched, it makes use of thousands of rare documents from around the world and nearly two hundred in-depth interviews with Mitchum's family, friends, and associates (many going on record for the first time ever) ranging over his seventy-nine years of hard living. Written with great style, and vividly detailed, this is an intimate, comprehensive portrait of an amazing life, comic, tragic, daring, and outrageous.
THEM ORNERY MITCHUM BOYS
John Mitchum.(1988)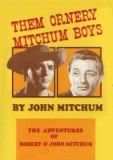 Very interesting book covering his role in EL Dorado with a humuorous story of the woodsplinters in the saloon scene. And in depth coverage of the writing and making of 'America Why I love Her'
At first glance Them Ornery Mitchum Boys might appear to be just another sensational Hollywood insider's biography. The reader soon discovers, however, that John Mitchum's memoirs, are a delightful collection of anecdotes, photos, poetry, and other tidbits accumulated during his life and that of his famous, slightly-older brother Robert. Organized into nine "books," each consisting of scores of brief sections, Them Ornery Mitchum Boys offers a funny, revealing look into the lives of two very colorful men. John Mitchum appears to have a great deal of love and respect for Brother Robert, but he pulls no punches in describing either their scrapes or their successes. In a somewhat rambling but thoroughly enjoyable style, John recounts his own career as a character actor, singer, guitarist, composer, and raconteur that paralleled Robert's rise to movie stardom. Through the younger Mitchurn's insights and stories of the famous and the unknown who have touched the brothers' lives, a portrait of Robert emerges that may surprise the reader. The sleepy-eyed star is revealed to also be a skillful but largely unsung poet and singer possessing a caring, generous, and fiercely loyal heart beneath that tough, intensely private exterior. And John himself, every bit as complex as his brother, endears himself to the reader as a charming, often ornery cuss with a fine sense of humor and a gift for telling a great story. There are terrific stories of influential personalities packed into these pages-some of them verified by John, others passed on as legend. 'Me main attraction of Them Ornery Mitchum Boys, however, is the Mitchum Brothers themselves, a pair of enigmatic men whose lives and times make entertaining reading. Highly recommended. -- From Independent Publisher
THE NICEST FELLA: The Life of Ben Johnson.
The World Champion Rodeo Cowboy
Who Became an Oscar-winning Movie Star
Richard D. Jensen. (2010)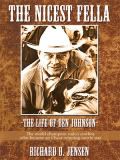 The world champion rodeo cowboy who became an
Oscar-winning movie star.
This is the amazing story of Ben Johnson, the cowboy who grew up in the tall grass prairie of Oklahoma, rode to Hollywood in a boxcar full of horses and became an Oscar-winning actor. Johnson co-starred in some of Hollywood's greatest Western movies of all time, alongside John Wayne, Clint Eastwood, Steve McQueen, Marlon Brando, Henry Fonda, Charles Bronson, Burt Reynolds, Alan Ladd, and many more.
Known as "Son" to his family and friends, Johnson was the son of a three-time world champion rodeo cowboy also named Ben Johnson. Dividing his time between the world of movies and the world of rodeo, "Son" Johnson became one of the greatest rodeo cowboys of all time, winning the 1953 RCA World Championship for team roping.
A man of principle who believed in the value of "honesty, realism and respect," Johnson managed to forge a successful career in the film industry without becoming a part of the excesses of Hollywood. He often paid dearly for his integrity, enduring a blacklist by famed Western director John Ford for refusing to allow Ford to verbally abuse him.
Johnson's career lasted more than 50 years, with many highs and lows, but through it all he always stayed true to the cowboy code.
When he won his Oscar for The Last Picture Show in 1972, Johnson took the stage and, in his typical "aw shucks" way, said, "This couldn't have happened to a nicer fella." The Nicest Fella is a must read for fans of Ben Johnson, rodeo fans, Western movie buffs, Hollywood fanatics, and anyone who still believes in the American dream! With 30 pages of never-before-seen photographs from the Johnson family collection and a complete filmography.
COMPANY OF HEROES:
My Life As An actor In The John Ford Stock Company
Harry Carey.Jr, (1994)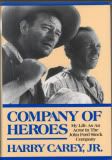 In my opinion, not only the best book about Ford, it's also one of the best about Wayne as well.
The long-time member of Ford's Stock company tells it all. And it's so much fun.
Product Description
When Harry Carey, Sr. died in 1947, director John Ford cast
Carey's 26-year-old son, Harry, Jr. in the role of The Abilene Kid in 3 Godfathers.
Ford and the elder Carey had filmed an earlier version of the story,
and Ford dedicated the Technicolor remake to his memory. "Company of Heroes"
is the story of the making of that film, as well as the eight subsequent Ford classics.
In it, Harry Carey, Jr. casts a remarkably observant eye on the process
of filming Westerns by one of the true masters of the form.
From She Wore a Yellow Ribbon and "Wagonmaster"
to The Searchers and "Cheyenne Autumn",
he shows the care, tedium, challenge, and exhilaration
of movie-making at its highest level.
Carey's portrayal of John Ford at work is the most intimate ever written
He also gives us insightful and original portraits of the men and women
who were part of Ford's vision of America:
John Wayne, Richard Widmark, Henry Fonda, Maureen O'Hara,
Ward Bond, Victor McLaglen, and Ben Johnson.
Funny, insightful, and brutally honest, "
Company of Heroes
is a rip-roaring good read that presents the remarkable life story of
Harry Carey, Jr. and his many continuing fine performances.
GOLDEN BOY: The Untold Story of William Holden
Bob Thomas.(1983)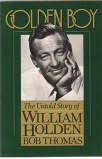 "Has only a few pages devoted to making "The Horse Soldiers"..... by Gorch
When William Holden was found dead at the age of 63, all America mourned and wondered what had driven its Golden Boy to the alcoholic binges that in the end cost him his life.
I'm a big William Holden fan and tried for ages to get this book - finally got one through Amazon and not disappointed. Its a good read - which left me quite sad for William Holden. Here was a man who had it all, fame, money, good looks, family and yet was still haunted by the demon of alcoholism. What a terrible shame for the latter part of his career to be so meaningless for him - considering the 1950's was an open door for him. Thoroughly enjoyed this book - although its a little dated (issued 1983) and obviously many main people in this book have now died and more stories have since surfaced regarding more intimate involvement with William Holden (Audrey Hepburn, Grace Kelly, Shelley Winters etc). I reckon William's story would (updated) make an excellent biographical film - wake up Hollywood.
By Mrs. Lynn Brooks
OLAF WIEGHORST:[Illustrated]
William Reed. Senator Barry Goldwater (Foreward)(1969)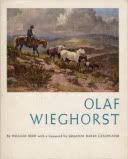 Western art and biography of Olaf Wieghorst, an outstanding contemporary western artist, particularly for Duke fans, his paintings in El Dorado
SZENEN EINES CLOWNS
(Scenes of a Clown)
Hardy Kruger.(2003)(Germany)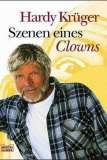 German actor Hardy Kruger tells his life.
Hatari! was probably the most important film in terms of how it inflicted on his life.
He bought Momella and stayed in Africa.
The book Eine Farm in Afrika tells all about his love for Momella.
The infamous drinking incident when him and Wayne drank
themselves silly one night is in "Szenen eines Clowns".
This man knows how to write!
The funniest adventure of his life successful actor Hardy Kruger told with wit and a chuckle. In the stories in this volume, the scenes of a clown, the cheerful says as much about life as the earnest, without which there occur no humor in his book gäbe.Wie already traveling years, the reported thinking and strange encounters, even in these stories lots of celebrities on, directors, producers and fellow actors, including international stars and admired women with whom Hardy Kruger turned worldwide films ═ mostly in situations whose comedy often verges on the grotesque: James Stewart about, swinging from a chandelier like a too long geratener boy, Peter Finch, who with his friend Hardy fooling the monitoring specialists of Soviet intelligence, Richard Burton, with another script text as his opponent in the hand, Max Schmeling and "Olle Hardy", arrested in an East German control barracks until a plucky Milk truck driver both literally out skin. So it is ═ among other movie partners including Yul Brynner, Claudia Cardinale, Richard Attenborough, Robert Redford and many other ═ often completely unknown people who give the scenes a clown their special color: Maurer on Hardy Kruger's farm in Africa, border guards divided Berlin, which reveal the author in a brilliantly rendered Sächsich, where the wall is impenetrable ═ namely on in the minds of bureaucrats, as Karl Valentin not absurd could have invented. Hardy Kruger makes with the unerring sense of the dramatic action and the tone of his protagonists from all this more than amusing anecdotes, namely perfectly orchestrated Sketches, confusion comedies with false and true Krügern, small and sometimes larger human dramas adversity and courage ...
THE FALL GUY: 30 Years As the Duke's Double.
"Bad Chuck" Roberson (Author), Bodie Thoene (Author), John Wayne (Foreword) (1980)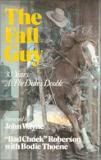 The biography of Wayne's longtime double is just loads of fun. This guy doesn't care about analyzing the films he helped make – he rather remembers the poker games, the women folks, the fights on the sets. It's out of print so if you come across one, grab it.
This is a great read. So much insight on a number of things. The stuntman profession, John Wayne, John Ford, Hollywood, Westerns. If you have any interest in any or all of these topics you will really enjoy this book. No wonder they called it the golden age.
FALL GUY is a great book-all first hand information, no hearsay, somebody said this or that. Story told by a man that was there. I enjoyed ever word and would recommend it to anyone interested in westerns and how they were filmed.
John Leonard
I have been a fan of stuntmen for nearly three decades and have read everything I could find about them and their profession, both veterans and new on the scene. This book was fascinating, informative and entertaining. I would highly recommend this book to anyone who loves stuntmen, movie set stories, cowboys and westerns. It was well worth the money.
By John W. Leonard
STUNT MAN: The Autobiography of Yakima Canutt
Yakima Canutt (Author), Oliver Drake (Author), John Wayne (Afterword), Charlton Heston (Foreword).(1979)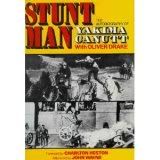 Yes, Yak earned his money as a stuntman, he really started out with JW in the serials. So we won't complain about the rather stiff writing of his biography – it's great insight.
Most who have heard of Yakima Canutt know him as the greatest Hollywood stuntman ever, but as this book shows, "Yak" was a whole lot more. He led an exciting life, first as a bronc-riding rodeo star, then to Hollywood to stunt and act in the silent westerns. As he says, he didn't have the voice to pull off dialogue when the "talkies" came in, so he moved to stunting. He describes in great detail all the innovations he came up with as a stuntman and 2nd unit director. He gives vivid background into the many epics he was part of, including "Stagecoach" "Ivanhoe" "Ben Hur" and "Where Eagles Dare." He pulls no punches in his descriptions of his relationships with the Hollywood crowd, especially on how difficult John Ford could be if you were perceived to have stood up to him. All in all this is a crackling good yarn, and best of all it is true.
CANDID COWBOYS
Neil Summers.(1989)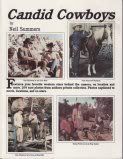 The longtime stuntman and co-worker of JW, Neil Summers, assembles an astonishing number of candid fotos: from JW to Clint Eastwood, you'll see the cowpokes relaxing between shots.
CANDID COWBOYS: Vol 2.
Neil Summers.(1993)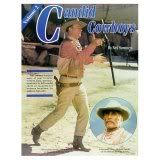 Same concept, other photos. A couple of really-really rare photos of JW on the set of The Big Trail (hey, he looked so confident!)
The book features your favorite western stars (Buck Jones, John Wayne, James Stewart, Roy Rogers, Gene Autry, Gary Cooper, Randolph Scott and more), heroines and stuntmen in full page candid photos on magnificent movie locations such as Old Tucson & Sedona, AZ, Lone Pine, CA, Monumument Valley and Moab, UT, Iverson's and Corriganville, CA. 186 pages, 16 in full color, 190 photos. Color front and back cover, printed on high quality glossy stock.
Neil Summers is a professional Hollywood stuntman and actor and has compiled the largest collection of western movie stills. He has been in the business over 35 years and has worked with just about every major star and director in the business. He has written for The Westerner Magazine, Big Reel, John Wayne Newsletter, and Western Clippings.
STUNTMAN!: My Car-Crashing, Plane-Jumping,
Bone-Breaking, Death-Defying Hollywood Life..
Hal Needham. (2011)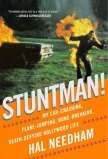 A new Book by stuntman Hal Needham.
Probably more famous for his collaborations with Burt Reynolds in the 70s and 80s, he also worked often with Duke.
Looks like a great read, but one of the "blurbs" I read had a comment from Hal stating he taught Duke how to throw a movie punch(?!).
Yep that's me, Hal Needham, on the cover doing a fire stunt. When you're on fire you don't dare breathe because if you do, you'll suck those flames right down your throat. I was Hollywood's highest paid stuntman so I should know.
I wrecked hundreds of cars, fell from tall buildings, got blown up, was dragged by horses, and along the way broke 56 bones, my back twice, punctured a lung and knocked out a few teeth...I hung upside down by my ankles under a bi-plane in The Spirit of St. Louis, jumped between galloping horses in Little Big Man, set a world record for a boat stunt on Gator, jumped a rocket powered pick-up truck across a canal for a GM commercial, was the first human to test the car airbag-and taught John Wayne how to really throw a movie punch.
Life also got exciting outside of the movie business. I had my Ferrari stolen right from under my nose, flew in a twin-engine Cessna with a passed out pilot, rescued the cast and crew from a Russian invasion in Czechoslovakia, and once took six flight attendants on a date. I owned the Skoal-Bandit NASCAR race team, the sound-barrier breaking Budweiser Rocket Car and drove a souped-up, fake ambulance in a "little" cross-country race called The Cannonball Run, which became the movie I directed by the same name. Oh yeah, I also directed Smokey and the Bandit, Hooper and several other action/comedy movies that I liked a bunch.
I was a sharecropper's son from the hills of Arkansas who became a Hollywood stuntman. That journey was a tough row to hoe. I continually risked my life but that was the career I chose. I was never late to the set and did whatever I had to do to get the job done.
Hollywood's not all sunglasses and autographs. Let me tell you a few stories..
I was a bit disappointed in the above book because I was hoping for more behind-the-scenes info on his films and stuntwork. The first half to maybe 3/4s of the book does just that, but once he gets into directing and his later career, for me, it just wasn't that interesting.
COWBOY STUNTMEN:

From Olympic Gold to the Silver Screen
James Garner (Foreword), Dean Smith (Author), Mike Cox (Author) Texas Tech Press,U.S. (2013)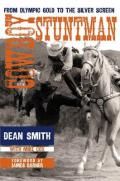 Dean starts with his real life ancestry in Texas, growing up with horses and watching westerns on Saturday afternoons.
He excels at track and wins a gold medal in the 1952 Olympics, but always wanted to be a part of western movies
and through a mutual and famous friend becomes stunt double for Dale Robertson on "Tales of Wells Fargo".
Through a series of meetings and networking, he meets John Wayne in 1959 and is hired on "The Alamo".
He goes on to perform in nine more Wayne films and becomes a friend for life with Duke's family.
He relives several exciting and humorous experiences which I won't spoil here.
There are many great photos and a filmography.
**********************************************************************************************
Edited and updated by ethanedwards
Copyright-©dukewayne.com.2017.
itdo

Itdo




Let's try to list all the books published about JW here y'all. I'd like to give you a jump start.
Please add and mention those I don't know – yet. I hope the bits of information I added
along with personal opinions will help you decide if you want to purchase them yourself.
Let's try to list everything that can be placed on a bookshelf – to add the magazines would go too far I guess
(could be another topic in the future).
I'll list every original release (also the ones not done in the US),
but not the translations of US-books in foreign countries even though they sometimes differ.







This might already look like a long list, but please check it, and add.
Don't forget to mention foreign books, since we have members from all around the globe here.
Please, let's stick to listing the books in this topic so it can really serve as a guide to the written word about JW. thanks.
Itdo.September 2003.


Display More
ethanedwards

I offer my sincere thanks to itdo, in September 2003, for initially starting this topic,




and the tireless work he put into the original thread.
However since then, there have been many additions,
and the list is now probably 20 times bigger,
so much so, I have split it into easier to read and find sections.
Thanks therefore, not only to itdo,
but all the members who have contributed new titles.


Display More
Please Note:
The books highlighted in all the book forums,
are intended as a guide to the many books released.
However it also worth noting, that there are also many,
that may be now out of print.
The JWMB is unable to keep updating availability
So please check with the numerous online booksellers