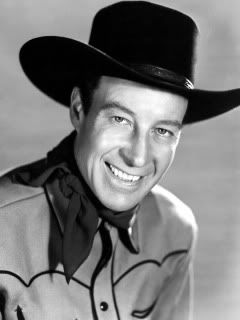 WILD BILL ELLIOT
Information from IMDb

Date of Birth
16 October 1904,
Pattonsburg, Missouri, USA
Date of Death
26 November 1965,
Las Vegas, Nevada, USA (cancer)
Birth Name
Gordon Nance
Spouse
Dolly Moore (1961 - 26 November 1965) (his death)
Helen Josephine Meyer (1927 - 1961) (divorced)
Trivia
Pitchman for Viceroy cigarettes during the detective series "The Lineup" (1954).
Elliott's first horse was called "Sonny" (although several different horses were actually used), and later in his career he had another horse called Dice. During the making of his Red Ryder series his horse was called Thunder. When Allan Lane took over the series, he kept Elliot's horse.
In the mid-'50s he did a TV pilot for a proposed western series called "Marshal of Trail City" and another one for another series to be called "Parson of the West", in which he would play a frontier minister. Neither one was picked up.
Salary
Bells of Rosarita (1945) $2,000
Mini Biography
Born Gordon Nance in 1904 on a farm in Pattonsburg, Missouri -- a small town about 60 miles northeast of Kansas City -- the future "Wild Bill Elliott" grew up around horses. His father was a commissioner at the Kansas City Stockyards. and at age 16 Elliott won a first-place ribbon in that city's annual "American Royal Horse and Livestock Show." After a move to California, he appeared in a few productions at the Pasadena PLayhouse, where he was spotted by a talent scout. He made his first movie in 1925. A steady stream of movies followed, first silents and then talkies, in which he played too great a variety of roles to be "typed." In many of these movies he was billed as "Gordon Elliott." In 1938, however, Columbia cast him as the lead in its 15-chapter serial, The Great Adventures of Wild Bill Hickok (1938), and Elliott's identification with westerns began. He even began to adopt the names "Bill" or "Wild Bill." He also became famous for using the line, "I'm a peaceable man ... " (which was inevitably followed by an outburst of violence). Elliott reached his peak of popularity at Columbia when he was teamed with Tex Ritter for a series of films. In 1943 he left Columbia for Republic, where his westerns had somewhat larger budgets. This was followed by a move to Monogram (later Allied Artists) in 1951. He was now back in low-budget B-westerns, the last one appearing in 1954. There followed six other B pictures in which he played a Los Angeles police detective. He filmed "pilots" for two potential TV series, "Marshal of Trail City" and "Parson of the West," but neither of them sold. His film career over, Elliott settled in Las Vegas where he hosted a weekly TV show in which he interviewed guests and showed some of his old movies. He also became a pitchman for a cigarette company. In 1961 his 34-year marriage to Helen Josephine Meyer ended and he took Dolly Moore as his second wife. He died of lung cancer in 1965 and is buried in Las Vegas at Palm Memorial Park.
IMDb Mini Biography By: dinky-4 of Minneapolis


Filmography
Actor
1957 Footsteps in the Night...Det. Lt. Andy Doyle
1957 Chain of Evidence...Det. Lt. Andy Doyle
1956 Calling Homicide...Det. Sgt. Andy Doyle
1955 Sudden Danger...Det. Lt. Andy Doyle
1955 Dial Red O...Det. Lt. Andy Flynn
1954 The Forty-Niners...Marshal Sam Nelson posing as Sam Smith (as Wild Bill Elliott)
1954 Bitter Creek...Clay Tyndall (as Wild Bill Elliott)
1953 Vigilante Terror...Tack Hamlin (as Wild Bill Elliott)
1953 Topeka...Jim Levering (as Wild Bill Elliott)
1953 Rebel City...Frank Graham (as Wild Bill Elliott)
1953 The Homesteaders...Mace Corbin (as Wild Bill Elliott)
1952 The Maverick...Lieutenant Pete Devlin (as Wild Bill Elliott)
1952 Fargo...Bill Martin (as Wild Bill Elliott)
1952 Kansas Territory...Joe Daniels (as Wild Bill Elliott)
1952 The Outlaw and the Lady...Matt Boone (as Wild Bill Elliott)
1951 The Longhorn...Jim Kirk (as Wild Bill Elliott)
1950 The Showdown...Shadrach Jones (as William Elliott)
1950 The Savage Horde...John Baker, aka Ringo (as William Elliott)
1950 The Marshal of Trail City (TV short)...U. S. Marshal Wild Bill Elliott (as Wild Bill Elliott)
1949 Hellfire...Zeb Smith (as William Elliott)
1949 The Last Bandit...Frank Norris/Frank Plummer (as William Elliott)
1948 The Gallant Legion...Gary Conway (as William Elliott)
1948 Old Los Angeles...Bill Stockton (as William Elliott)
1947 The Fabulous Texan...Jim McWade (as William Elliott)
1947 Wyoming...Charles Alderson (as William Elliott)
1946 Plainsman and the Lady...Sam Colton (as William Elliott)
1946 Conquest of Cheyenne...Red Ryder (as Wild Bill Elliott)
1946 In Old Sacramento...Johnny Barrett/Spanish Jack (as William Elliott)
1946 Sun Valley Cyclone...Red Ryder (as Wild Bill Elliott)
1946 Sheriff of Redwood Valley...Red Ryder (as Wild Bill Elliott)
1946 California Gold Rush...Red Ryder (as Wild Bill Elliott)
1945 Wagon Wheels Westward...Red Ryder (as Wild Bill Elliott)
1945 Colorado Pioneers...Red Ryder (as Wild Bill Elliott)
1945 Marshal of Laredo...Red Ryder (as Wild Bill Elliott)
1945 Phantom of the Plains...Red Ryder (as Wild Bill Elliott)
1945 Bells of Rosarita...Wild Bill Elliott (as Wild Bill Elliott)
1945 Lone Texas Ranger...Red Ryder (as Wild Bill Elliott)
1945 Great Stagecoach Robbery...Red Ryder (as Wild Bill Elliott)
1944 Sheriff of Las Vegas...Red Ryder (as Wild Bill Elliott)
1944 Vigilantes of Dodge City...Red Ryder (as 'Wild' Bill Elliot)
1944 Cheyenne Wildcat...Red Ryder (as Wild Bill Elliott)
1944 The San Antonio Kid...Red Ryder (as Wild Bill Elliott)
1944 Marshal of Reno...Red Ryder (as Wild Bill Elliott)
1944 Tucson Raiders...Red Ryder (as Wild Bill Elliott)
1944 Hidden Valley Outlaws...Bill Elliott (as Wild Bill Elliott)
1944 Mojave Firebrand...Wild Bill Elliott (as Wild Bill Elliott)
1943 Death Valley Manhunt...Marshal Wild Bill Elliott (as Wild Bill Elliott)
1943 Overland Mail Robbery...Wild Bill Elliott (as Wild Bill Elliott)
1943 Wagon Tracks West...Wild Bill Elliott (as Wild Bill Elliott)
1943 Bordertown Gun Fighters...Wild Bill Elliott (as Wild Bill Elliott)
1943 The Man from Thunder River...Wild Bill Elliott (as Wild Bill Elliott)
1943 Calling Wild Bill Elliott...Wild Bill Elliott
1942 The Valley of Vanishing Men...Wild Bill Tolliver
1942 Vengeance of the West...Joaquin 'The Black Shadow' Murietta
1942 Prairie Gunsmoke...Wild Bill Hickok
1942 The Devil's Trail...Wild Bill Hickok
1942 North of the Rockies...Sergeant Bill Cameron
1942 Bullets for Bandits...Wild Bill Hickok / Prince Katey
1942 The Devil's Price...Wild Bill Hickok
1941 Roaring Frontiers...Wild Bill Hickok
1941 King of Dodge City...Wild Bill Hickok
1941 Blue Clay...Dave Crockett
1941 Hands Across the Rockies...Wild Bill Hickok
1941 The Return of Daniel Boone...Wild Bill Boone
1941 North from the Lone Star...Wild Bill Hickok
1941 Welcome Stranger...Wild Bill Hickok
1940 Promise Fulfilled...Wild Bill Hickok
1940 Power of Justice...Wild Bill Hickok
1940 Prairie Schooners...Wild Bill Hickok
1940 The Return of Wild Bill...Wild Bill Saunders
1940 The Man from Tumbleweeds...Wild Bill Saunders
1940 The Anchor...Wild Bill Saunders
1939 The Roaring Twenties...Bootlegger (uncredited)
1939 The Taming of the West...Wild Bill Saunders
1939 Overland with Kit Carson...Kit Carson
1939 The Law Comes to Texas...John Haynes
1939 Unwelcome Visitors...Marshal Pat Barrett
1939 Frontiers of '49...Maj. John Freeman
1938 Unwelcome Visitors...Whit Gordon
1938 Letter of Introduction...Backgammon Man (uncredited)
1938 The Great Adventures of Wild Bill Hickok...Wild Bill Hickok (as Gordon Elliott)
1938 The Devil's Party...James Brewster (uncredited)
1938 The Case of the Missing Blonde...Chauncey Courtland (as Gordon Elliott)
1938 Tarzan's Revenge...Riverboat Captain (uncredited)
1937 Boy of the Streets...Dr. Allan (as Gordon Elliott)
1937 Love Takes Flight..Bill Parker (as Gordon Elliott)
1937 Roll Along, Cowboy...Odie Fenton (as Gordon Elliott)
1937 Boots and Saddles..Jim Neale (as Gordon Elliott)
1937 Wife, Doctor and Nurse...Bruce Thomas (as Gordon Elliott)
1937 You Can't Have Everything...Lulu's Bathing Companion (uncredited)
1937 Michael O'Halloran...Little Lord Fauntleroy (uncredited)
1937 Speed to Spare...Steve Fellows (as Gordon Elliott)
1937 Melody for Two...Walter Wilson (as Gordon Elliott)
1937 Swing It, Buddy...Randall (as Gordon Elliott)
1937 Midnight Court...City Attorney Seabrook (as Gordon Elliott)
1937 Guns of the Pecos...Wellman, a Dude (as Gordon Elliott)
1936 King of the Ice Rink...Second Radio Announcer (uncredited)
1936 Fugitive in the Sky...Ramon Duval (as Gordon Elliott)
1936 Polo Joe...Don Trumbeau (as Gordon Elliott)
1936 The Case of the Black Cat...Sam Laxter (as Gordon Elliott)
1936 Down the Stretch...Robert Bates (as Gordon Elliott)
1936 On Secret Service...Jefferson Duane (as Gordon Elliott)
1936 The Case of the Velvet Claws...Carl Griffin (as Gordon Elliott)
1936 China Clipper..Pilot (uncredited)
1936 The Case of Mrs. Pembroke...News Commentator (uncredited)
1936 Public Enemy's Wife...Reporter (uncredited)
1936/I The Big Noise...Sharp, Board of Directors Member (uncredited)
1936 Murder by an Aristocrat...Dave Thatcher (as Gordon Elliott)
1936 Bullets or Ballots...Hunter - Bank Worker (uncredited)
1936 Romance in the Air (short)...Announcer (as Gordon Eliott)
1936 The Singing Kid...Announcer (scenes deleted) (as Gordon Elliott)
1936 The Walking Dead...First American Radio Announcer (uncredited)
1936 The Story of Louis Pasteur...Reporter (uncredited)
1936 Ceiling Zero...Transportation Agent (as Gordon Elliott)
1936 The Murder of Dr. Harrigan...Kenneth Martin (as Gordon Elliott)
1935 Dangerous...Male Lead in Play (uncredited)
1935 Man of Iron...Charlie Fagan (as Gordon Elliott)
1935 Broadway Hostess...Playboy in 'Playboy of Paree' Number (uncredited)
1935 The Payoff...Maxine's Casino Escort (uncredited)
1935 I Found Stella Parish...Reporter (uncredited)
1935 Moonlight on the Prairie...Jeff Holt (as Gordon Elliott)
1935 Dr. Socrates...Tom Collins - Greer's Associate (uncredited)
1935 Personal Maid's Secret...Warren Sherrill (as Gordon Elliott)
1935 The Goose and the Gander...Teddy (as Gordon Elliott)
1935 Page Miss Glory...Reporter (uncredited)
1935 Romance of the West (short) ...(as Gordon Elliott)
1935 Funny Face...Backstage Actor (uncredited)
1935 Broadway Gondolier...Reporter (uncredited)
1935 Front Page Woman...Pale Reporter (uncredited)
1935 Going Highbrow...Post Reporter (uncredited)
1935 Alibi Ike...Fan in the stands (uncredited)
1935 Men on Her Mind...James, Clerk at College Club (as Gordon Elliott)
1935 Casino de Paree...Jackson's Secretary/Dorothy's Dance Partner (uncredited)
1935 'G' Men...Bootlegger Who Gives Eddie the Bottle Outside the Club. (uncredited)
1935 Traveling Saleslady...Freddie (as Gordon Elliott)
1935 Gold Diggers of 1935...Martin - the Clerk (uncredited)
1935 Living on Velvet...Husband Kissing Wife (uncredited)
1935 A Night at the Ritz...Vincent's Assistant (uncredited)
1935 The Woman in Red...Stuart Wyatt (as Gordon Elliott)
1935 Devil Dogs of the Air...Instructor (as Gordon Elliott)
1935 The Right to Live...Wedding Guest (uncredited)
1934 The Secret Bride...Governor's Secretary (uncredited)
1934 Murder in the Clouds..Lt. Saunders (uncredited)
1934 I Am a Thief...Auctioneer's Assistant (uncredited)
1934 The Firebird...Gigolo (uncredited)
1934 6 Day Bike Rider...Race Reporter in Box (uncredited)
1934 Courageous...Polo Match Spectator (uncredited)
1934 The Case of the Howling Dog...Reporter in Courtroom (uncredited)
1934 Desirable...Party Guest (uncredited)
1934 Housewife..Clerk (uncredited)
1934 Good Morning, Eve! (short)...Sir Lancelot (uncredited)
1934 Friends of Mr. Sweeney...Young Man (scenes deleted)
1934 Here Comes the Navy...USS Arizona Officer (uncredited)
1934 Midnight Alibi...Party Guest (uncredited)
1934 Dr. Monica...Rutherford, a Horseback Rider (uncredited)
1934 Happy Family...Dance Floor Extra (uncredited)
1934 Hollywood Party...Party Guest (uncredited)
1934 Hit Me Again...Nightclub Patron (uncredited)
1934 Merry Wives of Reno...Man off Train (uncredited) (unconfirmed)
1934 Upperworld...Photographer (uncredited)
1934 Twenty Million Sweethearts...Third Man in Brass Rail (uncredited)
1934 Registered Nurse...Male Nurse (uncredited)
1934 A Modern Hero...Party Guest (uncredited)
1934 Wonder Bar...Norman - Man Flirting with Pansy (uncredited)
1933 Dancing Lady...Cafe Extra (uncredited)
1933 Only Yesterday...New Year's Eve Reveler (uncredited)
1933 My Weakness...Spectator (uncredited)
1933 Stage Mother...Audience Member/Dexter's Party Guest (uncredited)
1933 My Lips Betray...Auto Showroom Spectator (uncredited)
1933 The Masquerader...Party Guest (uncredited)
1933 Handlebars (short)...Bicyclist (uncredited)
1933 Her Bodyguard...Dance Extra (uncredited)
1933 Private Detective 62...Extra at Roulette Table (uncredited)
1933 Cocktail Hour...Party Guest (uncredited)
1933 Gold Diggers of 1933...Chorus Boy (uncredited)
1933 Made on Broadway...Dance Floor Extra (uncredited)
1933 The Little Giant...Guest at Polly's Party (uncredited)
1933 Taxi Barons (short)...Ship Boarding Officer (uncredited)
1933 The Keyhole...Dancing Extra (uncredited)
1933 Luxury Liner...Man on Phone (uncredited)
1932 The Mummy...Party Guest (uncredited)
1932 Silver Dollar...Election Party Guest (uncredited)
1932 Night After Night...Escort (uncredited)
1932 A Successful Calamity...Polo Player (uncredited)
1932 Two Against the World...Guest at Victor's Party (uncredited)
1932 Crooner...Nightclub Dance Patron (uncredited)
1932 Jewel Robbery...Policeman Following Blonde (uncredited)
1932 Bachelor's Affairs...Ship's Passenger/Dance Extra (uncredited)
1932 Merrily We Go to ...Party Guest (uncredited)
1932 Working Wives...Birthday Party Guest (uncredited)
1932 The Rich Are Always with Us...Gambling Extra (uncredited)
1932 -But the Flesh Is Weak...Party Guest (uncredited)
1932 One Hour with You...Dance Extra (uncredited)
1932 Lady with a Past...Alex Brown (uncredited)
1932 Determination...Reporter (uncredited)
1932 The Greeks Had a Word for Them...Wedding Guest (uncredited)
1932 Dance Team...Nightclub Patron (uncredited)
1932 Two Kinds of Women...Nightclub Dance Extra (uncredited)
1932 Forbidden...Reporter (uncredited)
1931 Delicious...Larry's Friend (uncredited)
1931 Peach-O-Reno...Juror (uncredited)
1931 Good Sport...Party Guest (uncredited)
1931 Working Girls...Dance Extra/Lobby Extra (uncredited)
1931 West of Broadway...Nightclub Patron (uncredited)
1931 What a Bozo! (short)...Diner (uncredited)
1931 Convicted...Deck Extra (uncredited)
1931 Platinum Blonde...Ann's Beau - the Round-the-World Flyer (uncredited)
1931 Broken Links...Escort (uncredited)
1931 The Road to Reno...Party Boy (uncredited)
1931 Palmy Days...Party Guest (uncredited)
1931 Smart Woman...Reporter on Ship (uncredited)
1931 Traveling Husbands...Hotel Dining Room Guest (uncredited)
1931 II Madame Julie (uncredited)
1931 The Public Defender...Country Club Dance Extra (uncredited)
1931 The Magnificent Lie...Cafe Customer (uncredited)
1931 Daughter of Luxury...Wedding Guest (uncredited)
1931 Let's Do Things (short)...Music Store Customer (uncredited)
1931 Party Husband...Wedding Party Guest (uncredited)
1931 City Streets...Nightclub Patron (uncredited)
1931 Born to Love...Hotel Dance Extra (uncredited)
1931 Once a Sinner...Dance Extra (uncredited)
1930 Reaching for the Moon...Ship's Party Guest (uncredited)
1930 Going Wild...Physical Exam Onlooker (uncredited)
1930 Part Time Wife...Golfer (uncredited)
1930 Sunny....One of Tom's War Buddies (uncredited)
1930 East Is West (uncredited)
1930 Brothers....Party Guest/Wedding Guest (uncredited)
1930 Big Boy...Race Fan Wearing Straw Hat (uncredited)
1930 What Men Want...Party Boy (uncredited)
1930 Fast Work (short)...Restaurant Patron (uncredited)
1930 She Who Gets Slapped (short)...Poker Player (uncredited)
1930 Born Reckless....Dance Extra at Beretti's (uncredited)
1930 The Cuckoos...Party Guest (uncredited)
1930 The Return of Dr. Fu Manchu...Wedding Guest (uncredited)
1930 A Notorious Affair...Sir Thomas' Party Guest (uncredited)
1930 Double Cross Roads...Party Guest (uncredited)
1930 The Girl Said No...Wedding Guest (uncredited)
1930 Lord Byron of Broadway...Party-Goer (uncredited)
1930 She Couldn't Say No...Bit Role (as Gordon Elliott)
1929 Broadway Scandals...George Halloway (as Gordon Elliott)
1929 Sporting Life...Party Guest (uncredited)
1929 The Great Divide...Ruth's Friend (uncredited)
1928 Wayward Youth...George Baxter (as Gordon Elliott)
1928 The Boy Friend (short)..Gordon Elliott (as Gordon Elliott)
1928 Passion Song...Keith Brooke (as Gordon Elliott)
1928 Beyond London Lights...Colin Drummond (as Gordon Elliott)
1927 Her Wild Oat...Hotel guest (uncredited)
1927 The Private Life of Helen of Troy...Telemachus
1927 The Arizona Wildcat...Roy Schyler (as Gordon Elliott)
1927 Glitter...Aggressive Student at Dance (uncredited)
1927 On Ze Boulevard...Diner at Race Track (uncredited)
1927 Children of Divorce...Party Guest (uncredited)
1926 The Shamrock Handicap...Well-Wishing Villager (uncredited)
1925 The Plastic Age...Athlete (uncredited)
Watch This Trailer
[extendedmedia]
[/extendedmedia]