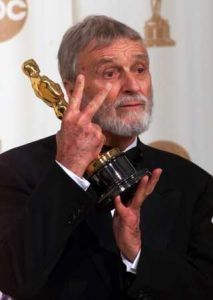 DOMINC FRONTIERE
Information from IMDB
Date of Birth
17 June 1931,
New Haven, Connecticut, USA
Spouse
Georgia Frontiere (21 July 1980 - 1988) (divorced)
Cicely Evans (10 December 1967 - August 1976) (divorced)
Mini- Biography
Born in New Haven, Connecticut, the son of a musical family,
at age seven Frontiere was already playing several instruments before deciding to concentrate on the accordion.
At twelve, he played solo at Carnegie Hall.
Hollywood
After a stint with a big band in the late 1940s and early 50s,
Frontiere moved to Los Angeles, where he enrolled at UCLA.
He eventually became musical director at 20th Century Fox.
He scored several films under the tutelage of Alfred and Lionel Newman,
while also recording jazz music.
An association with director and producer Leslie Stevens
led to several projects, most notably his innovative blend of music
and sound effects for The Outer Limits.
He also scored for The Rat Patrol and for producer Quinn Martin The Invaders,
The Fugitive and Twelve O'Clock High
After scoring for TV shows, he went on to compose the music for the
Clint Eastwood film Hang 'Em High.
The title theme for that movie became a top-10 hit for the group
Booker T. & the M.G.'s.
He also composed the soundtrack to the Steve McQueen
classic motorcycle film On Any Sunday.
Frontiere became head of the music department at Paramount Pictures
in the early 1970s, where he again worked on television and film scores,
while concurrently orchestrating popular music albums for, among others, Chicago.
He won a Golden Globe for the score to the 1980 film The Stunt Man.
He also composed a jingle for the studio's television division.
Criminal history
In 1986, Frontiere was incarcerated for nine months in a federal penitentiary for scalping tickets
to the 1980 Super Bowl, which he obtained through his then-wife, Los Angeles Rams owner Georgia Frontiere.
He was estimated to have scalped as many as 16,000 tickets, making a half million dollars in profit
that he failed to report to the Internal Revenue Service. Frontiere pleaded guilty
and was sentenced to a year and one day in prison, three years probation,
and fined $15,000 for failing to report income from the sale of the tickets and for lying to the IRS.
Georgia Frontiere filed for divorce shortly after Dominic's release from prison
Composed the infamous 1969 Paramount TV jingle that was nicknamed "Closet Killer,"
which was used from the fall of 1969 until the fall of 1970.
Is distant cousins with the Fonte brothers Dominic Fonte (1912-2001)
and Albert Fonte (1915-2004)
Was head of Paramount's music department during the 1970s.
In 1959, Frontiere was commissioned by American International Pictures to write
a pop song for the end title of their dubbed Italian epic, Nel segno di Roma (1959)
(aka "Sign of the Gladiator"). The end credits give the song as "Xenobia",
composed by Dominic Frontiere, lyrics by Milton Raskin, sung by Bill Lee.
("Xenobia" was the lead part played by Anita Ekberg). AIP's record division,
American International Records, promoted the film's release with a 7-inch single comprising of "Xenobia"
and "Slave Dance" (AIR 501). However, Frontiere seems to have disowned the assignment.
Although he has registered 1120 titles at BMI, "Xenobia" isn't one of them.
Second husband of Cicely Evans.


Filmography
Composer
2002 Behind the Badge
2000 The Sinister Saga of Making 'The Stunt Man' (video documentary) (uncredited)
1994 Color of Night
1991 Palomino (TV movie)
1990 Brutal Glory (video)
1987 Harry's Hong Kong (TV movie)
1985 The Aviator
1984 Velvet (TV movie)
1984 Dark Mirror (TV movie)
1982-1983 Matt Houston (TV series)
– China Doll (1983)
– Needle in a Haystack (1983)
– Here's Another Fine Mess (1983)
– The Purrfect Crime (1983)
– The Rock and the Hard Place (1983)
In all 9 episodes »
1983 Shooting Stars (TV movie)
1982 Don't Go to Sleep (TV movie)
1981 Modern Problems
1978-1981 Vega$ (TV series)
– Sourdough Suite (1981)
– Red Handed (1979)
– Demand and Supply (1979)
– Best Friends (1979)
– Kill Dan Tanna! (1979)
In all 13 episodes »
1980 Breaking Away (TV series)– The Cutters (1980)
1980 The Stunt Man
1980 Defiance
1979 My Old Man (TV movie)
1978 The Young Pioneers (TV series)– Sky in the Window (1978)
1978 Perfect Gentlemen (TV movie)
1977 Washington: Behind Closed Doors (TV mini-series)
– Part 6 (1977)
– Part 5 (1977)
– Part 4 (1977)
– Part 3 (1977)
– Part 2 (1977)
In all 6 episodes »
1977 Yesterday's Child (TV movie)
1976 Pipe Dreams
1976 The Gumball Rally
1975 Cleopatra Jones and the Casino of Gold
1975 Brannigan
1975 Who Is the Black Dahlia? (TV movie)
1974 Freebie and the Bean
1974 Fer-de-Lance (TV movie)
1974 Chopper One (TV series)– Pilot (1974)
1972-1973 Search Control (TV series)
– The Packagers (1973)
– Suffer My Child (1973)
– The Mattson Papers (1973)
– Goddess of Destruction (1973)
– The Clayton Lewis Document (1973)
In all 20 episodes »
1973 The Train Robbers
1973 A Name for Evil
1972 Cancel My Reservation
1972 Haunts of the Very Rich (TV movie)
1972 Movin' On (TV movie)
1972 Hammersmith Is Out
1972 Probe (TV movie)
1971 Revenge (TV movie)
1971 On Any Sunday (documentary)
1971 The Sheriff (TV movie)
1969-1970 The Immortal (TV series)
– The Return (1970)
– Man on a Punched Card (1970)
– Pilot (1969)
1970 Swing Out, Sweet Land (TV movie)
1970 The Silent Force (TV series)
1970 Lost Flight (TV movie)
1970 Barquero
1970 Chisum
1970 The Love War (TV movie)
1970 John Wayne and Chisum (documentary short)
1969 Number One
1969 Popi
1968-1969 The Name of the Game (TV series)
– The Incomparable Connie Walker (1969)
– Fear of High Places (1968)
1968 Massacre Harbor
1968 Hang 'Em High
1967-1968 That Girl (TV series)
– Sixty-Five on the Aisle (1968)
– It's a Mod, Mod World: Part 2 (1967)
– It's a Mod, Mod World: Part 1 (1967)
– Thanksgiving Comes But Once a Year, Hopefully (1967)
– When in Rome (1967)
In all 14 episodes »
1966-1968 Iron Horse (TV series)
– Dry Run to Glory (1968)
– The Prisoners (1967)
– Death Has Two Faces (1967)
– Wild Track (1967)
– Dealer's Choice
(In all 36 episodes »
1966-1967 The Rat Patrol (TV series)
– The Two If by Sea Raid (1967)
– The Fifth Wheel Raid (1967)
– The Life for a Life Raid (1967)
– The Violent Truce Raid (1967)
– The Hide and Go Seek Raid (1967)
In all 43 episodes »
1967 The Flying Nun (TV series)
– A Bell for San Tanco (1967)
– Old Cars for New (1967)
– The Convert (1967)
– The Flying Nun (1967)
1967 The Invaders (TV series)
– Wall of Crystal (1967)
– Moonshot (1967)
– Panic (1967)
– Storm (1967)
– The Betrayed (1967)
In all 15 episodes »
1964-1967 12 O'Clock High (TV series)
– The Hunters and the Killers (1967)
– A Long Time Dead (1967)
– Graveyard (1966)
– The Duel at Mont Sainte Marie (1966)
– Six Feet Under (1966)
In all 77 episodes »
1966 Incubus
1965-1966 Branded (TV series)
– Kellie (1966)
– Cowards Die Many Times (1966)
– Headed for Doomsday (1966)
– The Assassins: Part 2 (1966)
– The Assassins: Part 1 (1966)
In all 48 episodes »
1965 Billie
1964 The Unknown (TV movie)
1963-1964 The Outer Limits (TV series)
– The Forms of Things Unknown (1964)
– The Chameleon (1964)
– Production and Decay of Strange Particles (1964)
– A Feasibility Study (1964)
– The Special One (1964)
In all 31 episodes »
1964 A Global Affair
1964 The Ghost of Sierra de Cobre (TV movie)
1964 Fanfare for a Death Scene (TV movie)
1963 Stoney Burke (TV series)– Point of Entry (1963)
1962 Hero's Island
1962 The New Breed (TV series)– Echoes of Hate (1962)
1961 The Right Approach
1961 The Marriage-Go-Round
1960 One Foot in Hell
1960 Seven Thieves