THE QUIET MAN
DIRECTED BY JOHN FORD
PRODUCED BY MERIAN C. COOPER
MUSIC BY VICTOR YOUNG
AN ARGOSY PRODUCTION
REPUBLIC PICTURES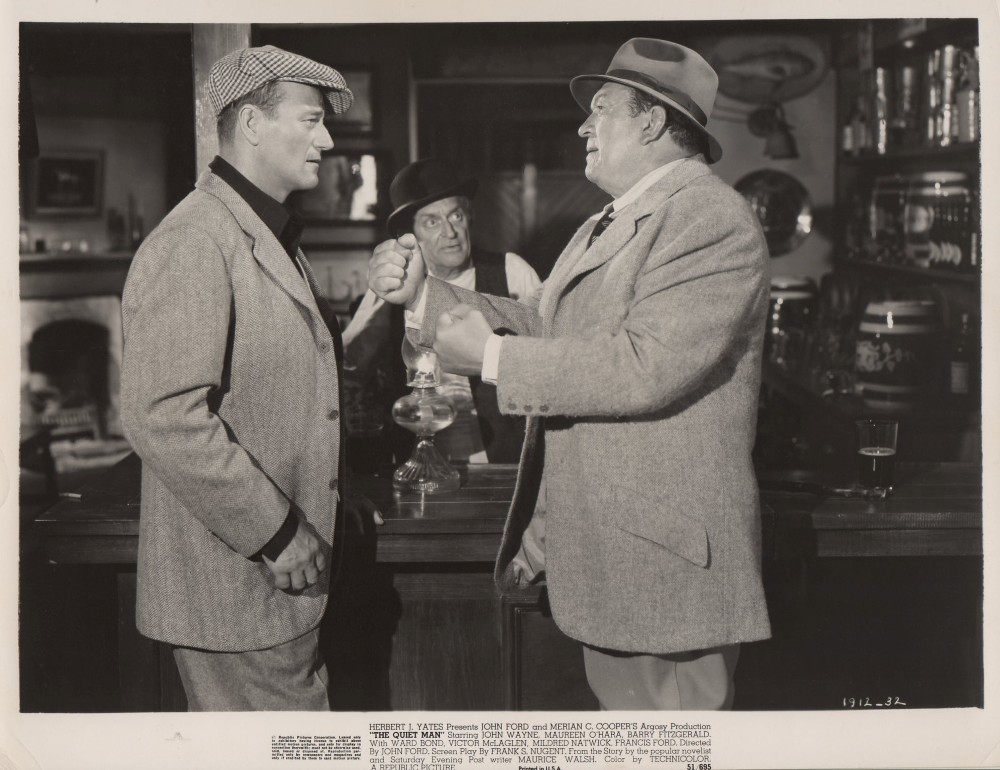 Photo with the courtesy of lasbugas

For continuity, discussion
please post here:-
The Quiet Man
INFORMATION FROM IMDb
Plot Summary
Sean Thornton has returned from America to reclaim his homestead and escape his past.
Sean's eye is caught by Mary Kate Danaher, a beautiful but poor maiden,
and younger sister of ill-tempered "Red" Will Danaher.
The riotous relationship that forms between Sean and Mary Kate,
punctuated by Will's pugnacious attempts to keep them apart, form the main plot,
with Sean's past as the dark undercurrent.
Summary written by Steve Fenwick
Full Cast
John Wayne .... Sean Thornton
Maureen O'Hara .... Mary Kate Danaher
Barry Fitzgerald .... Michaleen Oge Flynn
Ward Bond .... Father Peter Lonergan
Victor McLaglen .... Squire 'Red' Will Danaher
Mildred Natwick .... The Widow Sarah Tillane
Francis Ford .... Dan Tobin
Eileen Crowe .... Mrs. Elizabeth Playfair
May Craig .... Fishwoman with basket at station
Arthur Shields .... Rev. Cyril 'Snuffy' Playfair
Charles B. Fitzsimons .... Hugh Forbes (as Charles FitzSimons)
James O'Hara .... Father Paul (as James Lilburn)
Sean McClory .... Owen Glynn
Jack MacGowran .... Ignatius Feeney (Squire Daniher's handyman) (as Jack McGowran)
Joseph O'Dea .... Molouney (train guard)
Eric Gorman .... Costello (engine driver)
Kevin Lawless .... Train fireman
Paddy O'Donnell .... Railway porter
Frank Baker .... Man in bar (uncredited)
Tony Canzoneri .... Boxing second (uncredited)
Maureen Coyne .... Dan Tobin's daughter (Ireland) (uncredited)
Ken Curtis .... Dermot Fahy (uncredited)
Mimi Doyle .... Dan Tobin's daughter (USA) (uncredited)
Douglas Evans .... Ring physician (uncredited)
Robert Foy .... Driver of cart across river (uncredited)
Sam Harris .... General (uncredited)
D.R.O. Hatswell .... Guppy (uncredited)
John Horan .... Man at railway station (uncredited)
David Hughes .... Police constable (uncredited)
Billy Jones .... Bugler (uncredited)
Tiny Jones .... Nell (uncredited)
Colin Kenny .... Pub extra (uncredited)
Mae Marsh .... Father Paul's mother (uncredited)
Jim McVeigh .... Man following cart across river (uncredited)
Jim Morrin .... Roof thatcher (uncredited)
Al Murphy .... Boxing referee (uncredited)
Michael O'Brian .... Musha Musha man (uncredited)
Frank O'Connor .... Ringside photographer (uncredited)
Pat O'Malley .... Man in bar (uncredited)
Web Overlander .... Hugh Bailey (stationmaster) (uncredited)
Bob Perry .... Trooper Thorn's ringside trainer (uncredited)
Jack Roper .... Tony Godello (boxer) (uncredited)
Philip Stainton .... Anglican bishop (uncredited)
Harry Tenbrook .... Police Sgt. Hanan (uncredited)
Harry Tyler .... Pat Cohan (publican) (uncredited)
Melinda Wayne .... Girl on wagon at horse race (uncredited)
Michael Wayne .... Teenage boy at races (uncredited)
Patrick Wayne .... Boy on wagon at horse race (uncredited)
Toni Wayne .... Teenage girl at races (uncredited)
Writing Credits
Maurice Walsh (story Green Rushes)
Frank S. Nugent (screenplay)
Produced
Merian C. Cooper
John Ford
Original Music
Victor Young
Cinematography
Winton C. Hoch
Stunts
Joe Fair .... riding double: John Wayne (uncredited)
Fred Kennedy .... stunts (uncredited)
Bob Morgan .... stunts (uncredited)
Terry Wilson .... stunts (uncredited)
Trivia
Barry Fitzgerald, who plays the character of the Roman Catholic Michaleen Oge Flynn, and Arthur Shields, who played the Protestant vicar Cyril 'Snuffy' Playfair, were brothers in real life. They also appeared together in director John Ford's The Long Voyage Home (1940). They were both Protestants born in Dublin, Ireland. Shields was the family name. The Oscar-winner Fitzgerald, who was nearly eight years older than his brother, was born William Joseph Shields.
A replica of the famous thatched cottage in the movie is located at Maam Cross, County Galway, in the west of Ireland.
When the film was first screened in Boston, Mass., Michaleen Flynn's line on seeing the broken bed, "Impetuous! Homeric!", was censored.
The famous fight scene was shot in the grounds of Ashford Castle, Cong, County Mayo. The stunt in which John Wayne punches Victor McLaglen into the river was performed by director John Ford's son, Patrick Ford (doubling for McLaglen).
The horse racing sequence was shot at Lettergesh beach, Connemara, on the west coast of Ireland.
At the film's conclusion, after the credits, we see Kate and Sean standing in their garden waving good-bye. Maureen O'Hara turns to John Wayne and whispers something in his ear, evoking a priceless reaction from Wayne. What was said was known only to O'Hara, Wayne and director John Ford. In exchange for saying this unscripted bit of text, O'Hara insisted that the exact line never be disclosed by any involved parties. In her memoirs she says that she refused to say the line at first as she "couldn't possibly say that to Duke", but Ford insisted, claiming he needed a genuine shock reaction from Wayne. The line remains a mystery to this day.
When Sean and Mary Kate take their wagon into town a store called "Emily O'Connor" can be seen in the background. This is actually a crafts store and is still in business to this day.
This was a significant departure for Republic Pictures, which specialized in low-budget westerns, comedies and war pictures. It was the company's first and only film to receive an Academy Award nomination for Best Picture.
According to the production notes on the DVD. John Ford first acquired the rights to Maurice Walsh's short story, The Quiet Man, in 1936, but it would be another sixteen years before his dream of adapting the story to film would become a reality.
This is one of the few Hollywood films in which you can hear Gaelic, the national language of Ireland.
The last line of the wedding toast was censored by Republic Pictures. It should have said, "May their days be long and full of happiness. May their children be many and full of health. And may they live in peace and national freedom". After the film was completed, Republic Pictures decided "national freedom" in Ireland was too controversial a concept.
Link this trivia
Green, the national color of Ireland, can be seen somewhere in every shot in this film, but not on any of the actors' costumes except for Maureen O'Hara green floral dress in the cemetery scene.
Whenever John Wayne lights up a cigarette, he takes exactly two puffs before pitching it away.
Film editor Jack Murray wept when he began editing the film. He said that John Ford was such a master of his craft that the film required nothing from him as an editor other than sticking the bits of film together. He said Ford had cut the film in the camera - not a frame was wasted or needed to be removed.
On the DVD commentary Maureen O'Hara dispels many myths about the film including one about a lack of accommodations for the crew in Ireland. According to O'Hara, the production spent six weeks shooting the exteriors in Ireland and filmed the interiors on sound stages in L.A.
According to an interview in the Los Angeles Times on October 28, 2000, Maureen O'Hara recounted that she, John Ford and John Wayne made a handshake agreement in 1944 to do the film. When Ford pitched the idea to Hollywood producers, he was told that it was a "silly Irish story that won't make a penny." Wayne had a contract with Republic Pictures and approached studio chief Herbert J. Yates ("...a step down for John Ford", he said). He was told by Yates that the script was a silly Irish tale that would make no money. However, Yates would relent if Wayne, Ford and O'Hara together would make a western for Republic, a sure money-maker that would pay for the losses Republic expected to incur on this film. The picture made as a result of the agreement was Rio Grande (1950).
During the scene where John Wayne first kisses Maureen O'Hara, she slaps his face. When he blocked the blow, she broke a bone in her hand. Since the movie was being filmed in sequential order, she couldn't wear a cast to fix the broken bone.
The station used in the opening sequence and during the scene where John Wayne slams the train doors looking for Maureen O'Hara later in the film is Ballyglunin Station, south of the town of Tuam, County Galway. It looks the same today as it did in 1951, when the film was shot with the only major difference being the bridge which crosses the railway tracks is now gone. This bridge was moved to Ballinasloe station, East Galway where it still stands today, after Ballyglunin closed down as a main line.
John Wayne and John Ford decided to play a trick on Maureen O'Hara during filming. They chose the sequence where Wayne drags O'Hara across the town and through the fields. Before shooting the scene, Wayne and Ford kicked all of the sheep dung they could find onto the hill where O'Hara was to be dragged, face-down, on her stomach. O'Hara saw them doing it; with the help of several friends, she kicked it off, only to have Wayne and Ford kick it back on. O'Hara and her friends kicked it off again, and Wayne and Ford kicked it back. This went on and on until right before the scene was shot, when Wayne and Ford got in the last kick. According to O'Hara, "Duke had the time of his life dragging me through it. It was bloody awful. After the scene was over, Mr. Ford had given instructions that I was not to be brought a bucket of water or a towel. He made me keep it on for the rest of the day. I was mad as hell, but I had to laugh too. Isn't showbiz glamorous?"
Maureen O'Hara did her own singing.
Charles B. Fitzsimons (Hugh Forbes) and James O'Hara (Father Paul) were the real life younger brothers of Maureen O'Hara (Mary Kate Danaher).
Although made in 1951, is was Republic's first production to be shot outside the United States.
The white haired frail Dan Tobin, who gets up from his death bed and runs to see the fight is John Ford's older brother, Francis Ford. Francis was a silent film actor and director in his own right, who died one year after the film was made.
Cohan's Pub in this film was actually a grocery store in Cong, County Mayo. It later became a souvenir shop, and was recently turned into a real Irish pub. It was officially opened on 17 September 2008 by Tara MacGowran, daughter of Jack MacGowran, who played Ignatius Feeney in the movie.
While all other saddled horses are seen with English saddles (as would be expected in Ireland during that time period), Sean's (John Wayne's) horse is saddled with a US Army-issue McClellan cavalry saddle.
From the opening credits "John Ford and Merian C. Cooper's Argosy Production," both were given producer credits. They are not otherwise mentioned as producers.
James O'Hara's first film.
The movie's fans who visit Cong to see the sites where the movie were filmed are called "Quiet Man Crazies".
The original White o' Morn cottage from the film is in a sheep field along a road that cuts from Maam Cross to the southern pass of N59. There you can see the bridge where Michaleen parts ways with Sean Thornton before Sean heads into the cottage for the first time and the the remainder of the cottage itself. Unfortunately, little is left of the original cottage, having been carried away stone by stone by "Quiet Man" fans. There is a replica of the cottage around the block from Pat Cohan's in Cong.
Second of five movies that paired John Wayne and Maureen O'Hara.
Film debut of Sean McClory.
Goofs
* Continuity: When Mary Kate and Sean drive to town in the buggy, the horn is on the left hand side of the bulkhead. When Mary Kate interrupts the father fly fishing after storming off, it has moved to the right side.
* Continuity: When Sean Thornton first introduces himself to the bar and they start to sing "Wild Colonial Boy", the accordion player acquires a hat between shots.
* Continuity: After church, when Sean dips his hand in the holy water and says "good morning" to Mary Kate, her hair is alternately tucked in/hanging out between shots.
* Audio/visual unsynchronized: When they are singing "Wild Colonial Boy" for the second time (after Will and Feeney leave), their mouths are moving slower than the song that they're supposed to be singing.
* Continuity: When Michaleen Flyn first asks if Mary Kate is willing to marry, the glass and the bottle switch position between shots.
* Audio/visual unsynchronized: During the fight, the last time Sean gets the bucket of water thrown on him, we hear him say, "Thanks," but his lips never move.
* Continuity: Towards the end of the movie when all the town folk are along the road waving at the car passing by, the car twice passes by the "IRA" member. He can be seen standing on the side of the road in his bright blue shirt.
* Errors in geography: At the horse race there is a sign that says "Inishfree race meet". In Ireland they are called race meetings not meets.
* Continuity: John Wayne's wedding ring is clearly visible before he even meets Mary Kate Danniher. It is most clearly seen while he is remembering his mother's words before introducing himself to Michaleen.
* Continuity: When Thornton and Danaher are at the Widow Tillane's bidding for the cottage, Danaher's highest bid is 710. But in the bar, the accordion player says he heard that Danaher bid up to 810 and nobody corrected him. It is possible that the bidding was longer when originally shot, and edited down, but they forgot to change the scene in the bar.
* Continuity: During the matchmaking scene indoors, rain is visible through the window behind Mary Kate. When the shot switches to Michaleen Oge Flynn, no rain is falling outside the window behind him.
* Continuity: When Mary Kate finishes playing the spinet in Sean's house, she is seated with the music book opened. When she gets up from the bench the music book is closed.
* Continuity: When Sean finds Mary Kate cleaning his cottage, you can see in the background that the bedroom door has been splintered with a large hole where the bolt would be. The door isn't splintered until later in the story, though, after Sean and Kate are married and he kicks the intact bedroom door down.
* Anachronisms: During the station scenes, the locomotive and carriages have the 'Flying Snail' logo of the Coras Iompair Eireann railway company. This logo wasn't introduced until 1944.
* Factual errors: In the race meeting scene, two pipers are shown playing. The pipes they are playing are Scottish pipes characterized by having one bass and two tenor drones in addition to the chanter, traditional Irish pipes only have one bass and one tenor drone plus the chanter.
* Errors made by characters (possibly deliberate errors by the filmmakers): Michaeleen introduces Sean to Mary Kate as from Pittsburgh, Massachusetts, USA. However, "Steel", "pig-iron furnaces", and "slag heaps" are more generally associated with Pittsburgh, Pennsylvania, USA. (Note: this is an obvious comedic device, showing that Michaeleen is not familiar with US geography.)
* Audio/visual unsynchronized: When Sean hops back in the horse cart and says, "Hey! Is that real? She couldn't be!", the sound is also out of sync.
* Incorrectly regarded as goofs: After Sean and Red's first confrontation in the pub, the publican is pulling a round of drinks for everyone, it can be seen that he is taking full pints from a line and pretending to fill them. In Ireland it is customary to have a row of drinks, such as Guniness, ready to be topped up as it is best served once it has settled.
* Errors made by characters (possibly deliberate errors by the filmmakers): When Mary Kate interrupts the father fly fishing after storming off, the father says that he has been fishing for a particular wily salmon for ten years. Salmon almost always expire after returning to fresh water to spawn (at an age of four years or so) and a keen fisherman would know this.
* Revealing mistakes: When Sean and Mary Kate get caught in the storm, right after a loud clap of thunder, Mary Kate mouths several words, but there is no dialog.
Filming Locations
Ashford Castle, County Mayo, Ireland
Ballyglunin, Tuam, County Galway, Ireland
(Castletown Railway Station)
Clifden, Galway City, County Galway, Ireland
(Castletown)
Cong, County Mayo, Ireland
Connemara, County Galway, Ireland
(Lots of rural scenes)
Lettergesh Beach, Connemara, County Galway, Ireland
(Horse racing scenes)
Maam, Galway City, County Galway, Ireland
(White O'Morn cottage)
Oughterard, County Galway, Ireland
Thoor Ballylee, County Galway, Ireland
(Mary Kate runs across the river)
Watch The Trailer:-
[extendedmedia]
[/extendedmedia]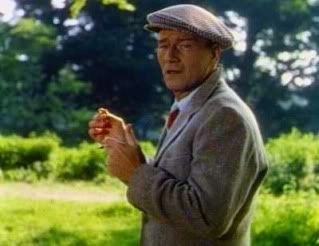 ..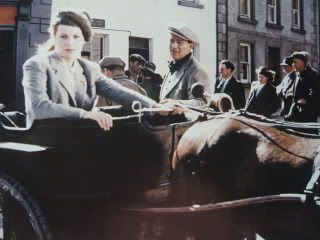 For continuity, discussion
please post here:-
The Quiet Man