THE CONQUEROR
PRODUCED AND DIRECTED BY DICK POWELL
PRESENTED BY HOWARD HUGHES
MUSIC BY VICTOR YOUNG
RKO RADIO PICTURES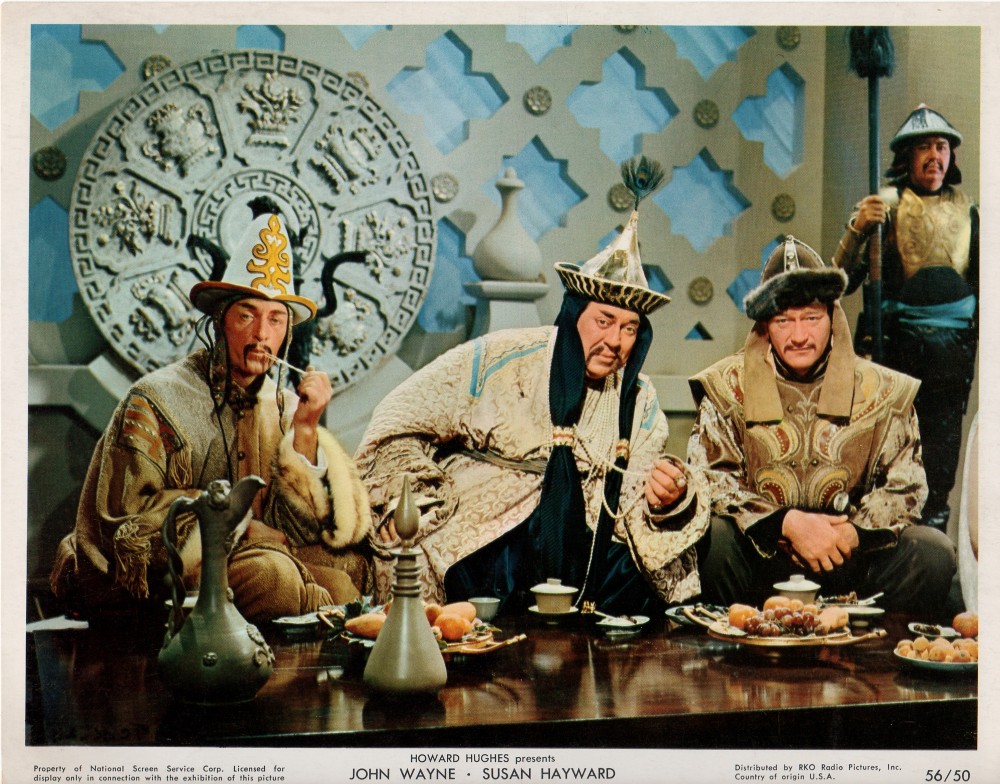 Photo with the courtesy of lasbugas

INFORMATION FROM IMDb
Plot Summary
In ancient times, the Mongolian warlord Temujin must do battle against the rival tribe that killed his father.
The battles pale in comparison with Temujin's home life, as he attempts to woo the heart
of the red-haired Tartar prisoner Bortai whom he has captured in a raid.
He must also deal with various intrigues within his palace.
Eventually, Bortai falls to his manly charms,
Temujin defeats his enemies within and without,
and is crowned Genghis Khan.
Full Cast
John Wayne .... Temujin, later Genghis Khan
Susan Hayward .... Bortai
Pedro Armendáriz .... Jamuga
Agnes Moorehead .... Hunlun
Thomas Gomez .... Wang Khan
John Hoyt .... Shaman
William Conrad .... Kasar
Ted de Corsia .... Kumlek
Leslie Bradley .... Targutai
Lee Van Cleef .... Chepei
Peter Mamakos .... Bogurchi
Leo Gordon .... Tartar captain
Richard Loo .... Captain of Wang's guard
Sylvia Lewis .... Solo dancer
Fred Aldrich .... Chieftain #2 (uncredited)
Phil Arnold .... Honest John (uncredited)
Gregg Barton .... Jalair (uncredited)
Lane Bradford .... Chieftain #4 (uncredited)
John Daheim .... Tartar guard sounding alarm (uncredited)
John George .... Drummer boy (uncredited)
Jeanne Gerson .... Bortai's slave woman (uncredited)
Fred Graham .... Subuya, (Mongol warrior) (uncredited)
Michael Granger .... Chieftain #1 (uncredited)
David Hoffman .... Potter (uncredited)
Paul Hoffman .... Chieftain #3 (uncredited)
Charles Horvath .... (uncredited)
Pat Lawler .... Wang Khan's wife (uncredited)
Weaver Levy .... Mongol (uncredited)
Jarma Lewis .... Girl in bath (uncredited)
Pat McMahon .... Girl in bath (uncredited)
Torben Meyer .... Scribe (uncredited)
Norman S. Powell .... Mongol guard (uncredited)
Ray Spiker .... Guard (uncredited)
George E. Stone .... Sibilant Sam (uncredited)
Ken Terrell .... Sorgan (Mongol warrior) (uncredited)
Patricia Tiernan .... Wang Khan's wife (uncredited)
Carl Vernell .... Merkit captain (uncredited)
Michael Wayne .... Mongol guard (uncredited)
Patrick Wayne .... (uncredited)
Writing Credits
Oscar Millard (written by)
Produced
Dick Powell .... producer
Richard Sokolove .... associate producer
Howard Hughes .... producer (uncredited)
Original Music
Victor Young
Cinematography
Joseph LaShelle
William E. Snyder (as William Snyder)
Leo Tover
Harry J. Wild
Second Unit Director or Assistant Director
Edward Killy .... assistant director
Cliff Lyons .... second unit director
Stunts
Roydon Clark .... stunts (uncredited)
John Daheim .... stunts (uncredited)
Henry A. Escalante .... stunts (uncredited)
Bernie Gozier .... stunts (uncredited)
Fred Graham .... stunts (uncredited)
Charles Horvath .... stunts (uncredited)
Cliff Lyons .... stunts (uncredited)
Bob Morgan .... stunts (uncredited)
Boyd 'Red' Morgan .... stunts (uncredited)
Gil Perkins .... stunts (uncredited)
Allen Pomeroy .... stunts (uncredited)
Chuck Roberson .... stunts (uncredited)
Barlow Simpson .... stunts (uncredited)
Norm Taylor .... stunt rigger (uncredited)
Ken Terrell .... stunts (uncredited)
Jack Williams .... stunts (uncredited)
Henry Wills .... stunts (uncredited)
Terry Wilson .... stunts (uncredited)
Trivia
Sometimes referred to as "An RKO Radioactive Picture," as it was filmed near the site of contemporaneous nuclear testing grounds, the set was contaminated by nuclear fallout. After location shooting, much dirt from the location was transported back to Hollywood in order to match interior shooting done there. Scores of cast and crew members developed forms of cancer over the next two decades, many more than the normal percentage of a random group of this size. Quite a few died from cancer or cancer-related problems, including John Wayne, Susan Hayward, Pedro Armendáriz (who shot himself to death soon after learning he had terminal cancer), Agnes Moorehead, John Hoyt and director Dick Powell. People magazine researched the subsequent health of the cast and crew, which it published in November 1980. By the time of the article's publication, 91 of the 220 members of the film's cast and crew had contracted cancer, and half of these had died from the disease. The figures did not include several hundred local American Indians who served as extras on the set. Nor did it include relatives who had visited cast and crew members on the set, such as the Duke's son Michael Wayne. The People article quoted the reaction of a scientist from the Pentagon's Defense Nuclear Agency to the news: "Please, God, don't let us have killed John Wayne".
Filmed between mid-May and August 5, 1954, the movie premiered on February 22, 1956 in Los Angeles, then opened in Manhattan at the Criterion Theatre on March 30, 1956.
Photographs exist of John Wayne holding a Geiger counter.
Wayne took his role very seriously, went on a crash diet, and took Dexedrine tablets 4 times a day.
Eccentric billionaire Howard Hughes provided the financial backing for this film and later paid an extra $12 million (estimated) for every existing print of it from a sense of guilt - it was he who paid for the shipping of 60 tons of radioactive dirt to Hollywood for retakes (see above). He kept a jealous hold on the film, not even allowing it to be seen on television, for 17 years until 1974, when Paramount managed to secure the rights to reissue it.
The screenplay was written before John Wayne became involved in the project. The writer had Marlon Brando in mind for the role. According to Harry Medved and Michael Medved's 1984 book "The Hollywood Hall of Shame", Wayne's casting in this film came about during a conversation with director Dick Powell. Wayne was about the make the last film of a three-picture deal for RKO Radio and Powell had been assigned to direct. They were going over various scripts in Powell's office when the latter was called away for a few minutes. When Powell returned, he found Wayne enthusiastically looking over a script that Powell had intended throwing in the waste basket. It was the screenplay for "The Conqueror". Powell tried to talk him out of it, but Wayne insisted that this was the film he wanted to make. As Powell later summed it up, "Who am I to turn down John Wayne?"
Average Shot Length = ~8.2 seconds. Median Shot Length = ~7.5 seconds.
This became the final motion picture project for billionaire Howard Hughes, ending his thirty year involvement with the industry. Jet Pilot (1957), a film he produced in 1949, would finally be released the following year.
This film is listed among The 100 Most Enjoyably Bad Movies Ever Made in Golden Raspberry Award founder John Wilson's book THE OFFICIAL RAZZIE® MOVIE GUIDE.
One of the films included in "The Fifty Worst Films of All Time (and how they got that way)" by Harry Medved and Randy Lowell.
John Wayne regretted playing Temujin in The Conqueror (1956) so much that he visibly shuddered whenever anyone mentioned the film's name. He once remarked that the moral of the film was "not to make an ass of yourself trying to play parts you're not suited for.
Goofs
* Continuity: When Temujin shoots a flaming arrow to signal his troops to enter Urga, it is night, but when the troops see the arrow, it is daylight.
* Revealing mistakes: When Temujin throws a spear at a man in a stream, the wire guiding it is visible. The spear's trajectory is also wobbly.
* Incorrectly regarded as goofs: This is not a historical documentary nor a biopic, but rather a romantic fiction loosely inspired by true people and events. Liberties are taken with costume, custom, weapons technology, and the circumstances in which the depicted individuals really died. Utah "plays the role" of Mongolia (with its unique landmarks visible), and many actors playing Mongolians do not look Mongolian at all, but this is part of the suspension of disbelief that informs this movie's atmosphere.
* Continuity: SPOILER: After Temujin kills the Shaman and a guard in Wang Khan's bedroom his sword is clean, but when he bangs on the gong outside the bedroom to address his troops, there is blood on the sword.
* Continuity: SPOILER: After Jamuga escapes from his cell and Kasar is killed, a guard pushes him on top of a sundial. The shadow cast by the sundial is pointing left when Jamuga is pushed against the sundial, then pointing right when Jamuga kills the guard.
Filming Locations
Escalante Desert, St. George, Utah, USA
Hurricane, Utah, USA
RKO Studios - 780 Gower Street, Hollywood, Los Angeles, California, USA
(studio)
Snow Canyon State Park - 1002 Snow Canyon Drive, Ivins, Utah, USA
Snow Canyon, Utah, USA
St. George, Utah, USA
Previous Discussion:-
The Conqueror