ISLAND IN THE SKY

DIRECTED BY WILLIAM A. WELLMAN
PRODUCED BY JOHN WAYNE/ ROBERT FELLOWS
WAYNE-FELLOWS/ BATJAC PRODUCTION
MUSIC BY EMIL NEWMAN
WARNER BROS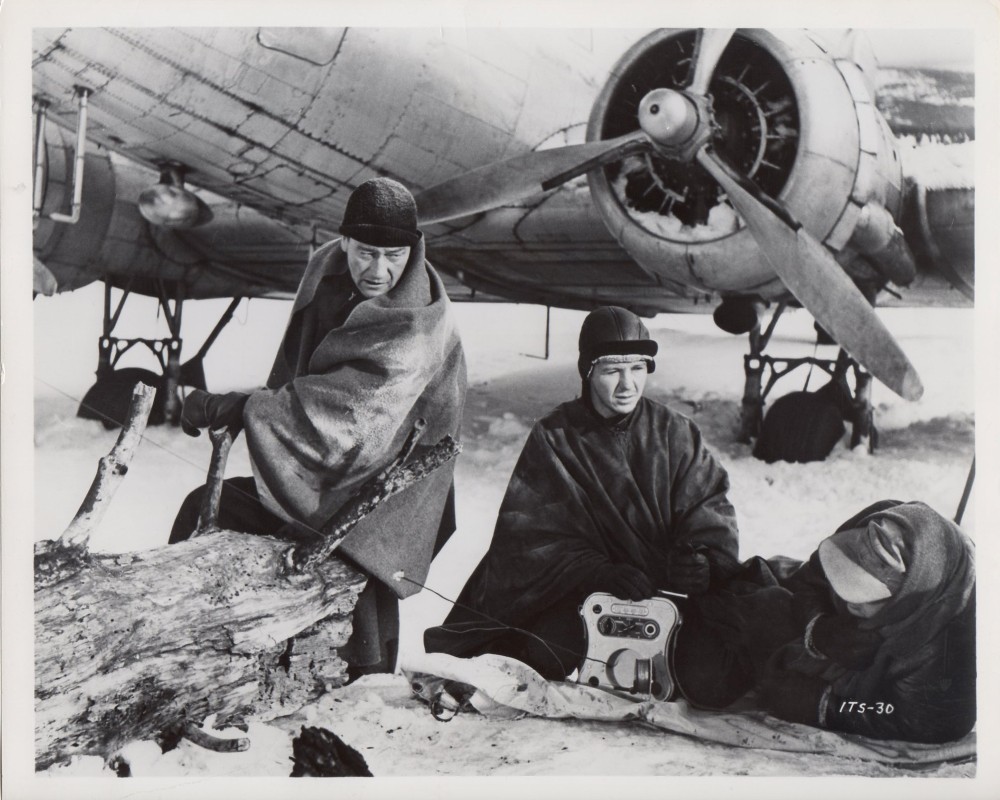 Photo with the courtesy of lasbugas

Information from IMDb
Plot Summary
A transport plane crash-lands in the frozen wastes of Labrador, and the plane's pilot, Dooley, must keep his men alive in deadly conditions while waiting for rescue.
Summary written by Jim Beaver
Full Cast
John Wayne .... Capt. Dooley
Lloyd Nolan .... Captain Stutz
Walter Abel .... Col. Fuller
James Arness .... Mac McMullen, pilot
Andy Devine .... Willie Moon, pilot
Allyn Joslyn .... J.H. Handy, pilot
Jimmy Lydon .... Murray, Dooley's navigator (as James Lydon)
Harry Carey Jr. .... Ralph Hunt, Moon's co-pilot
Hal Baylor .... Stankowski, Dooley's engineer
Sean McClory .... Frank Lovatt, Dooley's co-pilot
Wally Cassell .... D'Annunzia, Dooley's radioman
Gordon Jones .... Walrus
Frank Fenton .... Capt. Turner
Robert Keys .... Maj. Ditson
Sumner Getchell .... Lt. Cord
Regis Toomey .... Sgt. Harper
Paul Fix .... Wally Miller
Jim Dugan .... Gidley
George Chandler .... Rene
Louis Jean Heydt .... Fitch, pilot (as Louis Heydt)
Bob Steele .... Wilson, Moon's radioman
Darryl Hickman .... Swanson, McMullen's radioman
Mike Connors .... Gainer (as Touch Connors)
Carl 'Alfalfa' Switzer .... Sonny Hopper, Stutz' co-pilot (as Carl Switzer)
Cass Gidley .... Stannish, pilot
Herbert Anderson .... Breezy, Stannish's co-pilot (as Guy Anderson)
Tony De Mario .... Ogden
Dawn Bender .... Murray's wife (uncredited)
Gene Coogan .... Stutz's Navigator (uncredited)
Ann Doran .... Moon's wife (uncredited)
John Indrisano .... Mechanic (uncredited)
Tom Irish .... Dusty, McMullen's co-pilot (uncredited)
Fess Parker .... Fitch's co-pilot (uncredited)
Richard Walsh .... (uncredited)
Michael Wellman .... Mike Moon (uncredited)
Tim Wellman .... Jim Moon (uncredited)
Phyllis Winger .... Margaret, Girl in flashback (uncredited)
Writing Credits
Ernest K. Gann also novel
Original Music
Emil Newman
Hugo Friedhofer (uncredited)
Cinematography
Archie Stout
Second Unit Director or Assistant Director
Andrew V. McLaglen
Trivia
The little yellow radio shown in the movie was a actual radio. Its design is based on a WWII German emergency transmitter. It is a BC-778/SCR-578/AN-CRT3 emergency transmitter (it could not receive) affectionately called 'Gibson Girl', a name taken from the narrow-waisted female drawings of 1890s fashion artist Charles Gibson. Its shape allowed the operator to hold it between the legs while cranking it the necessary 80 RPM to produce enough electricity to operate. It could be set to automatically send an SOS signal or switched to send Morse Code signals. Early models transmitted only on 500kHz, later models also could transmit on 8280kHz (later modified to 8364kHz). It was notorious for being tough to crank.
The general plot is based on a true story that the author, Ernest Gann related in his 1961 autobiographical book about his flying career, "Fate is the Hunter". He and other pilots searched successfully for a lost fellow pilot in the wilds of northern Canada during World War II.
Goofs
* Continuity: The stranded crew had arranged branches in the snow into the shape of a cross so the planes could spot it. Then they rearrange the branches to spell out a message when they fly over. The planes fly over one more time, and the branches are back in the shape of a cross.
* Revealing mistakes: When the crewman is lost in the blizzard, you can see some white fabric in the "snowbank" behind him flapping in the wind.
* Factual errors: As the plane begins its crash landing on the lake three crew members - not the pilots - are standing up behind the pilots looking out the windows. Under no circumstances would the non pilots be there. They would be in crash position in the rear area, not standing in the cockpit.
* Miscellaneous: Just before their plane goes down, when Wayne and the co-pilot look out the windows, the wings are covered in ice, and the fuselage and windows are covered in snow - the camera then pans to a full view of the plane and there is no snow or ice anywhere. After the plane lands there is only a small amount of snow on it.
* Factual errors: Hearing an incorrect latitude reading, Dooley says it could put them in Paris, Vladivostok, or Bangor ME, "all on the same latitude". The last two cities are at latitudes 43.1° and 44.8° north, which might be considered roundly the same, but Paris is significantly farther north at 48.8°. As a pilot with experience on Atlantic flights, Dooley would certainly know this.
* Continuity: When Lovatt died, he had curled up into a fetal position. He would have frozen in that position. When the crew buried him, he was straightened out.
Filming Location
Donner Lake, Truckee, California, USA
Watch the Trailer:-
Previous Discussion:-
Island In The Sky