TWO RODE TOGETHER

DIRECTED AND PRODUCED BY JOHN FORD
ORIGINAL MUSIC GEORGE DUNING
COLUMBIA PICTURES CORPORATION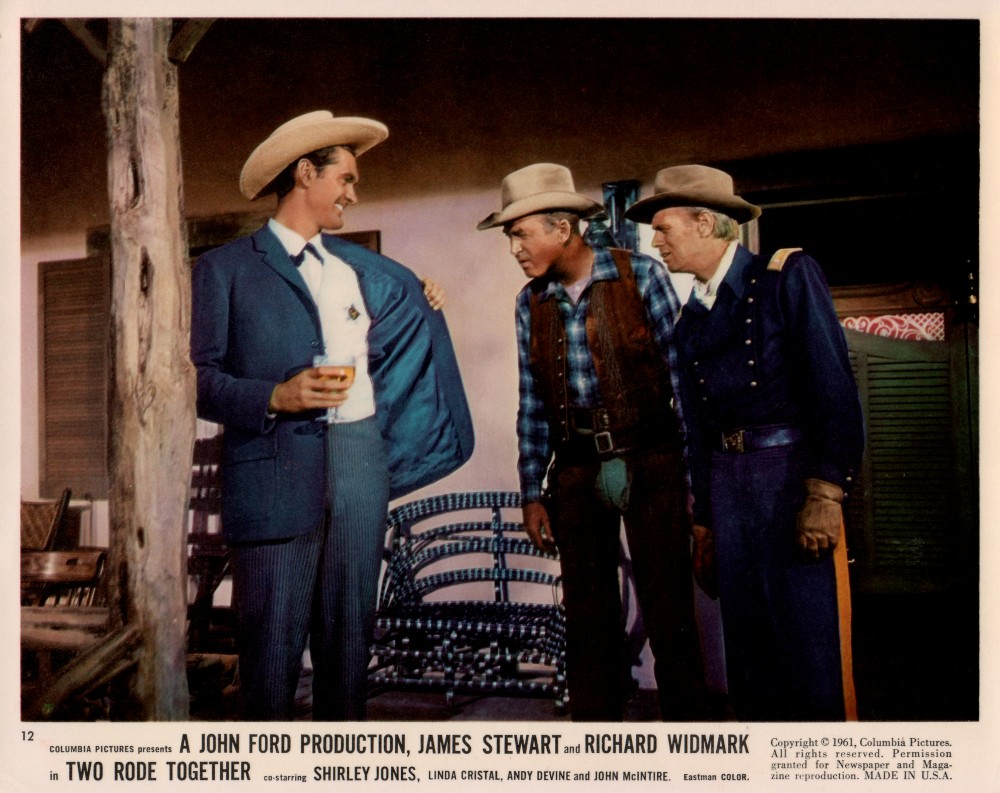 Photo with the courtesy of lasbugas

For continuity, discussion,
please post here:-
James Stewart- Two Rode Together
Information from IMDb
Plot Summary
The US Army is under pressure from the desperate relatives of white prisoners
of the Comanches to secure their rescue.
A cynical and corrupt marshal, Guthrie McCabe, is persuaded by an army lieutenant
to assist in the negotiations with the Comanches.
However, just two captives are released; and their reintegration
into white society proves highly problematic.
Written by David Levene
Full Cast
James Stewart ... Marshal Guthrie McCabe
Richard Widmark ... First Lt. Jim Gary
Shirley Jones ... Marty Purcell
Linda Cristal ... Elena de la Madriaga
Andy Devine ... Sgt. Darius P. Posey
John McIntire ... Maj. Frazer
Paul Birch ... Judge Edward Purcell
Willis Bouchey ... Mr. Harry J. Wringle
Henry Brandon ... Chief Quanah Parker
Harry Carey Jr. ... Ortho Clegg
Olive Carey ... Mrs. Abby Frazer
Ken Curtis ... Greeley Clegg
Chet Douglas ... Deputy Ward Corby
Annelle Hayes ... Belle Aragon
David Kent ... Running Wolf (Steve Purcell)
Anna Lee ... Mrs. Malaprop
Jeanette Nolan ... Mrs. Mary McCandless
John Qualen ... Ole Knudsen
Ford Rainey ... Rev. Henry Clegg
Woody Strode ... Stone Calf
O.Z. Whitehead ... Lt. Chase
Frank Baker ... Capt. Malaprop (uncredited)
Danny Borzage ... Trooper (uncredited)
Regina Carrol ... Wakanana (Freda Knudsen) (uncredited)
Ruth Clifford ... Woman (uncredited)
Eunice Grey ... Mother of Indian Stolen Child (uncredited)
Big John Hamilton ... Settler (uncredited)
Sam Harris ... Post Doctor (uncredited)
Chuck Hayward ... Trooper (uncredited)
William Henry ... Gambler (uncredited)
Robert Kenneally ... Officer (uncredited)
Ted Knight ... Lt. Upton (uncredited)
Cliff Lyons ... William McCandless (uncredited)
Ted Mapes ... Settler (uncredited)
Mae Marsh ... Hanna Clegg (uncredited)
Howard Morris ... (uncredited)
Jack Pennick ... Sergeant (uncredited)
Chuck Roberson ... Comanche (uncredited)
Ed Sweeney ... Officer (uncredited)
Writing Credits
Frank S. Nugent (screenplay) (as Frank Nugent)
Will Cook (novel "Comanche Captives")
Produced
John Ford .... producer
Stanley Shpetner ....
Cinematography
Charles Lawton Jr.
Trivia
This was the last film in which James Stewart wore his familiar cowboy hat. Up to this point, he had worn it in all his westerns since Winchester '73, except Broken Arrow. This was Stewart's first film with John Ford, and Ford didn't want him to wear it as he thought it was the worst looking cowboy hat he had ever seen. As Stewart said in the documentary, "A Wonderful Life", Ford relented, but got back at him in their next western, The Man Who Shot Liberty Valance, when he didn't let Stewart wear a hat at all.
Richard Widmark was initially reluctant to make the film, since he felt he was fifteen years too old for the young lieutenant he played.
This film marked comedic actor Edward Brophy's last role as he died during the production on May 27, 1960 in Pacific Palisades, California.
James Stewart later admitted he was disappointed that his character's dark side wasn't explored further in the movie.
John Ford later admitted he had only made the film for the money, and felt it was "still crap" even after he had brought in his favorite script writer Frank Nugent to rewrite it.
The movie's critical and commercial failure was largely blamed on the miscasting of the two leads, since James Stewart, at 52, and Richard Widmark, at 45, were both much older than their characters.
Filmed in 1960, not released until 1961.
The film was widely regarded as a generally light-hearted variation on an earlier John Ford western, The Searchers.
Goofs
Continuity: When Marty gets up from getting water at the creek, the knees of her trousers are wet. However, they are dry in the next shot as she and Jim are walking back to camp.
Continuity: About 1:16 into the film, when the townspeople are discussing the fate of the boy rescued from the Commanches; Willis Bouchey, John Qualen and Paul Birch turn and walk out, passing Shirley Jones and those remaining in the room. Qualen and Richard Widmark then have a brief shot at the doorway and Qualen exits. The next shot shows the group, including Qualen, again walking past Jones and the others on their way to the door.
Filming Locations
Alamo Village - Highway 674, Brackettville, Texas, USA
Brackettville, Texas, USA
Fort Clark, Brackettville, Texas, USA
For continuity, discussion,
please post here:-
James Stewart- Two Rode Together