THE TIN STAR
DIRECTED BY ANTHONY MANN
MUSIC BY ELMER BERNSTEIN
PERLSEA-SEATON PRODUCTIONS
PARAMOUNT PICTURES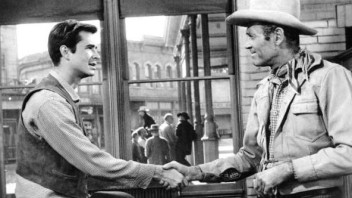 INFORMATION FROM IMDb
Plot Summary
Veteran bounty-hunter Morg Hickman rides into a town in danger.
The sheriff has been killed, and young inexperienced Ben Owens
named a temporary replacement until a permanent can be found.
Ben wants to be that permanent replacement,
so needs to impress the townspeople with his skill.
When he finds that Morg was a sheriff for a long time before
he became a bounty-hunter, he asks the older man to teach him.
Morg thinks that being a sheriff is a foolish goal,
but agrees to instruct Ben in handling people, more important to a sheriff
than handling a gun.
Written by Ken Yousten
Cast
Henry Fonda ... Morgan 'Morg' Hickman
Anthony Perkins ... Sheriff Ben Owens
Betsy Palmer ... Nona Mayfield
Michel Ray ... Kip Mayfield
Neville Brand ... Bart Bogardus
John McIntire ... Dr. Joseph Jefferson 'Doc' McCord
Mary Webster ... Millie Parker
Peter Baldwin ... Zeke McGaffey
Richard Shannon ... Buck Henderson
Lee Van Cleef ... Ed McGaffey
James Bell ... Judge Thatcher
Howard Petrie ... Mayor Harvey King
Russell Simpson ... Clem Hall
Hal K. Dawson ... Andy Miller
Jack Kenney ... Sam Hodges
Mickey Finn ... McCall
Frank McGrath ... Jim Clark - Stagecoach Driver (uncredited)
Writing Credits
Joel Kane ... (story)
Dudley Nichols
Barney Slater ... (story)
Produced
William Perlberg ... producer
George Seaton ... producer
Gordon Cornell Layne ... associate producer (uncredited)
Music
Elmer Bernstein
Cinematography
Loyal Griggs
Trivia
James Stewart was originally supposed to play Morgan Hickman.
Goofs
Continuity
When the stagecoach driver rushes into town to report that they were robbed,
there is a small trail of dust following each side of the stagecoach.
When it comes to a full stop, the dust is almost completely settled down.
Next they cut to a slightly closer view of the stage and surrounding areas,
and the air is full of dust all over the scene, much more than the stagecoach
ever caused to fly up.
Throughout the film, Ben is shown wearing two guns, and as Tony Perkins was left handed,
whenever he draws his pistol, his left hands is correctly depicted as dominant.
Yet at one point in a scene during Ben's search for the McGaffey brothers,
his horse with Ben on his back, whirls around to reveal Ben only wearing one gun,
and that being holstered on his right hip.
Crew or equipment visible
When Morg climbs up to the cave chasing the McGaffey brothers,
there's a full camera shadow across him.
Spoilers
Crew or equipment visible
When Bart Bogardus staggers backwards after being shot,
he hits the camera which shakes visibly.
Filming Location
Paramount Studios - 5555 Melrose Avenue, Hollywood, Los Angeles, California, USA