DIRECTED BY FOBERT D. WEBB
MUSIC BY LIONEL NEWMAN
TWENTIETH CENTURY FOX FILM CORPORATION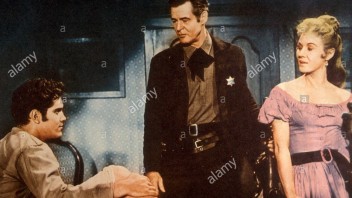 INFORMATION FROM IMDb
Plot Summary
Marshal Silver is run out of town under suspicion of being a trigger-happy killer after shooting a hired gun of Honest John Barrett. A placid life in a new town is interrupted by the reappearance of Barrett, old enemies and the son of the hired gun from years ago, Anderson.
Written by Doug White

Cast
Robert Ryan ... Marshal Cass Silver
Virginia Mayo ... Sally
Jeffrey Hunter ... Thad Anderson
Robert Middleton ... Honest John Barrett
Walter Brennan ... Jake
Arthur O'Connell ... Jim Dexter
Ken Clark ... Pike
Rodolfo Acosta ... Chico
George Mathews ... Dillon
Fay Roope ... Markham
Edward Platt ... Dr. Barlow
Whit Bissell ... Mr. Sam Bolton
William Fawcett ... Driver (uncredited)
and many more...
Directed
Robert D. Webb
Writing Credits
Edmund H. North ... (screenplay) (as Edmund North) and
Joseph Petracca ... (screenplay)
Verne Athanas ... (novel)
Produced
Robert L. Jacks ... producer
Music
Lionel Newman
Cinematography
Lucien Ballard
Trivia
After the purchase of the novel in December 1952 Victor Mature, Robert Wagner and Debra Paget were tentatively set for the leads and that Frank P. Rosenberg was going to produce for 20th Century Fox.
On November 2, 1955, it was announced that Gary Cooper was to star and that Gerd Oswald was to direct, and week later it was stated that Guy Madison was to play Thad.
By late December 1955, it was announced that Robert Stack was to star, and that Guy Madison had dropped out of the cast to appear in Hilda Crane (1956).
In February 1955 Gregory Peck was set to star.
Average Shot Length = ~12.2 seconds. Median Shot Length = ~10.4 seconds.
Goofs
Continuity
The bowls on the table (at 8.21 mins - 8.26 mins) disappear/are re-arranged between shots.
Factual errors
When the sheriff brings in two men for attempted robbery, he puts them in the cell without removing their gun belts.
Filming Locations
Tucson, Arizona, USA
Old Tucson - 201 S. Kinney Road, Tucson, Arizona, USA
20th Century Fox Ranch, Malibu Creek State Park - 1925 Las Virgenes Road, Calabasas, California, USA