DIRECTED BY FRED SCHEPISI
INCORPORATED TELEVISION COMPANY (ITC)
ASSOCIATED FILM DISTRIBUTION (AFD)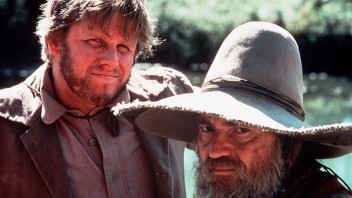 INFORMATION FROM IMDb
Plot Summary
Karl Westover, an inexperienced farm boy, runs away after unintentionally killing a neighbor, whose family pursues him for vengeance. He meets Barbarosa, a gunman of near-mythical proportions, who is himself in danger from his father-in-law Don Braulio, a wealthy Mexican rancher. Don Braulio wants Barbarosa dead for marrying his daughter against the father's will. Barbarosa reluctantly takes the clumsy Karl on as a partner, as both of them look to survive the forces lining up against them.
Written by Jim Beaver
Cast
Willie Nelson ... Barbarosa
Gary Busey ... Karl Westover
Isela Vega ... Josephina
Gilbert Roland ... Don Braulio
Danny De La Paz ... Eduardo
Alma Martinez ... Juanita (as Alma Martínez)
George Voskovec ... Herman Pahmeyer
Sharon Compton ... Hilda
Howland Chamberlain ... Emil
Harry Caesar ... Sims
Wolf Muser ... Floyd
Kai Wulff ... Otto
Roberto Contreras ... Cantina Owner
Luis Contreras ... Angel
Itasco Wilson ... Mattie
Bruce Smith ... Photographer
Sonia de León ... Old Prostitute (as Sonia DeLeon)
Joanelle Romero ... Young Prostitute (as Joannelle Nadine Romero)
Michael S. O'Rourke ... Brither (as Michael O'Rourke)
Bentley H. Garrett ... Bartender
Allison Wittliff ... Emily
Juan José Martínez ... 1st Boy (as Juna Jose Martinez)
Rene Luna ... 2nd Boy (as Reno Luna)
Christopher García ... 3rd Boy
Philip Pena ... 4th Boy (as Philip Peña)
Jake Busey ... Cook Boy
Reid Wittliff ... Cook Boy
and more...
Directed
Fred Schepisi
Writing Credits
William D. Wittliff
Produced
Paul N. Lazarus III ... producer
Martin Starger ... executive producer
William D. Wittliff ... co-producer
Music
Bruce Smeaton
Cinematography
Ian Baker
Trivia
Willie Nelson had read only two pages of the film's screenplay when he decided he wanted to do the movie.
Nelson exclaimed: "I want to be this guy" [Barbarosa].
During production two technicians and a woman were killed in an after-hours vehicle accident.
The film's screenplay was inspired by tales told to writer William D. Wittliff by his grandfather during his childhood living on a Texan ranch in the Blanco Hill country. Wittliff came up with an outline of the story whilst driving in Texas from Austin to Dallas. Wittliff had previously written Willie Nelson's Honeysuckle Rose (1980) and had adapted Nelson's 1975 concept album Red Headed Stranger (1986) when it was in development for Robert Redford, his script later being filmed with Nelson in it.
Producer Paul N. Lazarus III hired Australian director Fred Schepisi based on Schepisi's earlier film The Chant of Jimmie Blacksmith (1978) which had been described as being like an Australian western. The film had played in competition at Cannes where Lazarus saw it.
The picture's shooting location in Big Bend National Park was reputed
to be around the time the film was made and released to be the most remote filming location ever used
for an American movie.
Location scouting for the production was conducted in all eleven south-western states of the USA.
Due to the cinematography union that DOP Ian Baker belonged to, the movie had to be completely shot in Texas as this was the only place that the union would allow Baker to lens.
One of about fifteen movies that cinematographer Ian Baker and director Fred Schepisi have collaborated on. And its one of around seven movies collaborated on for Schepisi and composer Bruce Smeaton.
The movie utilized the famous Western filming location of "The Alamo Village" in Brackettville, Texas
which had been host to a number of famous westerns having shot there.
In an August 1990 interview with Australian film magazine 'Cinema Papers', director Fred Schepisi said of this film, "...you could do wide shots at both ends of the day, because of the way that the mountains were structured. And as you moved into to do closer work, there was always a direction you could point where you would get great light and good texture on the backgrounds".
The animal that Barbarosa (Willie Nelson) regularly ate was an armadillo.
Director Fred Schepisi once said that it was dumb to make this western but likes the film a lot.
This independently financed movie was picked up by Universal Pictures when they acquired Lord Lew Grade's ITC/Associated Film Distributors (AFD) which got sold when they went bust after the box-office failure of Raise the Titanic (1980). Reportedly, the pictured got pulled from theaters in some territories when AFD was sold. The film was one of two westerns that Universal inherited from ITC/AFD, the other was The Legend of the Lone Ranger (1981). Both flopped at the box-office.
Actor Gary Busey was not only a co-lead but also acted as an uncredited producer.
This was country-and-western singer Willie Nelson's first ever Western movie.
The production camp was in a little known western Texan backwater township of Latijas which had a population of around only twelve people. The Texas town was a former desert trading post stop and was General "Black Jack" Pershing's headquarters during military campaign fighting against the Mexican revolutionary Pancho Villa. The production shoot in Latijas went for four weeks.
High temperatures in Texas had a scorching effect on the production with the heat staying hot right into the evening. Shooting in such a remote location there also meant there was no television, air-conditioning and telephones whilst crew had to cram into rooms for their lodgings.
Final film of Gilbert Roland
Jerry Goldsmith was originally considered to compose the score.
First American movie of Australian director Fred Schepisi.
The word "Barbarosa" could come either from Spanish or Italian and with the same meaning "Pink Beard". Despite what some think, red in Spanish is "rojo" and in Italian "rosso/a" (with a double "s", and "rosso" for a male substantive "rossa" for a female substantive - in Italian there is not "it", every substantive is either a male one or a female one.)
One of a number of Hollywood westerns that were a flop at the box-office during the late 1970s / early 1980s. The films include Heaven's Gate (1980), Barbarosa (1982), The Mountain Men (1980), Cactus Jack (1979), Goin' South (1978), Hard Country (1981), The Frisco Kid (1979), Cattle Annie and Little Britches (1981), and The Legend of the Lone Ranger (1981).
Despite this western film's financial failure, the Hollywood films industry within a few years bizarrely revived the oater movie genre during the mid-80s producing a mini-cycle of Western movies. In 1985, the dream factory churned out such Western oaters as Silverado (1985), Rustlers' Rhapsody (1985), Pale Rider (1985) and Lust in the Dust (1985).
Goofs
Anachronisms
In the scene where the race contestants approach the finish line where Willie and Gary have stopped to watch, just as the riders round the curve to the finish, you can see a farm tractor pulling something behind the racers.
There is no tractor pulling something as the horse racers round the home stretch. It is clearly a wagon pulled by horses. They actually did a good job of having it in the background in the three quick shots that showed the racers.
Continuity
(at around 1 min) Willie meets Gary for the first time with his gun drawn on him. Seconds later a gunman charges Willie and Willie has to draw his gun to shoot the man down.
Filming Locations
Alamo Village - Highway 674, Brackettville, Texas, USA
Big Bend National Park, Texas, USA
Terlingua, Texas, USA
Watch the Movie
[extendedmedia]
[/extendedmedia]