DIRECTED BY ALLEN H. MILNER
PRODUCED BY ROBERT ALDRICH/WILLIAM CONRAD
THE ASSOCIATES & ALDRICH COMPANY
UNITED ARTISTS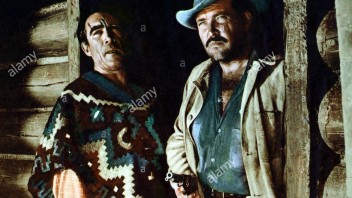 INFORMATION FROM IMDb
Plot Summary
A Sheriff goes into Mexico in search of a man wanted back in the States. Finding him, he starts back. But it's a long way back, he has a reluctant captive, and there are unfriendly Indians along the way. The Sheriff admits his life has been a failure but this mission he plans to accomplish.
Written by Maurice VanAuken
Cast
Anthony Quinn ... Bob Kallen
William Conrad ... Sheriff Chris Hamish
Lita Milan ... Elena
Victor Millan ... Father Ignatius
Jorge Treviño ... Border Guard (as George Trevino)
Ellen Hope Monroe ... Little Girl
Joe Dominguez ... Luis
Louis Towers ... Boy
and many more...
Directed
Allen H. Miner
Oscar Rudolph ... (uncredited)
Writing Credits
Antony Ellis
Produced
Walter Blake ... associate producer
William Conrad ... producer
Robert Aldrich ... producer (uncredited)
Music
Frank De Vol ... (as Frank Devol)
Cinematography
Joseph F. Biroc ... (as Joseph Biroc)
Trivia
The film was based on a story originally written for the radio version of "Gunsmoke" in 1952, which also starred William Conrad at the time.
Second-unit director Oscar Rudolph replaced Allen H. Miner and directed ten days of the film, uncredited.

Goofs
unknown

Memorable Quotes

Filming Locations
Janss Conejo Ranch, Thousand Oaks, California, USA
Melody Ranch - 24715 Oak Creek Avenue, Newhall, California, USA
Mexico

Watch the Movie
[extendedmedia]
[/extendedmedia]