SANDS OF IWO JIMA
DIRECTED BY ALLAN DWAIN
PRODUCED BY EDMUND GRAINGER
MUSIC BY VICTOR YOUNG
REPUBLIC PICTURES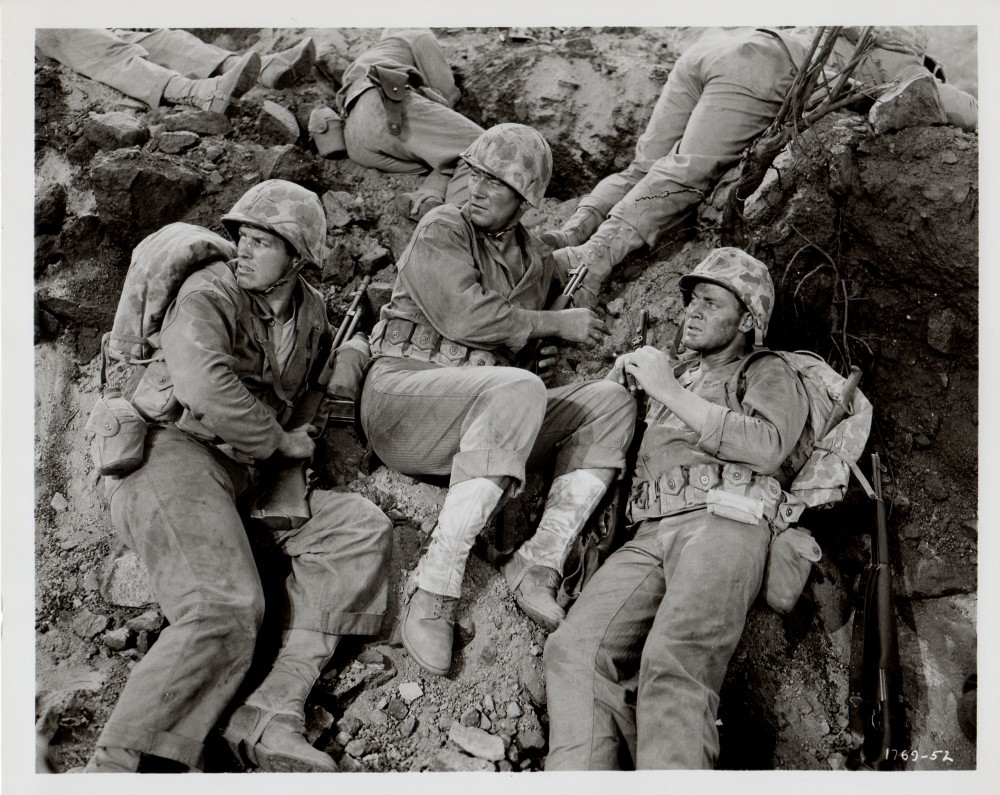 Photo with the courtesy of lasbugas

Information from IMDb
Plot Summary
After his wife takes their son and leaves him, Sgt. John Stryker is an embittered man
who takes his misery out on the men under his command.
They're a bunch of green recruits who have a hard time dealing
with Stryker's tough drills and thicker skin.
Even his old friends start to wonder if he's gone from being the epitome
of the tough Marine drill instructor to a man over the edge.
Full Cast
John Wayne ... Sgt. John M. Stryker
John Agar ... Pfc. Peter Conway
Adele Mara ... Allison Bromley
Forrest Tucker ... Pfc. Al Thomas
Wally Cassell ... Pfc. Benny Regazzi
James Brown ... Pfc. Charlie Bass
Richard Webb ... Pfc. 'Handsome' Dan Shipley
Arthur Franz ... Cpl. Robert Dunne / Narrator
Julie Bishop ... Mary
James Holden ... Pfc. Soames
Peter Coe ... Pfc. George Hellenpolis
Richard Jaeckel ... Pfc. Frank Flynn
William Murphy ... Pfc. Eddie Flynn (as Bill Murphy)
George Tyne ... Pfc. Harris
Hal Baylor ... Pvt. 'Sky' Choynski (as Hal Fieberling)
John McGuire ... Capt. Joyce
Martin Milner ... Pvt. Mike McHugh
Leonard Gumley ... Pvt. Sid Stein
William Self ... Pvt. L.D. Fowler Jr.
David M. Shoup ... Himself (as Col. D.M. Shoup U.S.M.C.)
H.P. Crowe ... Himself (as Lt. Col. H.P. Crowe U.S.M.C.)
Harold G. Schrier ... Himself (as Capt. Harold G. Schrier U.S.M.C.)
Rene A. Gagnon ... Himself (as Pfc. Rene A. Gagnon)
Ira H. Hayes ... Himself (as Pfc. Ira H. Hayes)
John H. Bradley ... Himself (as PM 3/c John H. Bradley)
Conrad Binyon ... Marine (uncredited)
David Clarke ... Wounded Marine (uncredited)
Fred Datig Jr. ... Marine (uncredited)
Bruce Edwards ... Marine (uncredited)
Dorothy Ford ... Tall Girl (uncredited)
Carole Gallagher ... USO Woman (uncredited)
Fred Graham ... Officer (uncredited)
Don Haggerty ... Colonel in Staff Car (uncredited)
Gil Herman ... Lt. Baker (uncredited)
William Hudson ... Marine (uncredited)
I. Stanford Jolley ... Forrestal (uncredited)
Dickie Jones ... Scared Marine (uncredited)
Billy Lechner ... Marine (uncredited)
Mickey McCardle ... Marine (uncredited)
Roger McGee ... Sailor (uncredited)
Al Murphy ... Bartender (uncredited)
Frank O'Connor ... Waiter in Bar (uncredited)
Judy Sochor ... USO Woman (uncredited)
Glen Vernon ... Marine (uncredited)
Steve Wayne ... Marine (uncredited)
Dick Wessel ... Grenade Instructor (uncredited)
John Whitney ... Lt. Thompson (uncredited)
Joy Windsor ... USO Woman (uncredited)
Writing Credits
James Edward Grant (screenplay) and
Harry Brown (screenplay)
Original Music
Victor Young
Cinematography
Reggie Lanning (director of photography)
Stunts
Fred Graham .... stunt double (uncredited)
Don Nagel .... stunts (uncredited)
Terry Wilson .... stunt double (uncredited)
Trivia
In one scene, combat veteran Sgt. Stryker (John Wayne) instructs bumbling recruit Pvt. Choynski (Hal Baylor) on the correct way to march and hold a rifle. In real life Baylor was an ex-Marine who fought in the battles of Saipan and Tinian in WW II; Wayne had never served in the military.
This film recreates the famous Raising the Flag on Iwo Jima scene as known famously from an historic photograph which was taken on the 23rd February, 1945, by Joe Rosenthal. The three surviving flag raisers make a cameo appearance during this scene in the film. These three men who were part of the flag raising (made famous by the photograph Joe Rosenthal had taken) and survived the battle for Iwo Jima, appear in this scene only. Rene A. Gagnon, Ira H. Hayes and John H. Bradley are seen with with John Wayne as he instructs them to hoist the flag (Wayne gives the folded flag to Gagnon). The flag used to recreate the incident is the actual flag that was raised on Mount Suribachi on February 23, 1945. It was loaned to the movie by the US Marine Corps Museum in Quantico, Virginia. (Other films which would later depict the flag-raising on Iwo Jima include The Outsider (1961) and Flags of Our Fathers (2006).)
Following the success of the movie, John Wayne was invited to place his footprints in cement outside Grauman's Chinese Theater. As part of the event, actual black sand from Iwo Jima was flown to Hollywood and mixed into the cement in which The Duke left his footprints and "fist print".
Kirk Douglas was originally cast as Sergeant Stryker.
John Wayne almost turned the film down at first, since at 42 he was rather old for the part and because he felt the American public had had enough of war films.
According to the book New Zealand Film by Helen Martin and Sam Edwards, "During the early sections of the film, the R&R camp at Paekakariki in the lower half of the North Island [of New Zealand] was the setting for the meeting and bonding sequences prior to departing for battle. The same camp is the focus of the reminiscences of one of the women who contributed to Gaylene Preston's documentary War Stories [See: War Stories (1995)].
Apparently, this movie has the first ever recorded use of the phrase "lock and load", said by John Wayne. "Lock and load" is a military command meaning to apply a weapon's safety catch, and then load it with ammunition. The expression was used once in this film for this meaning and once as a metaphor to get drunk, as in get loaded.
This movie's credits state the following historical note: "The first American flag was raised on Mount Suribachi by the late Sgt. Ernest I. Thomas, Jr., U.S.M.C. on the morning of February 23, 1945."
Two thousand United States Marines appeared as extras in this movie according to an article in The Los Angeles Daily News.
The New York Times reported that location filming for this movie was shot at Camp Del March; El Toro Marine Air Station, Southern California and at Marine Corps Base Camp Pendleton, Southern California.
Many of the battle scenes in this movie were taken from actual combat "footage taken at the actual fighting at Tarawa and Iwo Jima" according to a review in Variety.
Apparently, according to The New York Times, script approval was made by the US Marine Corps.
A number of actual military personnel portrayed themselves in this movie. These included Retired Lieutenant General Holland M. Smith who was the 5th Amphibious Corps Wartime Commander and also acted as a technical advisor to the film; Colonel David M. Shoup USMC who received the Congressional Medal of Honor; Captain Harold G. Schrier USMC who commanded the Marines at the Suribachi slopes; Lieutenant Colonel H.P. Crowe USMC who was a Battalion Commander at Tarawa; Pfc Rene A. Gagnon; Pfc Ira H. Hayes and PM 3/c John H. Bradley.
The New York Times reported on 5 February 1950 that the Republic Pictures Studio once developed a sequel to this movie entitled Devil Birds also to again star John Wayne but alas the sequel did not eventuate.
A made-for-television documentary about the making of this movie was made forty-four years after this movie was made, entitled The Making of 'Sands of Iwo Jima' (1993) (V). It featured interviews with still living cast members.
The title "Sands of Iwo Jima" was once seen by this movie's producer Edmund Grainger in a newspaper story. Alas, Grainger thought of the famous American flag raising at Mount Suribachi. He then went off and wrote a treatment with this title and an ending being the famous flag raising scene. Grainger wished the movie would be successful at the box-office as well as accurate representation of the US Marine Corps' valour on celluloid. He also wanted the movie to have an influence on the public's attitude towards the US Marines as at the time the Marines were in fight for survival and needed more financing.
Special effects work on this movie included lampblack and oil covered sand to look like the volcanic ash of a Pacific island as well as gun emplacements, palm trees, and pillboxes all made of plaster.
Due to the assistance of the US Marines, producer Edmund Grainger and director Allan Dwan were able to keep the production budget for this movie to around the US $1 million mark.
This movie utilized actual original black-and-white newsreel footage. This material is edited into this movie's combat scenes.
John Wayne received his first ever Academy Award nomination for this movie. He wouldn't be nominated for an Acting Oscar again until twenty years later for True Grit (1969) where he would win the Best Actor Oscar. Wayne did receive a producer's Best Picture nomination for The Alamo (1960) in between these two films.
Thousands of feet of barbed wire were used in the making of this movie.
A colorized version of this movie has been made.
Mostly unnoticed is the homage this film pays to a real Marine, "Manila" John Basilone. Basilone was a Sergeant and hero on Guadacanal, winning the Medal of Honor. He was sent home for war bond drives but requested to be returned to combat. He did so and died on Iwo Jima. There is a famous (to history buffs, anyway)photo of his body on Iwo Jima, face down and with his name visible, that is almost exactly the same pose that Wayne is in at his death on film. Also, "Jonathan M" Stryker has more than a passing resemblance to "Manila (or M) John".
Goofs
* Continuity: After Sgt. Stryker dances with Choynski, he stands a little way from Choynski. The next shot shows them both side by side.
* Factual errors: The first battle the movie's unit participates in is Tarawa. Tarawa was assaulted by the 2nd Marine Division. The same unit is then engaged in the Iwo Jima campaign. Iwo Jima was invaded by the 3rd, 4th and 5th Marine Divisions. It's very unlikely that Stryker's whole squad would have been transferred to another division. Furthermore, earlier in the film Stryker refers to his involvement in the Guadalcanal assault. That was a 1st Marine Division show. Though not impossible, it's highly unlikely for a junior NCO to have served with three different divisions in the Pacific.
* Factual errors: When Pfc. Thomas (Forrest Tucker) goes for more ammo and stops for coffee, the coffee is being brewed in a helmet over an open fire. He hands over his metal cup, and the fellow by the fire holds it in his bare hand as he fills it from the helmet. Ouch. Anyone who has been camping will see the error here.
* Revealing mistakes: When the Marines are moving up the mountain along a path, a Japanese soldier pops out of hiding and appears to shoot one of the Marines in the stomach at point blank range. One can see that the enemy soldier actor shot just beyond the Marine actor because a puff of smoke from the gun barrel emits out past the Marine actor's back. This was probably a safety requirement in the making of the movie, since blanks fired out of a weapon can seriously injure or kill.
* Continuity: The way Stryker holds the rifle when he tells Conway that he checked the records.
* Continuity: Conway's hands change position while with Allison at the end of their first meeting.
* Continuity: Mary's hands change position when Stryker buys her the drink.
* Continuity: The way Mary holds the whiskey bottle changes.
* Continuity: The way Stryker holds the sawbuck changes.
* Revealing mistakes: Two errors are visible when Stryker is attacked by the Jap: Stryker's positioning and arm movement is not consistent, and the Jap is hit by the handle of the entrenching tool before Conway throws it.
* Errors in geography: In the training scenes, set in New Zealand, a row of Eucalyptus trees is seen. These are native to Australia and are not found in New Zealand. (There have been groves of them planted in California though.)
* Audio/visual unsynchronized: SPOILER: Sgt. Stryker is shot dead, and is lying on his back in the master. Then they cut to a reverse angle, revealing the corpse face down.
Filming Locations
CBS Studio Center - 4024 Radford Avenue, Studio City, Los Angeles, California, USA
Camp Pendleton Marine Corps Base, Oceanside, California, USA
Janss Conejo Ranch, Thousand Oaks, California, USA
Leo Carrillo State Beach - 35000 W. Pacific Coast Highway, Malibu, California, USA
Santa Catalina Island, Channel Islands, California, USA
Watch the Trailer:-