FRONTIER HORIZON
aka NEW FRONTIER

DIRECTED BY GEORGE SHERMAN
PRODUCED BY WILLIAM A. BERKE
REPUBLIC PICTURES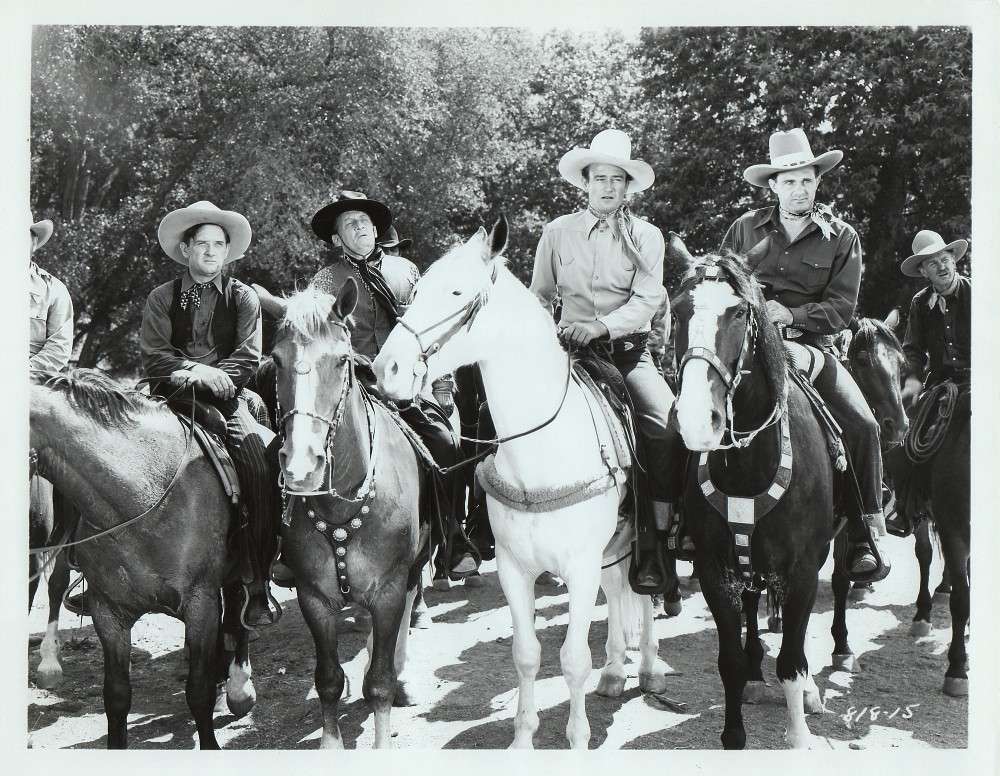 Photo with the courtesy of lasbugas

INFORMATION FROM IMDb
Plot Summary
The Three Mesquiteers convince a group of settlers to exchange their present property
for some which, unbeknownst to our goodguys, is going to be worthless.
They are captured before they can warn the ranchers.
Summary written by Ed Stephan
Full Cast
John Wayne .... Stony Brooke
Ray Corrigan .... Tucson Smith
Raymond Hatton .... Rusty Joslin
Jennifer Jones .... Celia Braddock (as Phyllis Isley)
Eddy Waller .... Major Steven Braddock
Sammy McKim .... Stevie Braddock
LeRoy Mason .... M.C. Gilbert
Harrison Greene .... William Proctor
Wilbur Mack .... Mr. Dodge
Reginald Barlow .... Judge Bill Lawson
Burr Caruth .... Dr. William 'Doc' Hall
Dave O'Brien .... Jason Braddock
Hal Price .... Sheriff
Jack Ingram .... Henchman Harmon
Bud Osborne .... Dickson
Slim Whitaker .... Henchman Turner (as Charles Whitaker)
Chuck Baldra .... Jailed Rancher (uncredited)
Bob Burns .... Jailed Rancher (uncredited)
Fred Burns .... Fiddle Player (uncredited)
George Chesebro .... Deputy (uncredited)
Jim Corey .... Bushwhacker (uncredited)
Victor Cox .... Townsman at the Dance (uncredited)
Curley Dresden .... Guard (uncredited)
John Elliott .... Townsman (uncredited)
Frank Ellis .... Townsman (uncredited)
Oscar Gahan .... Accordion Player (uncredited)
Jody Gilbert .... Rusty's Dance Partner (uncredited)
Herman Hack .... Wagon Driver Jim (uncredited)
Walt La Rue .... Townsman (uncredited)
Cactus Mack .... Fake Indian (uncredited)
Frankie Marvin .... Musician (uncredited)
Bud McClure .... Townsman (uncredited)
Charles Murphy .... Mailman Zeke (uncredited)
Bill Nestell .... Townsman at the Dance (uncredited)
George Plues .... Henchman (uncredited)
Bob Reeves .... Townsman (uncredited)
Bill Wolfe .... Townsman (uncredited)
Writing Credits
Betty Burbridge story and screenplay
William Colt MacDonald characters
Luci Ward story and screenplay
Original Music
William Lava (uncredited)
Cinematography
Reggie Lanning
Stunts
Yakima Canutt .... stunts (uncredited)
Walt La Rue .... stunts (uncredited)
George Montgomery .... stunts (uncredited)
Trivia
Jennifer Jones's film debut.
Goofs
* Anachronisms: After a prologue that takes place immediately after the end of the Civil War, the body of the film takes place fifty years later, which would make it about 1914. At this time the Three Mesquiteers are supposed to be Pony Express riders; however, Pony Express only ran from 1860 to 1861, having been abandoned at the start of telegraph service.
* Anachronisms: Despite the fact that the story is supposed to be taking place around 1914, the women wear mostly 1939 fashions and hairstyles throughout, except at the New Hope Valley 50th Anniversary Dance, where they are all in period costume. Meantime everyone uses buckboards and horse drawn buggies for transportation, and there is not an automobile in sight, even though they were in common use by this time.
Filming Locations
Corriganville, Ray Corrigan Ranch, Simi Valley, California, USA
Iverson Ranch, Chatsworth, Los Angeles, California, USA
Van Norman Reservoir, Granada Hills, Los Angeles, California, USA
Watch the Movie
[extendedmedia]
[/extendedmedia]