HOUR OF THE GUN

DIRECTED AND PRODUCED BY JOHN STURGES
ORIGINAL MUSIC BY JERRY GOLDSMITH
MIRISCH CORPORATION/ MIRISH-KAPPA RODUCTION
UNITED ARTISTS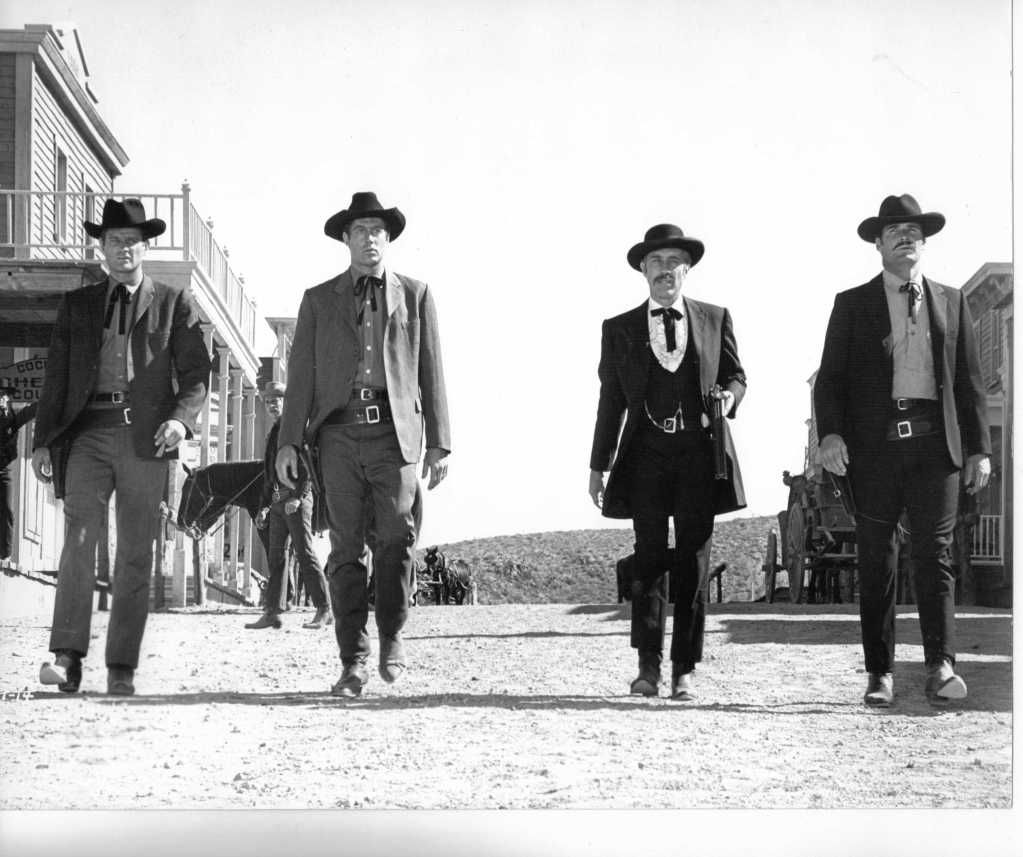 Photo with the courtesy of lasbugas

Information from IMDb
Plot Summary
Marshal Wyatt Earp kills a couple of men of the Clanton-gang in a fight.
In revenge Clanton's thugs kill the marshal's brother.
Thus, Wyatt Earp starts to chase the killers together with his friend Doc Holliday.
Full Cast
James Garner ... Wyatt Earp
Jason Robards ... Doc Holliday
Robert Ryan ... Ike Clanton
Albert Salmi ... Octavius Roy
Charles Aidman ... Horace Sullivan
Steve Ihnat ... Andy Warshaw
Michael Tolan ... Pete Spence
William Windom ... Texas Jack Vermillion
Lonny Chapman ... Turkey Creek Johnson
Larry Gates ... John P. Clum
William Schallert ... Judge Herman Spicer
Bill Fletcher ... County Sheriff Jimmy Bryan
Karl Swenson ... Dr. Charles Goodfellow
Austin Willis ... Anson Safford
Monte Markham ... Tucson Sheriff Sherman McMasters
Richard Bull ... Thomas Fitch
Sam Melville ... Morgan Earp
Frank Converse ... Marshal Virgil Earp
Jon Voight ... Curly Bill Brocius
Robert Phillips ... Frank Stilwell
Edward Anhalt ... Denver Doctor (uncredited)
Walter Gregg ... Billy Clanton (uncredited)
David Perna ... Frank McLowery (uncredited)
Jorge Russek ... Deputy Latigo (uncredited)
Jim Sheppard ... Tom McLowery (uncredited)
Writing Credits
Edward Anhalt
Cinematography
Lucien Ballard
Trivia
Prior to production, United Artists had made it quite clear to director John Sturges
that none of the primary roles were to be filled by the actors who played
the same characters in Sturges' previous Wyatt Earp film, Gunfight at the O.K. Corral.
Wanting to distinguish this film from the previous one,
they demanded different actors be cast in the roles.
However, Sturges believed that the roles of Virgil and Morgan Earp
from the previous film were small enough that the same actors
who played them could do it again without harming the film's uniqueness.
The studio agreed and allowed Sturges to cast John Hudson (Virgil Earp)
and DeForest Kelley (Morgan Earp).
Unfortunately, Hudson had retired from acting in the early '60s
and was unwilling to do the role. Kelley, on the other hand,
was currently working on the TV series Star Trek and was
unable to break away to play Morgan Earp.
Thus, both Earp brothers were recast.
Goofs
Factual errors: When Curly Bill Brocius is shot by Wyatt Earp, only a tiny entrance wound is shown in his forehead as he falls over, even though Earp fired a shotgun. A shotgun blast would have blown Brocius's head apart.
Factual errors: In fact, when ambushed, Virgil Earp was shot in his left elbow, but in the movie he has immobilized his right arm.
Factual errors: In the O.K. Corral duel time, the county sheriff was John Behan, not Jimmy Bryan according to the movie.
Revealing mistakes: When Virgil Earp is ambushed while doing his rounds he is shot by Frank Stilwell using a double barrel shotgun. In spite of the distance between him and Stillwell in the Barber Shop (the width of a street) there are no pellet strikes in the building he is standing in front of.
Factual errors: The opening scenes shows a railroad station in Tombstone. There never has been a railroad station in Tombstone. The nearest station to Tombstone was and is Benson.
Factual errors: The film has the gunfight taking place on a perfect warm sunny day. It was actually overcast, cold with snow on the ground.
Factual errors: In the gunfight it shows only Billy Clanton, Tom McLaury and Frank McLaury in the OK Corral and the Earps outside. In reality the gunfight took place in a vacant lot behind the OK Corral. In that lot were the Earp party, Billy Clanton, the McLaury's, Ike Clanton and Billy Claibourne along with two horses.
Filming Locations
Durango, Mexico
Estudios Churubusco Azteca, Mexico City, Distrito Federal, Mexico (studio)
San Miguel de Allende, Guanajuato, Mexico
Torreón, Coahuíla, Mexico