GILBERT M. 'BRONCHO BILLY ANDERSEN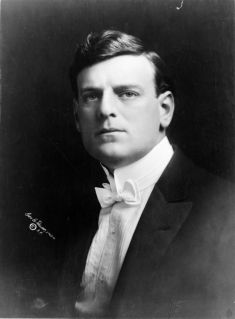 Information from IMDb
Date of Birth
21 March 1880,
Little Rock, Arkansas, USA
Date of Death
20 January 1971,
Los Angeles, California, USA
Birth Name
Max H. Aronson
Height
6' (1.83 m)
Spouse
Mollie Schabbleman (11 July 1910 - 20 January 1971) (his death) 1 child
Trivia
Appeared in the 'Alkali Ike' series beginning in 1912.
Appeared in the 'Snakeville Comedy' series beginning in 1911.
In 1907 he co-founded Essanay Film Manufacturing Company.
Daughter Maxine Anderson.
Bronco Billy's birth year is sometimes given as 1882 or 1883.
According to the census records for Pulaski County, Arkansas (4 June 1880) he was born in 1880.
Inducted into the Hall of Great Western Performers of the National Cowboy and Western Heritage Museum in 2002.
Profiled in "Back in the Saddle: Essays on Western Film and Television Actors", Gary Yoggy, ed. (McFarland, 1998).
Co-founded Amalgamated Producing Corporation, a film production company active from 1922-1923.
Mini Biography
American actor-director-writer-producer Gilbert M. Anderson, father of the movie cowboy and the first Western star,
was a native of Pine Bluff, Arkansas.
He had worked as a photographer's model and newspaper vendor before drifting into acting.
He performed in vaudeville before joining forces with Edwin S. Porter as an actor and occasional script collaborator.
In Porter's startling early film The Great Train Robbery (1903), Anderson played several roles
(among them, the train passenger shot by bandits as he tries to escape).
The success of that film prompted Anderson to begin writing, directing and starring in his own series of Westerns.
In 1907 he and George K. Spoor founded Essanay Film Manufacturing Co.,
destined to be one of the predominant early film studios.
Anderson gained enormous popularity in hundreds of Western shorts, playing the first real cowboy hero, "Broncho Billy."
Writing and directing most of the films, Anderson also found time to direct a series of "Alkali Ike" comedy Westerns
starring Augustus Carney. In 1916 Anderson sold his ownership in Essanay and retired from acting.
He returned to New York and bought the Longacre Theatre and produced plays there,
though not achieving the same kind of success he enjoyed in films.
He made a brief comeback as a producer with a series of shorts starring Stan Laurel for Metro Pictures.
However, a series of conflicts with the studio led him retire again after 1920.
He continued to produce films as owner of Progressive Pictures into the 1950s.
In his 70s, he came out of retirement for a cameo role in The Bounty Killer (1965).
He had been presented with an honorary Oscar in 1957 as a "motion picture pioneer,
for his contributions to the development of motion pictures as entertainment."
Anderson died in 1971 at the age of 88.
IMDb Mini Biography By: Jim Beaver
Filmography
Director
Between 1903 - 1922
Directed 466 movies
Director- Titles
Actor
Between 1903- 1965
Actor in 347 movies
Actor- Titles
Producer/ Writer
Over 240 movies
Producer/ Writer- Titles
Watch the Full Movie
Mud and Sand (1922)