DIRECTED BY ANG LEE
GOOD MACHINE
HOLYWOOD INTERNATIONAL MULTIMEDIA GROUP INC.
MAPLEWOOD PRODUCTIONS INC
UNIVERSAL PICTURES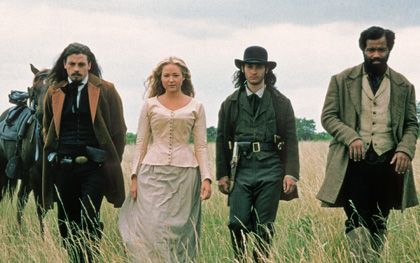 Information from IMDb
Plot Summary
Jake Roedel and Jack Bull Chiles are friends in Missouri when the Civil War starts.
Women and Blacks have few rights. Jack Bull's dad is killed by Union soldiers,
so the young men join the Bushwhackers, irregulars loyal to the South.
One is a Black man, Daniel Holt, beholden to the man who bought his freedom.
They skirmish then spend long hours hiding. Sue Lee, a young widow, brings them food.
She and Jack Bull become lovers, and when he's grievously wounded,
Jake escorts her south to a safe farm. The Bushwhackers, led by men set on revenge,
make a raid into Kansas. At 19, Jake is ill at ease with war.
As his friends die one after another, he must decide where honor lies.
Full Cast
Tobey Maguire ... Jake Roedel
Jeremy W. Auman ... Guard
Scott Sener ... Guard (as Scott C. Sener)
Skeet Ulrich ... Jack Bull Chiles
Glenn Q. Pierce ... Minister
Kathleen Warfel ... Mrs. Chiles
David Darlow ... Asa Chiles
Zan McLeod ... Wedding Musician - Guitar
John Whelan ... Wedding Musician - Accordion
Roger Landes ... Wedding Musician - Mandolin
Jeffrey Dover ... Wedding Musician - Drums
Tyler Johnson ... Wedding Musician - Drums
Kelly Werts ... Wedding Musician - Fiddle
Michael W. Nash ... Horton Lee, Sr.
John Judd ... Otto Roedel
Don Shanks ... George
Jay Thorson ... Ted
Dean Vivian ... Storekeeper
Cheryl Weaver ... Storekeeper's Wife
Jim Caviezel ... Black John
Jonathan Rhys Meyers ... Pitt Mackeson
Simon Baker ... George Clyde
Matthew Faber ... Turner Rawls
Tom Guiry ... Riley Crawford (as Thomas Guiry)
Jonathan Brandis ... Cave Wyatt
Jeffrey Wright ... Daniel Holt
Celia Weston ... Mrs. Clark
and many, many more...
Produced
Anne Carey .... associate producer
Robert F. Colesberry .... producer
Ted Hope .... producer
David Linde .... executive producer
James Schamus .... producer
Writing Credits
Daniel Woodrell (novel "Woe to Live On")
James Schamus (screenplay)
Original Music
Mychael Danna
Cinematography
Frederick Elmes
Trivia
The looting and burning of Lawrence, Kansas actually occurred on 21 August 1863.
The scenes of the Quantrill's Raid on Lawrence, Kansas were filmed in Pattonsburg, Missouri. Pattonsburg was flooded out during the great flood of 1993 and the town was relocated leaving many empty buildings and homes available.
According to Jewel Kilcher, director Ang Lee cast her as Sue mainly because of her crooked teeth, which he thought looked like the teeth a poor woman living in the 1860s would have.
Goofs
Anachronisms
Civil-war era skirts did not have even one in-seam pocket, let alone two. Fancy Chatelaines were used to hold purses and other items by the wealthier women, and the poorer classes made do with cloth pockets suspended from a strap that was pinned to the waistband. Flat surface pockets came in after the closing of the civil war.
In the very last scene, as Holt is riding away you can see three flashes of light in the sky - landing lights from planes circling a nearby airport.
Share this
After German boy is told his father was killed, there is a brief scene of a woman standing in a doorway. The door has modern day machine-made lace.
Continuity
When Jake is preparing to go to bed after his marriage and is talking with Daniel Holt he removes his left boot three times.
Incorrectly regarded as goofs
A wooden country revival style "teddy bear" is seen in "Aunt Wilma's" parlor. The distinctive "teddy bear" was created in honor of Teddy Roosevelt, decades later, however toy wooden bears were common items even before the Civil War. The story of "Goldilocks and the Three Bears" was written in 1834, greatly increasing interest in toy bears. Stuffed bear toys started showing up in catalogs as early as 1894, long before Teddy Roosevelt was associated with them.
Revealing mistakes
When Jake complains of losing the upper-half of his pinky finger, the brace holding down the top joints of the actor's finger is briefly shown as the camera pulls in on his hand.
The revolver aimed by Jake Rudel does not display blank safety wads. It is a well-known fact that black powder filled chambers finished off with the tamped-down ball only, were not safe from cross firing of the adjacent chamber. So it was always minimized by finishing off the chamber with lard or other material that would isolate it thereby minimizing the danger of inadvertent adjacent chamber discharge.
Filming Locations
Doniphan, Kansas, USA
Kansas City, Missouri, USA
Leavenworth, Kansas, USA
Lexington, Missouri, USA
Miami, Kansas, USA