GUNFIGHT AT O.K. CORRAL
DIRECTED BY JOHN STURGES
PRODUCED BY HAL B. WALLIS
PARAMOUNT PICTURES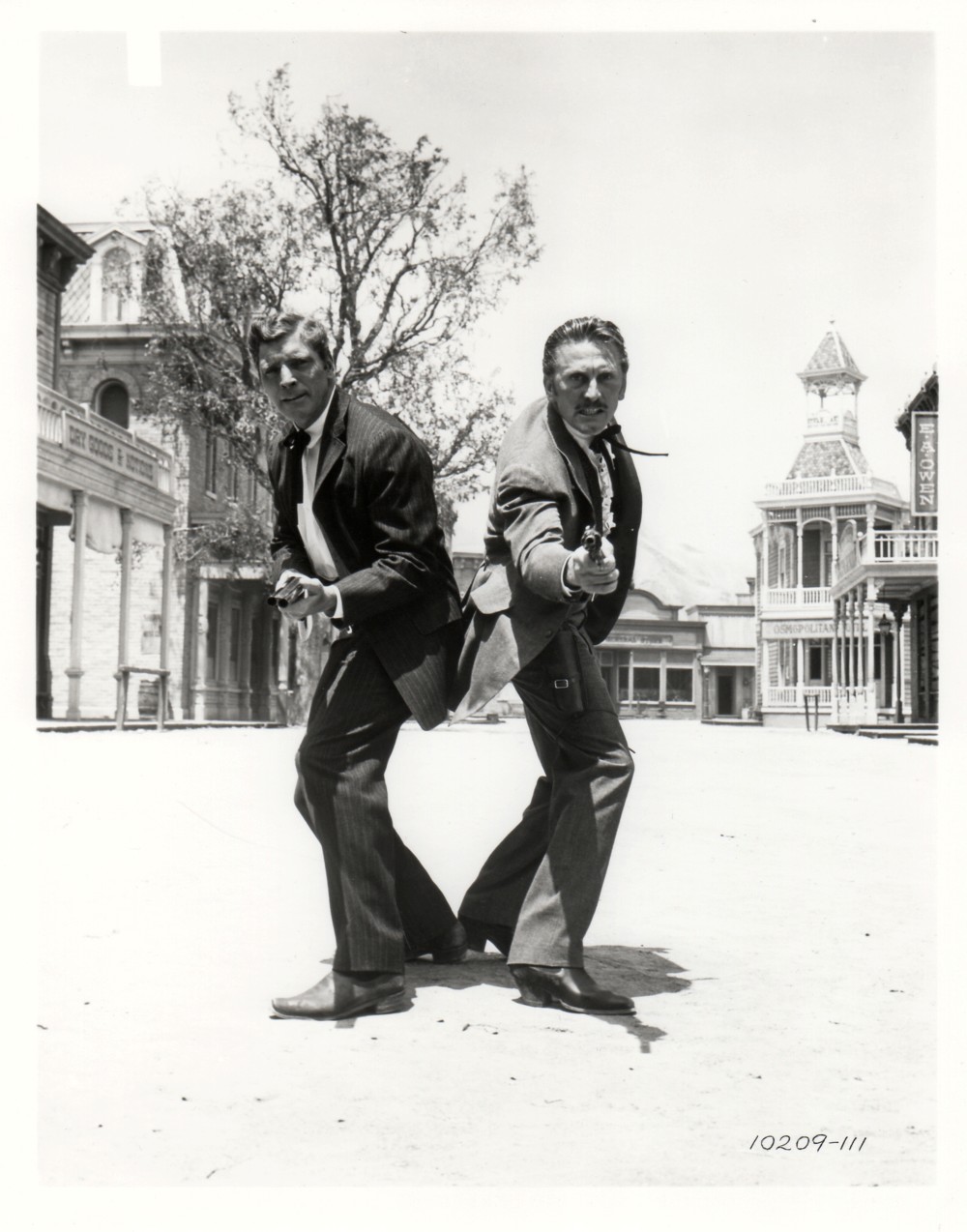 Photo with the courtesy of lasbugas

For continuity, all discussion
please post here:-
Burt Lancaster- Gunfight at OK Corral
Information from IMDb
Plot Summary
After the long career of lawman that made him a legend,
Wyatt Earp deciedes to quit and join his brothers in Tombstone, Arizona.
There he would see them in feud with Clantons, local clan of thugs and cattle thieves.
When the showdown becomes inevitable, the help will come from Doc Holliday,
terminally-ill gambler who happens to be another Wild West legend.
Written by Dragan Antulov
Full Cast
Burt Lancaster ... Marshal Wyatt Earp
Kirk Douglas ... Dr. John 'Doc' Holliday
Rhonda Fleming ... Laura Denbow
Jo Van Fleet ... Kate Fisher
John Ireland ... Johnny Ringo
Lyle Bettger ... Ike Clanton
Frank Faylen ... Sheriff Cotton Wilson
Earl Holliman ... Deputy Sheriff Charles 'Charlie' Bassett
Ted de Corsia ... Shanghai Pierce - Cattleman
Dennis Hopper ... Billy Clanton
Whit Bissell ... John P. Clum - 'Tombstone Epitaph' Editor
George Mathews ... John Shanssey - Griffin Saloonkeeper
John Hudson ... Virgil Earp
DeForest Kelley ... Morgan Earp
Martin Milner ... James 'Jimmy' Earp
Kenneth Tobey ... Bat Masterson
Lee Van Cleef ... Ed Bailey
Joan Camden ... Betty Earp - Virgil's Wife
Olive Carey ... Mrs. Clanton
Brian G. Hutton ... Rick (as Brian Hutton)
Nelson Leigh ... Dodge City Mayor Kelly
Jack Elam ... Tom McLowery
Don Castle ... Drunk Cowboy in Longbranch Saloon
Dorothy Abbott ... Girl (uncredited)
Tom Arnold ... Barrel-Rolling Boy (uncredited)
William Bailey ... (uncredited)
John Benson ... Rig Driver (uncredited)
Frank Carter ... Hotel Clerk (uncredited)
Roger Creed ... Deputy / Killer / Townsman (uncredited)
James Davies ... Card Player (uncredited)
Franklyn Farnum ... Gambling Extra in Saloon (uncredited)
Joseph Forte ... Tombstone Card Player (uncredited)
Paul Gary ... Killer (uncredited)
Frank Hagney ... Bartender (uncredited)
Len Hendry ... Cowboy (uncredited)
Charles Herbert ... Tommy Earp - Virgil's Son (uncredited)
Edward Ingram ... Deputy (uncredited)
Anthony Jochim ... Old Man (uncredited)
Kenner G. Kemp ... Gamgling Croupier in Saloon (uncredited)
Ethan Laidlaw ... Bartender (uncredited)
Morgan Lane ... Killer (uncredited)
Gregg Martell ... Cowboy (uncredited)
John Maxwell ... Merchant at Dance (uncredited)
William Meigs ... Wayne (uncredited)
Harry B. Mendoza ... Frank Loving - Dealer (uncredited)
Walter Merrill ... Mario - Dodge City Barber (uncredited)
Dennis Moore ... Cowboy (uncredited)
Max Power ... Card Player (uncredited)
Richard Reeves ... Pierce's Foreman (uncredited)
Lee Roberts ... Finn Clanton (uncredited)
Bing Russell ... Harry - Griffin Bartender (uncredited)
Court Shepard ... Card Player (uncredited)
Mickey Simpson ... Frank McLowery (uncredited)
Bert Stevens ... Man at Dance (uncredited)
Glenn Strange ... Pierce Henchman in Saloon (uncredited)
Robert Swan ... Shaugnessy Man (uncredited)
Arthur Tovey ... Saloon Extra at Bar (uncredited)
Henry Wills ... Alby (uncredited)
Trude Wyler ... Social Hall Guest (uncredited)
Writing Credits
Leon Uris (screenplay)
George Scullin (article "The Killer")
Produced
Joseph H. Hazen .... executive producer
Paul Nathan .... associate producer
Hal B. Wallis .... producer (as Hal Wallis)
Original Music
Dimitri Tiomkin
Cinematography
Charles Lang (director of photography) (as Charles B. Lang Jr.)
Trivia
Much of this film was shot at the famous "Old Tucson" facility, not far from the real Tombstone.
However, its "town street" set was used surprisingly as Fort Griffin, Texas, in the opening reels,
while later Tombstone street scenes were shot in southern California,
on the same Paramount Ranch set that was later used as Virginia City, Nevada, on TV's "Bonanza" (1959).
Dennis Hopper, who plays Billy Clanton, was born and raised in
Dodge City, Kansas, where Wyatt Earp was once sheriff.
The actual gunfight took place on 26 October 1881 and lasted a mere 30 seconds,
resulting in three dead men after an exchange of 34 bullets.
Compared to this adaptation, the movie gunfight took 4 days to film
and produced an on-screen bloodbath that lasted 5 minutes.
In July 1957, this film was released to many drive-in theaters
on a double bill with Destination 60,000 (1957).
Second of seven films that Kirk Douglas and Burt Lancaster made together.
Dennis Hopper and Earl Holliman appeared a year before this film in Giant (1956) .
The scores of Giant (1956) and Gunfight at the O.K. Corral (1957) were both composed by Dimitri Tiomkin .
Additional scenes were filmed on July 24, 1956.
According to a news piece, in January 1955 Hal B. Wallis was "hoping to" cast
Burt Lancaster and Humphrey Bogart in the leads and in February 1955 Barbara Stanwyck
was mentioned as one possible female star of the film.
Burt Lancaster agreed to do this film if he could star in The Rainmaker (1956), also produced by Hal B. Wallis.
Goofs
* Factual errors: This film depicts "Jimmy Earp" as the youngest Earp brother,
and gunned down by the Clanton gang prior to the titular event. In historical reality,
James Earp was the oldest, and none of them was killed in advance of the famous showdown.
* Factual errors: John Behan was the sheriff of Cochise County at the time of the gunfight.
* Revealing mistakes: Doc Holiday is at the bar seemingly empty handed before he kills Ed Bailey with a knife.
If you watch his right hand you see him pick up the knife from the bar rail
and then raise it to his collar as if that's where he had it concealed.
* Factual errors: When Wyatt meets Sheriff Cotton at Cotton's office in Texas,
Wyatt tells Cotton that ten years ago, Wyatt had observed Cotton shooting
it out with the criminal element in an Oklahoma City saloon.
The gunfight took place in 1881 - Oklahoma City was not founded until 1889.
* Revealing mistakes: Doc Holiday gets shot in the arm in the OK Corral. In later shots,
there is no blood on his arm, and he is holding it downward as if he hasn't been shot all along.
* Crew or equipment visible: During the gunfight when Wyatt asks Virgil to cover him,
he runs around the back of the wall. As he peeks around the wall he is shot at and the wall is hit.
You then see the wires and charge used to create the effect fall and dangle from the wall.
* Factual errors: The real Gunfight took place at about 3 O'Clock in the afternoon,
yet the film contains a scene where the doomed Billy Clanton informs
Wyatt Earp that he and his brothers are expected to be at the O.K Corral at sun-up.
* Factual errors: The gunfight scene shows Doc Holliday killing Johnny Ringo, when in reality,
Ringo was not even at the O.K Corral that day. Ringo wasn't killed until July 1882
ten months after this gunfight and even then his death was ruled as suicide.
* Factual errors: Ike "Old Man" Clanton is shown as being at the gunfight,
when in reality he had been shot and killed by a rival gang of Mexican horse
thieves prior to the actual gunfight.
* Factual errors: The film has Wyatt drinking whiskey.
In reality Wyatt very rarely drank alcohol according to his wife of nearly 50 years.
* Continuity: When Wyatt Earp rides in to town, dismounts and walks toward Cotton Wilson's office,
his holstered gun is clearly outside his jacket on the right hand side. But when he enters the sheriff's office,
just one step later, his gun is not visible.
* Factual errors: The actual shootout took about 30 seconds but in the movie it takes about 8 minutes.
Filming Locations
Agoura Ranch, Agoura, California, USA
Agoura, California, USA
Arizona, USA
California, USA
Elgin, Arizona, USA
Old Tucson - 201 S. Kinney Road, Tucson, Arizona, USA
(O.K. Corral)
Paramount Ranch - 2813 Cornell Road, Agoura, California, USA
Paramount Studios - 5555 Melrose Avenue, Hollywood, Los Angeles, California, USA
(studio)
Phoenix, Arizona, USA
Tucson, Arizona, USA

For continuity, all discussion
please post here:-
Burt Lancaster- Gunfight at OK Corral