FROM HELL TO TEXAS
aka Manhunt
DIRECTED BY HENRY HATHAWAY
TWENTIETH CENTURY FOX FILM CORPORATION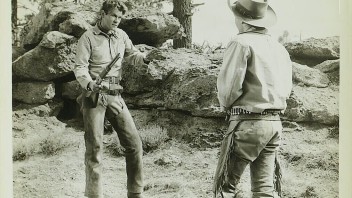 INFORMATION FROM IMDb
Plot Summary
The naive cowboy Tod Lohman accidentally kills the son of the powerful land baron Hunter Boyd.
Tod runs for his life, pursued by the dead man's vengeful brothers. Tod shelters on the ranch of Amos Bradley and he falls in love with his daughter Juanita. However, Tod is concerned that he'll eventually have to leave when his pursuers catch up with him.
Written by Robert
Cast
Don Murray ... Tod Lohman
Diane Varsi ... Juanita Bradley
Chill Wills ... Amos Bradley
Dennis Hopper ... Tom Boyd
R.G. Armstrong ... Hunter Boyd
Jay C. Flippen ... Jake Leffertfinger
Margo ... Mrs. Bradley
John Larch ... Hal Carmody
Ken Scott ... Otis Boyd
Rodolfo Acosta ... Bayliss
Salvador Baguez ... Cardito
Harry Carey Jr. ... Trueblood
Jerry Oddo ... Morgan
José Torvay ... Miguel
Malcolm Atterbury ... Hotel Clerk
and many more...
Directed
Henry Hathaway
Writing Credits
Robert Buckner ... (screenplay) and
Wendell Mayes ... (screenplay)
Charles O. Locke ... (book)
Produced
Robert Buckner ... producer
Music
Daniele Amfitheatrof
Cinematography
Wilfred M. Cline ... director of photography (as Wilfrid M. Cline)
Trivia
According to myth, Dennis Hopper required 85 retakes for one scene, causing director Henry Hathaway
to yell at him, "You'll never work in this town again!" and that it was ten years before Hopper
obtained another major role.
Don Murray, however, has stated that this never occurred, and in fact,
Hopper worked steadily through the 1960s, including twice more with Hathaway:
The Sons of Katie Elder (1965) and True Grit (1969).
Goofs
Anachronisms
Although the story takes place in the Old West of the 19th Century, Diane Varsi sports an up-to-the-minute 1958 D.A. hairstyle.
Plot holes
Indians took both saddle horses, but later Tod rides into Magdalena or Socorro, with Carmody's horse.
Filming Locations
Alabama Hills, Lone Pine, California, USA
Death Valley, California, USA
Iverson Ranch - 1 Iverson Lane, Chatsworth, Los Angeles, California, USA
Bishop, California, USA
Hot Creek, Inyo National Forest, California, USA
Watch the Movie
[extendedmedia]
[/extendedmedia]