DIRECTED BY ANDRE DE TOTH
SECURITY PICTURES INC.
UNITED ARTISTS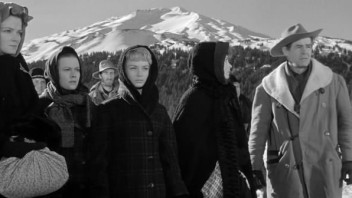 INFORMATION FROM IMDb
Plot Summary
Cowboys and ranchers have to put their differences aside when a gang of outlaws, led by army captain Jack Bruhn, decide to spend the night in a little Western town.
Written by Mattias Thuresson
Cast
Robert Ryan ... Blaise Starrett
Burl Ives ... Jack Bruhn
Tina Louise ... Helen Crane
Alan Marshal ... Hal Crane
Venetia Stevenson ... Ernine, Vic's Daughter
David Nelson ... Gene, Bruhn's Gang
Nehemiah Persoff ... Dan, Starret's Foreman
Jack Lambert ... Tex (Bruhn's gang)
Frank DeKova ... Denver, Bruhn's Gang (as Frank deKova)
Lance Fuller ... Pace, Bruhn's Gang
Elisha Cook Jr. ... Larry Teter (town barber) (as Elisha Cook)
Dabbs Greer ... Doc Langer, Veterinarian
Betsy Jones-Moreland ... Mrs. Preston (as Betsey Jones-Moreland)
Helen Westcott ... Vivian
Donald Elson ... Vic, General Store Owner
Robert Cornthwaite ... Tommy Preston, Wyoming Hotel Owner
Michael McGreevey ... Bobby, Vic's Son (as Mike McGreevey)
and many more...
Directed
André De Toth
Writing Credits
Lee E. Wells ... (novel)
Philip Yordan ... (screenplay)
Produced
Leon Chooluck ... associate producer
Sidney Harmon ... producer
Philip Yordan ... producer (uncredited)
Music
Alexander Courage
Cinematography
Russell Harlan ... director of photography
Trivia
unknown
Goofs
Anachronisms
The stacks of precisely-cut firewood that are often seen in the village must have been made by using C20th machinery.
Continuity
At numerous times when they are going through the mountains, it is obvious that the horses are walking in plowed trenches.
In the town there are puddles of water when everything else is frozen.
Revealing mistakes
None of the horses has a winter coat of hair.
At the end of the movie it is supposed to be so cold that the two remaining baddies die of hypothermia. Judging by the breaths of both horses or the men the weather is not really that bad. In fact, numerous times there is no visible vapor at all.
Filming Locations
Mount Bachelor, Oregon, USA
Flagstaff, Arizona, USA
San Francisco Peaks, Arizona, USA
Watch the Movie
[extendedmedia]
[/extendedmedia]