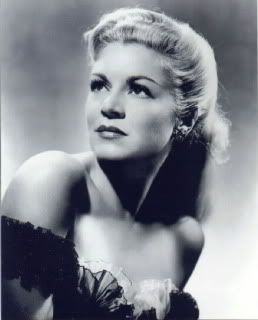 CLAIRE TREVOR
INFORMATION FROM IMDb
Date of birth
8 March 1910
New York, New York, USA
Date of death
8 April 2000
Newport Beach, California, USA. (respiratory ailments)
Birth name
Claire Wemlinger
Nickname
The Queen of Film Noir
Height
5' 3" (1.60 m)
Spouse
Milton H. Bren (1948 - 14 December 1979) (his death) 1 child
Cyclos William Dunsmoore (1943 - 1947) (divorced) 1 son
Clark Andrews (1938 - 1942) (divorced)
Trivia
Son (with Dunsmoore) Charles Cyclos (d. 1978 in plane crash).
Stepsons (with Bren) Donald and Peter.
Made a special guest appearance at The 70th Annual Academy Awards (1998) (TV) and appeared as part of a tribute sequence called "Oscar's Family Album". Miss Trevor appeared in a black gown and jewels seated between Marisa Tomei and Jon Voight. Fellow honouree Michael Caine paid tribute to her calling her a 'living legend.'
During the telecast of The 73rd Annual Academy Awards (2001) (TV) of Motion Picture Arts and Sciences, she was honored by being included in the always touching and memorable segment that pays tribute to those in the industry who have passed away over the course of the previous year. [25 March 2001]
Portrayed Lorelei Kilbourne, society editor for The Illustrated Press, on CBS Radio's "Big Town" (1937-1940).
In 1946, she once again portrayed her character from Stagecoach (1939) on CBS Radio's "Academy Award Theater."
The School of the Arts at the University of California, Irvine is named for her.
Personal Quotes
"Using one's imagination to the fullest is necessary for a happy life."
"Don't fall in love with your leading man. Of course, that's just what I did."
"I don't know what they call Hollywood anymore. The whole meaning of the town has changed."
"What a holler would ensue if people had to pay the minister as much to marry them as they have to pay a lawyer to get them a divorce."
Salary
Stagecoach (1939) $15,000
Mini biography
A remarkable actress, Claire Trevor was famous for playing molls, floozies and broads, and was cast as the owner of a rowdy saloon in many a western. She made her debut in 1933, and became a glamorous leading lady, opposite the likes of John Wayne, Clark Gable, Glenn Ford or William Holden. Brilliant in Stagecoach (1939), the film that catapulted her to success, she won an Academy Award for Key Largo (1948). She appeared as a guest at the 70th Annual Academy Award presentation in 1998.
Mini Biography-2
from Leonard Maltin's Movie Encyclopedia:
Every casting director in Hollywood must have felt the same way about this hardboiled blonde, who played every conceivable type of "bad girl," from hooker to gun moll to showgirl to saloon girl. She was good at it, too, judging from the Oscar she won for her turn as Edward G. Robinson's floozy in Key Largo (1948) and the nominations she earned for similar roles in Dead End (1937) and The High and the Mighty (1954). A native New Yorker who studied at the American Academy of Dramatic Arts before attempting a stage career, she got her first experience before the cameras acting in Vitaphone short subjects shot in Brooklyn.
Trevor came to Hollywood under contract to Fox. "The first thing I was told," she remembered, "was `Don't fall in love with your leading man.' Of course, that's just what I did." The leading man was brawny Western star George O'Brien, and her first two films were his Life in the Raw and The Last Trail (both 1933). For the next five years she worked exclusively at Fox, except for 1937 loan-outs to Samuel Goldwyn for Dead End and Paramount for King of Gamblers Trevor's films of this period, which include Jimmy and Sally (1933), Hold That Girl, Baby Take a Bow (both 1934), Dante's Inferno, Spring Tonic, Navy Wife, Black Sheep (all 1935), Human Cargo, To Mary-With Love, Career Woman (all 1936), One Mile From Heaven, Time Out for Romance, Second Honeymoon, Big Town Girl (all 1937), Walking Down Broadway and Five of a Kind (both 1938), were mostly program pictures, but she at least got to play some bona fide ingenue roles. She also played a female detective in 15 Maiden Lane (1936), getting a bullet in the belly for her trouble!
She freelanced from 1938 on, appearing in that year's The Amazing Dr. Clitterhouse and Valley of the Giants before accepting the role of a sympathetic prostitute in John Ford's classic Stagecoach (1939), opposite John Wayne (but getting top billing). They reteamed in Allegheny Uprising (also 1939) and Dark Command (1940), but her parts were much more conventional.
Trevor continued to get star billing for another few years, toplining such pictures as Texas (1941), Streets of Chance (1942, a superb B, with one of her best performances), The Woman of the Town (1943), and Murder, My Sweet (1944, a crackerjack Raymond Chandler mystery, opposite Dick Powell). But early on, she accepted secondary and character parts as well, and switched between leads and support for many years to come; her Oscar for Key Largo was in the Best Supporting Actress category. She was especially good as a young tennis star's domineering mother in Ida Lupino's Hard, Fast and Beautiful (1951). Only semi-retired, she continued to take parts when the occasion suited her. In 1982 she played Sally Field's mother in Kiss Me Goodbye and in the 1987 TV movie Breaking Home Ties she was a delight as an aged schoolteacher.
OTHER FILMS INCLUDE: 1941: Honky Tonk 1942: The Adventures of Martin Eden, Crossroads 1943: The Desperadoes, Good Luck, Mr. Yates 1945: Johnny Angel 1946: Crack-Up 1947: Born to Kill 1948: Raw Deal, The Velvet Touch, The Babe Ruth Story 1949: The Lucky Stiff 1950: Borderline 1951: Best of the Bad Men 1952: Hoodlum Empire, Stop, You're Killing Me 1953: The Stranger Wore a Gun 1955: Man Without a Star, Lucy Gallant 1956: The Mountain 1958: Marjorie Morningstar 1962: Two Weeks in Another Town 1963: The Stripper 1965: How to Murder Your Wife 1967: The Capetown Affair
Copyright © 1994 Leonard Maltin, used by arrangement with Signet, a division of Penguin Putnam, Inc.
Filmography
Actress
1. Breaking Home Ties (1987) (TV) .... Grace Porter
... aka Norman Rockwell's Breaking Home Ties
2. "Murder, She Wrote"
- Witness for the Defense (1987) TV Episode .... Judith Harlan
3. "The Love Boat"
- The Misunderstanding/Love Below Decks/The End Is Near (1983) TV Episode
4. Kiss Me Goodbye (1982) .... Charlotte Banning
5. The Cape Town Affair (1967) .... Sam Williams
... aka Escape Route Cape Town
6. How to Murder Your Wife (1965) .... Edna Lampson
7. The Stripper (1963) .... Helen Baird
... aka Woman of Summer (UK)
8. "Dr. Kildare"
- The Bed I've Made (1962) TV Episode .... Veronica Johnson
9. Two Weeks in Another Town (1962) .... Clara Kruger
10. "The Investigators"
- New Sound for the Blues (1961) TV Episode .... Kitty Harper
11. "Alfred Hitchcock Presents"
- A Crime for Mothers (1961) TV Episode .... Ms. Meade
- Safe Conduct (1956) TV Episode .... Mary Prescott
12. "The United States Steel Hour"
... aka The U.S. Steel Hour (USA: alternative title)
- The Revolt of Judge Lloyd (1960) TV Episode
13. "The Untouchables"
- Ma Barker & Her Boys (1959) TV Episode .... Ma Barker
14. "Wagon Train"
... aka Major Adams, Trail Master
- The C.L. Harding Story (1959) TV Episode .... C.L. Harding
15. "Westinghouse Desilu Playhouse"
... aka Desilu Playhouse
- Happy Hill (1959) TV Episode .... Savannah Brown
16. Marjorie Morningstar (1958) .... Rose Morgenstern
17. "Playhouse 90"
- If You Knew Elizabeth (1957) TV Episode .... Elizabeth Owen
18. The Mountain (1956) .... Marie
19. "General Electric Theater"
... aka G.E. Theatre (USA)
- Emergency Call (1956) TV Episode
- Foggy Night (1954) TV Episode .... Cora Leslie
20. "Producers' Showcase"
- Dodsworth (1956) TV Episode
- Dodsworth (1956) (????) TV Episode
21. "Schlitz Playhouse of Stars"
... aka Herald Playhouse (USA: syndication title)
... aka Schlitz Playhouse (USA: new title)
... aka The Playhouse (USA: syndication title)
- Fool Proof (1956) TV Episode
22. "Climax!"
... aka Climax Mystery Theater (USA)
- The Prowler (1956) TV Episode
23. Lucy Gallant (1955) .... Lady MacBeth
... aka Oil Town (USA: reissue title)
24. "Stage 7"
- Billy and the Bride (1955) TV Episode
25. "Lux Video Theatre"
... aka Summer Video Theatre (USA: summer title)
- No Sad Songs for Me (1955) TV Episode
- Ladies in Retirement (1954) TV Episode
26. Man Without a Star (1955) .... Idonee
27. "The Ford Television Theatre"
... aka Ford Theatre (USA: short title)
- The Summer Memory (1954) TV Episode .... Felicia Crandell
- Alias Nora Hale (1953) TV Episode
28. The High and the Mighty (1954) .... May Holst
29. The Stranger Wore a Gun (1953) .... Josie Sullivan
30. Stop, You're Killing Me (1952) .... Nora Marko
31. My Man and I (1952) .... Mrs Ansel Ames
32. Hoodlum Empire (1952) .... Connie Williams
33. Best of the Badmen (1951) .... Lily
34. Hard, Fast and Beautiful (1951) .... Millie Farley
... aka Mother of a Champion (USA)
35. Borderline (1950) .... Madeleine Haley, aka Gladys LaRue
36. The Lucky Stiff (1949) .... Marguerite Seaton
37. The Babe Ruth Story (1948) .... Claire (Hodgson) Ruth
38. Key Largo (1948) .... Gaye Dawn
39. The Velvet Touch (1948) .... Marian Webster
40. Raw Deal (1948) .... Pat Cameron
41. Born to Kill (1947) .... Helen Brent
... aka Lady of Deceit (UK)
42. Crack-Up (1946) .... Terry Cordell
43. The Bachelor's Daughters (1946) .... Cynthia
... aka Bachelor Girls (UK)
44. Johnny Angel (1945) .... Lilah 'Lily' Gustafson
45. Murder, My Sweet (1944) .... Helen Grayle
... aka Farewell My Lovely (UK)
46. The Woman of the Town (1943) .... Dora Hand
47. Good Luck, Mr. Yates (1943) .... Ruth Jones
48. The Desperadoes (1943) .... Countess Maletta
49. Street of Chance (1942) .... Ruth Dillon
50. Crossroads (1942) .... Michelle Allaine
51. The Adventures of Martin Eden (1942) .... Connie Dawson
... aka High Seas (USA: reissue title)
52. Texas (1941) .... 'Mike' King
53. Honky Tonk (1941) .... 'Gold Dust' Nelson
54. Dark Command (1940) .... Miss Mary McCloud

55. Allegheny Uprising (1939) .... Janie MacDougall
... aka The First Rebel (UK)
56. I Stole a Million (1939) .... Laura Benson
57. Stagecoach (1939) .... Dallas
58. Five of a Kind (1938) .... Christine Nelson
59. Valley of the Giants (1938) .... Lee Roberts
60. The Amazing Dr. Clitterhouse (1938) .... Jo Keller
61. Walking Down Broadway (1938) .... Joan Bradley
62. Big Town Girl (1937) .... Fay Loring
63. Second Honeymoon (1937) .... Marcia
64. Dead End (1937) .... Francey
... aka Dead End: Cradle of Crime (USA: reissue title)
65. One Mile From Heaven (1937) .... Lucy 'Tex' Warren
66. King of Gamblers (1937) .... Dixie Moore
... aka Czar of the Slot Machines
67. Time Out for Romance (1937) .... Barbara Blanchard
68. Career Woman (1936) .... Carroll Aiken
69. Fifteen Maiden Lane (1936) .... Jane Martin
70. Star for a Night (1936) .... Nina Lind
71. To Mary - with Love (1936) .... Kitty Brant
72. Human Cargo (1936) .... Bonnie Brewster
73. Song and Dance Man (1936) .... Julia Carroll
74. My Marriage (1935) .... Carol Barton
75. Navy Wife (1935) .... Vicky Blake
... aka Beauty's Daughter
76. Dante's Inferno (1935) .... Betty McWade
77. Spring Tonic (1935) .... Betty Ingals
78. Black Sheep (1935) .... Jeanette Foster
79. Baby Take a Bow (1934) .... Kay 'Funny Face' Ellison
80. Wild Gold (1934) .... Jerrie Jordan
81. Hold That Girl (1934) .... Tonie Bellamy
82. Elinor Norton (1934) .... Elinor Norton
83. Jimmy and Sally (1933) .... Sally Johnson
84. The Mad Game (1933) .... Jane Lee
85. The Last Trail (1933) .... Patricia Carter
86. Life in the Raw (1933) .... Judy Halloway
Herself
1. The 70th Annual Academy Awards (1998) (TV) .... Herself - Past Winner
2. An All-Star Tribute to John Wayne (1976) (TV) .... Herself
3. The 29th Annual Academy Awards (1957) (TV) .... Herself - Presenter: Cinematography Awards
4. The 28th Annual Academy Awards (1956) (TV) .... Herself - Co-Presenter: Scientific & Technical Awards
5. The 27th Annual Academy Awards (1955) (TV) .... Herself - Nominee: Best Actress in a Supporting Role & Presenter: Best Writing, Motion Picture Story
6. A Star Is Born World Premiere (1954) (TV) .... Herself
7. The 25th Annual Academy Awards (1953) (TV) .... Herself - Presenter: Best Sound
8. Picture People No. 3: Hobbies of the Stars (1941) .... Herself
9. Picture People No. 2: Hollywood Sports (1941) .... Herself
10. Sun-Kissed Stars at Palm Springs (1936) .... Herself
Archive Footage
1. The 73rd Annual Academy Awards (2001) (TV) .... Herself (Memorial Tribute)
2. Off the Menu: The Last Days of Chasen's (1997) (uncredited) .... Herself (with Jane Wyman)