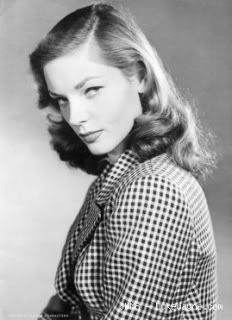 LAUREN BACALL
INFORMATION FROM IMDb
Date of birth
16 September 1924
New York, New York, USA
Birth name
Betty Joan Perske
Nickname
Baby
The Look
Height
5' 8½" (1.74 m)
Sometimes Credited As:
Betty Jean Perske
Spouse
Jason Robards (4 July 1961 - 10 September 1969) (divorced) 1 child
Humphrey Bogart (21 May 1945 - 14 January 1957) (his death) 2 children
Trade mark
Her deep, sexy voice
Trivia
Chosen by Empire magazine as one of the 100 Sexiest Stars in film history (#6). [1995]
Ranked #20 in the AFI's top 25 Actress Legends.
She has a daughter and a son from her marriage to Humphrey Bogart: Leslie and Stephen H. Bogart.
Ranked #11 in Empire (UK) magazine's "The Top 100 Movie Stars of All Time" list. [October 1997]
Mother of actor Sam Robards.
Chosen by "People" magazine as one of the 50 Most Beautiful People in the World. [1997]
Bacall was staying in the same New York apartment building as Beatle John Lennon when he was shot (and later died on 8th December in the Roosevelt Hospital) in 1980. When interviewed on the subject in a recent UK TV programme hosted by former model Twiggy, Bacall said she had heard the gunshot but assumed that it was a car tire bursting or a vehicle backfiring.
Was crowned "Miss Greenwich Village" in 1942.
Used her mother's maiden name of Bacal, but added an extra "L" when she entered the cinema.
Shortly after Humphrey Bogart's death, she announced her engagement to Frank Sinatra to the press. Mr. Sinatra promptly backed out.
Her screen personna was totally based and modeled after Howard Hawks's wife, Slim. She even uses her name in To Have and Have Not (1944).
She and former Israeli Prime Minister Shimon Peres (currently the foreign minister) are cousins. Both have the same original last name -- Perske.
Those close to her call her by her real first name, "Betty".
Still undiscovered, Bacall volunteered as a hostess at the New York chapter of the Stage Door Canteen, working Monday nights when theaters were closed.
Having lost her job as a showroom model and quit acting school for lack of funds, the teenage Bacall found work as a Broadway theater usher. George Jean Nathan voted her the prettiest usher of the 1942 season in the pages of "Esquire".
An only child.
One of the initial "Rat Pack" with Humphrey Bogart, Frank Sinatra, Irving Paul Lazar (aka "Swifty" Lazar) and their close friends.
Won a Tony for her role as Margo Channing in the Broadway production of "Applause", a musical based on the movie, All About Eve (1950). It was presented by Walter Matthau.
With former husband Humphrey Bogart, has a kind of vocal disorder named after her. "Bogart-Bacall syndrome"' (or BBS) is a form of muscle tension dysphonia most common in professional voice users (actors, singers, TV/radio presenters, etc) who habitually use a very low speaking pitch. BBS is more common among women than men and has been blamed on "social pressure on professional women to compete with men in the business arena".
Starred, with her husband Humphrey Bogart, on the syndicated radio program "Bold Venture" (1951-1952). Her character's name was Sailor Duval.
Measurements: 34-26-34 (her 1940 modeling card) (Source: Celebrity Sleuth magazine)
Her autobiography, "By Myself", won a National Book Award in 1980
Actress Kathleen Turner has often been compared to Bacall. When Turner and Bacall met, Turner reportedly introduced herself to Bacall by saying "Hi, I'm the young you."
Her marriage to Humphrey Bogart occured at the Pleasant Valley area of Richland County, Ohio home of Pulitzer Prize-winning author, Louis Bromfield, Malabar Farm (now within the township of Lucas, Ohio). The home is now an Ohio State Park.
Katharine Hepburn, her long-time friend, is the godmother of her son, Sam Robards.
Has won two Tony Awrds as Best Actress (Musical): in 1970, for her role as Margo Channing in "Applause", based on the movie, All About Eve (1950); and in 1981, for "Woman of the Year," also based on a movie of the same name, Woman of the Year (1942).
As of 2005 she is the only surviving legend mentioned in a popular phrase from Madonna's 1990 #1 hit song "Vogue". Other legends mentioned: Marilyn Monroe, James Dean, Grace Kelly, Jean Harlow, Fred Astaire, Rita Hayworth and Bette Davis, who all died before the release of the song. Marlene Dietrich, Joe DiMaggio, Marlon Brando, Gene Kelly, Ginger Rogers, Katharine Hepburn and Lana Turner all died in following years.
Is mentioned along with former husband Humphrey Bogart in the 1980s song "Key Largo" ("We had it all, just like Bogart and Bacall").
Is portrayed by Kathryn Harrold in Bogie (1980) (TV)
Her appearance on a cover of Harper's Bazaar magazine at 18 years of age, led to her first film role; she was spotted by the wife of director Howard Hawks, who gave her a screen test and cast her in To Have and Have Not (1944).
Originally wanted to be a dancer.
A well respected actress for the past sixty years, she has only been nominated once for an Academy Award. She was 73 when nominated for The Mirror Has Two Faces.
Is half Romanian
Personal quotes
"She's a real Joe. You'll fall in love with her like everybody else." - Humphrey Bogart
"I never believed marriage was a lasting institution... I thought that to be married for five years was to be married forever."
"I was this flat-chested, big-footed, lanky thing."
"I don't think being the only child of a single parent helped. I was always a little unsteady in my self-belief. Then there was the Jewish thing. I love being Jewish, I have no problem with it at all. But it did become like a scar, with all these people saying you don't look it."
"I remember my oldest son, Steve, saying to me once, 'I don't ever remember seeing you with an apron on.' And I thought, that's right, honey, you did not. That was his concept of what a mother should be."
"I would hate now [2005] to be married. It does occur to me on occasion that, if I fall and hit my head, there will be no one to make the phone call. But who wants to think about that disaster, I'd prefer not to."
"I am still working, I've never stopped and, while my health holds out, I won't stop."
"I put my career in second place throughout both my marriages and it suffered. I don't regret it. You make choices. If you want a good marriage, you must pay attention to that. If you want to be independent, go ahead. You can't have it all."
"Actors today go into TV, which I don't consider has a lot to do with acting. They only think of stardom. If you photograph well, that's enough. I have a terrible time distinguishing one from another. Girls wear their hair the same, and are much too anorexic-looking."
"We live in an age of mediocrity. Stars today are not the same stature as Bogie (Humphrey Bogart), James Cagney, Spencer Tracy, Henry Fonda and Jimmy Stewart (James Stewart)."
"It's inappropriate and vulgar and absolutely unacceptable to use your private life to sell anything commercially, but I think it's kind of a sickness."
"A legend involves the past. I don't like categories. This one is great and that one is great. The word great stands for something. When you talk about a great actor, you're not talking about Tom Cruise."
Salary
Two Guys from Milwaukee (1946) $5,000
To Have and Have Not (1944) $125/week
Mini Biography
Lauren Bacall was born Betty Joan Perske on September 16, 1924 in New York City. Her parents were middle-class with her father working as a salesman and her mother as a secretary. They divorced when she was five. When she was a young school girl, Lauren originally wanted to be a dancer, but later became enthralled with acting so she switched gears to head into that field. She had studied at the American Academy of Dramatic Arts in New York, after high school, which enabled her to get her feet wet in some off-Broadway productions.
Once out of school, Lauren entered modeling and, because of her beauty, appeared on the cover of Harper's Bazaar, one of the most popular magazines in the US. The wife of famed director, Howard Hawks spotted the picture in the publication and arranged with her husband to have Lauren take a screen test. As a result, which was entirely positive, she was given a part as Marie Browning in To Have and Have Not (1944), a thriller opposite the great Humphrey Bogart, when she was just 19 years old. This not only set the tone for a fabulous career, but also one of Hollywood's greatest love stories (she married him in 1945.) It was, also, the first of several Bogie-Bacall films.
After 1945's Confidential Agent (1945), Lauren received second billing in The Big Sleep (1946) with Bogart. The mystery, in the role of Vivian Sternwood Rutledge, was a resounding success. Although she was making one film a year, each production would be eagerly awaited by the public. In 1947, again with her husband, Lauren starred in the thriller Dark Passage (1947). The film kept movie patrons on the edge of their seats. The following year she starred with Bogart, Edward G. Robinson, and Lionel Barrymore in Key Largo (1948). The crime drama was even more of a nail biter than the previous film. In 1950, Lauren played in Bright Leaf (1950), a drama set in 1894. It was a film of note because she appeared without her husband - her co-star was Gary Cooper. In 1953, Lauren appeared in her first comedy as Schatze Page in How to Marry a Millionaire (1953). The film, with co-stars Marilyn Monroe and Betty Grable, was a smash hit all across the theaters of America.
After filming Designing Woman (1957) which was released in 1957, Humphrey Bogart died on January 14, 1957 from throat cancer. Devastated at being a widow, Lauren returned to the silver screen with The Gift of Love (1958) in 1958 opposite Robert Stack. The production turned out to be a big disappointment. Not undaunted, Lauren moved back to New York City and appeared in several Broadway plays to huge critical acclaim. She was enjoying playing before live audiences and the audiences in turn enjoyed her fine performances. Lauren was away from the big screen for five years returning in 1964 to appear in Shock Treatment (1964) and Sex and the Single Girl (1964). The latter film was a comedy starring Henry Fonda and Tony Curtis. In 1966, Lauren starred in Harper (1966) with Paul Newman and Julie Harris. It was one of Newman's signature films. Alternating her time between films and the stage, Lauren returned in 1974's Murder on the Orient Express (1974). The film, based on Agatha Christie's best selling book was a huge hit. It, also, garnered Ingrid Bergman her third Oscar. Actually, the huge star studded cast helped to ensure its success. Two years later, in 1976, Lauren co-starred with John Wayne in The Shootist (1976). The film was Wayne's last - he died from cancer in 1979.
In 1981, Lauren played an actress being stalked by a crazed admirer in The Fan (1981). The thriller was absolutely fascinating with Lauren in the lead role. After that production, Lauren was away from films, again, this time for seven years. In the interim, she again appeared on the stages of Broadway. When she returned, it was for the filming of 1988's Mr. North (1988). After Misery (1990), in 1990, and several made for television films, Lauren appeared in 1996's My Fellow Americans (1996). It was a wonderful comedy romp with Jack Lemmon and James Garner as two ex-presidents and their escapades.
Denny Jackson
Mini Biography-2
from Leonard Maltin's Movie Encyclopedia:
Her unforgettable instruction on whistling in her first film, 1944's To Have and Have Not is the thinking woman's variation on Mae West's "come up and see me some time," and that distinction provides a valuable clue to Bacall's uniqueness. Although the beautiful, lithe ex-model was dubbed "The Look" upon arriving in Hollywood, it was more than the raised eyebrow that made her irresistible when she finally got before the camera. It was the way she delivered a line-worldly but never jaded, slyly cynical but never sour-that cinched her appeal. Bacall broke into pictures courtesy of the then Mrs. Howard Hawks, who showed a "Harper's Bazaar" cover shot of Bacall to her producer/director husband. He had Bacall flown in from the East Coast almost instantly and cast her opposite Humphrey Bogart in To Have and Have Not The 19-year-old ingenue and 45-yearold screen star fell in love on the set, and married in 1945. They appeared together in three other films: In The Big Sleep (1946, also directed by Hawks), their uncanny chemistry rescued that picture from its impenetrable plot. While 1947's Dark Passage was the least interesting of their films together, 1948's classic Key Largo exploited their chemistry in a darker, more mature context.
Few of Bacall's other films were memorable; among her costarring vehicles were Confidential Agent (1945), Young Man With a Horn (1950), the very enjoyable How to Marry a Millionaire (1953), Woman's World (1954), The Cobweb, Blood Alley (both 1955), soap opera supreme, Written on the Wind (1956), The Gift of Love (1958), and Flame Over India (1959). She spent much of the 1950s caring for her ailing husband, until his death from cancer in 1957. In 1961 Bacall married actor Jason Robards, Jr. (they divorced in 1969). Her film appearances in the 1960s and 1970s were sporadic; indeed, she took eight years off from the screen between 1966 and 1974, coming back in Sidney Lumet's all-star adaptation of Agatha Christie's Murder on the Orient Express. During her hiatus from Hollywood she worked on the stage, garnering kudos for her work in Broadway's "Applause." In 1981 she played a star terrorized by a crazed admirer in The Fan-touching a raw nerve in that era of John Hinckley and Mark Chapman-and since then has taken occasional supporting roles in telefilms and features, including that of James Caan's agent in Misery (1990), a costarring part opposite Anthony Quinn in the unreleased A Star for Two and the hostess (originally played by Billie Burke) in the TV remake of Dinner at Eight (1989). In 1993 she reunited with Gregory Peck (her costar in 1957's romantic comedy Designing Woman for the enjoyable TV movie The Portrait and costarred in A Foreign Field with Alec Guinness. Her distinctive voice has also been heard with growing frequency on TV commercials.
Copyright © 1994 Leonard Maltin, used by arrangement with Signet, a division of Penguin Putnam, Inc.
Filmography
Actress
1. Firedog (2005) (post-production) (voice) .... Posche
2. These Foolish Things (2006) .... Dame Lydia
3. Manderlay (2005) .... Mam
4. Birth (2004) .... Eleanor
5. Hauru no ugoku shiro (2004) (voice: English version) .... Witch of the Waste
... aka Howl's Moving Castle (International: English title) (USA)
6. Amália Traïda (2004) .... TV anouncer
7. Dogville (2003) .... Ma Ginger
... aka Dogville (France)
... aka U - Der Film 'Dogville' erzählt in neun Kapiteln und einem Prolog. (Germany)
8. The Limit (2003) .... May
... aka Gone Dark (USA: DVD title)
9. Presence of Mind (1999) .... Mado Remei
... aka Celo, El (Spain)
10. The Venice Project (1999) .... Countess Camilla Volta
11. Diamonds (1999) .... Sin-Dee
12. Madeline: Lost in Paris (1999) (voice) .... Madame Lacroque
13. "Too Rich: The Secret Life of Doris Duke" (1999) (mini) TV Series .... Doris Duke (elderly)
14. "Chicago Hope"
- Absent Without Leave (1998) TV Episode .... Samara Visco Klein
- Risky Business (1998) TV Episode .... Samara Visco Klein
15. The Man Who Had Everything (1998) (TV) (voice) (also archive footage) .... Narrator
16. Jour et la nuit, Le (1997) .... Sonia
... aka Día y la noche, El (Mexico)
... aka Day and Night
17. My Fellow Americans (1996) .... Margaret Kramer
18. The Mirror Has Two Faces (1996) .... Hannah Morgan
19. From the Mixed-Up Files of Mrs. Basil E. Frankweiler (1995) (TV) .... Mrs. Basil E. Frankweiler
20. Prêt-à-Porter (1994) .... Slim Chrysler
... aka Prêt-à-Porter: Ready to Wear (Canada: English title)
... aka Ready to Wear
21. A Foreign Field (1993) .... Lisa
... aka We Shall Meet Again
22. The Parallax Garden (1993) (TV)
23. The Portrait (1993) (TV) .... Fanny Church
24. All I Want for Christmas (1991) .... Lillian Brooks
25. A Star for Two (1991)
26. Misery (1990) .... Marcia Sindell
27. The Real Story of the Three Little Kittens (1990) (V) (voice) .... Freezelda
28. A Little Piece of Sunshine (1990) (TV) .... Beatrix Coltrane
29. Dinner at Eight (1989) (TV) .... Carlotta Vance
30. "The Dame Edna Experience"
- Episode #2.5 (1989) TV Episode
31. Tree of Hands (1989) .... Marsha Archdale
... aka Innocent Victim (USA)
32. Mr. North (1988) .... Mrs. Amelia Cranston
33. Appointment with Death (1988) .... Lady Westholme
34. The Fan (1981) .... Sally Ross
35. HealtH (1980) .... Esther Brill
36. "The Rockford Files"
... aka Jim Rockford, Private Investigator (USA: syndication title)
- Lions, Tigers, Monkeys and Dogs: Part 2 (1979) TV Episode .... Kendall Warren
- Lions, Tigers, Monkeys and Dogs: Part 1 (1979) TV Episode .... Kendall Warren
37. Perfect Gentlemen (1978) (TV) .... Mrs. Lizzie Martin
38. The Shootist (1976) .... Bond Rogers
39. Murder on the Orient Express (1974) .... Mrs. Harriet Belinda Hubbard
40. Applause (1973) (TV) .... Margo Channing
41. Harper (1966) .... Elaine Sampson
... aka The Moving Target (UK)
42. "Bob Hope Presents the Chrysler Theatre"
... aka The Chrysler Theater
... aka Universal Star Time (syndication title)
- Double Jeopardy (1965) TV Episode .... Amanda/Barbara
43. Sex and the Single Girl (1964) .... Sylvia Broderick
44. "Mr. Broadway"
- Something to Sing About (1964) TV Episode .... Barbara Lake
45. Shock Treatment (1964) .... Dr. Edwina Beighley
46. "Dr. Kildare"
- The Oracle (1963) TV Episode .... Virginia Herson
47. "The DuPont Show of the Week"
- A Dozen Deadly Roses (1963) TV Episode .... Lorraine Boswell
48. North West Frontier (1959) .... Catherine Wyatt
... aka Flame Over India (USA)
49. The Gift of Love (1958) .... Julie Beck
50. Designing Woman (1957) .... Marilla Brown Hagen
51. Written on the Wind (1956) .... Lucy Moore Hadley
52. Blithe Spirit (1956) (TV) .... Elvira Condomine
53. "Ford Star Jubilee"
- Blithe Spirit (1956) TV Episode .... Elvira
54. Blood Alley (1955) .... Cathy Grainger
... aka William A. Wellman's Blood Alley (USA: complete title)
55. The Cobweb (1955) .... Meg Faversen Rinehart
56. "Producers' Showcase"
- The Petrified Forest (????) TV Episode .... Gaby Maple
57. Woman's World (1954/I) .... Elizabeth Burns
... aka A Woman's World (USA)
58. How to Marry a Millionaire (1953) .... Schatze Page
59. Bright Leaf (1950) .... Sonia Kovac
60. Young Man with a Horn (1950) .... Amy North
... aka Young Man of Music (UK)
... aka Young Man with a Trumpet (Australia)
61. Key Largo (1948) .... Nora Temple
62. Dark Passage (1947) .... Irene Jansen
63. The Big Sleep (1946) .... Vivian Sternwood Rutledge
64. Confidential Agent (1945) .... Rose Cullen
65. To Have and Have Not (1944) .... Marie 'Slim' Browning
Miscellaneous Crew
1. Dogville Confessions (2003) (thanks)
2. S1m0ne (2002) (simone wishes to thank the following for their contribution to the making of simone)
3. Nighthawks (1998) (dedicatee)
4. The Fan (1981) (singer: "Hearts, Not Diamonds")
5. The Big Sleep (1946) (singer: "And Her Tears Flowed Like Wine") (uncredited)
6. To Have and Have Not (1944) (singer: "How Little We Know") (uncredited)
Herself
1. "The Hollywood Greats"
... aka Hollywood Greats (USA: new title)
- Lauren Bacall (2005) TV Episode .... Herself
- Kirk Douglas (2003) TV Episode .... Herself
- Judy Garland (????) TV Episode .... Herself
2. "On ne peut pas plaire à tout le monde"
... aka O.N.P.P. (France: short title)
... aka ONPP vu de la loge (France: summer title)
... aka ONPP vu de la plage (France: summer title)
... aka ONPP vu du bocal (France: summer title)
... aka ONPP vu du désert (France: summer title)
- Episode dated 1 May 2005 (2005) TV Episode .... Herself
3. "The Paul O'Grady Show"
- Episode #2.22 (2005) TV Episode .... Herself
4. "Parkinson"
- Episode dated 9 April 2005 (2005) TV Episode .... Herself
- Episode dated 23 October 2004 (2004) TV Episode .... Herself
5. "CBS News Sunday Morning"
... aka Sunday Morning
- Episode dated 13 March 2005 (2005) TV Episode .... Herself
6. "The Early Show"
... aka The Saturday Early Show (USA: weekend title)
- Episode dated 2 March 2005 (2005) TV Episode .... Herself
7. "The View"
- Episode dated 2 March 2005 (2005) TV Episode .... Herself
8. "Today"
... aka NBC News Today (USA: promotional title)
... aka The Today Show (USA)
- Episode dated 1 March 2005 (2005) TV Episode .... Herself
9. The Road to Manderlay (2005) (TV) .... Herself
10. "GMTV"
- Episode dated 8 September 2004 (2004) TV Episode .... Herself
11. "Great Performances"
- Broadway's Lost Treasures II (2004) TV Episode .... Herself
12. "V Graham Norton"
- Episode #5.36 (2003) TV Episode .... Herself
13. Nicole Kidman: An American Cinematheque Tribute (2003) (TV) .... Herself
14. "Tribeca Film Festival Presents" (2003) (mini) TV Series .... Herself
15. "The Rosie O'Donnell Show"
- Episode dated 7 June 2002 (2002) TV Episode .... Herself
- Episode dated 27 March 2000 (2000) TV Episode .... Herself
- Episode dated 19 February 1999 (1999) TV Episode .... Herself
- Episode dated 20 November 1996 (1996) TV Episode .... Herself
16. New York at the Movies (2002) (TV) .... Herself
17. Liza Minnelli: The E! True Hollywood Story (2002) (TV) .... Herself
18. Greta Garbo: A Lone Star (2001) (TV) (voice) .... Herself/Narrator
19. "So Graham Norton"
- Episode #4.2 (2000) TV Episode .... Herself
20. "Private View" (2000) TV Series .... Interviewer
21. "Late Show with David Letterman"
... aka Late Show Backstage (USA: title for episodes with guest hosts)
... aka The Late Show (USA: informal short title)
- Episode dated 4 January 2000 (2000) TV Episode .... Herself
22. A Conversation with Gregory Peck (1999) .... Herself
23. "The Howard Stern Radio Show"
- Episode dated 20 March 1999 (1999) TV Episode .... Herself
24. Get Bruce (1999) .... Herself
... aka Get Bruce! (USA: promotional title)
25. "The Directors"
- The Films of Barbra Streisand (1999) TV Episode .... Herself
- The Films of Rob Reiner (????) TV Episode .... Herself
26. 5th Annual Screen Actors Guild Awards (1999) (TV)
27. The Best of Film Noir (1999) (V) .... Herself
28. "Inside the Actors Studio"
- Episode #4.5 (1998) TV Episode .... Herself
29. 4th Annual Screen Actors Guild Awards (1998) (TV)
30. Intimate Portrait: Lauren Bacall (1998) (TV) .... Herself
31. The Kennedy Center Honors: A Celebration of the Performing Arts (1997) (TV) .... Herself (Honoree)
32. The Music of Kander and Ebb: Razzle Dazzle (1997) (TV) .... Herself
33. Sports on the Silver Screen (1997) (TV) (uncredited) .... Herself
34. Humphrey Bogart: You Must Remember This... (1997) (TV) .... Herself
35. The Line King: The Al Hirschfeld Story (1996) .... Herself
... aka The Line King
36. The Kennedy Center Honors: A Celebration of the Performing Arts (1994) (TV) .... Herself
37. "Hollywood Women" (1994) (mini) TV Series .... Herself
38. Leonard Bernstein: The Gift of Music (1993) (TV) (voice) .... Narrated by
39. "Aspel & Company"
- Episode #10.9 (1993) TV Episode .... Herself
- Episode #6.14 (1989) TV Episode .... Herself
40. "The Full Wax"
- Episode #2.1 (1992) TV Episode .... Herself
41. Casablanca 50th Anniversary Special: You Must Remember This (1992) (V) (voice) .... Narrator
42. The Kennedy Center Honors: A Celebration of the Performing Arts (1991) (TV) .... Herself
43. The American Film Institute Salute to Kirk Douglas (1991) (TV) .... Herself
44. 7th Annual American Cinema Awards (1990) (TV) .... Herself/presenter
45. The Kennedy Center Honors: A Celebration of the Performing Arts (1990) (TV) .... Herself
46. John Huston: The Man, the Movies, the Maverick (1989) .... Herself
... aka John Huston (USA)
47. The American Film Institute Salute to Gregory Peck (1989) (TV) .... Herself
48. Bacall on Bogart (1988) (TV) .... Host/narrator
49. The 59th Annual Academy Awards (1987) (TV) .... Herself - Presenter: Best Costume Design
50. The American Film Institute Salute to John Huston (1983) (TV) .... Herself/Hostess
51. The Wayne Newton Special (1982) (TV)
52. Night of 100 Stars (1982) (TV) .... Herself
53. The 35th Annual Tony Awards (1981) (TV) .... Herself - Presenter
54. "The Barbara Walters Special"
... aka The Barbara Walters Summer Special (USA: repeat compilations title)
- Episode #5.3 (1981) TV Episode .... Herself
55. The Kennedy Center Honors: A Celebration of the Performing Arts (1980) (TV) .... Herself
56. "Live From Lincoln Center"
... aka Great Performances: Live from Lincoln Center (USA)
- The Film Society of Lincoln Center: A Tribute to John Huston (1980) TV Episode .... Herself
57. Circus of the Stars #3 (1979) (TV) .... Herself - Ringmaster
58. The 51st Annual Academy Awards (1979) (TV) .... Herself - Co-Presenter: Writing Awards
59. The 32nd Annual Tony Awards (1978) (TV) .... Herself
60. "CBS: On the Air" (1978) (mini) TV Series
61. Salute to Lew Grade (1975) (TV) .... Herself
62. The 47th Annual Academy Awards (1975) (TV) .... Herself - Presenter: Best Costume Design
63. "The Tonight Show Starring Johnny Carson"
... aka The Best of Carson (USA: rerun title)
- Episode dated 11 December 1974 (1974) TV Episode .... Herself
- Episode dated 9 April 1971 (1971) TV Episode .... Herself
- Episode dated 13 April 1970 (1970) TV Episode .... Herself
64. The 23rd Annual Tony Awards (1969) (TV) .... Herself - Presenter
65. "The Match Game"
- Episode dated 15 January 1968 (1968) TV Episode .... Herself
66. "ABC Stage 67"
- The Light Fantastic (1967) TV Episode .... Herself
67. "What's My Line?"
- Episode dated 19 December 1965 (1965) TV Episode .... Herself
- Episode dated 8 November 1953 (1953) TV Episode .... Herself
68. "Password"
... aka Password All-Stars (USA: new title)
- Lauren Bacall vs. Jack Palance (1965) TV Episode .... Herself
69. "Toast of the Town"
... aka The Ed Sullivan Show (new title)
- Episode #9.41 (1956) TV Episode .... Herself
- Episode #5.6 (1951) TV Episode .... Herself
70. The 27th Annual Academy Awards (1955) (TV) .... Herself - Presenter: Scientific & Technical Awards
71. 1955 Motion Picture Theatre Celebration (1955) (uncredited) .... Herself
72. Light's Diamond Jubilee (1954) (TV) .... Herself
73. A Star Is Born World Premiere (1954) (TV) .... Herself
74. Hollywood Wonderland (1947) .... Herself (in photo)
75. Two Guys from Milwaukee (1946) (uncredited) .... Herself
... aka Royal Flush (UK)
Archive Footage
1. "Cinema mil"
- Episode #1.11 (2005) TV Episode .... Herself
2. Premio Donostia a Willem Dafoe (2005) (TV) .... Herself
3. Marilyn Monroe: The Final Days (2001) (TV) (uncredited) .... Herself
4. Pulp Cinema (2001) (V) .... Herself
5. Humphrey Bogart and Lauren Bacall (2000) (TV) .... Herself
6. The 71st Annual Academy Awards (1999) (TV) (uncredited) .... Lisa
7. "The Rat Pack" (1999) .... Herself
8. "Cold War" (1998) (mini) (uncredited) .... Herself
9. Warner Bros. 75th Anniversary: No Guts, No Glory (1998) (TV) (uncredited)
10. "The Fifties" (1997) (mini) (uncredited) .... Herself (concerned about HUAC)
11. Judy Garland's Hollywood (1997) (V)
12. Off the Menu: The Last Days of Chasen's (1997) (uncredited) .... Herself (with Bogie)
13. Classe américaine, La (1993) .... Christelle
14. One on One: Classic Television Interviews (1993) (TV) .... Herself
15. Katharine Hepburn: All About Me (1993) (TV) .... Herself
16. Sixty Years of Seduction (1981) (TV) .... Herself
17. Due Kennedy, I (1969) (uncredited) .... Herself