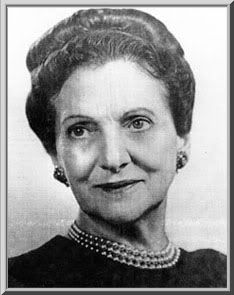 BEULAH BONDI
INFORMATION FROM IMDb
Date of birth
3 May 1888
Chicago, Illinois, USA
Date of death
1 January 1981
Hollywood, California, USA. (pulmonary complications due to broken ribs she suffered in a fall)
Birth name
Beulah Bondy
Trivia
Died in her California home of injuries she sustained after tripping over her cat.
Portrayed James Stewart's mother in four films: It's a Wonderful Life (1946), Mr. Smith Goes to Washington (1939), Of Human Hearts (1938) and Vivacious Lady (1938).
Made her stage debut at age 9, in the title role of "Little Lord Fauntleroy".
Always said her greatest regret was being passed over for the role of Ma Joad in John Ford's The Grapes of Wrath (1940).
Personal quotes
"I'm very cooperative, and if you'll just tell me exactly what you want, I'll always try to do it."
"What distinguishes the real actor from the pseudo is the passionate desire to know what is going on in the hearts and minds of people."
Mini-Biography
The character actress Beluah Bondi was a great favorite of directors and audiences and is one of the reasons so many films from the 1930s and 1940s remain so enjoyable, as she was an integral part of many of the ensemble casts (a hallmark of the studio system) of major and/or great films, including "Trail of the Lonesome Pine" (1936), "Mr. Smith Goes to Washington" (1939), "Our Town" (1940), and "Penny Serenade" (1941). Highly respected as a first-tier character actress, Bondi won two Best Supporting Actress Oscar nominations, for "The Gorgeous Hussy" (1936) and "Of Human Hearts" (1938), and an Emmy Award in 1976 for her turn in the television program "The Waltons."
She was born Beulah Bondy on May 3, 1888 in Chicago, Illinois, and established herself as a stage actress in the first phase of her career. She made her Broadway debut in Kenneth Webb's "One of the Family" at the 49th Street Theatre on December 21, 1925. The show was a modest hit, racking up 238 performances. She next appeared in another hit, Maxwell Anderson's "Saturday's Children," which ran for 326 performances, before appearing in her first flop, Clemence Dane's "Mariners" in 1927. Philip Barry and Elmer Rice's "Cock Robin" was an extremely modest hit in 1928, reaching the century mark of 100 performances, but it was her performance in Rice's "Street Scene," which opened at the Playhouse Theatre on Jamuary 10, 1929, that made her career. This famous play won Rice the 1929 Pulitzer Prize for Drama and was a big hit, playing for 601 performances. But most importantly, it brought Bondi to the movies at the advanced age of 43. She made her motion picture debut in 1931 in the movie adaptation of "Street Scene," recreating the role she had originated on the Broadway stage. The talkies were still new, and she had the talent and the voice to thrive in Hollywood.
Bondi appeared in four more Broadway plays from 1931 to 1934, only one of which, "The Late Christopher Bean, a comedy by Sydney Howard, was a hit. Her last appearance on Broadway for a generation was in a flop staged by Melvyn Douglas, "Mother Lode." (She made two more appearances on the Great White Way, in "Hilda Crane" (1950) and "On Borrowed Time" in 1953; neither was a success.) For the rest of her professional life, her career lay primarily in film and television.
She was typecast as mothers and later, grandmothers, and played James Stewart's mother four times, most famously as "Ma Bailey" in "It's a Wonderful Life." Her greatest role is considered her turn in Leo McCarey's Depression-Era melodrama "Make Way for Tomorrow" (1937), in which she played a mother abandoned by her children.
Beluah Bondi died on January 11, 1981 from complications from an accident, when she broke her ribs after falling over her cat. She was 92 years old.
Jon C. Hopwood
Mini Biography-2
from Leonard Maltin's Movie Encyclopedia:
Bondi played her first grandmother at the age of 20, foreshadowing much of her later screen work. She made her film debut in Street Scene (1931, recreating her stage characterization), won other roles in Arrowsmith (1931) and Rain (1932), and soon developed a reputation as one of the movie colony's finest character actresses. A small, pleasantly homely woman, Bondi infused many of her roles with great spirit and determination. She'd made her stage debut at the age of seven, and spent several decades on stage, in stock, and repertory theater, before moving to Broadway. Often cast as mothers, grandmothers, and hardy pioneer women-both sweet and vicious-she snagged Oscar nominations for her performances in The Gorgeous Hussy (1936) and Of Human Hearts (1938), but she was equally impressive in Trail of the Lonesome Pine (1936), Mr. Smith Goes to Washington (1939), Remember the Night, Our Town (both 1940), Penny Serenade, The Shepherd of the Hills (both 1941), Watch on the Rhine (1943), The Southerner (1945), It's a Wonderful Life (1946, as Ma Bailey), The Snake Pit (1948), So Dear to My Heart (1948), Back From Eternity (1956), A Summer Place (1959), and many others. Arguably her greatest film vehicle was Leo McCarey's Make Way for Tomorrow (1937), in which she and Victor Moore movingly played an elderly couple shunned by their children. Bondi played James Stewart's mother four times on film, and again on television in later years. Her guest shot on a two-part episode of "The Waltons" in 1976 earned her an Emmy-at the age of 85.
Copyright © 1994 Leonard Maltin, used by arrangement with Signet, a division of Penguin Putnam, Inc.


Filmography
Actress
1. "The Waltons"
- The Pony Cart (1976) TV Episode .... Aunt Martha Corinne Walton
- The Conflict (1974) TV Episode .... Martha Corinne
2. "Dirty Sally"
- Episode #1.8 (1974) TV Episode .... Louisa Badger
3. Robin Hood (1973) (voice) .... Mother Church Mouse
4. She Waits (1972) (TV) .... Angela Medina (Mrs. M)
5. "The Jimmy Stewart Show"
- The Identity Crisis (1971) TV Episode .... Jim's Mother
6. "Perry Mason"
- The Case of the Nebulous Nephew (1963) TV Episode .... Sophia Stone
7. Tammy and the Doctor (1963) .... Annie Call
8. "Alcoa Premiere"
- The Hands of Danofrio (1962) TV Episode .... Mrs. Murrow
9. The Wonderful World of the Brothers Grimm (1962) .... The Gypsy ('The Dancing Princess')
10. "Route 66"
- Burning for Burning (1961) TV Episode .... Agnes Brack
11. Tammy Tell Me True (1961) .... Mrs. Call
12. "The Best of the Post"
- Antidote for Hatred (1961) TV Episode
13. "Wagon Train"
... aka Major Adams, Trail Master
- The Prairie Story (1961) TV Episode .... Granny
14. "Play of the Week"
- Mornings at Seven (1960) TV Episode
15. "Playhouse 90"
- Tomorrow (1960) TV Episode .... Mrs. Hulie
16. A Summer Place (1959) .... Mrs. Emily Hamilton Hamble
17. "Frontier Justice"
- Black Is for Grief (1959) TV Episode .... Ma Anderson
18. The Big Fisherman (1959) .... Hannah
19. "Climax!"
... aka Climax Mystery Theater (USA)
- Hurricane Diane (1957) TV Episode .... Countess
- Circle of Destruction (1957) TV Episode .... Mrs. Jordan
- The Secret of River Lane (1956) TV Episode .... Aunt Caroline
20. "Hallmark Hall of Fame"
... aka Hallmark Television Playhouse
- On Borrowed Time (1957) TV Episode .... 'Granny' Northrup
21. The Unholy Wife (1957) .... Emma Hochen
... aka The Lady and the Prowler (USA)
22. "Zane Grey Theater"
... aka Dick Powell's Zane Grey Theater (USA: complete title)
... aka The Westerners (USA: rerun title)
- Black Is for Grief (1957) TV Episode .... Ma Anderson
23. "General Electric Theater"
... aka G.E. Theatre (USA)
- The Town with a Past (1957) TV Episode .... Annie
24. "Goodyear Television Playhouse"
... aka Goodyear Playhouse (new title)
- Ark of Safety (1956) TV Episode
25. Back from Eternity (1956) .... Martha Spangler
26. "Front Row Center"
- Finley's Fan Club (1956) TV Episode .... Mrs. Fitzpatrick
27. "Alfred Hitchcock Presents"
- Our Cook's a Treasure (1955) TV Episode .... Mrs. Sutton
28. Track of the Cat (1954) .... Ma Bridges
29. "Disneyland"
... aka Disney's Wonderful World (USA: new title)
... aka The Disney Sunday Movie (USA: new title)
... aka The Magical World of Disney (USA: new title)
... aka The Wonderful World of Disney (USA: new title)
... aka Walt Disney (USA: new title)
... aka Walt Disney Presents (USA: new title)
... aka Walt Disney's Wonderful World of Color (USA: new title)
- So Dear to My Heart (1954) TV Episode .... Granny Kincaid
30. "Medallion Theatre"
- Gran'ma Rebel (1953) TV Episode
31. Latin Lovers (1953) .... Woman analyst
32. Lone Star (1952) .... Minniver Bryan
33. The Furies (1950) .... Mrs. Anaheim
34. The Baron of Arizona (1950) .... Loma Morales
35. Reign of Terror (1949) .... Grandma Blanchard
... aka The Black Book (UK)
36. Mr. Soft Touch (1949) .... Mrs. Hangale
... aka House of Settlement (UK)
37. The Life of Riley (1949/I) .... Miss Martha Bogle
38. So Dear to My Heart (1949) .... Grandma Kincaid
39. The Snake Pit (1948) .... Mrs. Greer
40. The Sainted Sisters (1948) .... Hester Rivercomb
41. High Conquest (1947) .... Clara Kingsley
42. It's a Wonderful Life (1946) .... Ma Bailey
... aka Frank Capra's It's a Wonderful Life (USA: complete title)
43. Sister Kenny (1946) .... Mary Kenny
44. Breakfast in Hollywood (1946) .... Mrs. Annie Reed
... aka The Mad Hatter (UK)
45. Back to Bataan (1945) .... Bertha Barnes
... aka The Invisible Army
46. The Southerner (1945) .... Granny Tucker
47. And Now Tomorrow (1944) .... Aunt Em
48. The Very Thought of You (1944) .... Mrs. Wheeler
49. Our Hearts Were Young and Gay (1944) .... Miss Horn
50. She's a Soldier Too (1944) .... Agatha Kittredge
51. I Love a Soldier (1944) .... Etta Lane
52. Watch on the Rhine (1943) .... Anise
53. Tonight We Raid Calais (1943) .... Mme. Bonnard
54. One Foot in Heaven (1941) .... Mrs. Lydia Sandow
55. The Shepherd of the Hills (1941) .... Aunt Mollie
56. Penny Serenade (1941) .... Miss Oliver
57. The Captain Is a Lady (1940) .... Angie Peabody
58. Our Town (1940) .... Mrs. Myrtle Webb
59. Remember the Night (1940) .... Mrs. Sargent
60. Mr. Smith Goes to Washington (1939) .... Ma Smith
... aka Frank Capra's Mr. Smith Goes to Washington (USA: complete title)
61. The Under-Pup (1939) .... Miss Thornton
62. On Borrowed Time (1939) .... Nellie Northrup (Granny)
63. The Sisters (1938) .... Rose Elliott
64. Vivacious Lady (1938) .... Mrs. Morgan
65. Of Human Hearts (1938) .... Mary Wilkins
66. The Buccaneer (1938) .... Aunt Charlotte
67. Make Way for Tomorrow (1937) .... Lucy 'Ma' Cooper
68. Maid of Salem (1937) .... Abigail Goode
69. The Gorgeous Hussy (1936) .... Rachel Jackson
70. Hearts Divided (1936) .... Madame Letizia, Napoleon's Mother
71. The Case Against Mrs. Ames (1936) .... Mrs. Livingston Ames
72. The Moon's Our Home (1936) .... Mrs. Boyce Medford
73. The Trail of the Lonesome Pine (1936) .... Melissa
74. The Invisible Ray (1936) .... Lady Arabella Stevens
75. Bad Boy (1935) .... Mrs. Larkin
76. The Good Fairy (1935) .... Dr. Schultz
77. Ready for Love (1934) .... Mrs. Burke
78. The Painted Veil (1934) (scenes deleted) .... Frau Koerber
79. Finishing School (1934) .... Miss Van Alstyne
80. Registered Nurse (1934) .... Nurse McKenna
81. Two Alone (1934) .... Mrs. Slag
82. Christopher Bean (1933) .... Mrs. Hannah Haggett
... aka Her Sweetheart, Christopher Bean
... aka The Late Christopher Bean (UK)
83. The Stranger's Return (1933) .... Beatrice
84. Rain (1932) .... Mrs. Davidson
85. Arrowsmith (1931) (uncredited) .... Mrs. Tozer
86. Street Scene (1931) .... Emma Jones
Herself
1. The American Film Institute Salute to James Stewart (1980) (TV) .... Herself
2. "This Is Your Life"
- Lowell Thomas (1959) TV Episode .... Herself
Archive Footage
1. Land of Liberty (1939)