Books on John Ford
LEST WE FORGET: The John Ford Stock Company
Bill Levy (2013)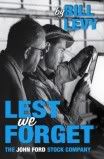 John Ford (1894-1973) directed scores of memorable movies that feature countless scenes that linger in one's memory. He is the only director to have won four Best Director Academy Awards, for The Informer (1935), The Grapes of Wrath (1940), How Green Was My Valley (1941), and The Quiet Man (1952).
There have been many biographies and film studies of John Ford and his motion pictures. There has never been a single volume devoted to the stock company of actors and actresses who worked for him, some continually, many intermittently, from his silent westerns of the 'teens to his final films of the 1960s. This book spotlights 112 members of Ford's fluid repertory company and includes a mini-chapter on each member of the troupe.
And it was a diverse group. One wrote three books on the Baha'i Faith religion; another boxed the heavyweight champion of the world to a draw; one eloped with Loretta Young when she was seventeen; one participated in the Yukon gold rush; a photograph of one player's ear is the clublogo for a professional wrestling association; another taught Lucy how to jitterbug; one was a legendary undercover agent for the OSS in France during World War II; another was a member of the advisory board to the Bank of America concerning loans to the studios; two were rodeo world champions.
All of them, from obscure bit players to barely-remembered character actors to legendary film stars, made substantial contributions to Ford's movie legacy.
April, who runs the great directedbyjohnford.com website, has interviewed Levy
and you can read the interview here:
http://www.directedbyjohnford.com/blog/
Information courtesy of Paula
THREE BAD MEN: John Ford, John Wayne, Ward Bond
Scott Allen Nollen (2013)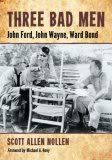 About
The complex relationship between master film director John Ford, star John Wayne, and character actor supreme Ward Bond, and their films, including FORT APACHE, THE QUIET MAN and THE SEARCHERS, by Scott Allen Nollen.
Pre-order at http://www.mcfarlandbooks.com
Description
This, the first book to provide a biography of Ward Bond, explores the professional and personal relationships between these three "good bad men," not unlike the colorful characters depicted in Ford's films. This incredible, fascinating story, including the activities of all three during World War II, is intertwined with in-depth coverage of ALL their films. 60 rare, original photos, lobby cards, letters, and studio materials illustrate the text. A complete Ward Bond Filmography is included.
For the book in greater detail,
as described by the author, please see
Three Bad Men
Thanks to Hawkswill for the update
JOHN FORD: A Life In Film (Movie Greats)
Richard Schickel.(2011)[Kindle Edition]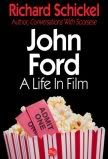 Legendary film critic Richard Schickel first encountered director John Ford's work when he saw Drums Along the Mohawk in 1939. Ford went on to helm such classics as Stagecoach, The Man Who Shot Liberty Valance, How Green Was My Valley, and The Grapes of Wrath. Despite his reputation and clutch of Oscars (four for best director – a record), Shickel argues that Ford was, in fact, the only world-class director whose work was readily accessible. It's time to shine the spotlight on this cinematic master.
JOHN FORD IN FOCUS:
Essays on the Filmmaker's Life and Work
Kevin L. Stoehr/ Michael C. Connolly (Author), Kevin L. Stoehr (Editor), Michael C. Connolly (Editor) (2007)
Best known for his enduring westerns (Stagecoach, The Searchers) and classic films (The Grapes of Wrath, The Quiet Man) American film director John Ford received an unprecedented four Academy Awards for Best Director over his lifetime. This collection of essays offers a comprehensive examination of Ford's life and career, revealing the frequent intersections between Ford's personal life and artistic vision. Part one provides an overview of Ford's importance in the early development of cinema. Part two focuses on selected aspects of Ford's personal life, specifically his genealogy, Irish heritage, and roots in the coastal community of Portland, Maine. Part three situates Ford's films within a broader cultural and intellectual context, exploring theories that explain why Ford's movies have sparked such interest, debate, and enjoyment among Hollywood film critics and the general cinema community.
HOW THE WEST WAS SONG: Music in the Westerns of John Ford
Kathryn Kalinak. (2007)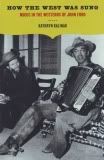 James Stewart once said, "For John Ford, there was no need for dialogue. The music said it all." This lively, accessible study is the first comprehensive analysis of Ford's use of music in his iconic westerns. Encompassing a variety of critical approaches and incorporating original archival research, Kathryn Kalinak explores the director's oft-noted predilection for American folk song, hymnody, and period music. What she finds is that Ford used music as more than a stylistic gesture. In fascinating discussions of Ford's westerns--from silent-era features such as Straight Shooting and The Iron Horse to classics of the sound era such as My Darling Clementine and The Searchers --Kalinak describes how the director exploited music, and especially song, in defining the geographical and ideological space of the American West.
JOHN FORD'S WESTERNS- A Thematic Analysis with a Filmography
William Darby. (2006)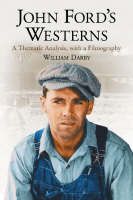 John Ford's early Westerns reflect an optimistic view of society and individual capacity; as his thematic vision evolved, he became more resigned to the limitations of humanity. His thematic evolution was evident in other films, but was best shown in his Westerns, with their stark depictions of the human condition. Ford's sound Westerns and his major silent films are compared in this work, revealing how his creative genius changed over time. A complete filmography of Ford's Westerns is also provided.
As the title suggests, it's all about Ford's westerns. Most of it is critical analysis and I'd say it's pretty well done. The Duke films that are analyzed in depth are The Horse Soldiers, Fort Apache, Rio Grande, She Wore a Yellow Ribbon, The Man Who Shot Liberty Valance, Three Godfathers, The Searchers, and Stagecoach.
JOHN FORD: The Complete Films
Scott Eyman, Paul Duncan. (2004)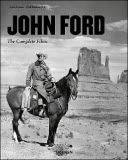 This new release of yet another book on John Ford won't tell you anything new if you already have other works dealing with his life and his films. But this is by far the best book on Ford yet for photos of Ford himself! There's a great number of behind the scenes shots and very funny candid shots as well as rare and never before seen color photographs (for instance, from the sets of the black & white pictures Wagon Master, Liberty Valance and Fort Apache). Pictures such as Chief Scar getting his hair sprayed for the upcoming scene, Wayne and Fonda playing poker, let the making of these pictures come alive again.
"When in doubt, make a Western." -- John Ford Director of nearly 150 feature films and winner of six Oscars, John Ford (1895-1973) was the quintessential American filmmaker. Ford produced an unparalleled body of work that includes such classics as The Grapes of Wrath, How Green Was My Valley, Stagecoach, My Darling Clementine, The Quiet Man, and The Searchers. In response to critics and fans who praised his work as having a powerful, singular vision, Ford was known for making statements such as "It's no use talking to me about art, I make pictures to pay the rent"; though such assertions betrayed his genuine love of filmmaking, which he called "the only thing I really like to do." Author Scott Eyman calls Ford "America's Homer" -- a fitting title for the filmmaker who helped frame the American experience for the world.
JOHN FORD AND THE AMERICAN WEST
Peter Cowie. (2004)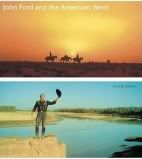 As more and more books about Ford's work and life are published, this one won't fail to attract readers who already have sufficient knowledge about Ford. It compares the great American painters, Remington and Russell, als well as others like Schreyvogel, in the most beautiful reproductions, to Ford's direction. The author makes it a point that Ford often studied paintings, especially Remington. In the case of "Yellow Ribbon" he officially went after Remington's style of composition and lighting. Peter Cowie especially analyzes the meaning of Monument Valley in Ford's films and guides the reader through the valley and the different locations he used. A handsome book.
There's nothing wrong with the theory of the paintings, of course, just one thing one must remind himself when reading the book: When paintings and photos from the films are compared, remember that the publicity stills were taken not by Ford - but by the official still taker. Very often those stills are quite different then the Ford's composition in the film. The publicity photograph would often have the actors for a shooting session while the still photographer would shoot pictures while the actors would try the upcoming scene (but not during shooting).
SEARCHING FOR JOHN FORD
oseph McBride (2003)
(St Martins Press)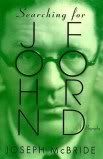 Another heavyweight book but very interesting reveals some unusual facts and destroys some legends.
After being called the "greatest poet of the Western saga," film director Ford responded, "I am not a poet, and I don't know what a Western saga is. I would say that is bullshit." Yet Ford--who made such classic westerns as Stagecoach, She Wore a Yellow Ribbon and The Man Who Shot Liberty Valance--helped define the idea of the western as a quintessential American story for audiences around the world. This first full-length critical biography presents a complex, fascinating portrait of a troubled and conflicted artist and man. Born John Feeney, he was an Irish outsider in Yankee New England. He began working in the film industry in 1914 as a studio ditch digger, but was soon acting in films and, a few years later, directing them. By the early 1930s, he had achieved considerable artistic and commercial fame with The Informer. McBride (Frank Capra) elegantly and cogently weaves Ford's personal life into the fabric of his career. He is at his best describing how Ford's political sentiments emerged in his work (especially the antiracism of Steamboat Round the Bend and The Searchers) as well as the director's move from liberal to conservative politics during Hollywood's red-baiting years and the HUAC hearings. He gives an equally astute delineation of Ford's emotional life--a tempestuous marriage, a possible affair with Katharine Hepburn, his reputation as a tough guy and his alcoholism. Drawing upon a wealth of critical material plus more than 125 interviews with Ford's colleagues, family and friends, McBride has produced a fine, long-needed biography of a pivotal American artist.
JOHN FORD
Brian Spittles. (2002)
by Pearson Education Ltd 129p.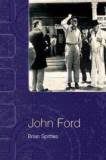 From the series On Directors.
Again its for the purist as its content discusses the man
and his films in genre rather than in depth. Eight chapters
1. Ford's film family
2. Ford as an auteur
3. Generically challenged
4. The greatest storyteller
5. Conservative or subservive
6. Entertainer or ideologue
7. Unconscious racist
8. Patriarchy or matriarchy
The author also relies very heavily on quotes from other authorities on John Ford,
but for collectors of Fords work it has its place.
Thanks to arthurarnell for the above
This text explores the major movies through discussion of their themes and techniques and reveals how much Ford was concerned with the very issues that are central to us today: gender, race, the treatment of ethnic minorities and social outcasts, the nature of history and the relationship between myth and reality. Unlike most books on Ford, which approach the man and his work chronologically, this one is designed around a collection of ideas which provide a better sense of the coherence of the great director's thinking and creative output of film-making through the exploration of specific films. The framework of the book is designed to give the a coherent overview of Ford's work by introducing, then developing discussion of various aspects of the films.
PRINT THE LEGEND:The Life and Times of John Ford
Scott Eyman. (2001)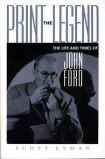 Brilliant, stubborn, witty, rebellious, irascible, and contradictory, John Ford remains an enduring symbol of Hollywood's Golden Age and one of its most respected directors. Through a career that spanned decades and 140 films -- among them such American masterpieces as The Searchers, The Grapes of Wrath, Stagecoach, and The Man Who Shot Liberty Valance -- John Ford left a cinematic legacy that few filmmakers will ever equal. Yet Ford himself was famously reticent about his personal life, often fabricating details and events. In this definitive look at the life and career of one of America's greatest directors, Scott Eyman offers a remarkable portrait of the man behind the legend that reveals how a saloon keeper's son from Maine helped to shape Hollywood's idea of America.
JOHN FORD MADE WESTERNS:
Filming the Legend in the Sound Era
Matthew H. Bernstein and Gaylyn Studlar (2001)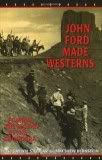 The Western is arguably the most popular and longlived form in cinematic history, and the acknowledged master of that genre was John Ford. His Westerns, including "The Searchers", "Stagecoach", and "The Man Who Shot Liberty Valance", have had an enormous influence on contemporary U.S. filmmakers, and on everything from Star Wars to Taxi Driver. In nine majors essays from some of the most prominent scholars of Hollywood film, "John Ford Made Westerns: Filming The Legend in The Sound Era" situates the sound era westerns of John Ford within contemporary critical contexts and regards them from fresh perspectives. These range from examining Ford's relation to other art forms (most notably literature, painting and music) to exploring the development of the director's public reputation as a director of Westerns. Articles also address the intricacies of Ford's shifting approach to storytelling and the subtle techniques whereby Ford's films guide spectator interpretation and emotional engagement. While giving attention to film style and structure, this volume also explores the ways in which these much loved films engage with notions of masculinity and gender roles, capitalism and community, as well as racial and sexual identity. Authors also examine how Ford's sound-era Westerns create a complex relationship to the genre's traditional project of 'defining an American nation' and how they uphold up but also question popular culture depictions of history and nationhood, to offer a commentary that engages with both the past, the present and the future. In addition to new scholarship, this volume also offers a dossier section of out of the way magazine articles that illuminate the issues raised by essays, including the director's tribute to John Wayne as well as a moving posthumous appraisal of the director published by the Director's Guild of America.
JOHN FORD INTERVIEWS
Gerald Peary (Editor)(2001)
(Conversations with Filmmakers)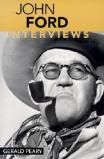 Ford in his own words: So he DID give interviews. About two dozen of them.
This is the first collection of interviews with John Ford (1895--1973), whom many aficionados of fine films consider not only the major American filmmaker but also one of the most extraordinary American artists of the twentieth century.
Among the world's filmmakers who have been devotees of Ford's work are Jean-Luc Godard, Ingmar Bergman, Akira Kurosawa, Martin Scorsese, George Lucas, Wim Wenders, and Orson Welles, who, when asked from whom he learned how to make Citizen Kane, exclaimed "John Ford, John Ford, John Ford!"
And yet, Ford, unquestionably a giant of the international film world, is far less known, his genius less recognized, although his accomplishments comprise perhaps the best film biography of all time (Young Mr. Lincoln), the best war film (They Were Expendable), a masterly romance (The Quiet Man), a sublime film of childhood (How Green Was My Valley), classic adaptations from fiction (The Grapes of Wrath, The Long Voyage Home), and the American Western, on which he left his indelible signature (Stagecoach, My Darling Clementine, Fort Apache, She Wore a Yellow Ribbon, The Man Who Shot Liberty Valance, and The Searchers).
Although his was a brilliant career, Ford was not a self-promoter. He refused to discuss his film art. In fact, with interviewers he proved to be gruff and impatient. With those who asked him intellectual questions he was downright cantankerous. His sarcasm, impatience, and occasional mean-spiritedness were quick to surface during interviews. The legend is that he was the interviewee from hell.
Yet there were times when he let the walls down and spoke openly and even generously. This book includes at least a dozen such lucid encounters with him, many reprinted for the first time. Also for the first time, several French interviews have been translated into English and show how with French critics Ford enjoyed making conversation. Included too are interviews newly discovered and not listed previously in any bibliography, as well as his poignant and revelatory interviews granted when he knew he was dying.
Gerald Peary, a professor of communication and journalism at Suffolk University in Boston, is a film critic for the Boston Phoenix and editor of Quentin Tarantino: Interviews (University Press of Mississippi).
PAPPY, THE LIFE OF JOHN FORD
Dan Ford. (1998)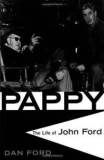 Written by his grandson. A must.
Although he is best remembered for his classic westerns like Stagecoach, My Darling Clementine,
and The Man Who Shot Liberty Valance, Irish-American director John Ford (1895–1973)
made 136 diverse films during his 51-year career, winning Oscars for The Informer, The Grapes of Wrath,
The Battle of Midway, and The Quiet Man. A master of psychological manipulation,
Ford had a knack for goading brilliant performances out of his actors, albeit often through intimidation and verbal abuse.
In Pappy, Dan Ford, John's grandson, draws on the director's personal archives and on intimate reminiscences
from his family and friends—including John Wayne, whose acting career Ford had launched,
Katharine Hepburn, Henry Fonda, and George O'Brien—to produce the most complete and honest portrait
ever written of the man and his astonishing output. Pappy was often cantankerous, irascible, and drunk
and rarely made time for his family, but few who worked with him could resist his appealing energy. This revealing biography brings
John Ford to life while painting a vivid panoramic picture of Hollywood as well as of the American landscapes
that he so dramatically evoked in his films.
JOHN FORD: A Bio-bibliography
Bill Levy (1998)
(Bio-Bibliographies in the Performing Arts)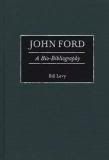 John Ford (1894-1973) is universally acknowledged as one of the greatest directors in the history of cinema. He is the only person to win four Academy Awards for Direction, for The Informer (1935), The Grapes of Wrath (1940), How Green Was My Valley (1941), and The Quiet Man (1952). This reference book is a comprehensive guide to his career. The volume begins with a biography that looks at Ford as a person, a director, and a cinematic legend and influence. Ford's life is discussed chronologically, but the biography repeatedly considers how his early experiences shaped his creative vision and attempts to explain why he was so self-destructive and unhappy throughout his career. In addition, the biography carefully scrutinizes his methods, styles, techniques, and secrets of direction. A chronology presents his achievements in capsule form.
The rest of the book provides detailed information about his many productions and about the response to his works. The heart of the volume is a filmography, which includes individual entries for 184 films with which Ford was involved, as either an actor, a director, a producer, a writer, an advisor, or an assistant. These entries include cast and credit information, a plot synopsis, critical commentary, and excerpts from reviews. The book also includes the most extensive annotated bibliography on Ford ever published, with more than 1000 entries for books, articles, dissertations, documentaries, and even four works of fiction concerning Ford. Additional sections of the book provide information about his unrealized projects; his radio, television, and theater work; his awards and honors; and special collections and archives.
JOHN FORD: Hollywood's Old Master
(Oklahoma Western Biographies)
Ronald L. Davis. (1997)
John Ford remains the most honored director in Hollywood history, having won six Academy Awards and four New York Film Critics Awards. Drawing upon extensive written and oral history, Ronald L. David explores Ford's career from his silent classic, The Iron Horse, through the transition to sound, and then into the pioneer years of location filming, the golden years of Hollywood, and the movement toward television. During his career, Ford made such classics as Stagecoach, The Grapes of Wrath, How Green Was My Valley, and The Searchers-136 pictures in all, 54 of them Westerns. The complexity of his personality comes alive here through the eyes of his colleagues, friends, relatives, film critics, and the actors he worked with, including John Wayne, Henry Fonda, Maureen O'Hara, and Katharine Hepburn
COMPANY OF HEROES:
My Life As An actor In The John Ford Stock Company
Harry Carey.Jr, (1994)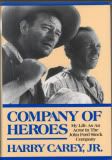 In my opinion, not only the best book about Ford, it's also one of the best about Wayne as well.
The long-time member of Ford's Stock company tells it all. And it's so much fun.
Product Description
When Harry Carey, Sr. died in 1947, director John Ford cast
Carey's 26-year-old son, Harry, Jr. in the role of The Abilene Kid in 3 Godfathers.
Ford and the elder Carey had filmed an earlier version of the story,
and Ford dedicated the Technicolor remake to his memory. "Company of Heroes"
is the story of the making of that film, as well as the eight subsequent Ford classics.
In it, Harry Carey, Jr. casts a remarkably observant eye on the process
of filming Westerns by one of the true masters of the form.
From She Wore a Yellow Ribbon and "Wagonmaster"
to The Searchers and "Cheyenne Autumn",
he shows the care, tedium, challenge, and exhilaration
of movie-making at its highest level.
Carey's portrayal of John Ford at work is the most intimate ever written
He also gives us insightful and original portraits of the men and women
who were part of Ford's vision of America:
John Wayne, Richard Widmark, Henry Fonda, Maureen O'Hara,
Ward Bond, Victor McLaglen, and Ben Johnson.
Funny, insightful, and brutally honest, "
Company of Heroes
is a rip-roaring good read that presents the remarkable life story of
Harry Carey, Jr. and his many continuing fine performances.
WHERE GOD PUT THE WEST: Movie Making in the Desert :
A Moab - Monument Valley Movie History
Bette L. Stanton. (1994)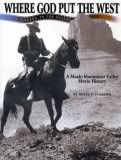 Bette L. Stanton grew up in Kanab, Utah during its heyday as ""Little Hollywood." For many years, she served as executive director of Grand County Economic and Community Development, the Moab Film Commission, and the Moab to Monument Valley Film Commission, Museum, and Library.
"Isn't strictly John Ford but has a big section on him and some great behind the scenes photos."
JOHN FORD
Peter Bogdanovich. (1992)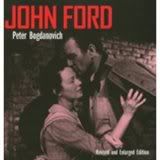 One read is not enough. Bogdanovich is of course now a filmmaker in his own right.
His visit to Ford in Monument Valley and his long interview is now legendary.
For years, Peter Bogdanovich's 1971 documentary Directed by John Ford stood as an impeccable work of auteurist enthusiasm: Bogdanovich, before his own directing career hit its early peak, assembled a loving tribute to the American cinema's towering figure. In 2006, Bogdanovich re-imagined the film for Turner Classic Movies, adding new interview footage with, among others, Martin Scorsese, Clint Eastwood, and himself. The result is something of a hybrid (and a curious experience for fans of the 1971 picture): the meat of the original film--complete with narration by Orson Welles--remains, but garnished with newish shot-on-video comments from a more distant perspective. Bogdanovich's own hilariously frustrated interview with John Ford is still prominently featured, with the sly Ford avoiding/denying his interlocutor's earnest questions. The superbly chosen clips have room to illustrate the uncanny poetry of Ford's art (such a pleasure to watch among the quick-cut tribute montages of the present day), and Bogdanovich highlights the emphasis on rituals in Ford's work and his many treatments of American history. Among the new interviewees is Steven Spielberg, who offers a marvelous anecdote about a youthful meeting with Ford (the old director's advice is priceless and extremely smart). Bogdanovich also includes a somewhat voyeuristic audiotape of a final meeting between Katharine Hepburn and the sickly Ford, strongly implying that she may have been the love of the director's life. The best stories come from Ford's old guard, notably John Wayne, Henry Fonda, and James Stewart, all of whom seem to take particular pleasure in telling Ford tales--and acting them out. By most accounts (including theirs) John Ford could be difficult, cruel, exasperating. And they're all utterly devoted to him. --Robert Horton
JOHN FORD, THE MAN AND HIS FILMS,
Tag Gallagher (1992)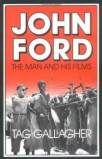 Considered to be the man who knows Ford's work the best.
I once attended a screening of Ford's documentary "Battle of Midway"
and Callagher asked us to see it twice the same evening. He knows his stuff.
Beware: this is written from the perspective of a film professor,
not from a man who loves Ford and wants to tell about this love.
THE NON-WESTERN FILMS OF JOHN FORD
J.A. Place. (1990)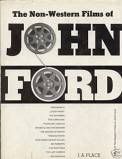 Deals with every single Ford non- western, beautifully illustrated, interesting points.
The companion piece, by same author.
ABOUT JOHN FORD
Lindsay Anderson (1989)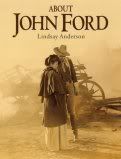 Now he is the contrary to Callagher – a film student who admires Ford for what he is: Cinemas greatest poet. Anderson met Ford several times.
The career of John Ford, America's greatest film director, spanned nearly half a century - the fifty golden years of Hollywood. With masterpieces like Stagecoach, The Informer, The Grapes of Wrath and The Searchers, he was one of the world's most popular film makers, and one of the most universally admired. He has been the subject of a minor flood of critical works and at least two biographies. About John Ford . . . is different from any of these. It is a critical interpretation and a personal tribute. Lindsay Anderson's comprehensive survey of Ford's work has the authority of a writer who was himself a distinguished film maker, and the portrait which emerges has the vividness and warmth of friendship.
Lindsay Anderson was a young critic and apprentice film maker when he met John Ford for the first time in 1951. He was also a devotee of Ford's work, and his early writings were the first to draw serious attention to his films. An odd, abrasive relationship developed, and their paths continued to cross until they met for the last time when Anderson visited Ford at the veteran director's home in Palm Desert, shortly before he died in 1973. During these years, with films like If.... and O Lucky Man!, and with a succession of theatre productions in London and New York, Lindsay Anderson himself became a director of international reputation. But he never lost his admiration for Ford, or his obsessive enthusiasm for his work. This book is the result.
About John Ford . . . is not a work of hagiography. As well as recording Anderson's meetings with Ford, it contains key pieces of criticism never before published in book form and contains an altogether new assessment of Ford's later work, together with an interpretation of his achievement as an artist. The book is rounded off by full and illuminating letters from Ford's principal writing collaborators and by conversations with three actors who knew him well and worked with him often, including Henry Fonda. In its combination of personal fondness and understanding with authoritative critical assessment, About John Ford . . . is a unique contribution to the literature of the Cinema.
JOHN FORD
Joseph McBride and Michael Wilmington. (1975)
(Martin Secker and Warburg)

Begins with Ford's funeral.Will give you lots of insight.
Orson Welles was once asked which directors he most admired. He replied: "The old masters. By which I mean John Ford, John Ford and John Ford." John Ford (1894–1973) was a legend in his own time. Honored with four Academy Awards for best director, and two others for his World War II documentaries, Ford directed more than 140 films in a career that lasted from the early silent era through the late 1960s. Ford today is celebrated throughout the world as the cinema's foremost chronicler of American history, the leading poet of the Western genre, and a wide-ranging filmmaker of profound emotional impact. His classic films—such as Stagecoach, The Grapes of Wrath, Has Green Was My Valley, The Quiet Man, The Searchers, and The Man Who Shot Liberty Valance—remain widely popular, and he has been acknowledged as a major influence by such leading contemporary filmmakers as Ingmar Bergman, Akira Kurosawa, Elia Kazan, Samuel Fuller, Martin Scorsese, Steven Spielberg, George Lucas, Oliver Stone, and Peter Bogdanovich.In this groundbreaking and influential work of Ford criticism, Joseph McBride and Michael Wilmington provide an overview of Ford's career as well as in-depth analyses of key Ford films, from his first feature, the 1917 Straight Shooting, to his last, the controversial Seven Women. Analyzing recurring Fordian themes and relating each film to his entire body of work, the authors insightfully explore the full richness of Ford's tragicomic vision of history.
THE WESTERN FILMS OF JOHN FORD
A. Place. (1975)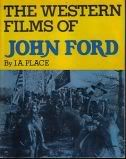 Deals with every single Ford western, beautifully illustrated, interesting points.

JOHN FORD
Published by the French Cahiers de Cinema, which are of course the movie critics
who started to look at films differently in the Fifties, so men like Budd Boetticher could be discovered as cult directors.
They analyze Ford at length. Good photographs.
WIDE ANGLE
Special John Ford Issue Vol 2 No 4 (1978)
Athens International Film Festival 87 pages
(Wide Angle is a quarterley publication of the Ohio University Dept of Film of the College of Fine Arts
and the Athens International Film Festival, and is partially funded by grants from the Ohio Arts Council
and the National Endowment for the Arts)
THE JOHN FORD MYSTERY
Andrew Sarris. (1976)
A part of the Cinema One series published by Secker and Warburgh in association with the BFI 1976 192 pages
See also
Books on Duke's Directors
___________________________________________________________
Edited and updated by ethanedwards
Copyright-©dukewayne.com.2017
Please Note:
The books highlighted in all the book forums,
are intended as a guide to the many books released.
However it also worth noting, that there are also many,
that may be now out of print.
The JWMB is unable to keep updating availability.
So please check with the numerous online booksellers