DIRECTED BY DELMER DAVES
MUSIC BY LIONEL NEWMAN
TWENTIETH CENTURY FOX FILM CORPRATION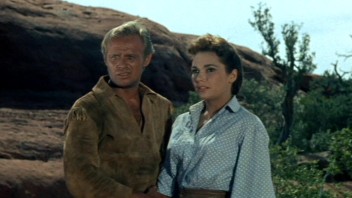 INFORMATION FROM IMDb

Plot Summary
When a handful of settlers survive an Apache attack on their wagon train they must put their lives into the hands of Comanche Todd, a white man who has lived with the Comanches most of his life and is wanted for the murder of three men.
Written by A.L.Beneteau <albl@inforamp.net>
Cast
Richard Widmark ... Comanche Todd
Felicia Farr ... Jenny
Susan Kohner ... Jolie Normand
Tommy Rettig ... Billy
Stephanie Griffin ... Valinda Normand
Ray Stricklyn ... Clint
Nick Adams ... Ridge
Carl Benton Reid ... Gen. Howard
Douglas Kennedy ... Col. Normand
George Mathews ... Sheriff Bull Harper
James Drury ... Lt. Kelly
Ken Clark ... Sergeant
and many more...
Directed
Delmer Daves
Writing Credits
James Edward Grant ... (screenplay)
Delmer Daves ... (screenplay) and
Gwen Bagni ... (screenplay)(story) (as Gwen Bagni Gielgud)
Produced
William B. Hawks ... producer
Music
Lionel Newman
Cinematography
Wilfred M. Cline ... director of photography (as Wilfrid Cline)
Trivia
Average Shot Length = ~6.7 seconds. Median Shot Length = ~6.1 seconds. Both values are fast for a reasonably early CinemaScope film.
Crazy Credits
Opening credits prologue: 1873 Arizona Territory

Goofs
Anachronisms
During the first reel, the Sheriff shoots Comanche Todd (Richard Widmark) in the left shoulder. Todd clutches at his shoulder and, grimacing with pain, collapses on the ground and the Sheriff captures him. Directly afterwards, the wound disappears and the top of Todd's buckskin jacket sleeve remains unmarked throughout the rest of the film, as though the wounding had never happened.
Continuity
During the last third of the film, Tommy Rettig's hair goes from being long and fair, with a fringe, to being short and dark and brushed back and then back again on two occasions.

Crew or equipment visible
Just before The End title comes up, you can see the shadow of the camera crew as Todd rides off.
Filming Locations
Sedona, Arizona, USA
Oak Creek Canyon, Sedona, Arizona, USA
Red Rock Crossing, Sedona, Arizona, USA (opening titles and gunfight sequence)
Bell Rock, Sedona, Arizona, USA
Courthouse Butte, Sedona, Arizona, USA
Schnebly Hill, Sedona, Arizona, USA
Boynton Canyon, Sedona, Arizona, USA
Watch the Movie
[extendedmedia]
[/extendedmedia]