CAHILL: UNITED STATES MARSHAL
DIRECTED BY ANDREW McLAGLEN
PRODUCED BY MICHAEL WAYNE
MUSIC BY ELMER BERNSTEIN
BATJAC PRODUCTION
WARNER BROTHERS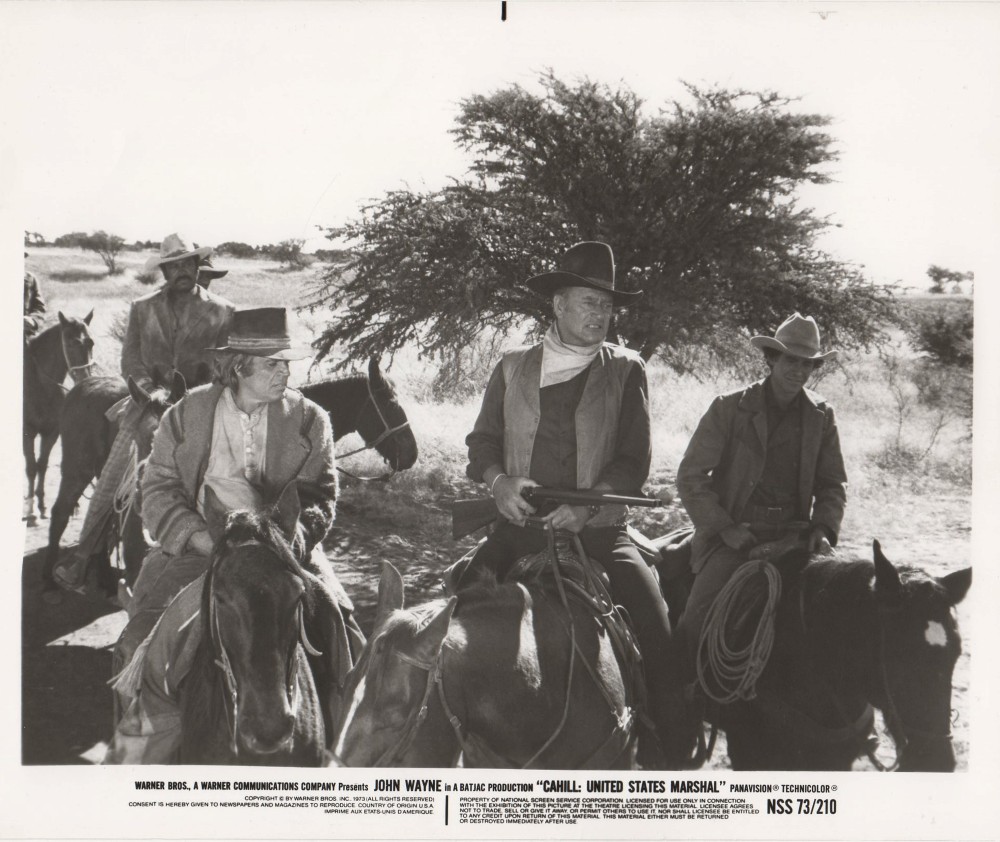 Photo with the courtesy of lasbugas

INFORMATION FROM IMDb
Plot Summary
J.D. Cahill is the toughest U.S. Marshal they've got,
just the sound of his name makes bad guys stop in their tracks,
so when his two young boy's want to get his attention they decide to rob a bank.
They end up getting more than they bargained for.
Full Cast
John Wayne .... U.S. Marshal J.D. Cahill
George Kennedy .... Abe Fraser
Gary Grimes .... Danny Cahill
Neville Brand .... Lightfoot, Half-breed Comanche tracker
Clay O'Brien .... Billy Joe 'Budger' Cahill
Marie Windsor .... Mrs. Hetty Green
Morgan Paull .... Struther, Fraser Gang/Cahill's Ward
Dan Vadis .... Brownie, Fraser Gang
Royal Dano .... MacDonald, Hermit who sells Cahill the mule
Scott Walker .... Ben Tildy, Outlaw
Denver Pyle .... Denver, Danny & Billy Joe's caretaker
Jackie Coogan .... Charlie Smith, Town Drunk
Rayford Barnes .... Pee Wee Simser, Outlaw
Dan Kemp .... Joe Meehan, Outlaw
Harry Carey Jr. .... Hank, Jailer at Jefferson Davis County Jail
Walter Barnes .... Sheriff Grady, Valentine Texas
Paul Fix .... Old Man, Outlaw
Pepper Martin .... Hard Case
Vance Davis .... Negro
Ken Wolger .... Grandson of Old Man
Hank Worden .... Albert, Valentine Stationmaster
James Nusser .... Doctor Jones
Murray MacLeod .... Deputy Sheriff Gordine
Hunter von Leer .... Deputy Sheriff Jim Kane
Ralph Volkie
Chuck Roberson .... Leader of Bunch
Joseph Culliton .... Red Hair (uncredited)
Writing Credits
Barney Slater (story)
Harry Julian Fink (screenplay) and
Rita M. Fink (screenplay)
Produced
Michael Wayne
Original Music
Elmer Bernstein
Cinematography
Joseph F. Biroc
Stunts
Chuck Roberson .... stunt coordinator
Jerry Gatlin .... stunts (uncredited)
Bob Terhune .... stunt double (uncredited)
Walter Wyatt .... stunts (uncredited)
Trivia
Most of the scenes showing John Wayne riding from a distance were filmed with Chuck Roberson substituting for Wayne.
The anti-racism subtext was written into the script in response to ongoing criticism of Wayne's infamous May 1971 interview with Playboy magazine.
John Wayne told an interviewer he gave up caring about the movie halfway during filming when he learned that John Ford was dying of cancer.
Neville Brand was surprised to be offered the role of half-Commanche scout Lightfoot, a part he felt he was badly unsuited for, but accepted it just because he liked working.
The opening scene was filmed entirely in the studio.
The film was released in many cinemas as a double bill with The MacKintosh Man (1973).
Goofs
* Revealing mistakes: Rain falling at two different and constant angles when Billy Joe Cahill hides from Abe Frased in the farmyard.
* Revealing mistakes: Lightfoot's horse has a saddle under the blanket. You can see stirrups hanging under the blanket and in a latter scene, Cahill uses them to mount Lightfoot's horse.
* Revealing mistakes: Many of the long shots of Cahill are obviously not John Wayne.
* Revealing mistakes: After Cahill is onto his sons' involvement in the bank robbery, we see him and Lightfoot watching the boys fishing. Later, after the boys have traveled awhile in the buckboard, we see the two men watching the boys again. The medium shot of Wayne and Brand reveals that they are sitting on their horses in the very place from which they had been watching the boys fishing.
Filming Location
Durango, Mexico