BIG JAKE
PRODUCED BY MICHAEL WAYNE
DIRECTED BY GEORGE SHERMAN/ JOHN WAYNE (uncredited)
MUSIC BY ELMER BERNSTEIN
NATIONAL GENERAL/CINEMA CENTER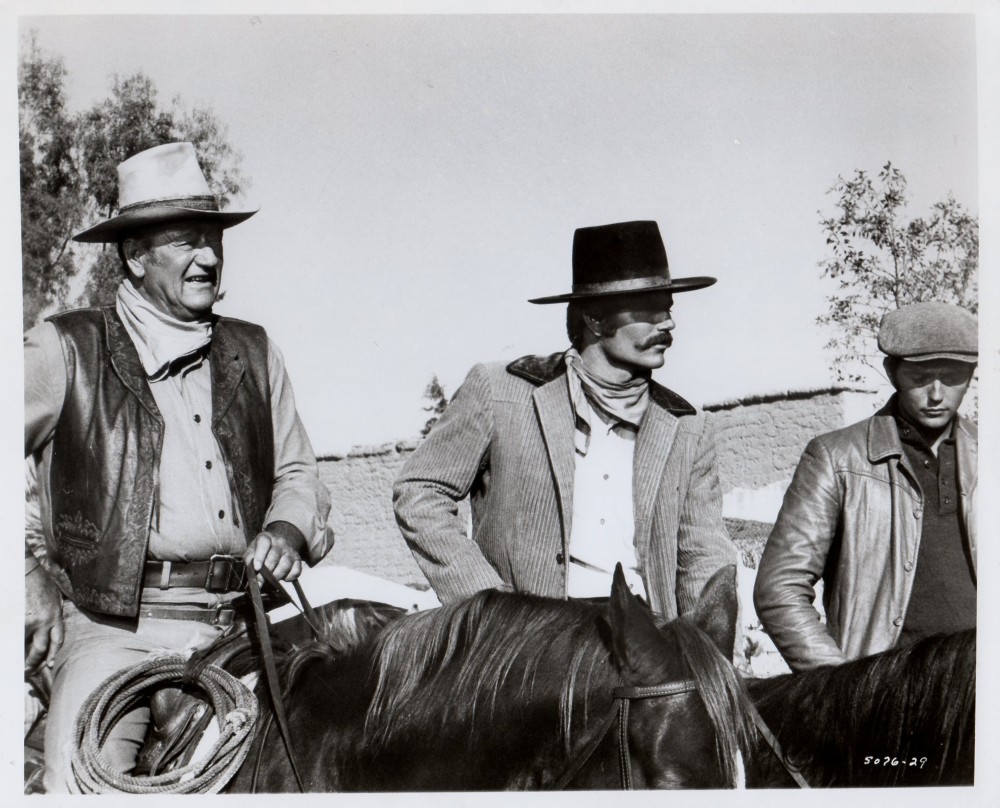 Photo with the courtesy of lasbugas

Information from IMDb
Plot Summary
The McCandles ranch is run over by a gang of cutthroats led by the evil John Fain.
hey kidnap little Jacob McCandles and hold him for a million dollar ransom.
There is only one man who is brave enough and smart enough to bring him back and that man is Big Jake
Written by Christopher D. Ryan
John Wayne is Big Jake McCandles, on the trail on bandits in this action drama that stretches from Texas to Mexico.
It's 1909, and the Old West is giving way to modern times. When the outlaw gang led bu vicious John Fain (Boone)
raids Jake's ranch and kidnaps his 8-year-old grandson, Jake's wife (Maureen O'Hara), whom he hasn't seen in 18 years,
sends for her husband to rescue the boy. While the law gives chase in rickety automobiles, Jake saddles up with an Indian scout,
a faithful dog, and a box of money. But paying ransom isn't Jake's idea of good old frontier justice.
Written by Robert Lynch
Full Cast
John Wayne ... Jacob McCandles
Richard Boone ... John Fain
Patrick Wayne ... James McCandles
Christopher Mitchum ... Michael McCandles
Bruce Cabot ... Sam Sharpnose
Bobby Vinton ... Jeff McCandles
Glenn Corbett ... O'Brien
John Doucette ... Buck Duggan
Maureen O'Hara ... Martha McCandles
Jim Davis ... Head of Lynching Party
John Agar ... Bert Ryan
Harry Carey Jr. ... Pop Dawson
Gregg Palmer ... John Goodfellow
Roy Jenson ... Gunman at Bathhouse in Escondero
Virginia Capers ... Delilah
Bill Walker ... Moses Brown (as William Walker)
John McLiam ... Army Officer
Bernard Fox ... Scottish Shepherd
Don Epperson ... Saloon Bully in Escondero
Jim Burk ... Trooper
Dean Smith ... James William 'Kid' Duffy
Ethan Wayne ... Little Jake McCandles
Hank Worden ... Hank
Tom Hennesy ... Mr. Sweet
Chuck Roberson ... Texas Ranger
Robert Warner ... Will Fain
Jeff Wingfield ... Billy Devries
Jerry Gatlin ... Stubby
Everett Creach ... Walt Devries
Michael E. Burgess ... Little Boy (uncredited)
George Fenneman ... Narrator (voice) (uncredited)
'Chico' Hernandez ... Boy on Town (uncredited)
Jerry Summers ... Escondero Hotel Desk Clerk (uncredited)
Cinematography
William H. Clothier
Second Unit Director or Assistant Director
Newt Arnold .... assistant director
Cliff Lyons .... second unit director
Stunts
Denny Arnold .... stunts (uncredited)
Bill Babcock .... stunts (uncredited)
Jim Burk .... stunts (uncredited)
Everett Creach .... stunts (uncredited)
Jerry Gatlin .... stunts (uncredited)
Chuck Hayward .... stunts (uncredited)
Terry Leonard .... stunts (uncredited)
Chuck Roberson .... stunt double: John Wayne (uncredited)
Chuck Roberson .... stunts (uncredited)
Dean Smith .... stunts (uncredited)
Jerry Summers .... stunts (uncredited)
Buddy Van Horn .... stunts (uncredited)
'Chema' Hernandez .... livestock coordinator (uncredited)
Trivia
70mm blow-up version released in Spain under the title "El Gran Jack".
Bobby Vinton played the middle brother, despite being four years older than Patrick Wayne.
This was to be the final film in which John Wayne and Maureen O'Hara would work together;
they had previously collaborated in Rio Grande (1950), The Quiet Man (1952), The Wings of Eagles (1957), and McLintock! (1963).
Ethan Wayne, who plays Big Jake's grandson, is actually John Wayne's real-life son.
The ranch house used for the McCandles ranch is the same house used for the Chisum ranch in Chisum (1970),
a John Wayne western made a year earlier. Note the scenery around the ranch.
This was the first of only three John Wayne films (the others being Cahill (1973) and McQ (1974)
to receive AA certificates by the UK censor, meaning that they could only be seen by persons 14 and over.
All other Wayne movies were rated 'A' (PG) or under.
In 1971, owing to the success of this film, John Wayne was #1 at the US Box Office for the last time.
Director George Sherman was a friend of John Wayne dating back to their days in the 1930s making westerns at Republic Pictures
. By the time of this film, however, Sherman was aging and not in the best of health,
and had a difficult time shooting in the wilds of Mexico, where much of the movie was filmed.
On the days when Sherman was unable to shoot because of his health conditions,
Wayne took over direction, but when the film was completed he insisted that Sherman alone be credited as director.
Final film of veteran director George Sherman.
Goofs
* Continuity: Toward the beginning of the movie, the Texas Rangers and the Mc Candle's boys
are trying to get ahead of the kidnappers. When viewed from behind, the shadows are on the vehicle's right-hand side,
when the camera is in front, the shadows are on the left, even though the vehicles are traveling the same direction the entire time.
* Continuity: Big Jake is bucked off his horse and falls in a mud puddle. Later in the same scene his suit is clean.
* Continuity: James McCandles is thrown off his horse by Big Jake into a mud puddle. Later in the same scene he is clean.
* Continuity: During the kidnapping, Little Jake pokes at O'Brian with a pitchfork and knocks off O'Brian's hat,
but O'Brian has puncture wounds in his cheeks, much lower than the area where he was struck with the pitchfork.
* Continuity: Nine gang members ride to the ranch. One is killed. Seven ride away with "Little Jake".
* Continuity: When Michael is showing Jake his gas-powered gun both Sam and James jump into the river for safety.
Within minutes of leaving the river, the clothing worn by both of them is perfectly dry.
* Continuity: Throughout the movie, the Big Jake's dog changes its color many times.
Filming Location
Durango, Mexico
Previous Discussion:-
Big Jake