MR. HOBBS TAKES A VACATION
DIRECTED BY HENRY KOSTER
MUSIC BY HENRY MANCINI
TWENTIETH CENTURY FOX FILM CORPORATION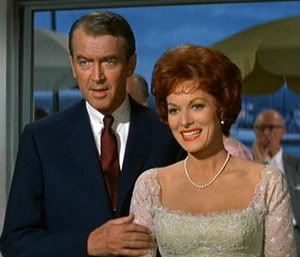 Information from IMDb
Plot Summary
Roger Hobbs (James Stewart) is a harried city dweller who longs
to take his family to the seashore for a vacation.
He and his wife Peggy (Maureen O'Hara) do get the family to the sand,
but new problems develop there, and the vacation turns out to be a mixed blessing.
Written by Dan Navarro
Full Cast
James Stewart .... Roger Hobbs
Maureen O'Hara .... Peggy Hobbs
Fabian .... Joe
John Saxon .... Byron
Marie Wilson .... Mrs. Emily Turner
Reginald Gardiner .... Reggie McHugh
Lauri Peters .... Katey Hobbs
Valerie Varda .... Marika
Lili Gentle .... Janie
John McGiver .... Mr. Martin Turner
Natalie Trundy .... Susan
Josh Peine .... Stan
Minerva Urecal .... Brenda, Hobbs' Maid
Michael Burns .... Danny Hobbs
Richard Collier .... Mr. Kagle
Sherry Alberoni .... Girl in Dormitory (uncredited)
Herb Alpert .... Trumpet player in dance band at yacht club
Reginald Beckwith .... Bit Part (uncredited)
Harry Carter .... Dance Extra/Cab Driver (uncredited)
Daryl Duke .... Boy (uncredited)
True Ellison .... Girl in Dormitory (uncredited)
Ernie Gutierrez .... Pizza Maker (uncredited)
Tom Lowell .... Freddie (uncredited)
Barbara Mansell .... Ellen, the Receptionist (uncredited)
Stephen Mines .... Carl (uncredited)
Peter Oliphant .... Peter Carver (uncredited)
Doris Packer .... Hostess (uncredited)
Jeffrey Sayre .... Dance Extra (uncredited)
Michael Sean .... Phil (uncredited)
Maida Severn .... Secretary (uncredited)
Arthur Tovey .... Dance Extra (uncredited)
Dennis Whitcomb .... Dick (uncredited)
Writing Credits
Edward Streeter (novel)
Nunnally Johnson (screenplay)
Produced
Marvin A. Gluck .... associate producer
Jerry Wald .... executive producer (uncredited)
Original Music
Henry Mancini (also song "Cream Puff")
Cinematography
William C. Mellor
Trivia
The station wagon used in the film is a 1960 Dodge Seneca.
The portrait hanging along the staircase of the beach cottage is of Captain Daniel Gregg, played by Rex Harrison, from The Ghost and Mrs. Muir.
This is the first of two movies Maureen O'Hara made with Jimmy Stewart; in 1966 she also made The Rare Breed with Stewart.
Awards: 3 wins & 3 nominations
Goofs
Continuity: When the car approaches Hobbes and Turner during their bird watching expedition, they are walking in the middle of the road, effectively blocking traffic. In the next shot, the car has room to go around them
Errors made by characters (possibly deliberate errors by the filmmakers): When Mrs. Turner in locked in the bathroom, Jimmy Stewart calls her Mrs. Hobbs and she says, "Mrs. Turner" and he says, "Oh yes, Mrs. Turner."
Filming Locations
Laguna Beach, California, USA
Leo Carrillo State Beach - 35000 W. Pacific Coast Highway, Malibu, California, USA
Newport Beach, California, USA
Stage 8, 20th Century Fox Studios - 10201 Pico Blvd., Century City, Los Angeles, California, USA (studio)